Ralph Cuthbert
Ralph Cuthbert was not a native of Dartmouth. The Navy brought him to the town, like so many, and he married a Dartmouth girl.
Family
Ralph Cuthbert was born in Stanwick, Northampton, on 20th March 1878. He was the youngest son of Joseph Cuthbert, a boot and shoemaker, and his second wife Elizabeth Ann Morris, known as Betsy. Joseph and Betsy both came from Stanwick. They had married in 1866 after the death the previous year of Joseph's first wife, Emma, aged only 23. She was also from Stanwick.
Betsy took on the care of Joseph's two daughters, Ada and Clara Ellen, and soon had children of her own too. The Census of 1871 recorded Joseph and Betsy in Stanwick with five children: Ada, Clara, Edward, Emma, and Edith, just three months old. By the time of the 1881 Census, there were four more children: Margaret, Anne Maria (Annie), Owen, and Ralph. But Ralph can scarcely have remembered his mother, because Betsy had died in 1879, when he was only a year old.
Joseph apparently managed on his own for a while, no doubt helped by his elder daughters, but in 1882 he married a third time. His new wife was Elizabeth Peach, from Peterborough. She took on the care of Joseph's younger children, including Ralph, and soon she also had three boys of her own: Ernest, Frederick and Herbert. By the time of the 1891 Census, the family had moved to Kingsthorpe. Ralph had just turned thirteen, but was not yet at work..
Joseph's third wife, Elizabeth, died in 1893, and three years later he married again. His fourth wife, Lydia Howlett, nee Willett, had children of her own, but this time there were no children of the marriage. The 1901 Census recorded Joseph and Lydia at Top End, Stanwick, with Lydia's son Frederick, and Joseph's two youngest sons, Frederick ("Fred") and Herbert. By 1911, Joseph and Lydia were living on their own in Wellingborough, with just each other to care for.
Service
In the meantime, Ralph had entered the Navy, joining HMS Impregnable as a Boy 2nd Class on 14th September 1893, aged 15 ½. His naval service record shows that at this age he was just over 5' 1", with brown eyes and hair, and a "fresh" complexion. He had previously worked in his father's trade of bootmaker, but the lure of the sea evidently proved too great.
On his eighteenth birthday, in 1896, he signed on for a twelve-year engagement, and was rated as Ordinary Seaman, having by this time grown five inches. He had joined HMS Calypso on 10th October 1895. She was one of the two last sailing corvettes built for the Royal Navy, having a barque rig of sail on three masts, as well as a steam engine. She was thus able to operate in areas where coaling stations were few and far between, completing surveys north of the Arctic Circle in 1895, before Ralph joined her. She was part of the Sail Training Squadron: the Portsmouth Evening News reported on 5th October that:
Yesterday, the crew of the cruiser Calypso at Devonport undertook the work of refitting the rigging and preparing the vessel for her winter cruise to the West Indies. About 150 ordinary seamen and boys have been told off at the Royal Naval Barracks, Keyham, to join the vessel next Wednesday, in place of the men whose period of service with the Training Squadron has expired.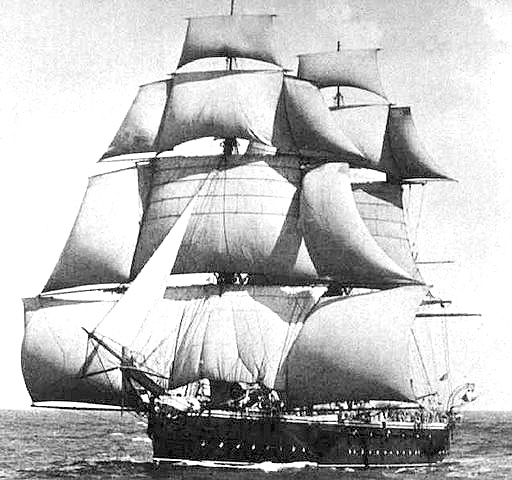 HMS Calypso Under Full Sail
Ralph's next ship was HMS Amphion, which he joined on 7th January 1897, when she was commissioned for three years of service on the Pacific station. The journey to her base at Esquimault took Ralph south around the tip of South America and up the Pacific coasts of South and North America - if he had joined the Navy to see the world, he succeeded. Whilst serving in Amphion, Ralph was rated Able Seaman and became a "trained man".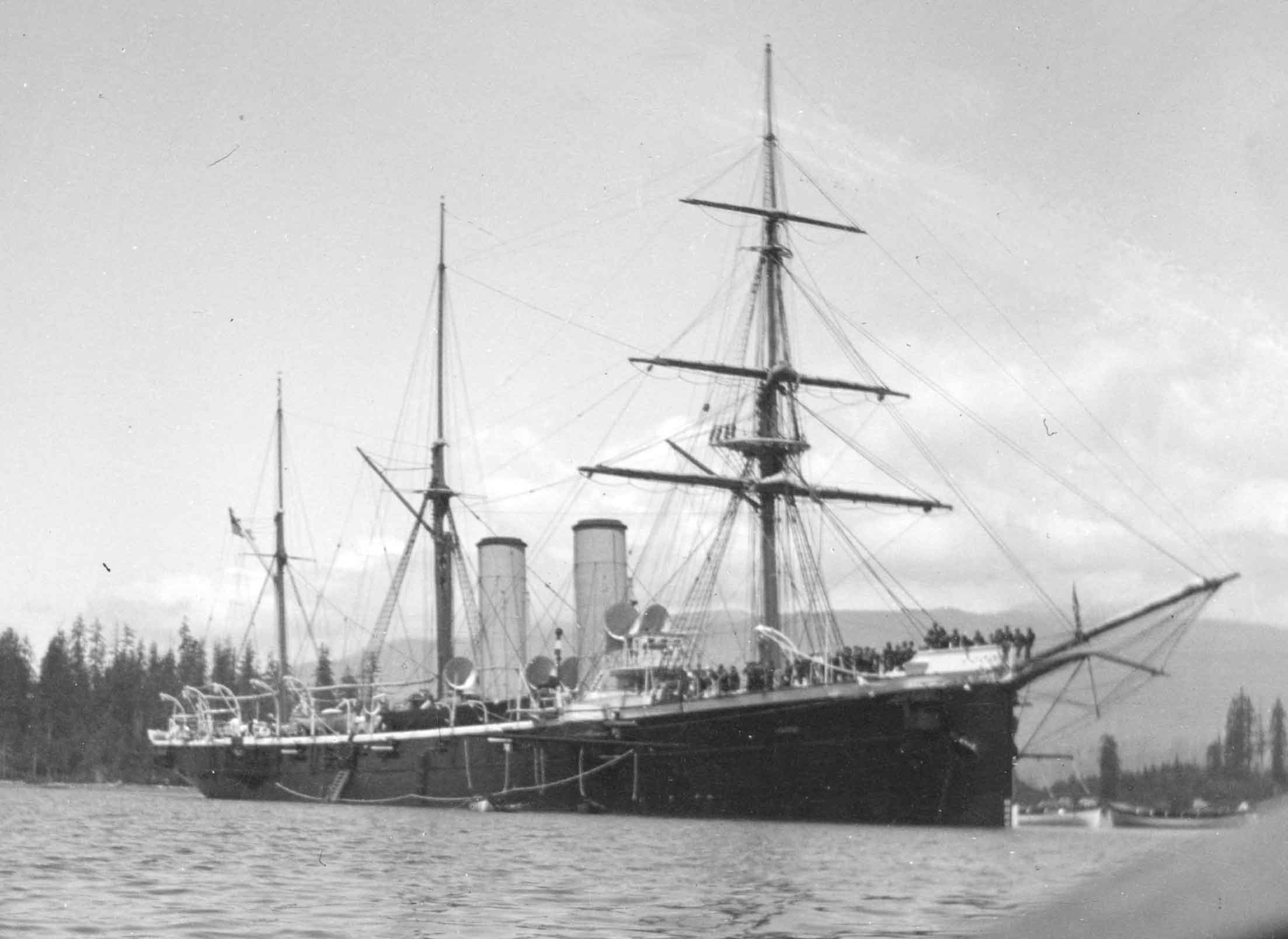 HMS Amphion in Canada
Amphion returned to the UK in February 1900, and paid off at Devonport on 13th February 1900, when Ralph left her. (Her next trip back to the Pacific included William George Keast, also on our database).
From May to October 1900, Ralph undertook gunnery training at HMS Cambrige, the gunnery training ship moored in Devonport, qualifying as Seaman Gunner 2nd Class. However, he did not have much opportunity to put these skills to much practical use immediately, as he was appointed to HMS Britannia as Able Seaman on 4th February 1901.
Dartmouth and Marriage
Work had started on the new training college for Naval Officer cadets at Dartmouth in 1898, but the foundation stone for the main building was not laid until 2nd March 1902, so at the time of Ralph's appointment, training was still carried on in the old sailing ships, Britannia and Hindostan, moored in the Dart. Alfred, it seems, was appointed to HMS Racer, a steam-powered sloop which was a tender to the Britannia. Racer was used for instruction in practical seamanship and navigation instruction, and for constant spar and sail drill with the ship under way.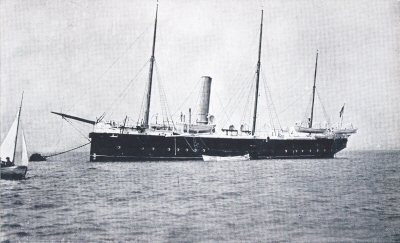 HMS Racer
While in Dartmouth, Ralph met and married Edith Maude Millman, on 5th March 1902, at St Saviours. Edith was born and brought up in Dartmouth, the second daughter of William Millman, a painter, and his wife Mary Ellen Hill, known as "Nellie". Edith was 18, but gave her age as 20. She too came from a large family, having six brothers and sisters.
Ralph and Edith's first child, Dorothy Nellie Maud, was born on 1st July 1902 and baptised at St Saviours on 3rd August of that year, just across the road from the family's home in St Saviours Square. Ralph may have had only a few weeks with his new daughter, however, as his appointment to HMS Britannia ended soon after on 3rd September 1902 (though he may have benefited from some shore leave).
Service (continued)
On 7th December 1902 Ralph was sent back to HMS Cambridge for more gunnery training, after which he was posted to HMS Royal Oak from June to November 1903. Royal Oak was a pre-dreadnought battleship, at that time serving in the Home Fleet. Then followed two and a half years on HMS Bonaventure, a cruiser, during which he was rated Leading Seaman on 4th November 1904 and Petty Officer 2nd Class on 7th November 1905. He was once more off on his travels, for the Bonaventure relieved his previous ship Amphion on the Pacific Station, arriving at Esquimault at the end of March 1904. Ralph did not return to the UK until May 1906.
On his return, he was sent for a third time to HMS Cambridge. According to anote on his naval service record, he was "to be examined as to his fitness for rating of Gun Layer". Instead, he qualified as a sightsetter - the person who keeps a settable gun sight set to the range and deflection required to find the angles to place shells on target. Information on range and deflection came in continuously as ships moved, so continuous adjustment was needed. In all he spent six months at HMS Cambridge during the second half of 1906.
Edith and Dorothy remained in Dartmouth and another daughter, Barbara Evelyn Beryl, was born on 22nd March 1907 and baptised at St Saviour's on 25th April of that year. By this time, Ralph was serving once again in HMS Royal Oak, a member of the nucleus crew while the ship was in reserve at Devonport. On 1st June 1907, he transferred to HMS Ramillies, Royal Oak's sister ship, which had been recomissioned into the Special Service Division of the Home Fleet. He was progressing well, and the Navy offered a good career, notwithstanding the difficulties for family life of frequent postings and long periods spent away from home. On his thirtieth birthday in 1908, he volunteered for another ten years service to complete the term required for a pension.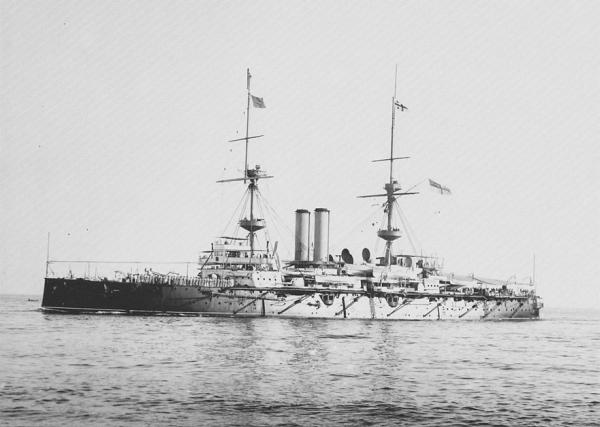 HMS Ramillies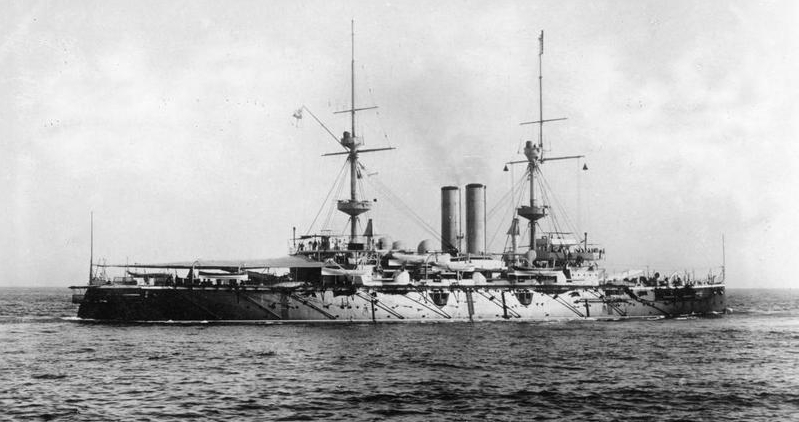 HMS Royal Oak
He then moved to the Devonport Division of the Home Fleet, serving in HMS Caesar from 4th June 1908 to 14th May 1909, and her fellow Majestic-class battleship, HMS Mars, from 29th May 1909 to 18th April 1910. At home, another little girl was added to the family - Viven Margery was born on 22nd January 1910, towards the end of his time in Mars, and baptised at St Saviours on 1st March 1910. Ralph and Edith's address at the time was Manor House, Above Town.
Shortly after Vivien's birth, he was appointed to HMS Vivid I, the name used for the naval base at Devonport, clearly a substantive appointment since it lasted for a year from April 1910-April 1911. Apparently because of this appointment, the family moved to Devonport, where the 1911 Census recorded Ralph, Edith and the three little girls living at 9 Wake Street, Pennycomequick. Also living with them at the time was Edith's younger brother Horace, who had also joined the Navy, as a Stoker. Ralph was promoted to Petty Officer 1st Class in December 1910.
Only a couple of weeks after the Census was taken, on 19th April 1911, Ralph joined HMS Collingwood, a dreadnought battleship commissioned only a year earlier. His only son was born seven months later, on 12th November 1911. Edith took Basil Morris Gordon back to St Saviour's in Dartmouth to be baptised on 7th December of that year.
Ralph was still serving in Collingwood at the outbreak of war, and thus found himself part of the Grand Fleet, in Scapa Flow. Collingwood, and presumably Ralph, was present at the Battle of Jutland in May 1916.
Along with Ralph, one of Collingwood's crew was Prince Albert, King George V's second son, the future King George VI, at that time a Midshipman. He reported later:
We went to "Action Stations" at 4.30pm and saw the Battle Cruisers in action ahead of us on the starboard bow. Some of the other cruisers were firing on the port bow. As we came up the "Lion" leading our Battle Cruisers appeared to be on fire the port side of the forecastle, but it was not serious ... The "Colussus" leading the 6th division with the "Collingwood" her next astern were nearest the enemy. The whole Fleet deployed at 5.0 and opened out. We opened fire at 5.37pm on some German light cruisers. The "Collingwood's" second salvo hit one of them which set her on fire, and sank after two more salvoes were fired into her. We then shifted on to another light cruiser and helped to sink her as well. Our next target was a battle cruiser, we think the "Derflinger" or "Lutzow" ("Seydlitz") and one of the "Collingwood's" salvoes hit her abaft the after turret, which burst into a fierce flame ....
The Prince further observed that "the hands behaved splendidly and all of them in the best of spirits as their heart's desire has at last been granted, which was to be in action with the Germans".
For an account of the battle, see our general article here.
After this, Edith may have been delighted that Ralph was due to leave the Grand Fleet. Ralph left HMS Collingwood on 13th November 1916 and was appointed the following day to HMS Vivid I "for Laurentic".
HMS Laurentic
The SS Laurentic was an ocean liner of the White Star line built by Harland and Wolff in Belfast, and with her sister ship Megantic was at the time the largest ship built for Canadian service. Laurentic departed on her maiden voyage on 29th April 1909 from Liverpool to Quebec City.
On 13th September 1914, whilst at Montreal, she was commissioned as a troop transport for the Canadian Expeditionary Force. She was painted grey, and reclassified as HMS Laurentic. She was then converted to an auxiliary cruiser, being armed with eight six inch and two six pounder guns. Her log book has been transcribed and her voyages around the world during1914-1916 are shown on the naval-history.net website.
Ralph did not join her immediately on leaving Collingwood, as Laurentic was in Halifax, Nova Scotia, in November 1916. The ship returned to Birkenhead, Liverpool, on 6th December 1916, and leave was given to the ship's company until 22nd December 1916; 114 more ratings joined the ship on Christmas Day, 1916 - probably including Ralph. Already serving on HMS Laurentic was George Henry Newman, also on our database.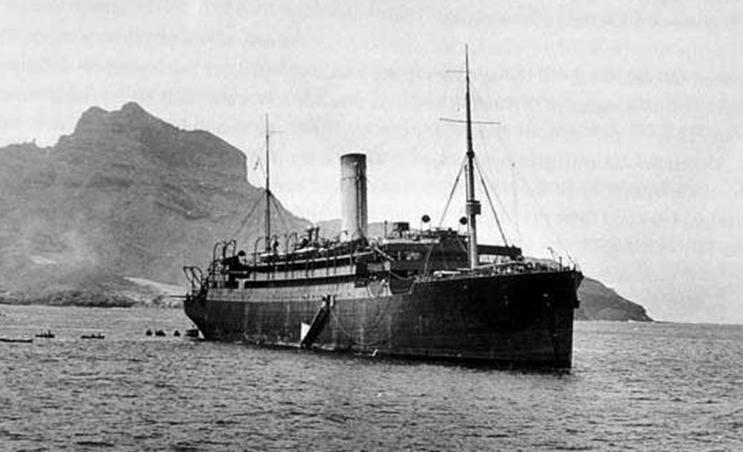 HMS Laurentic
Death
On Tuesday 23rd January 1917, HMS Laurentic left Liverpool for Halifax. She had a complement of 475 officers and men - she was not carrying passengers or troops. The main purpose of her voyage was to deliver across the Atlantic a cargo of 35 tons of gold, worth around £5M at that time, to pay for munitions. 3211 bars of gold were carried under guard in the second-class baggage room. Her speed, and hence ability to outrun submarines, made her a good choice for this role.
On the morning of Thursday 25th January, she made a short stop in Lough Swilly, Co. Donegal, Northern Ireland, to drop off five (some accounts say four) sick crewmen. Some officers went ashore for a meal in the town of Buncrana. At 5pm she left, on a bitterly cold night in a snowstorm and a Force 12 wind. She had reached a point about two miles offshore from Fanad Point Signal Station, Malin Head, just outside Lough Swilly, when she hit two of six mines laid the previous day by German submarine U80. U80 had already returned to Germany.
It was at first thought that the ship might have been torpedoed, but the Captain said at the enquiry afterwards that "nothing was seen in the water prior to the explosion. The ship was steaming at full speed ahead. No lights were showing".
The first explosion hit abreast the foremast on the port side, causing the ship to list rapidly, and making it difficult to launch some lifeboats. A second explosion hit the port side abreast of the engine room, causing a loss of power, throwing the ship into darkness and disabling the pumps. Without power, no distress signal could be sent. However, flares were fired, which the Signal Station could see, and attempts were made to beach the ship; the Captain then ordered all boats to be launched.
Captain Norton left the ship shortly before she sank. He said that he had gone around her below with an electric torch and satisfied himself that she was empty before ordering "abandon ship". He thought that some men might have been killed in the engine room by the explosion, but no-one who survived was able to confirm this; he said that he knew all the men on the ship came up from the stokehold, and said that to the best of his knowledge, all the men got safely into the boats, in good order "in the best traditions of the navy". The large number of fatalities, over 350, was because of the stormy seas and extreme cold. Lifeboats had flares and trawlers arrived on the scene within two hours, but many men froze to death as they attempted to row to shore, hampered by wind and tide, or waited for rescue.
Some survivors were able to land on remote points off the Donegal coast; 12 officers and 109 men were saved.
The bodies of many men were never found, but 68 identified members of the crew were buried at St Mura's Church of Ireland graveyard, overlooking Lough Swilly, together with three who could not be identified. There are several other graves at more cemeteries near where bodies came to rest; one body was found as far away as the Hebrides.
The Admiralty conducted salvage operations between 1917 and 1924 to recover the gold and all but 25 of the gold bars were retrieved. Three more were found in the 1930s. Official records suggest that there are 22 still to be found.
Commemoration
Ralph is not commemorated on public memorials in Dartmouth, perhaps because he and Edith had moved to Plymouth before the war. He is on our database because an announcement of his death was placed in the Dartmouth Chronicle, on 9th February 1917:
Cuthbert - Lost in HMS Laurentic, Ralph Cuthbert (late of Dartmouth) the dearly beloved and devoted husband of Maud Cuthbert, and darling daddy of Dorothy, Barbara, Vivien and Basil. Loved by all who knew him.
Like all those whose home port was Plymouth who have no known grave, Ralph is commemorated on the Plymouth Naval Memorial.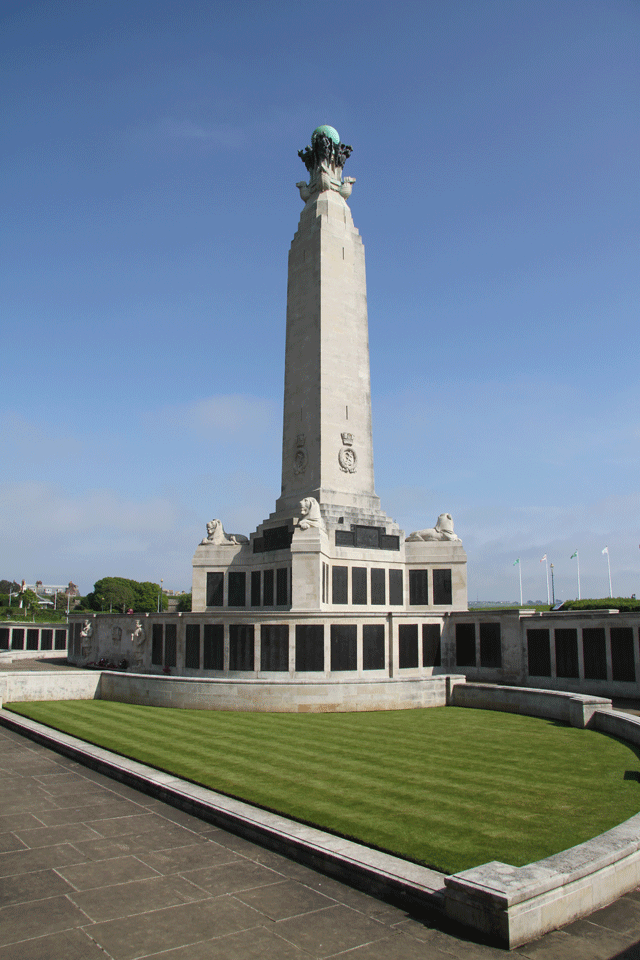 Plymouth Naval Memorial
Sources
Naval service record for Ralph Cuthbert is available for download from The National Archives, fee payable, reference ADM 188/290/176117
Prince Albert (later King George VI) and the Battle of Jutland
HMS Laurentic, by Robert Cuthrie, North Irish Roots, North of Ireland Family History Society 2002
Information Held on Database
| | |
| --- | --- |
| Surname: | Cuthbert |
| Forenames: | Ralph |
| Rank: | Petty Officer 1st Class RN |
| Service Number: | 176117 |
| Military Unit: | HMS Laurentic |
| Date of Death: | 25 Jan 1917 |
| Age at Death: | 38 |
| Cause of Death: | Killed by mine explosion |
| Action Resulting in Death: | |
| Place of Death: | off Northern Irish coast |
| Place of Burial: | Commemorated Plymouth Naval Memorial |
| Born or Lived in Dartmouth? | Yes |
| On Dartmouth War Memorial? | No |
| On St Saviour's Memorials? | No |
| On St Petrox Memorials? | No |
| On Flavel Church Memorials? | No |
| In Longcross Cemetery? | No |
| In St Clement's Churchyard? | No |
| On a Private Memorial? | No |
| On Another Memorial? | Yes |
| Name of Other Memorial: | Dartmouth Chronicle Obituary |
---
This information was last updated on Tuesday 24 January 2017 at 23:50:33.