George Henry Newman
Family
George Henry Newman was not a native of Dartmouth but like so many, came to the town because of his father's service with the Navy. He was born on 19th January 1886 in Newick Street, Plymouth, and baptised at St Andrew's on 10th February 1886. He was the eldest surviving son of Henry William Newman and his wife Hannah Giles.
George's father Henry was born in Paddington, Middlesex, but even within this very urban environment, had felt the call of sea (and steady pay) and joined the Navy aged 15, in 1867. He became a signaller, progressing gradually up the ranks over a long succession of short postings on many ships. The Navy brought him to the south-west, and in 1878 he married Hannah Giles, from Saltash; at the time of the 1881 Census, the couple lived in Cecil Street, Plymouth. Henry was serving in HMS Cambridge, the gunnery training ship, as a signalman at that time.
In the 1911 Census, Hannah recorded that there were twelve children of the marriage, five of whom had died. We have been able to trace eight. The couple's eldest surviving daughter, Jessie Anne, was born in Cecil Street on 10th November 1881, and baptised at St Andrews, Plymouth on 21st December 1881; a second daughter, Lillian Valerie, was born there on 29th May 1884, and baptised at St Andrews on 18th June of that year; sadly, she died aged only two years old, a few months after George was born.
The family had moved to Tracey Street, Plymouth, by the time of the birth of George's younger sister Susan Evelyn, on 21st August 1888. She too was baptised at St Andrew's, on 12th September of that year. Henry achieved promotion at about the same time, being rated 2nd Yeoman of Signals while serving in HMS Cambridge (once again).
From 29 Nov 1888 to 20 July 1892, Henry was away from England, serving in HMS Cleopatra, the British flagship based at Monte Video on the Pacific coast of South America.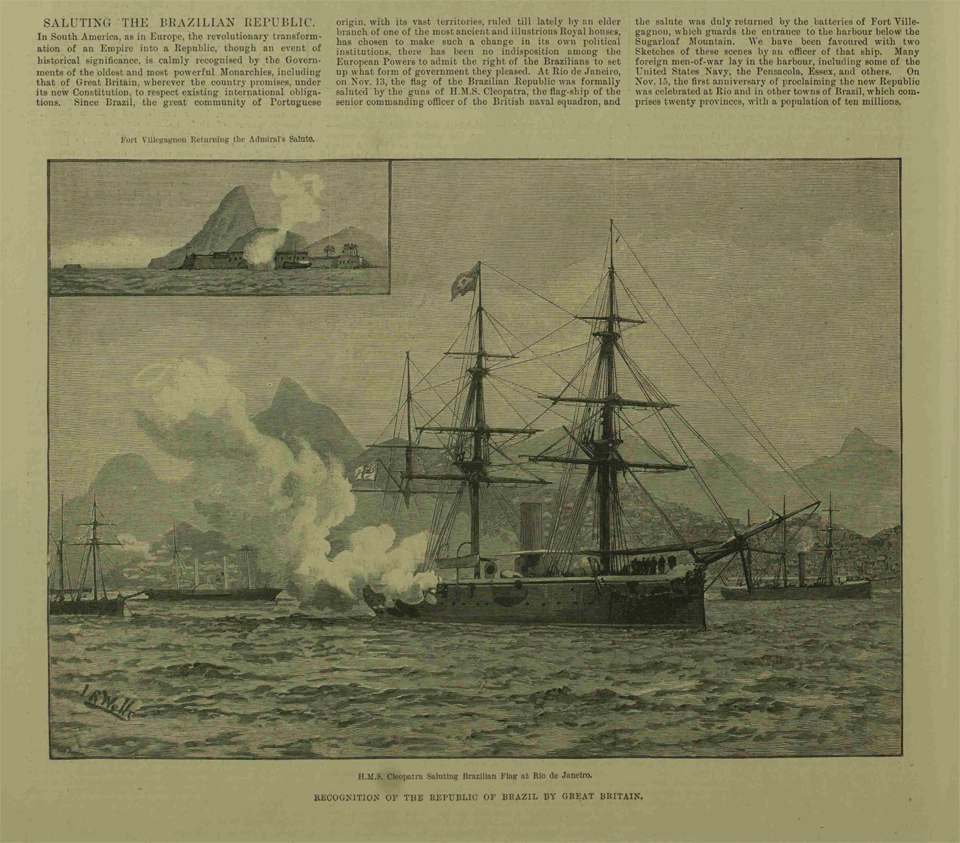 From The Illustrated London News, Dec 13 1890
Meanwhile, Hannah and her children, Jessie, George and Susan, were left behind in Plymouth. The 1891 Census recorded them living at 8 Arundel Crescent. Hannah worked as a charwoman, and all three children were described as "scholar", even the youngest, Susan, who was only two, no doubt to enable Hannah to go out to work.
When Henry came back to England, his next appointment meant a move for the whole family. He was promoted to Yeoman of Signals, and posted to HMS Britannia, the officer cadet training ship, on 12th October 1892. The family came to Dartmouth with him, and remained there. Four children were all born in the town:
Madeline Frances, 28th July 1894
Beatrice Hilda, 28th January 1896
Helen Louise, 29th October 1897
William Giles, 20th August 1899
When Henry left the Navy on 29th February 1896, having served for 25 years (after completing twenty years for a pension, he had extended his service for a further five years) they stayed in Dartmouth. The 1901 Census shows the family living in Lake Street. Henry was working as a labourer. George, aged 15, was apparently not yet at work.
The four children born in Dartmouth were not baptised when they were born but when the youngest, William, was six; all on the same day at St Saviours, 30th March 1905. The family was still living in Lake Street, and Henry was still working as a labourer.
Service
George followed his father's calling and joined the Navy when he was 17, having previously done labouring work. He joined HMS Northampton on 20th August 1903 as a Boy 2nd Class. Only a few months later found himself on his father's old ship, HMS Cleopatra, which was by then being used as a training ship. On his eighteenth birthday in 1904, he signed on for a twelve year engagement. His naval service record says that he was 5' 5 ½" tall, with light brown hair, grey eyes, and a "fresh" complexion.
George progressed quickly, being rated Ordinary Seaman only two weeks after signing on, while serving in HMS Hogue, an armoured cruiser at that time with the Channel Fleet. He did not remain with Hogue for long, transferring on 24th June 1904 to HMS Minerva, as she returned from Devonport after a refit to the Mediterranean. He arrived home in Plymouth two years later, having been rated Able Seaman during the trip.
There followed six months gunnery training at HMS Cambridge, and then a year in HMS Caesar, a Majestic class battleship, when she was recommissioned for service in the Devonport Division of the new Home Fleet. From HMS Caesar he transferred to HMS Cornwallis, an older, pre-dreadnought battleship. Cornwallis served in the Atlantic Fleet until 1909, and then moved to the sunnier climes of the Mediterranean. He came home in August 1910 when she was recommissioned for further service in the Mediterranean; his next ship, HMS Mars, a sister ship to HMS Caesar, was also based in Devonport.
For most of 1912, he served in the Devonport Naval Base, and then was appointed to HMS Devonshire on 14th December 1912. Devonshire was an armoured cruiser completed in 1905, and in the fast moving Edwardian Navy, was old by the time George joined her, serving in the reserve fleet. However, he was still serving in her as the Navy mobilised for war, and found himself part of the Grand Fleet, where Devonshire spent her time reinforcing patrols near Shetland and the Norwegian coast. She captured a German merchantman just after war broke out, but did not see combat, despite going out on many sorties with the body of the Grand Fleet. As she was assigned to the defence of the Nore by the middle of 1916, she did not fight at Jutland.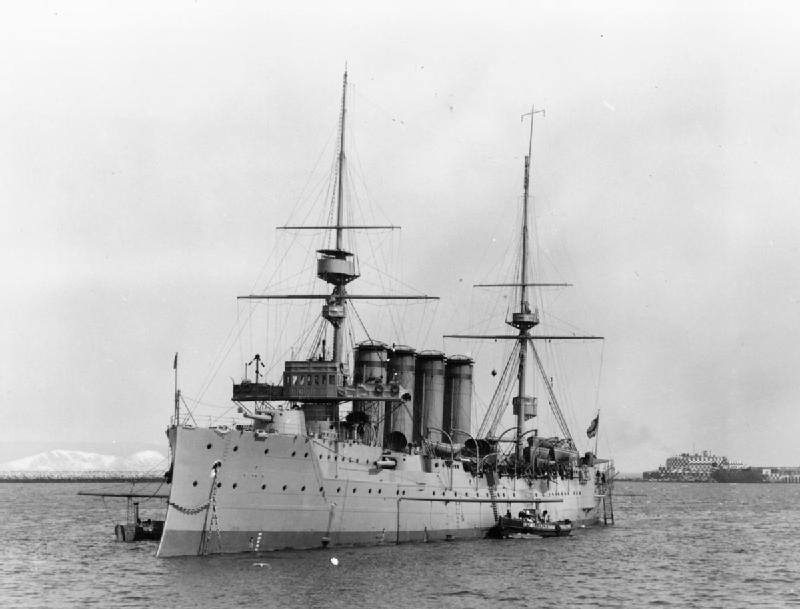 HMS Devonshire
George was promoted to Leading Seaman whilst serving in HMS Devonshire, on 1st February 1915. He left her on 8th September 1916, after nearly four years, and was appointed to Vivid I for HMS Laurentic the following day. His naval service record does not state when he joined Laurentic, which was at that time on general patrol off Halifax, and Laurentic's log for 1916 does not refer to him by name. Laurentic did not return to the UK until 6th December 1916.
Also joining HMS Laurentic at about this time was Ralph Cuthbert. Please see his story for the account of what happened to HMS Laurentic in January 1917.
Death
George was one of the 354 members of the crew of HMS Laurentic who died, most likely of exposure, after the ship hit two mines and sank off the coast of Northern Ireland on the evening of 25th January 1917.
The Dartmouth Chronicle of 9th February 1917 carried the following announcement from George's mother Hannah (George's father Henry had died in 1910):
Deaths
Newman - January 25th 1917, lost on HMS Laurentic, George Henry, the beloved eldest son of Hannah and the late H W Newman (late of HMS Devonshire) age 31 years
Commemoration
George is commemorated in Dartmouth on the Town War Memorial and on the St Saviour's Memorial Board.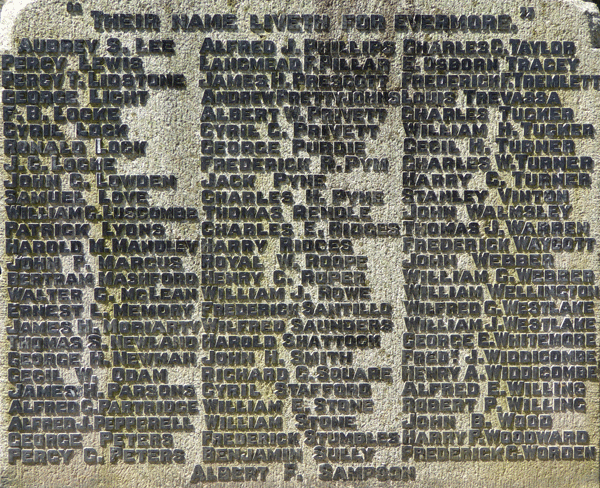 Dartmouth Town Memorial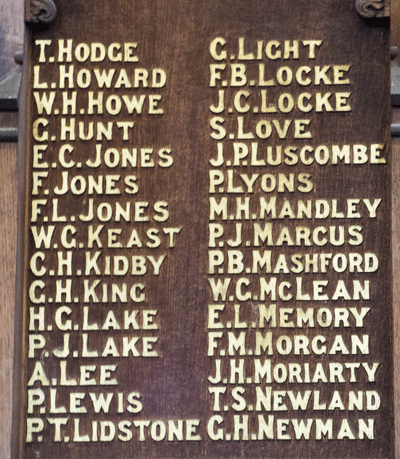 St Saviour's Memorial Board
Like all those whose home port was Plymouth who have no known grave, George is commemorated on the Plymouth Naval Memorial.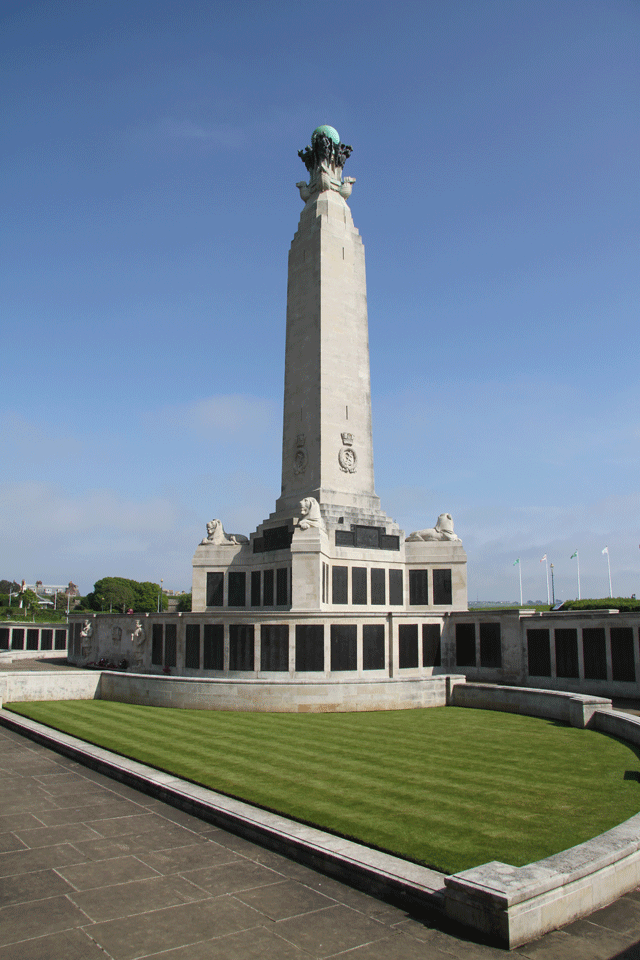 Plymouth Naval Memorial
Sources
Naval service records are downloadable from The National Archives, fee payable, references:
Information Held on Database
| | |
| --- | --- |
| Surname: | Newman |
| Forenames: | George Henry |
| Rank: | Leading Seaman RN |
| Service Number: | 227726 |
| Military Unit: | HMS Laurentic |
| Date of Death: | 25 Jan 1917 |
| Age at Death: | 31 |
| Cause of Death: | Lost at sea |
| Action Resulting in Death: | HMS Laurentic hit a minefield |
| Place of Death: | off Lough Swilly, Ireland |
| Place of Burial: | Commemorated Plymouth Naval Memorial |
| Born or Lived in Dartmouth? | Yes |
| On Dartmouth War Memorial? | Yes |
| On St Saviour's Memorials? | Yes |
| On St Petrox Memorials? | No |
| On Flavel Church Memorials? | No |
| In Longcross Cemetery? | No |
| In St Clement's Churchyard? | No |
| On a Private Memorial? | No |
| On Another Memorial? | No |
---
This information was last updated on Wednesday 25 January 2017 at 12:26:05.