Alfred Criddle
Family
Alfred Criddle was born in Dartmouth in 1896 and baptised at St Saviour's on 17th September of that year. He was the eldest surviving son of Henry James Criddle and his wife Eliza Symons.
Henry James Criddle was born in Ireland but came to Dartmouth as a boy. His father, James Criddle, had served in the Royal Marines and on retiring, set up a hairdressing business in Hanover Street. Henry James went into the same trade.
On 2nd January 1887, Henry married Eliza Symons at St Saviours. Eliza was the youngest daughter of John Symons and his wife Frances. She was born on 1st February 1865 and baptised at St Petrox on 5th March of that year. At that time, John Symons was a dealer in marine stores, but by 1871, he was a "pauper". He died two years later. At the time of the 1881 Census, Eliza lived with her widowed mother Frances, and worked as a dressmaker.
According to St Saviour's baptism records, Henry and Eliza's first child, May, was born in 1889. The family lived in Church Square, Dartmouth, close to St Saviour's (also known as Hanover Square). Their second child, Stanley, was born in 1892, but died when only five years old - Alfred's younger brother, Stanley Horace, born in November 1899, was named in part for the child who had died. The 1901 Census recorded Henry, Eliza, and the three surviving children May, Alfred and Stanley in Hanover Square. Also living with them was Eliza's mother, Frances. Albert Edward was born in August of that year.
In 1903, Henry and Eliza had another daughter, Gladys Muriel, who sadly lived only a few months. Their seventh child, Gladys May, was born in 1905. By the time of the 1911 Census, Alfred's elder sister May had married. Alfred, aged 14, was an apprentice with the Electric Light Company. The three surviving younger children, Stanley Horace, Albert Edward, and Gladys May were still at school. Henry had left the hairdressing business and was working as a fish dealer, with Eliza assisting him.
Service
Alfred's service papers have not survived, but we know from the Royal Army Medical Corps 1914-1915 Star Medal Roll that he arrived in France on 4th June 1915. It is not known when he enlisted; but it would seem from the date of his arrival in France that he responded to Kitchener's call for volunteers in the early stages of the war. He may have joined the RAMC because he had some sort of prior medical experience - perhaps first aid skills; or possibly because he wished to make a contribution to the war effort, but did not want to bear arms. His training will have included both military training - military drill and military discipline - as well as some medical training - but there does not seem to have been any standardised length of time for the training period.
So far as is known, Alfred joined the 26th (3rd Wessex) Field Ambulance. The 3rd Wessex Field Ambulance was part of the Territorial Force and was mobilised at the outbreak of war. In September 1914, the Wessex Division of the Territorial Force was sent to India, to provide the garrison there and enable regular Indian forces to come to the Western Front (see the stories of Harold Wilton and Harry Algar). The Wessex Division was sent without its three Field Ambulances, which, renumbered 24, 25 and 26, joined the mainly regular troops of the 8th Division, which was put together from units recalled from overseas to increase the size of the British Expeditionary Force.
The 8th Division included the 2nd Bn Devonshire Regiment (see the stories of Harry Ridges, James Maddick Moses Tuckerman and William Charles Webber). The three Field Ambulances went to France with the rest of the 8th Division on the night of 5th/6th November 1914. By the time Alfred joined it, the 8th Division had fought at Neuve Chapelle and Aubers Ridge, but the summer of 1915 was, in the words of the Divisional History "a period of comparative quiet, which was the nearest approach to rest the troops had experienced since the division had come out to France".
The type of unit Alfred joined, the "Field Ambulance", was the RAMC unit closest to the front line. It consisted of around 240 men, including medical officers, stretcher bearers, nursing orderlies, cooks and clerks; and with its own transport, including both horse-drawn and motor ambulances, as well as stores wagons, water carts, cooks wagon, forage carts etc. Functionally, the unit was divided into stretcher-bearer and tent sections - the main task of the bearers was to carry the wounded, whereas the tent section nursed the wounded and sick. Operationally, the unit was divided into three Companies - "A" Company, deployed rearward, formed the "main dressing station (MDS)", and "B" and "C" Companies, deployed forward, close to the front line, to form two "advanced dressing stations (ADS)".
The aim was to get a wounded man treated as soon as possible and thus as near to the front line as possible, consistent with ensuring that treatment was effective and safe. The "evacuation chain" was (broadly):
Regimental aid post, in charge of Battalion Medical Officers. This provided first aid and triage - there was no holding capacity. Those requiring further treatment were passed to the
Advanced Dressing Station, sometimes by way of intermediate collecting points called "Collecting Posts" and "Relay Posts". RAMC stretcher bearers shuttled between posts and between the posts and the ADS. The ADS did not normally have a holding capacity, though if it had to move, could take its casualties. It provided further triage and treatment of lightly wounded or sick. Those requiring further treatment were passed to the
Main Dressing Station, by horse or motor transport, where there was a holding capacity of several days. To begin with, MDS's did not have a surgical capacity, though life-saving operations could exceptionally be carried out. Later in the war, fully equipped surgical teams were attached to the Field Ambulances. Those requiring further treatment were passed to a
Casualty Clearing Station, which was a large unit with a minumum of 50 beds and 150 stretchers, and thus able to treat a minimum of 200 sick and wounded at any one time. These had a holding capacity of four weeks and were, to all intents and purposes, permanent units (though they did move from time to time). Casualty Clearing Stations had surgical facilities and they were the furthest forward for nursing staff. Two or three were often clustered together, admitting cases in rotation
From Casualty Clearing Stations, men requiring further treatment were sent on to "Stationary Hospitals" or "General Hospitals" in the Base Area in France or at home in the UK.
Field Ambulances typically saw periods of intense activity in battles alternating with the day-to-day task of maintaining the health and efficiency of the front line troops. In his diary, Sergeant-Major Albert House, of the 24th Field Ambulance (also with the 8th Division), observes that:
During the long periods of trench warfare two Field Ambulances were usually in the line, the other one running a Divisional Rest station, a sort of "open house" just behind the line, and dealt with all the Divisional sick and slightly wounded, the idea being not to let any of the Division go out of the area if possible. The Medical Officer decided that if the soldier would get well in a few days he was kept, if not he was evacuated.
Common problems included trench foot, frost-bite, typhus and other lice-borne infections, and typhoid fever and other similar diseases. Inoculation and ensuring effective sanitation were important aspects of the Field Ambulance role. In mid-June 1915, for example, at about the time when Alfred joined his unit, the War Diary of the Assistant Director Medical Services (ADMS) 8th Division describes the work of the Field Ambulances as follows:
11th June - 9.30pm - Sailly: Admitted 69 of which 18 were wounded and 51 sick, evacuated 40, remaining 182. Two cases of measles reported both of 2nd Northants. Both cases evacuated and all precautions taken.
12th June - 9.30pm - Sailly: Admitted 54 of which 15 wounded and 39 sick, evacuated 39, remaining 174
13th June - 9.30pm - Sailly: ... Two cases of Enteric reported to GHQ. Admitted 53 of which 19 were wounded and 34 sick, evacuated 27, remaining 173
14th June - 9.30pm - Sailly: Admitted 62 of which 12 were wounded and 40 sick, evacuated 32, remaining 161. No 1916 Sergt E C Chaplin RAMC 26th FA is now reported as suffering from Para-typhoid.
15th June - 9.30pm - Sailly: Admitted 65, of which 21 were wounded and 44 sick, evacuated 37, remaining 153
The 8th Division was at this time holding the sector of the line south of Armentieres. It will be seen that, across the Division, the three field ambulances were admitting around 60 cases a day, most of whom were sick, and sending around 40 cases up the evacuation chain, whilst continuing to look after around 160.
On 25th September 1915 the 8th Division was involved in the action of Bois Grenier, a diversionary attack scheduled to take place on the same day as the Loos offensive further to the south. The objective was to capture about 1200 yards of the German front line system opposite two salients in the British line at Bridoux and Well Farm, to shorten and strengthen the British line.
This was presumably Alfred's first experience of the work of the Field Ambulance in a battle. It is not known whether his role was that of bearer or whether he worked in the tent section. The ADMS's War Diary reports:
Casualties:
First wd. arrived at 26 FA at 6.55am and at No 24 FA at 6.40am and continued to arrive at irregular intervals during the say. They were rapidly evacuated to Bailleul by Sect No 2 MAC (Motor Ambulance Convoy).
Following numbers were admitted during the day:
No 24 FA = 8 [officers] & 267 [OR]
No 26 FA = 10 [officers & 446 [OR]
Evacuation:
The weather was wet and the mud in the trenches greatly added to the difficulties of evacuation and the work of the bearer division was arduous. [Trams were used to assist] which greatly facilitated the evacuation but the wet weather and mud increased the difficulties of transporting wounded from firing line to rail heads. By 9pm all casualties as far as could be known had been sent in to the FAs and [Motor] Ambs removed wounded from the Dressing Stations all through the day.
Abdominal and Chest wounds:
A special ward with Operating Surgeon and staff QAIMNS was installed at No 26 FA by the 24th and proved invaluable as the cases were operated on and well nursed until fit for transport.
The 8th Division's attack successfully straightened out the British front line, but did not succeed in holding on to the German trenches. Any larger strategic benefit was lost, as the main attack at Loos, from which it was intended to divert German forces, did not succeed.
The Division remained in the same part of the front line for several months. After a relatively quiet winter, the Division moved to the Somme on 27th March 1916, handing over a small number of current "remaining" cases to the Field Ambulances of the incoming Division. The ADMS' diary describes the move:
28th March 1916: 25th FA has arrived at Vignacourt; 24th and 26th still on the road
29th March 1916: 24th FA arrived Flesselles, 26th Bourdon and 25th Vignacourt
31st March 1916: Went to see New Area and fixed on Baisieux for 26 FA, Millencourt for 25 and Lavieville for 24.
The Field Ambulances moved into their new locations on 4th April 1916. On 6th April 1916 the ADMS went up to the trenches to see the Regimental Aid Posts and observed that "distances are long and evacuation difficult". In the middle of June, as part of the preparation for the forthcoming attack, 24th FA and 26th FA moved to Henencourt Wood.
1st July 1916
The 8th Division attacked north of the Albert-Bapaume Road, towards the village of Ovillers-La Boisselle. For the circumstances of the attack, see the story of William Charles Webber, of the 2nd Devons. The ADMS's report, even though written for the official record, shows clearly that the evacuation chain was overwhelmed by sheer numbers of wounded.
Attack at 7.30am by 8 Divn after 1 hours bombardment (intense). Wounded commenced coming in about 8am to Divl Collecting Station. At 9am round[ed] up all 26 FA cars to Divl Collecting Station and asked HAG for extra lorries for walking and sitting cases. 2 were sent and evacuation went on rapidly. At 12.30pm Crucifix Corner ADS became congested and all cars sent there ... At 1pm 8 Divn Hdqrs asked 19 Divn for their motor ambulances. 1.15pm wired DDMS Millencourt [that] 25 FA blocked with walking cases and that I had arranged with ADMS 19 Divn to send cases direct to Lavieville.
1.50pm 26 Bearer Division thrown in. 2.30pm 3 motor ambulances of 36 FA 12th Divn sent up to assist & Crucifix Corner cleared ... At 6pm 26 FA ordered to open North Chimney Albert to relieve congestion of 24 and 25 (FA).
6pm MO/C Divl Collecting Station [reported] that Crucifix Corner ADS clear. At 8.30pm CCS Heilly reports full and cases to go to Puchevillers CCS. At 8.30pm DDMS writes that 12 Divn Bearer Division were coming in to help 8 Divn and tent sub-Division of 2 FAs coming to help 24th and 25th Main Dressing Stations. 10.30pm both 24th and 25th report full up and want more cars for evacuation. 12 midnight wire received [from] DDMS [that] cases must be retained.
About 6pm I went around ADS Quarry Post, Donnet Post and Ovillers Post and found that at Quarry Post wounded waiting for stretchers to come down. Had already ordered all stretchers to be sent up to Crucifix Corner and pushed up as rapidly as possible to ADSs.
The situation continued through the night and into the following day, 2nd July 1916:
12.10am 24 and 25 FA blocked with wounded. No lorries available from Hdqrs to evacuate. 26 FA now open for reception of wounded. Bearer division of 38 FA 12 Divn come into Henencourt Wood to be in reserve.
3.30am have had messages from 70 Bde that 100 cases waiting for stretchers in trenches. DADMS has gone to 24 and 25 FAs to get all cases possible off stretchers and have then sent up to Crucifix Corner. A Bearer Division of 36FA should now be helping removal. Written 26 FA at North Chimney to keep cases until 24 and 25 FA relieved and wired DDMS 3rd Corps that stretchers still urgently required...
9.30am: HAG giving lorries to evacuate sitting cases to CCS Puchevillers am evacuating lying cases from 26 FA to CCS by own cars ... 37 FA 12 Divn helping 24 FA at Henencourt Wood. Cases still coming in slowly.
12 noon: 42 Lorries are being sent by Supply Column to clear 24 and 25 FAs. Walking cases Frechencourt and sitting Puchevillers. 26 FA North Chimney Albert evacuating to Puchevillers by cars of Division as they have many bad cases which were collected during night in "No Mans Land.
2pm: Orders came for Divn to be ready to move off at ¼ hours notice. 12 Divn taking over 24 and 26 FA temporarily as both full of wounded. 25 FA handed over patients and comes with Division ... Recalled stretcher bearer Divisions from the trenches for a rest....
State: admitted 11 sick and wounded 2382, evacuated sick 8 and wounded 1400, remaining sick 147 and wounded 985.
Total casualties through FAs from 6am 25th June 1916 to noon 2nd July 1916, officers 124, other ranks 2630.
Sergeant-Major House, of 24th FA, recorded the human reality of this experience:
The clearing station behind us could not deal with the abnormal number of wounded, and we could not get cars to take them away, hundreds lay out in the open all night on stretchers. One man on a stretcher in a hut screaming for food and water, on examination we find his intestines torn and protruding and he must not be fed, on returning later he is standing at the door of the hut ravenously eating a huge piece of bread and jam he has got from somewhere, he has on only a shirt and the bandages are hanging about his knees, a short time after we carry him away and he is buried next day with others in a temporary graveyard under the hill.
24 and 26 FA rejoined the 8th Division on 6th July. The Division, having been withdrawn from the Somme area, was allowed a few days rest at Bruay before taking over the Cuinchy sector of the front line. For their experiences there, see the story of William Charles Webber. The Field Ambulances, meanwhile, settled back into the "normal" trench warfare routine for the next few months.
In early October, orders came for the 8th Division to return to the Somme sector, to contribute to the attack along the "Le Transloy Ridge". According to the 8th Division history:
The new sector fronted a long tongue of rising ground which covered the village of Le Transloy and was itself dominated by the still higher ground about Saillisel. This latter village formed the key to the whole Le Transloy position. Throughout October and well into November ... the French strove to take Saillisel, the British co-operating with them. The neighbouring village of Sailly Saillisel had been reached and gained by the French by hard fighting on 12th and 18th October. The arrival of the 8th Division in line ... coincided with the preparations for a fresh attempt on 23rd October ..."
The Field Ambulances began their move south on 11th October. Nine days later they were in position near Bernafay Wood. The ADMS observed:
Conditions bad - mud deep and ground wet ... carry for wounded is very heavy and road impossible for motor cars by the ADS and for horse ambulances beyond south end of Delville Wood.
The attack began at 2.30pm on 23rd October, having been postponed a few hours due to fog. While the attack of the flank brigades was largely successful, the attack in the centre had partially failed. Plans to renew the attack were then indefinitely postponed due to very bad weather, the condition of the ground making it impossible for attacking troops to keep pace with the creeping barrage.
However, this time the casualty handling system seems to have kept pace with the numbers - a census in the evening of 24th October of numbers of cases still waiting in the trenches and at Regimental Aid Posts, recorded in the ADMS War Diary, shows "nil" for many places. By 6pm on 25th October they had handled a total of 1107 casualties, though evacuation had been very difficult and the bearers were exhausted - "Bearer divisions almost worked to a stand still". The conditions which made it impossible to renew the attack also made it extremely difficult to carry the wounded.
The ADMS 8th Division War Diary also records on 28th October 1916 the casualties in the Field Ambulances "to date":
24th: 1 OR killed, 1 wounded. One officer had been wounded but was at duty.
25th: 2 OR killed, 2 OR died of wounds, 4 OR wounded
26th: 2 OR killed, 9 OR wounded
On 29th October, a further tally of total RAMC casualties "to date" is given:
Regimental officers: killed 2, wounded 4
Other ranks:
24th: wounded 2
25th: killed 2 and wounded 5
26th: killed 2 and wounded 12
It seems that one of those wounded in 26th FA was Alfred, who became a patient in the chain of evacuation of which he was a key part. One page of a "progress report" from 34 Casualty Clearing Station, dated 2nd November 1916, has survived, covering the state of several patients. It tells us that Alfred had been hit by gunshot wounds to his abdomen and both thighs, and that he died on the date of the report - 2nd November 1916.
Death
On 17th November 1916, the Dartmouth Chronicle reported:
Died for his country - On November 1st Mr Criddle, of Woodbine cottages, Dartmouth, received information from the War Office that his eldest son, Private A Criddle RAMC had been dangerously wounded in the abdomen. He has since received the sad news that he passed away on November 2nd. Private Criddle had been in France eighteen months. Much sympathy is expressed with the relatives in their very sad bereavement.
Henry and Eliza placed an announcement in the same edition of the paper:
Deaths
Criddle, of wounds received in Action, Alfred Criddle RAMC age 23 dearly beloved son of Mr and Mrs J H [sic] Criddle Woodbine Cottage - From his sorrowing father, mother, brothers and sisters.
Far away beyond the shadows
In our Father's house at home
There our precious one departed
Watch and wait for us to come
34 Casualty Clearing Station was based at Grove Town, near Méaulte, south of Albert. Alfred was buried in Grove Town British Cemetery. When his headstone was engraved, Henry requested the words:
Died for Father, Mother, Sister, Brothers and his country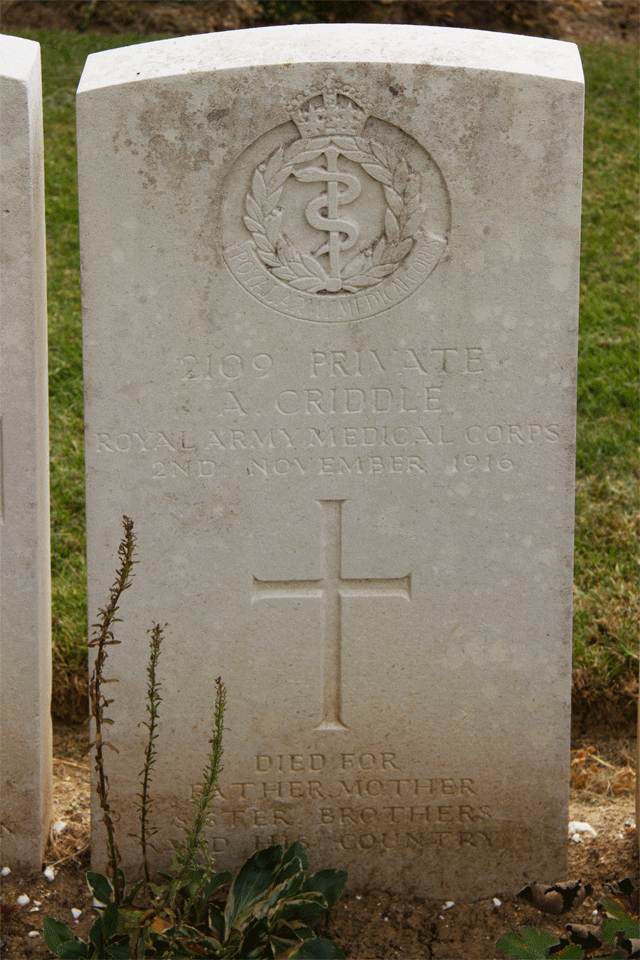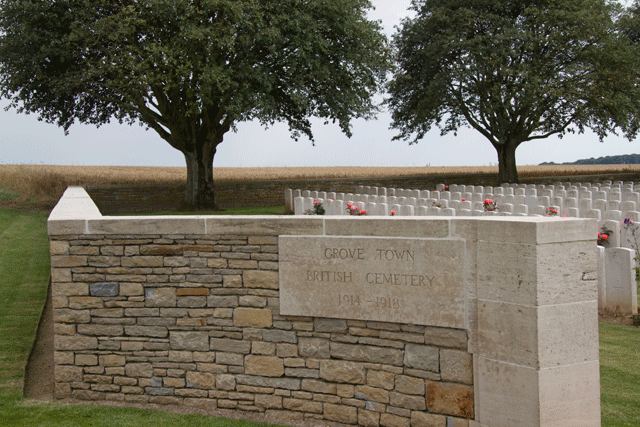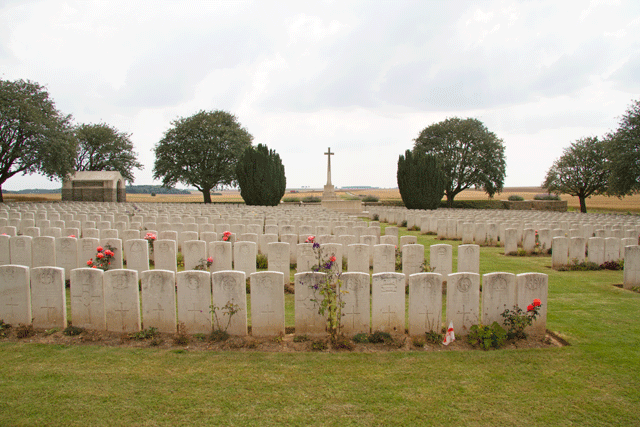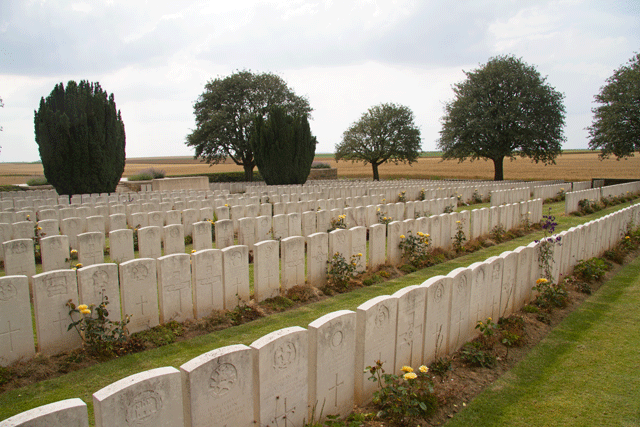 Grove Town Cemetery near Méaulte, France
Commemoration
Alfred is commemorated in Dartmouth on the Town War Memorial and the St Saviour's Memorial Board.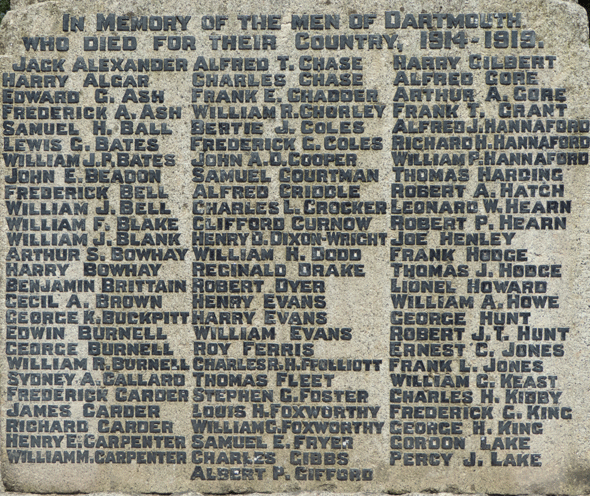 Dartmouth Town Memorial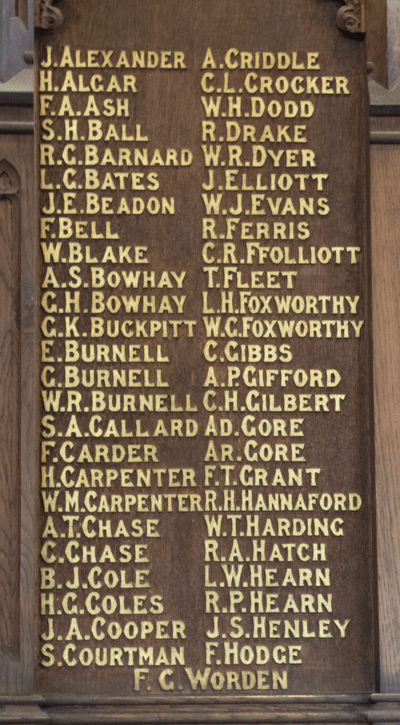 St Saviour's Memorial Board
Sources
War Diary of 8th Division Headquarters Branches and Services: Assistant Director Medical Services, 4th November 1914- 27th March 1919, available at the National Archives, fee payable for download, reference WO 95/1687
The Long Long Trail: The Royal Army Medical Corps of 1914-1918
RAMC in the Great War: the Chain of Evacuation
The Royal Army Medical Corps and the Role of the Field Ambulance on the Western Front, dissertation by Stephen Western, University of Birmingham Centre for First World War Studies, September 2011
The 24th (1st Wessex) Field Ambulance, diary of Sergeant-Major Albert House
The 8th Division 1914-1918, by Lt Col J H Boraston CB OBE and Captain Cyril E O Bax, Naval and Military Press [no publication date given]
Information Held on Database
| | |
| --- | --- |
| Surname: | Criddle |
| Forenames: | Alfred |
| Rank: | Private |
| Service Number: | 2109 |
| Military Unit: | 26th Field Ambulance, Royal Army Medical Corps |
| Date of Death: | 02 Nov 1916 |
| Age at Death: | 20 |
| Cause of Death: | Died of wounds |
| Action Resulting in Death: | Battle of the Somme |
| Place of Death: | 34 Casualty Station, Grove Town |
| Place of Burial: | Grove Town Cemetery near Méaulte, France |
| Born or Lived in Dartmouth? | Yes |
| On Dartmouth War Memorial? | Yes |
| On St Saviour's Memorials? | Yes |
| On St Petrox Memorials? | No |
| On Flavel Church Memorials? | No |
| In Longcross Cemetery? | No |
| In St Clement's Churchyard? | No |
| On a Private Memorial? | No |
| On Another Memorial? | No |
---
This information was last updated on Tuesday 01 November 2016 at 15:07:00.