William Henry ("Harry") Algar
Family
William Henry Algar was born in Dartmouth in 1879 (the precise date is not known) and baptised at St Clements, Townstal, on 24th August 1879. He was the eldest surviving son of James Algar and his wife Anne Fellew.
James Algar was born in 1846 in Wolborough, Devon, the son of Joseph Algar, and his wife Sarah Rendell. Perhaps his birth was unexpected, for the family lived in Ideford and he was baptised there in 1850, along with one of his brothers and his only sister. At the time of James' birth, Joseph was a shoemaker. Later, however, he became a railway porter, and by the time of the 1861 Census the family had moved to Topsham and Joseph was a police constable.
By this time James had left home and, age 14, was recorded working as the "Cow Boy" at Wolfsgrove Farm, Bishopsteignton, farmed at that time by Thomas Cornish. Evidently, however, he wanted a more exciting life, for on 21st March 1866, aged 20, he enlisted in Exeter for ten years service as a Private in the Royal Marine Light Infantry, being allocated to Plymouth Division. The life suited him and on 23rd August 1876 he re-engaged for further service. Shortly after, on 23rd November 1876, he "embarked" (as his service record has it) on HMS Britannia, in Dartmouth. While serving in Dartmouth he met his wife, Anne Fellew.
Anne's father, Henry Walter Fellew, was born in Dartmouth and baptised in St Saviour's in 1829. He was a mariner and fisherman. He married his wife, Ann Lake, on July 26th 1851 in Brixham, but by the time of Anne's birth in 1853, the family had moved to Liverpool.
Shortly after the birth of Anne's younger brother, William Henry Fellew, in Liverpool in 1855, Henry Fellew died. Their mother married again, a shipwright named John Gilchrist, and remained in Liverpool with her new husband and her infant son William Henry. She went on to have several more children and remained in Liverpool for the rest of her life.
Anne, however, was sent back to Dartmouth, to her paternal grandmother Mary Bennett. Mary had married James Bennett in 1849 after her first husband, William Fellew, Anne's grandfather, also a mariner and fisherman, was drowned off the coast of Kent, in 1832. Anne was thus brought up in Dartmouth, by her grandmother and (step)grandfather. The 1861 and 1871 Censuses both recorded the family in Clarence Street. By the time of the 1871 Census, Anne was 18, and working as a servant.
James and Anne married on 26th October 1878, at the Wesleyan Chapel in Kingswear (unusually, they also seem to have undergone a second marriage ceremony in 1882). They settled in Dartmouth, also in Clarence Street. In 1879, William Henry ("Harry") was born, followed by Edith Mary in 1881, James Alfred in 1883, and Rosina Maud in 1885. Harry, Edith and Rosina were baptised at St Clement's Townstal. Sadly, according to information provided by Anne herself on the 1911 Census return, she also suffered a stillbirth, though the date was not recorded. (Registration of stillbirths did not begin in England until 1927).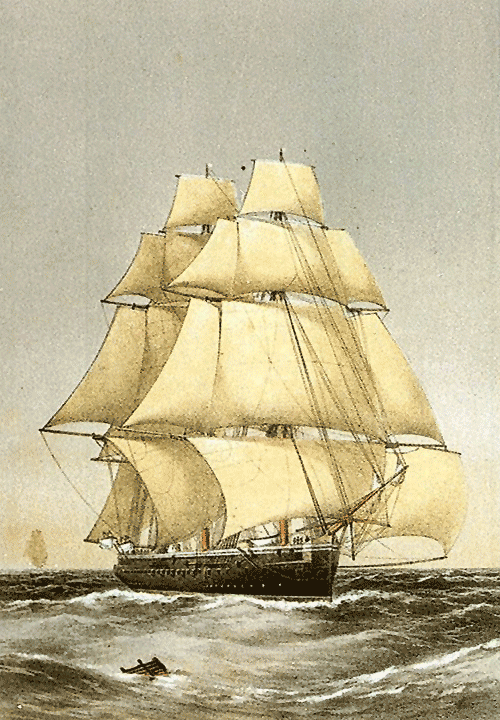 HMS Bacchante in 1876
James was "disembarked" from HMS Britannia on 31st July 1879. His next substantive service was on HMS Bacchante, from 19st August 1879. Also on board were the two oldest sons of the Prince of Wales, Prince Albert (who would have succeeded his father (Edward VII) had he not died prematurely of influenza in 1892) and Prince George (who became George V). Both boys had joined HMS Britannia in 1877 as naval cadets, and in 1879 it was decided that they should undertake a naval cruise. Bacchante was the ship chosen. James Algar's service at HMS Britannia while the boys were there may have been the reason he was selected as one of the contingent of 49 Royal Marines on board.
While on board the Princes kept diaries, which were subsequently edited by their tutor and published in two volumes as "The Cruise of Her Majesty's Ship Bacchante". Bacchante's cruise took her to the Mediterranean, West Indies, South America, South Africa, Australia, China and Japan, returning in August 1882, by which time she had covered 40,000 miles and rounded the Cape of Good Hope twice, and after which she and her crew, including James, were paid off.
The ship's itinerary included a stop in the UK (at Portsmouth) of a month in May 1880, during which the crew were allowed leave. In consequence, James' eldest daughter Edith was born in January 1881. Though he was away on Bacchante, Anne nevertheless appears to have ensured that he was recorded in the 1881 Census as living in Clarence Street, perhaps because at the time of the Census, her daughter was only two months old. (James was also recorded by the Royal Navy on board the Bacchante).
After a period of leave, James was able to remain with his family, because his next appointment was again to HMS Britannia, from 21st December 1882 to 8th May 1883. His son James Alfred was born in 1883, but sadly died shortly after birth. This must have been especially difficult for Anne, because James was sent abroad again on 9th May 1883, serving in HMS Canada, on the North America and West Indies Station, until 5th September 1884.
He was then brought back to England for service in HMS President, in London, and HMS Excellent, in Portsmouth. Rosina, the couple's youngest surviving daughter, was born on 29th December, 1885. In 1886 Anne was once more left alone with the children in Dartmouth as James was posted to the Mediterranean.
Here he once more came into contact with the Royal Family, as he joined HMS Thunderer at the same time as Prince George, who was by that time a Lieutenant. James seems to have transferred back and forth between HMSs Thunderer and Dreadnought, along with the Prince. Prince George was serving under his uncle, Prince Alfred, Duke of Edinburgh, the second son of Queen Victoria, who became Commander in Chief, Mediterranean Fleet, in March 1886. In May 1887, James was appointed to HMS Alexandra, the Duke's flagship, and seems to have returned to England on a "pass home" at the same time as the Duke of Edinburgh and Prince George, who came back in June 1887 from the Mediterranean for the celebrations of Queen Victoria's Golden Jubilee.
Shortly after, on 18th July 1887, James completed 21 years of service, and retired, presumably to pension. He had remained a private throughout, but was able to boast of having five good conduct badges. What James did upon retiring, however, is not known. In 1891, Anne and her three children, Harry, Edith and Rosina, were recorded living in South Ford Road, Dartmouth, with Anne's aunt Elizabeth Fellew (the wife of John Thomas Fellew, Anne's uncle). John Thomas Fellew had developed a business for himself in Dartmouth as a builder and had done well. He had died in 1885 leaving Elizabeth comfortably provided for, and it would seem that she offered a home to Anne and the children. We have not so far been able to trace James' whereabouts in that Census.
However, records do exist of James' employment in the Royal Household as a valet at York House, the home of Prince George, the Duke of York, for the years 1894-1897 inclusive, earning £25 per annum. He was presumably able to obtain this position because of his previous contact with Prince George during his naval service. Royal Household records further show that in 1898 Mrs Anne Algar was awarded an annual pension of £25, paid quarterly. The comments in relation to the payment state that she was "Wife of Valet at York House; granted when her husband forfeited his allowance". A notice placed by solicitors in newspapers in 1965, after Edith's death, indicates that the family believed that James had died in 1898 - and, by implication, that, even if he had not, they had completely lost touch with him. We have not so far been able to identify a likely death record for him.
This must have been an extremely difficult situation for Anne and her children. In 1901, the Census recorded Ann living in Victoria Road, with Harry and Rosina; and in 1911, in Clarence Hill, living only with Harry. In both cases she described herself as "married", not as a "widow". Her daughter Edith married Alfred Brooks at St Saviour's on 6th April 1910 (when James Algar was described as "Valet"), and the couple settled in St Mary Church, Torquay. Rosina was working nearby as a parlourmaid. Harry did not marry, and continued to live in Dartmouth with his mother.
Harry chose as his career not the Royal Marines or the Royal Navy, but engineering, working as a Fitter for Simpson Strickland & Co, one of Dartmouth's leading shipbuilding and engineering firms. Their works at Noss, across the river from Dartmouth, were extensive; for example, in 1910, they built boats for seven countries - Britain, India, Italy, Brazil, Belgium, Russia and Argentina - launched a yacht for the Prince of Monaco and one for the Grand Duke Stephen of Austria. A letter included in Harry's military service records (which have survived) from the Works Manager at the company in 1909 stated that:
"W H Algar has been employed in our Fitting Shops for a number of years, and can therefore claim the title of a qualified fitter."
However, Harry did volunteer to serve as a "part-time" soldier. He joined the 1st Devonshire Royal Volunteer Artillery in 1899, which in 1902 became the 1st Devonshire Royal Garrison Artillery, and served until they were incorporated within the new Territorial Force, set up in 1908. Harry's attestation papers for service in the Territorial Force show that he had previously attained the rank of Compay Sergeant Major in the Volunteer Force. On 2nd April 1908 he joined the 2nd Devonshire Battery of the 4th Wessex Brigade, Royal Field Artillery, Territorial Force, at the rank of Sergeant, and re-engaged each year for the next year, until 1914, when he again agreed to serve for a further period of one year. In 1913 he was ranked Sergeant Fitter, and in 1914, Staff Sergeant Fitter. Unfortunately, he did not undergo any medical examination when joining or re-joining.
The 4th Wessex Brigade was one of the three field gun brigades of the Wessex Division, which was one of the fourteen divisions of the Territorial Force established in the Haldane Reforms. The 2nd Devonshire Battery was based in Paignton, and recruited many men from Dartmouth and the surrounding villages.
The second and third in command were Harold Wilton (whose story we published in November 2014) and his brother Eric. Harry was the senior NCO of the Dartmouth detachment.
Outbreak of War
Harry was mobilised to join his unit at Larkhill on 5th August 1914. In September 1914, the government of India agreed to send 32 British and 20 Indian army battalions from India to the front line in Europe. To provide garrison troops in India, the Wessex Division was sent in their place. Units assembled at Southampton on 9th October and arrived, via Malta and Suez, at Bombay a month later. The Dartmouth Chronicle of 27th November keenly reported their progress to what must have seemed exotic locations:
Nine battalions of Territorial infantry and eleven batteries, all belonging to the Wessex Division, which arrived in Bombay on November 9th, have now been drafted to the various stations where they are destined to spend their period in India. The 4th Wessex Brigade RFA includes a large number of Dartmouth men ... The 4th Devonshires have gone to Fenczepore, the 5th to Multan, which is a city of the Punjab, 200 miles south-west of Lahore. The 5th Somerset Light Infantry have been sent to Madras and Jubbulpore, the 4th Dorsetshires to Mhow, and the 4th Wiltshires to Delhi. The 5th Hampshires are stationed at Poona and Allahabad, the 6th at Dinapore, and the 7th at Bombay ... The 1st Devonshire Battery is at Allahabad, the 2nd at Dinapore, and the 3rd at Barrackpore.
The newspaper also included extracts from letters home from the men. Private J F Pound, a member of No 2 Battery, wrote about the comforts they were experiencing:
We left [the docks] on Wednesday evening at nine o'clock and arrived at Dinapore on Saturday afternoon at four o'clock, covering a distance of 1056 miles in 67 hours ...The railway is worked like ours at home, but the carriages have more windows and the seats are hard boards ...When we arrived at the cantonment all the horses were taken away and put in stables by natives ...We then had some supper, which was cooked by natives, but which was very good ...Our beds are of iron with one mattress of hair, one bolster, three sheets, and one blanket. There is a carpet and also a box to keep our kit in, and each has a basin to wash in. When we awoke in the morning we had tea brought in and a native came to shave us and ... clean boots and buttons. The buildings are large and cool ... there is a reading room, and wet and dry canteens.
The newspaper continued to keep in close touch, despite the distance. On February 19th 1915, it reported that:
The Devon Territorials stationed at Dinapore, including the men of the 4th Wessex Brigade RFA, with whom are numerous Dartmothians, spent a very pleasant time last month on the Maidan, Bankipore, when a Soldiers Fete was given by the residents .... The troops ... had been looking forward to it ...as a respite from the routine of drill, musketry, and parade, and being new to India, with some curiosity to see what the capital of the province was like, and to meet the people.
Death
Harry's service in India lasted eleven months, from 9th October 1914 to 9th September 1915. The circumstances of his death are described in the medical reports in his service record. He had come to the hospital in Dinapore on the evening of the 9th September, having had a headache for the past two days. He had been to Barrackpore for over one month and had returned two days before coming to hospital. He said he had suffered from rheumatic fever two or three years before, in England.
He was admitted to the hospital on 10th September 1915, and died that day. The diagnosis was heatstroke. He was admitted with a headache and pains behind eyes and in his limbs; he had a rapidly rising temperature, which registered 110.7°F. Strychnine and digitalis were given and he was placed in an iced bath. His temperature then reduced a little, but a few hours later suddenly fell well below normal, and he lost consciousness. Hot water bottles were then applied to his feet and body, and strychnine and digitalis were given again, but at 3.50 in the afternoon he died, not having regained consciousness. It was concluded that the rheumatic fever had weakened his heart, and that the heatstroke had caused heart failure.
In the Dartmouth Chronicle of September 17th 1915 appeared a short article:
Dartmouth Soldier's Death
The sad news was received at Dartmouth on Saturday by the Vicar (Rev F R B simpson) of the death in India of Staff Sergeant Harry Algar, while serving with the 4th Wessex Brigade RFA. Deceased served for a number of years with the old Dartmouth Royal Garrison Artillery Volunteers, and was one of the earliest to join the local detachment of the 4th Wessex Brigade, Royal Field Artillery. He was a most zealous and efficient non-commissioned officer, and was very popular with the men. The deepest sympathy is felt with his mother, who lives at Clarence Hill.
The newspaper subsequently published on October 15th 1915 the letter sent to Anne Algar from Mrs Vickers, the wife of the commanding officer Major Stansfield Vickers:
I felt I should like to write you a few lines to tell you how grieved Major Vickers and I were to hear of the death of your fine son. We were on leave ... when the tragic event happened... as a soldier he was invaluable to us, and loved by everyone.
It seems he was poorly for some days before he admitted it, and then his heart gave out finally. We are so sorry for you, and offer you our deepest sympathy, in which all the officers, I am sure, wish to join .... They died for their country every bit as if they had been in the trenches. I can assure you that the Indian people are most grateful to have the Territorials out here to guard them in case of trouble arising, so we are doing our bit, every bit as much as the rest of the Army...
Your son was buried with full military honours last Saturday in the military cemetery here, at 6.30 pm, September 11th.
The newspaper continued that:
Mrs Algar has also received the following letter from Lord Kitchener: "The King commands me to assure you of the true sympathy of his Majesty and the Queen in your sorrow."
By the time of his death, Harry had completed 16 years 188 days of service.
Commemoration
Harry is buried in Dinapore (Danapore) No 3 Cemetery, alongside Captain Harold Wilton. He is also commemorated in India on the Madras 1914/1918 War Memorial, at Chennai.
In Dartmouth he is commemorated on the Town War Memorial and on the St Saviour's Memorial Board.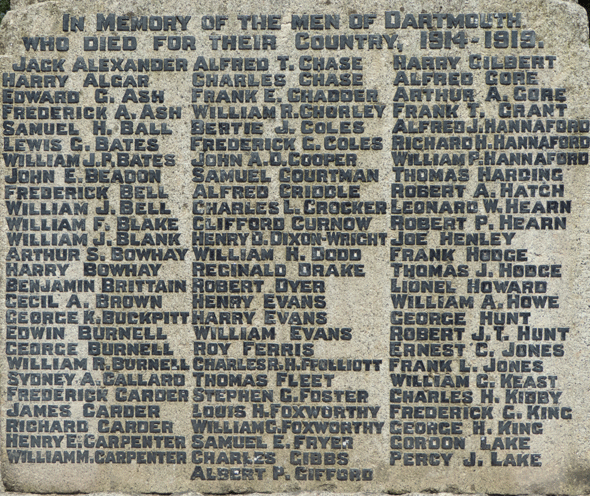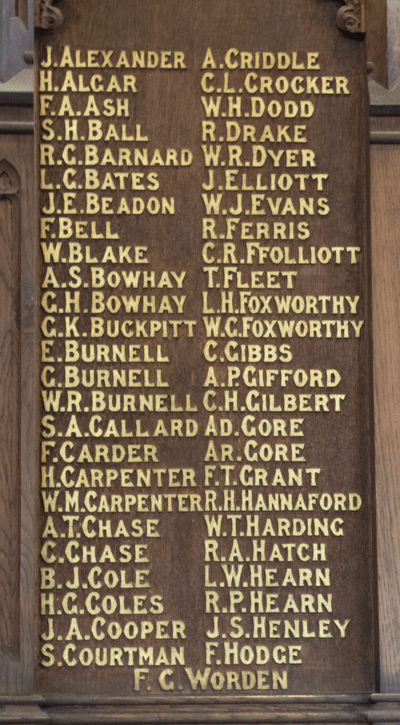 Sources
The Cruise of Her Majesty's Ship Baccante, in two volumes, publ. Macmillan, 1886:
Royal Marines Service Record for James Algar downloadable from The National Archives (fee payable) reference ADM 159/61/250.
Service papers for William Henry Algar available on Ancestry and Find My Past.
Royal Household Records available on Find My Past.
Information Held on Database
| | |
| --- | --- |
| Surname: | Algar |
| Forenames: | William Henry |
| Alternative Forenames: | Harry |
| Rank: | Fitter Staff Sergeant |
| Service Number: | 509 |
| Military Unit: | 1/2nd Devon Battery Royal Field Artillery |
| Date of Death: | 10 Sep 1915 |
| Age at Death: | 36 |
| Cause of Death: | Hyperpyrexia and heart failure |
| Action Resulting in Death: | |
| Place of Death: | Dinapore India |
| Place of Burial: | Dinapore India |
| Born or Lived in Dartmouth? | Yes |
| On Dartmouth War Memorial? | Yes |
| On St Saviour's Memorials? | Yes |
| On St Petrox Memorials? | No |
| On Flavel Church Memorials? | No |
| In Longcross Cemetery? | No |
| In St Clement's Churchyard? | No |
| On a Private Memorial? | No |
| On Another Memorial? | Yes |
| Name of Other Memorial: | Madras 1914-1918 War Memorial, Chennai |
---
This information was last updated on Wednesday 23 September 2015 at 14:17:50.