(John) Cyril Lock(e)
Family
John Cyril Locke, sometimes spelt Lock, sometimes called John, and sometimes called Cyril, was born in Dartmouth, most probably in 1890. His father, Henry Thomas Ball Lock, had been born in Babbacombe, Torquay, in 1861, but some time before 1871 his family had moved to Dartmouth. In 1885 Henry Lock married Charlotte Ann Witcher, in Dartmouth. She was born in Dartmouth in 1866. According to their 1911 Census return, Henry and Charlotte had twelve children in all, ten of whom were still living at that time - five sons and five daughters. John Cyril was their second son. Their third and fourth sons, Frederick Ronald and William Ewart, also appear on our database.
Henry's occupation was recorded as "mariner" at the time of his marriage. In 1891 he was a "coal labourer"; in 1901 a "yacht seaman" and in 1911, once again, a "coal porter". Charlotte also contributed to the family income - she was a "needle worker", working on her own account. The family lived at Newcomen Road (1891); St Saviour's Place (1901); and St Saviour's Court (1911); by 1914 they were living in Smith Street; and the Commonwealth War Graves Commission (CWGC) register records their address as 17 Clarence Street.
John Cyril's naval service record shows his date of birth as 28th December 1889. However, census records, in particular the 1891 Census, taken on 5th April, which recorded his age as 5 months, indicate that he was born in 1890. There is a birth registered for a "John Searle Lock" in the fourth quarter of 1890, in the Totnes registration district, which may be the correct record. Taken together with other information published after his death (see below) this indicates that John Cyril overstated his age by ten months, on joining the Navy, perhaps so that he could progress more quickly to Ordinary Seaman level.
Service
John Cyril joined the Navy as a Boy 2nd Class on 23rd July 1906. His record says he was at that time 5' 4" with light brown hair, blue eyes, and a fair complexion; and that his occupation was "Boat Boy". Seaman Boys entered between15 and 16 for 12 years service starting at the age of 18.
John Cyril spent the first years of his service in training at HMS Impregnable and HMS Indus, training establishments in Devonport. His twelve years of service dated from 28th December 1907 when, according to his naval record, he reached the age of 18 and was rated Ordinary Seaman. On 1st July 1909, whilst serving on the small cruiser HMS Pandora, he transferred to become a Stoker 2nd Class, reaching Stoker 1st Class on 19th January 1910.
The 1911 Census recorded him as Stoker 1st Class on board HMS Success, In Dartmouth Harbour. HMS Success was a torpedo boat destroyer. As his naval record shows him allocated to HMS Pomone, which was the name used by the Naval College at the time, this suggests that HMS Success was at that time a tender to the College. He was subsequently allocated to HMS Hecla and HMS Blake, destroyer depot ships, indicating that he continued to serve on destroyers, though the naval record does not state which ones.
Following the required training (at HMS Indus) he achieved the level of Leading Stoker on 2nd October 1913. From November 1913 to April 1914 he was once again on the books of "HMS Pomone", at Dartmouth; and in May, June and July of 1914, he was on detached duty of some kind from or in Devonport, as he is allocated to the accounting base, HMS Vivid II.
Death
On 30th July, he was appointed to HMS Monmouth, at the rate of Leading Stoker. For John Cyril's service on HMS Monmouth, and his death at the Battle of Coronel, please see our separate article here.
During his service on Monmouth, as the ship reached the South Atlantic, John Cyril's younger brother, Frederick Ronald, died of appendicitis at St Nazaire in France on 26th September. For his story, see his entry on the database here.
Commemoration
An announcement of John Cyril's death appeared in the Dartmouth Chronicle of 20th November 1914:
Locke - November 1st, on the ill-fated Monmouth, J Cyril Locke, leading stoker, second son of H and C Locke, Smith Street, Dartmouth, aged 21 years and 3 days.
Another for the honour of his country.
Whilst this could refer to the fact that several Dartmouth men had died on HMS Monmouth, it is also a reference to Henry and Charlotte now having lost two sons to the war, within only a few months of each other and of the beginning of the war.
The precise reference to his age indicates that his birthday was October 28th, three days before the Battle of Coronel. The newspaper appears to have made an error, printing 21 for 24 (he was 5 months old in 1891 and so would have been 24 in 1914).
John Cyril appears with his younger brother on the Town War Memorial, the St Saviour's Memorial Board, and the St Petrox Memorial.

On the St Saviour's Memorial Board, the brothers are shown as "F B Locke" and "J C Locke".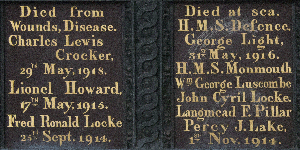 On the St Petrox Memorial Panels, the brothers are shown as "Fred Ronald Locke" and "John Cyril Locke".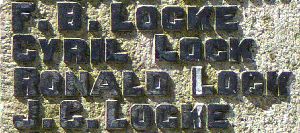 On the Town War Memorial, the brothers are commemorated twice: as "F B Locke" and as "Ronald Lock"; and "J C Locke", and "Cyril Lock". Perhaps the confusion about the spelling of the surname led to each name appearing twice when the War Memorial was carved.
Like all those who sailed from Plymouth during the First World War, but who have no known grave, John Cyril is also commemorated on the Plymouth Naval Memorial on The Hoe.
Sources
John Cyril's naval record can be downloaded from the National Archives (fee payable) reference ADM 188/420/236925
Information Held on Database
| | |
| --- | --- |
| Surname: | Lock(e) |
| Forenames: | John Cyril |
| Alternative Forenames: | Cyril |
| Rank: | Leading Stoker RN |
| Service Number: | 236925 |
| Military Unit: | HMS Monmouth |
| Date of Death: | 01 Nov 1914 |
| Age at Death: | 24 |
| Cause of Death: | Killed in action |
| Action Resulting in Death: | Battle of Coronel |
| Place of Death: | |
| Place of Burial: | Commemorated Plymouth Naval Memorial |
| Born or Lived in Dartmouth? | Yes |
| On Dartmouth War Memorial? | Yes |
| On St Saviour's Memorials? | Yes |
| On St Petrox Memorials? | Yes |
| On Flavel Church Memorials? | No |
| In Longcross Cemetery? | No |
| In St Clement's Churchyard? | No |
| On a Private Memorial? | No |
| On Another Memorial? | No |
---
This information was last updated on Friday 31 October 2014 at 19:37:28.