Richard Henry Hannaford
Family
Richard Henry Hannaford was born in Sherford, near Kingsbridge, Devon on 6th April 1872. He was baptised aged 4 at St Martin's, Sherford, on 20th August 1876, the same day as his younger sister Mary Anne Voysey Hannaford, who was two months old. Richard was the son of William Hannaford, a labourer, and his wife Elizabeth Jane March. William was from Sherford and Elizabeth from Slapton. They married at St Martin's on 7th November 1869.
The couple had nine children, two girls and seven boys. Richard was their second child and eldest son; by the time of the 1911 Census they had already suffered the loss of three of their children. Mary Anne died aged two, and their youngest son, Arthur James Hannaford, died in infancy; their second son, William George Hannaford, died aged 17 on 25th July 1897 from "inflammation of the brain", in the RN "sick quarters" at Portland, where he was a year and three months into his naval training.
William Hannaford was born into very difficult circumstances. The 1851 Census recorded him aged 2 living in Sherford with his recently widowed mother, Mary A Hannaford, and widowed grandmother, Deborah March, plus his three elder brothers. Both the women were described as "pauper". He may have had very little education, for at the time of his marriage he was unable to sign his name. He worked as a farm servant as a boy and then as an agricultural labourer. Although the family were living in Harleston, near Sherford, at the time of Richard's birth and of his baptism four years later, by 1880 they had moved to New Barn Cottage Slapton, where Richard spent most of his childhood. They were recorded there in the 1891 Census, apart from Richard, who had already left to join the Navy - see below. The three youngest members of the family (at that date) - Thomas Voysey, Francis Albert, and Frank Edward, were baptised together on 3rd May 1891 in St James' Slapton.
Shortly afterwards, however, William and Elizabeth Jane left the area, and moved to Churston Ferrers, near Brixham. Their youngest son, Arthur James, was born and baptised there in 1894. By the time of the 1901 Census, William and Elizabeth Jane were living at Hoodown Cottage, Hoodown Farm, Kingswear; and they remained in or near Brixham for the remainder of their lives.
It was perhaps his parents' move to Brixham that brought Richard into contact with his wife, Dorothea James Kennedy. Although Dorothea was born in London, her mother came from Brixham. Dorothea was the daughter of William Kennedy, a compositor and printer, and Maria Phillips Swaffin, born in Brixham in 1834. Maria's father, John Philipps Swaffin, was a Master Mariner, and his family had lived in Brixham for several generations. After she was widowed, some time before 1851, Maria's mother, Elizabeth James Swaffin, ran a bakery in King Street, Brixham.
William Kennedy and his antecedents remain elusive. So far as we have been able to trace, he and Maria were married in St Paul's, Hampstead, London, on 1st August 1864, and had four children: William, born 6th May 1865; Dorothea, on 8th January 1867; Swaffin, baptised 30th October 1868; and John, born on 4th August 1873. Although the two elder children were born in London, by the time of Swaffin's birth the family had moved back to Brixham, where he was baptised in 1868 and buried a year later. In 1871 Maria, with William (junior) and Dorothea, was living with her mother in Brixham - the family were described in the Census return as "lodgers" - but with no sign of her husband. By the time the two boys, William and John, were admitted to the Board school in Brixham in 1881, their father William was, according to the school records, in St Pauls Minnesota, USA.
Dorothea remained in Brixham as an adult. By the time of the 1891 Census she was living with her aunt, Melissa Popham, in 8 Bay View Road, Brixham, and working as a dressmaker. Melissa Swaffin Phillips, her mother's sister, had married another Master Mariner, Robert Braid Popham, in 1867 but they had no children. She seems to have remained close to Dorothea throughout her life.
Richard and Dorothea married in St Michael's, Stokenham, on 5th June 1897. Dorothea gave her residence as Stokenham. The witnesses were Elizabeth Jane Worth, Richard's elder sister, and her husband Henry Wotton Worth. They lived at Torcross where Henry was a Lodging House Keeper. This may explain Richard and Dorothea's choice of church.
To begin with, Dorothea lived with Richard's parents at Hoodown Cottage, Kingswear. Their first child, whom they named William George Hannaford, after Richard's younger brother who had died only a few weeks after their wedding, was born there - he was recorded in the 1901 Census as one week old. He was baptised at St Thomas' Kingswear, on 30th June 1901.
By the 1911 Census Dorothea was living at 18 Milton Street Brixham, together with her aunt Melissa, now widowed, and her four children:
William George, born 1901
Doris Maria, born 1904
Melissa Swaffin, born 1906
Hetty Jane, born in 1910
Service
Richard joined the Navy as a Boy 2nd Class on 5th May 1888. Although his baptism record shows his date of birth as 6th April 1872, his naval record shows it as 6th February 1873, so it would appear that he understated his age on joining, by ten months. His "naval age" on joining was therefore 15. His previous occupation was "Farmer's boy" - he was 5ft 2 ½ ins in height, with dark hair, grey eyes and a fair complexion.
He began his naval training at HMS Impregnable, at Devonport, where he stayed until 30th June 1890, having been rated Boy 1st Class on 7th August 1889. If his reason for joining the Navy was to see the world, he succeeded, for after six months on HMS Aurora, a new armoured cruiser in the Channel Fleet, he was appointed to HMS Warspite, from 23rd December 1890 to 14th February 1892. Warspite was at this time the flagship on the Pacific Station, established to support British interests along the eastern shores of the Pacific Ocean at Valparaiso, Chile. While on Warspite, he was rated up to Ordinary Seaman on what the Navy thought was his 18th birthday, 6th February 1891, and signed on for twelve years continuous service. By this time he had grown 3 ½ ins and exposure to the sea air had given him a "dark" rather than "fair" complexion, according to his service record.
Still on the Pacific station, he next spent six weeks on HMS Nymphe, a "composite screw sloop", and then transferred to HMS Garnet, from 29th March 1892 to 1st September 1894. HMS Garnet was a masted cruiser, and spent her time moving up and down the coasts of North and South America, "showing the flag" and assisting British allies as required. Newspapers recorded her in January 1893 assisting the people of Callao, Peru (the seaport at Lima) in a huge fire, for which the President of Peru awarded the ship a medal; in Victoria, British Columbia, in January 1894; and back off Peru in April 1894, where she gave shelter to the civic candidate for the presidency of Peru, who feared a military coup. In July 1894 she rescued the crew of the sailing ship Hengist who were stranded in the Magellan Straits. During this eventful time on Garnet, Richard was rated up to Able Seaman, on 1st March 1893.
Richard came home to the UK in September/October 1894 and was sent to HMS Cambridge on 24th October 1894 for gunnery training. He became a Seaman Gunner 1st Class and also qualified as a Naval Diver. On 30th November 1895, he was once again appointed to HMS Warspite - after a period in Ireland, she was once again serving as the flagship of the Pacific station.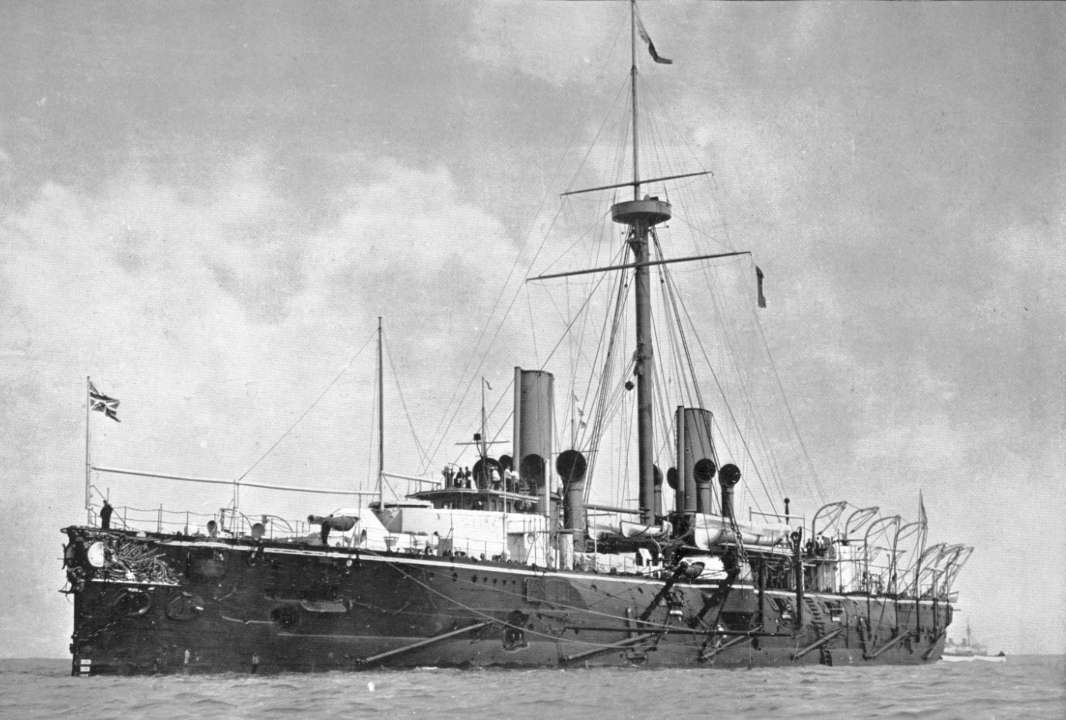 HMS Warspite
A year later, on 26th November 1896, he was back in home waters, with an appointment to HMS Prince George on the day she was commissioned, rated Able Seaman. Prince George was a Majestic-class pre-dreadnought battleship named after the future King George V. When Richard served on her she was part of the Channel Fleet. Later she served in the Dardanelles operation and so must have been a familiar sight to Richard when he was on HMS Goliath.
During his time on Prince George he achieved Leading Seaman and Petty Officer 2nd Class. But during 1899, there seems to have been some odd lapse in his otherwise unblemished record of "very good" conduct, as he reverted to Able Seaman in September of that year. However, by December, he had once again achieved Leading Seaman.
He was evidently able to get some leave in the UK while serving on Prince George for he married Dorothea on 5th June 1897 - the ship being given as his "place of residence" on the marriage register entry. Three weeks later the ship was present at the Fleet Review in Spithead for Queen Victoria's Diamond Jubilee, presumably including Richard.
After just over three years on Prince George, he completed further gunnery training at HMS Cambridge (his previous qualification, apparently, having lapsed) and was then appointed to HMS Hussar, a Dryad-class torpedo gunboat, in the Mediterranean, on 23rd October 1900. His son William George was born in 1901 whilst he was serving on HMS Hussar; Richard was recorded on the ship at the time of the 1901 Census. Hussar also served at the Dardanelles, by that time converted to a minesweeping role.
While serving on Hussar, he was appointed Petty Officer 2nd Class, on 2nd October 1902. He left the ship two months later. He then had a period ashore, during which, on 6th February 1903, he volunteered for a further ten years service, to qualify for a pension. In 1903/4 he was back at HMS Cambridge for more gunnery training and was then appointed to HMS Impregnable, the boys rating training establishment at Devonport where he himself had trained, presumably this time on the staff. On 1st August 1904, while at Impregnable, he was rated Petty Officer 1st Class. His second child, Doris Maria, was born while he was at HMS Cambridge.
He then spent two years on HMS Cornwallis, a "Duncan class" pre-dreadnought battleship, first in the Channel and then in the Atlantic Fleet. His second daughter, Melissa, was born in 1906, while he was on Cornwallis. Cornwallis too was part of the Dardanelles fleet and indeed was involved in the same operation as HMS Goliath on the night she was sunk. Cornwallis was herself lost to a torpedo from a German submarine in the Mediterranean in 1917.
On 26th January 1909, Richard was appointed to the Royal Naval College at Dartmouth (HMS Espiegle and HMS Pomone). His third daughter Hetty Jane was born in 1910, while he was serving at the College.
He was then appointed to HMS Royal Arthur for the couple of months required to reach his final appointment at HMS Tamar. Tamar, previously a troopship (see the story for William James Chorley) was by this time "hulked" as the naval base at Hong Kong. Richard spent two years in Hong Kong and was recorded there at the time of the 1911 Census. He returned in December 1912, and retired from the Navy on 21st February 1913. On 27th April 1913, he joined the Royal Fleet Reserve, committing himself to service "in an emergency" in return for an annual retainer payment. The emergency arose all too soon.
According to a short piece in the Dartmouth Chronicle published on 21st May 1915 (after the sinking of HMS Goliath), Richard obtained employment at the Royal Naval College after his retirement from naval service, and consequently his family moved from Brixham to Dartmouth. At the time of his death Dorothea and his children lived at 2 Carnhill Terrace, Victoria Road. In a reference to Dorothea's aunt, Melissa, the paper went on: "the widow is the niece of the late Captain and Mrs Robert Popham, of King Street, Brixham".
Richard's mother had died only three months before, on 13th February 1915, in Brixham; his father, who still lived in Brixham, survived him.
Death
On 2nd August 1914, Richard joined HMS Goliath, rated Petty Officer 1st Class. For his service on HMS Goliath, and his death during the Dardanelles naval operation, please see our separate article here.
Commemoration
An announcement of Richard's death appeared in the Dartmouth Chronicle on May 28th:
Hannaford, May 13th, killed in action on HMS Goliath, in the Dardanelles, Richard Henry Hannaford, the beloved husband of Dorothea Hannaford, age 44 years
Though lost to sight, to memory ever dear
In fact, Richard was 43 (assuming the date of birth given at his baptism was correct).
In May 1921, Dorothea placed a notice in the Chronicle "In Memoriam":
Hannaford - In loving memory of my dear husband Richard Henry Hannaford, 1st Class PO, who lost his life on HMS Goliath, at the Dardanelles, May 13th 1915. Never forgotten by his loving wife and children.
The world may change from year to year,
And friends from day to day;
But never shall the one we love,
From memory pass away.
Dorothea died in 1929. At the time of her death she lived at 169 Victoria Road, Dartmouth. She was buried in St Clements Church Townstall, with her daughter Hettie Jane, who died in 1930.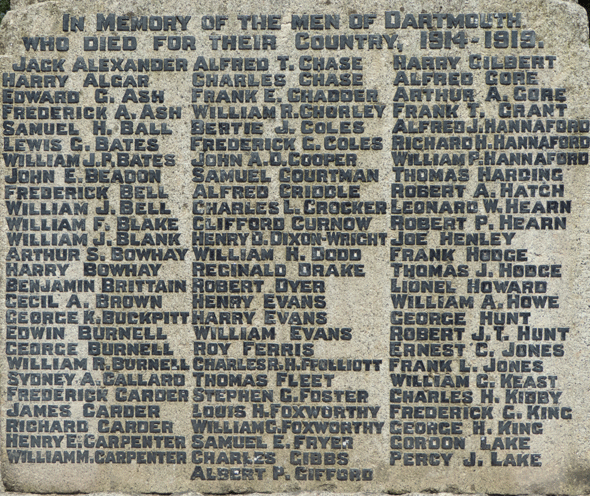 Richard is commemorated in Dartmouth on the Town War Memorial and on the St Saviour's Memorial Board.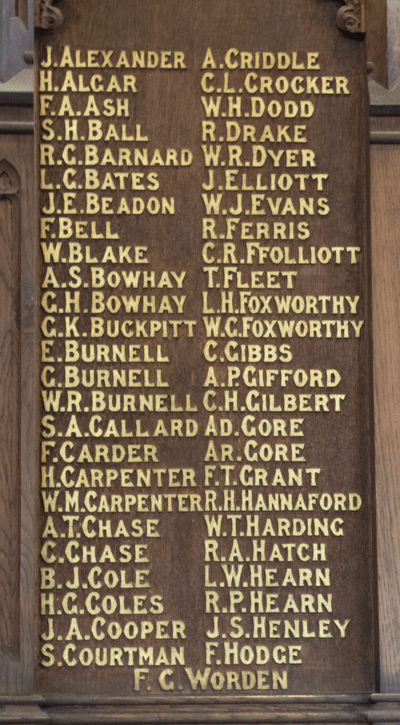 Like all those who sailed from Plymouth during the First World War, but were lost at sea, Richard is commemorated on the Plymouth Naval Memorial on The Hoe.
Sources
Richard's naval record can be downloaded from the National Archives (fee payable) reference ADM 188/206/145860
The naval record of his brother, William George Hannaford, is available similarly at reference ADM 188/320/188543
Information Held on Database
| | |
| --- | --- |
| Surname: | Hannaford |
| Forenames: | Richard Henry |
| Rank: | Petty Officer 1st Class RN |
| Service Number: | 145860 |
| Military Unit: | HMS Goliath |
| Date of Death: | 13 May 1915 |
| Age at Death: | 43 |
| Cause of Death: | Killed in action |
| Action Resulting in Death: | Naval support to military operations |
| Place of Death: | Dardanelles |
| Place of Burial: | Commemorated Plymouth Naval Memorial |
| Born or Lived in Dartmouth? | Yes |
| On Dartmouth War Memorial? | Yes |
| On St Saviour's Memorials? | Yes |
| On St Petrox Memorials? | No |
| On Flavel Church Memorials? | No |
| In Longcross Cemetery? | No |
| In St Clement's Churchyard? | No |
| On a Private Memorial? | No |
| On Another Memorial? | No |
---
This information was last updated on Friday 15 May 2015 at 21:55:53.