Ernest Haden Elliot
Family
Ernest Haden Elliot (sometimes spelt Elliott) and known as Haden, was born in Bridgnorth, Shropshire, on 14th June 1895. He was the elder son of Ernest Elliot and his wife, Selina Beeston. Ernest Elliot (senior) was born in Wolverhampton. He became the Minister at the Flavel Congregational Church in Dartmouth in 1910. An article in the Dartmouth Chronicle of 9th April 1915 described his earlier career:
He entered Hackney College as a student for the ministry in September 1889 ... during his college course he distinguished himself by taking the highest place at the sessional examinations each year, gaining the Sidney Hall Scholarship, the Gill Scholarship, and obtaining distinction in Hebrew, Greek, Latin, Church history, ethics, theology, and other subjects. In 1893, he sat for examination in the diploma, passing first in the first division... Mr Elliot commenced his Ministry [in] Bridgnorth Church on 21st January 1894 and was ordained on 8th February ... He was at Bridgnorth for eleven years. During that period ... the membership of the church was half as high again as when he entered upon the pastorate ... and the whole condition of the chuch has been raised ... He [became pastor of] the Bethel Church, Sheerness, in 1905, and [moved to] Dartmouth in 1910 ...
Ernest Elliot married Selina Beeston in 1894. Like Ernest himself, she came from Wolverhampton. She was the daughter of William Beeston, a tailor, and his wife Mary Ann. During their time at Bridgnorth, Ernest and Selina had two children, Ernest Haden, born in 1895, known as Haden, and John Harold, born in 1900. As indicated above, the family moved to Sheerness, Kent, in 1905, and Dartmouth five years later. During his time in Dartmouth, according to the article mentioned above, Ernest Elliot:
... served the Church well and gained the respect and esteem not only of his own people, but of the members of all other religious denominations in the Borough ... a considerable portion of the debt on the Church buildings and the Manse has been paid off, and the electric light was installed in the Church entirely through his exertions in collecting from friends outside the town the amount required. Mrs Elliot has helped greatly in the work of the Church, and originated a weekly Mothers' Meeting, which has been well attended, her influence and advice being most helpful to all the members ...
Although obviously his parents were key members of Dartmouth's community, it is not clear whether Haden himself spent much time in the town. The 1911 Census recorded Ernest, Selina, and John living in "The Manse", Victoria Road, Dartmouth. But Haden had by this time left school and home, and started work. He lived with his paternal grandparents, John and Ann Elliot, at 31 Upper Villiers Street, Blakenhall, Wolverhampton.
Haden's grandfather, John Elliot, was a significant and well-known figure in the city. He was a deacon of the Snow Hill Congregational Church in Wolverhampton, and was appointed Librarian to the Wolverhampton Free Library when it was established in 1869. He was also its secretary and administrator, and played a significant role in developing the Library as a source of adult education. Eventually the classes at the Library became so successful that they were accommodated in a new Technical School, which (many years later) was one of the institutions combined to form the University of Wolverhampton.
John Elliot remained the Chief Librarian until his death in 1911. This occurred only a few days after the 1911 Census was taken (which probably explains why the household included a "sick nurse"). Given this very strong family association with the Library, it is not surprising that Haden also began his career there; aged 15 in 1911, he was an Assistant Librarian. He continued to live in Blakenhall with his grandmother, Ann Elliot, nee Haden, after his grandfather's death.
Service
Haden's service papers have survived, and from them we know that he attested for service with the 3rd North Midland Field Ambulance, Royal Army Medical Corps, on 10th November 1914. Although this was a Territorial Force unit, Haden volunteered on joining to serve overseas as well as in the United Kingdom. His attestation forms tell us that he was 5ft 6ins tall, with fair hair, blue eyes and a fair complexion. He was nineteen. From other records (see below), it appears that he joined up soon after his close friend, Joseph Horace Belcher, also a Library Assistant at the Wolverhampton Free Library, who had joined the 3rd North Midland Field Ambulance on 7th October 1914. Joseph was younger than Haden, two months short of his 18th birthday; this may have been a reason why the two friends joined the Territorial Force, which had a minimum recruitment age of seventeen.
Haden and Joseph were both posted to the reserve, or second line unit, of the 3rd North Midland Field Ambulance, part of the 2nd North Midland Division. The first line unit was soon sent to the Western Front as part of the 46th (North Midland) Division. Haden's unit remained at home for some time, providing replacements for the first line division, and being held in readiness should home defence forces be required against invasion. While training in St Albans, in July 1915, the second line division was designated the 59th (2nd North Midland) Division.
In April 1916, the 59th Division was ordered to Ireland after the Easter Rising, returning to England in January 1917. It was then ordered to France. Only one page of the 2/3rd North Midland Field Ambulance War Diary appears to have survived for 1916. This relates to February, when the unit was still in St Albans. There is no reference in Haden's service papers to his time in Ireland (included in the period he spent on "home" service).
The continuous pages of the War Diary begin at 6.40am on 25th February 1917, when the unit left Gillingham, Dorset, for Southampton, arriving at the Docks at 9.20am, embarking on SS Manchester and SS King Edward at 8pm, and arriving in Le Havre a few hours later. By 8th March 1917 they were taking over 692 patients from 1st Northumbrian Field Ambulance at Villers-Bretonneux, east of Amiens, where they remained until the end of the month.
A Field Ambulance was the RAMC unit closest to the Front line. It consisted of around 240 men, including medical officers, stretcher bearers, nursing orderlies, cooks and clerks; and had its own transport, including both horse-drawn and motor ambulances, as well as stores wagons, water carts, cooks wagon, forage carts etc. Functionally, the unit was divided into stretcher-bearer and tent sections - the main task of the bearers was to carry the wounded, whereas the tent section nursed the wounded and sick. It seems that in 1917 (see below) Haden and Joseph were in the same Stretcher Bearer subsection. Whether this was his primary role throughout his service is not known.
The Field Ambulance was mobile, under command of a Division, responsible for the care of casualties of one of the Brigades of the Division. The theoretical capacity of the Field Ambulance was 150 casualties, but in battle, many would need to deal with much greater numbers. The aim was to get a wounded man treated as soon as possible and thus as near to the front line as possible, consistent with ensuring that treatment was effective and safe. Thus, the Field Ambulance was responsible for establishing and operating a number of points along the casualty evacuation chain, from the Bearer Relay Posts which were up to 600 yards behind the Regimental Aid Posts in the front line, taking casualties rearwards through an Advanced Dressing Station (ADS) to the Main Dressing Station (MDS). It also provided a Walking Wounded Collecting Station, as well as various rest areas and local sick rooms. Field Ambulances would usually establish one ADS per Brigade, and one MDS for the Division.
When not dealing with the wounded, the Field Ambulance was responsible for the day-to-day task of maintaining the health and efficiency of the front-line troops, dealing with sickness and attempting to prevent disease. The aim was as far as possible to keep soldiers within the Division or Corps area, to enable them to return to the front line as soon as possible.
Soon after his arrival in France, Haden himself became a patient, suffering from influenza, but had recovered and returned to his unit by 29th March, in time for their move eastwards to Villers Carbonnel, south of Peronne. Although the unit's War Diary does not refer to it, the move was a result of the role of 59th Division in following up the German retreat to the Hindenburg Line.
At the beginning of June, the Field Ambulance moved again, as the British front line moved forward, this time to Neuville Bourjonval and the neighbouring village of Metz-en-Couture. Near Metz, they constructed a "Dugout Hospital" - in the first two weeks, the Field Ambulance war diary recorded that:
Every available man in the unit has been, apart from medical work, employed in taking out German dugouts and inserting them at, and forward of, the ADS. Just east of the ADS (by means of 8 hour shifts) a dugout 9 feet wide 7ft wide and 102 feet long and having 3 entrances 25 steps deep is in course of erection 25 feet underground. Further smaller dugouts have been erected at the ADS and two relay posts, all of which have saved casualties.
With the help of expert advice and assistance from the Royal Engineers, the dugout was completed by the end of June; the War Diary records that during the month, they had dealt with 610 cases, 490 of whom were sick, and 120 wounded.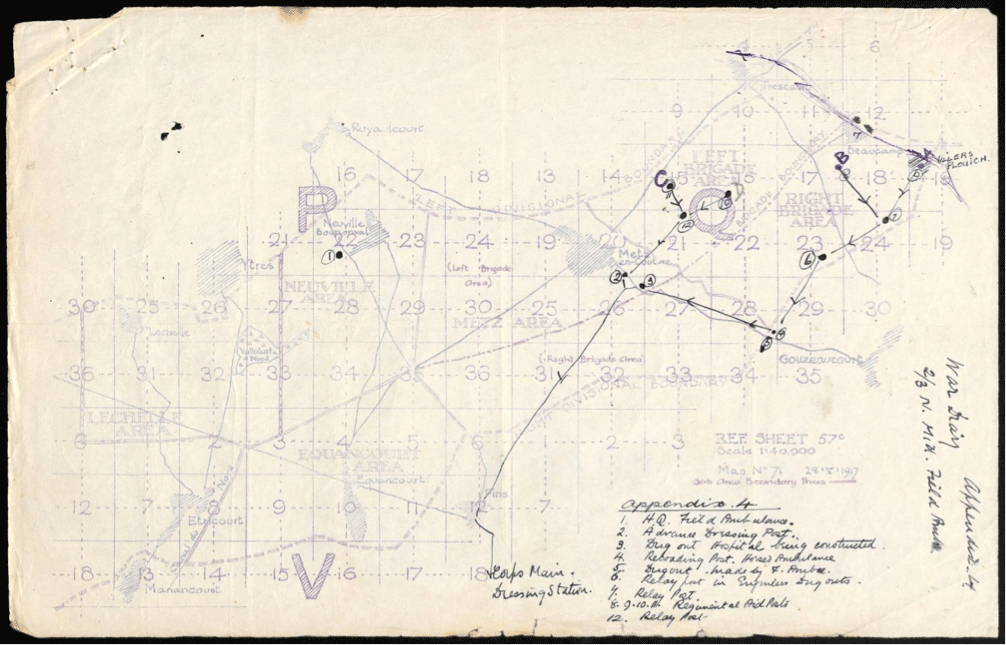 The Dugout Hospital was collecting casualties from the Villers-Plouich sector of the front line - the sketch above shows the evacuation routes. The Hospital was at position 3.
In the middle of July, the Division was relieved, and on 10th July the Field Ambulance moved rearwards to Barastre, south-east of Bapaume. The Division was preparing and training for the forthcoming Flanders offensive, around Ypres, and their programme included a major tactical exercise in which 2/3rd North Midland FA were to "collect and evacuate up to 1000 wounded from the 178th Brigade".
However, the CO of the unit, Lt Col Stidston, was just as concerned (if not more so) about prevailing levels of trench fever, described at the time as "PUO" - pyrexia of unknown origin. The connection between PUO and lice was, by the middle of 1917, strongly suspected, but not yet conclusively proven. Lt Col Stidston was clearly up to date with current thinking - including work by German doctors - and wrote on 27th July 1917 to the 59th Division's Assistant Director of Medical Services to request a major de-lousing campaign. His letter shows that the work of the Field Ambulance continued even when there was neither an offensive, nor trench duty. It also shows why trench fever was a major concern:
During the past 20 days, 368 cases have been admitted from Troops in the 176th Brigade Group to this Hospital.
Of these, 171 cases (that is just under 50%) have been PUO cases, and of these 171, 119 (that is, over 70%) have had to be evacuated to Convalescent or Casualty Clearing Hospitals. 26 cases have been discharged to duty (that is less than 7%). 26 cases remain in Hospital (that is less than 7%) of which remaining cases 50% will have to be evacuated.
I would beg to point out that if this rate of wastage persists, approx 1000 men of the Division will become Sick per month, of which 500 will be lost to the Division at first for a period of 1 week, and later from 1 to 4 weeks, and the other 500 for a period of 3 to 5 weeks.
Having in view the evidence as regards infection by lice, in the book of Dr Arthur Hurst (late Hertz) recently published, and such articles as that of Dr Grievson in the current issue of the "Lancet", and the recent works of German physicians, I would suggest that during the present period of intensive training, at least 3 days might be devoted to delousing the Division, and to elaborate a scheme of isolation of the contacts and co-sleepers.
The figures indicate the man-day loss to the Division thus occupied, would be found much less than the man-day loss at present occurring from this contagious louse-born disease.
All the patients who come to this Hospital with this disease are lousey. This preliminary suggestion is put forward for your consideration. I would beg to state that it is almost impossible for a man to remain louseless, whilst blanketless.
The unit's War Diary does not report whether the Division acted on his suggestion. But it does record that from 10th July - 22nd August, the unit's "Detention Hospital" at Barastre admitted a total of 848 cases, of which:
172 were discharged to duty
279 were evacuated to a casualty clearing station
397 were transferred to the Corps Rest Station (for continued convalescence)
Lt Col Stidston noted that: "the prevailing disease being PUO".
The Third Battle of Ypres
While the 2/3rd North Midland Field Ambulance was waging war against the louse at Barastre, the Third Battle of Ypres had begun on 31st July, on a 7½ mile front around Ypres and extending also to the north and south - see the stories of William John Farrow Bates and Richard Goodman Carder. Although there had been some success north of Ypres, the heavily fortified Gheluvelt Plateau on the right of the front (south-east of Ypres) remained in enemy hands. On 25th August, General Haig transferred responsibility for planning the next offensive to General Plumer, commanding Second Army, from General Gough, of Fifth Army. General Plumer first wanted three weeks preparation, before a series of "bite and hold" offensives, in four stages, each followed by a six-day pause, to allow for the preparation of the next step.
The first stage, now called the Battle of Menin Road, began on 20th September, in good weather, and - broadly - achieved its objectives. After the requisite six days to consolidate and prepare, the next step was what is now called the Battle of Polygon Wood, launched on 26th September, in which 59th Division was to participate.
In the meantime, the 2/3rd North Midland Field Ambulance, with the rest of 59th Division, transferred from Third to Fifth Army, and was brought up to Flanders. They arrived at Proven, near Ypres, on 1st September 1917, and marched to Luna Park, where they took over an Auxiliary Rest Station, consisting of 20 Marquees and 4 bell-tents. On 11th September, they transferred to V Corps, which relieved XIX Corps in the line, and a week later, they moved to Poperinghe, to take over V Corps Scabies Station (such units dealt not only with scabies but also other skin conditions). Three officers and 160 other ranks were in Poperinghe, with other members of the unit in several other locations:
one officer and 23 other ranks were manning V Corps Walking Wounded Collection Post at "The Mill", Vlamertinghe
one officer and 30 other ranks were manning the 5th Army Rest Station
one officer was detached as Medical Officer to 2/4th Bn Lincolnshire Regiment, and another as MO to 2/5th Bn Leicestershire Regiment
one officer was at a base hospital
one officer and four other ranks were at the Depot at Merckeghem
two motor ambulances, with their drivers and orderlies, and two horsed ambulances, with their drivers and orderlies, were on loan to 2/1st North Midland Field Ambulance
From 21st-23rd September, in the pause between the first and second stages of General Plumer's attack, 59th Division took over from 55th Division on the left sector of the V Corps front, north-east of Ypres, and prepared for its role in the next stage of the offensive, attacking along the Wieltje-Graventafel road, east of the village of St Julien.
Orders for the medical arrangements (included in the 2/1st North Midland FA War Diary) gave overall responsibility for the evacuation of sick and wounded to 2/1st North Midland Field Ambulance, with support from the bearer divisions of the other two Field Ambulance units in the Division. Another 200 stretcher- bearers were to be provided by infantry battalions in the Division to assist in clearing the battlefield. The orders illustrate the elements of the casualty evacuation chain:
Four regimental aid posts, two for each sector:

Left sector: Capricorn Keep, and Pond Gallery
Right sector: Bank Farm, and Pommern Redoubt

Three relay posts through which wounded were to be evacuated to the Advanced Dressing Station at Wieltje:

Bridge House
Call Farm
No. 44 Dugout

The evacuation chain in the left sector was from Pond Gallery, to Capricorn Keep and thence by wheeled carriers to Call Farm relay post. From there bearers took the wounded to the ADS at Wieltje, through the next two relay posts.
In the right sector, the chain went through Bank Farm to the relay post at Bridge House, and then to Call Farm and to the ADS at Wieltje.
The orders further observed that:
As a general rule, the clearing of the Battle Front back to the Regimental Aid Posts will devolve on the Regimental stretcher bearers, assisted by the additional 200 stretcher bearers provided by the Division. It is seldom practicable for the RAMC bearers to assist them without endangering the chain of evacuation.
A later draft (also included in the War Diary) forbad RAMC bearers from assisting Regimental stretcher-bearers at the battle front. Twelve RAMC men were to be posted to each Regimental Aid Post to work between them and the first relay post.
Sick and wounded were kept separate: the Corps Sick Collecting Station was at Moated Farm, Vlamertinghe, west of Ypres, and the Corps Walking Wounded Collecting Station was also in Vlamertinghe, at The Mill. Walking Wounded were to be transferred from Wieltje to Vlamertinghe by train (or, failing the train, by lorry or bus); transport of lying and sitting cases from the ADS to the Corps Main Dressing Station or Casualty Clearing Station was to be by motor ambulance.
Accordingly, on 24th September, 2/3rd North Midland FA duly took over V Corps Sick Collecting Station at Moated Farm, Vlamertinghe. There were 51 patients, 31 of whom were variously evacuated to the Corps Rest Station, Casualty Clearing Station(s), or returned to units. Overall there was accommodation for 200 light cases. Over the next four days, one Medical Officer and 21 men dealt with 300 cases.
In the meantime, 95 men ("every available man", according to the 2/3rd North Midland FA War Diary), in charge of Captain Bailey-Thompson, were sent to join 2/1st North Midland FA, for duty as stretcher-bearers. It seems that Haden Elliot and his friend Joseph Belcher were amongst this group.
Although the offensive was not scheduled to begin until 26th September, 2/3rd North Midland FA sustained its first serious casualties the previous day, when several RAMC men were killed at No.44 Dugout relay post by a bomb dropped by aeroplane. They included three men from 2/3rd North Midland FA, who were buried at Wieltje.
Death
The report of Lt Col Dawson, the commanding officer of 2/1st North Midland FA, who had overall responsibility for casualty evacuation, reported that four RAMC Field Ambulance personnel were killed, and none wounded, during the 24 hours from 6am on 26th September (ten minutes after "zero-hour") to 6am on 27th September. Total casualties handled by the RAMC over the same period were 58 officers and 1577 other ranks. By his account, the evacuation process went well:
Evacuation of wounded proceeded smoothly during the whole time except for a period of about ¾ hours duration between 6.45 and 7.30pm Sept 26th when the clearing of wounded from ADS had to be rapidly carried out owing to the military situation in the front lines. I decided to clear away every case to meet a considerable influx of fresh cases. The Dressing Station was clear at 7.30pm. The front area was clear by 10am 27th September 1917.
The increased flow in the early evening was due to a German counter-attack launched around 6.00pm. This was successfully resisted, though of course at some cost. Overall, 59th Division was able to achieve almost all its objectives. Contrary to the usual perceptions of the experience of Third Ypres, the dry ground, and warm weather, made the evacuation process less difficult, even though the 200 additional stretcher-bearers did not materialise (one brigade provided 30 the following morning).
Although Lt Col Dawson reported that no RAMC personnel were wounded, Haden Elliot's own service papers record that on 27th September shrapnel from a shell fractured his right femur and also wounded his right knee. Perhaps this occurred later than the period covered by Lt Col Dawson's report.
His papers do not record exactly where he was, but he was presumably taken to the ADS at Wieltje by one evacuation route or other, and then by motor ambulance away from the area behind the front line for further care. Oddly, given that he was RAMC personnel, there seems to have been some confusion about exactly what had happened to him - the 2/3rd North Midland FA War Diary (which appears to have been written up around 5th October) records his death from wounds on 27th September, but his service papers clearly record his death four days later on 1st October 1917, at No 4 Casualty Clearing Station near Dozinghem, near Poperinghe.
Haden was buried in Dozinghem Military Cemetery. Commonwealth War Grave Commission records show that his burial was initially recorded with the wrong service number and the wrong initials, but this was corrected by the time his headstone was inscribed.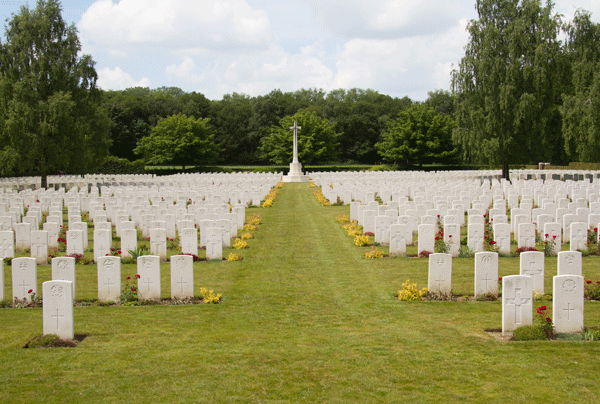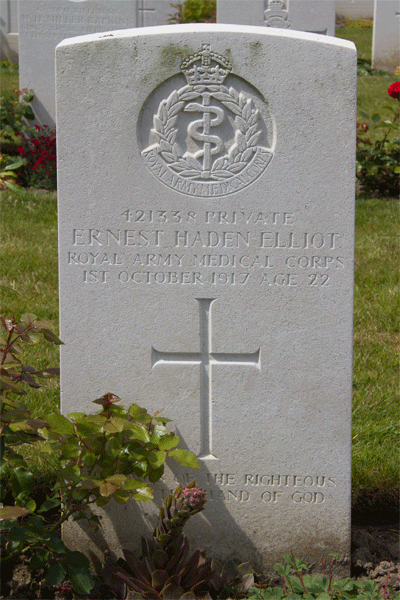 Dozinghem Military Cemetery
Ernest Elliot had the headstone engraved with the words "The Souls of the Righteous are in the Hand of God".
Also wounded on the same day, and it would seem at the same time, was Haden's close friend Joseph Belcher. A notice in their memory was issued by the Wolverhampton Free Library, which read:
In Memory of Privates Joseph Horace Belcher And Ernest Haden Elliot
Late Assistants at the Wolverhampton Free Library
Inseparable Companions in Civilian Life
After joining the Colours in 1914 they were together in the same training camp, were drafted to Ireland and thence to France, where they served together in the North Midland Field Ambulance section of the RAMC, and were side by side when they received their death wounds on September 27th 1917.
It is known that E H Elliot is buried at Dozinghem British Cemetery, Proven, 2½ miles north of Poperinghe and north west of Ypres.
Evidently Joseph's body was not found, or not identified, for he is commemorated on the Tyne Cot Memorial. In correspondence included in Joseph's service record, which arose because his parents did not recognise as his a watch returned to them after his death, Lt Col Dawson, of 2/1st North Midland Field Ambulance, said that he "believed he [Joseph] was killed in No Man's Land" and suggested that his effects (which included his spectacles) may have been carried to No 4 Casualty Clearing Station (from which they had apparently been sent to Joseph's parents) by "a wounded man". If the two young men were "side by side" when Joseph was killed, and Haden was wounded, this may explain how his effects were preserved. It also suggests that the two men may have been well forward of the RAMC's designated sections of the casualty evacuation route, even though they had been told not to go to the battle front.
The deaths of the two young men prompted a poem, by Arthur Saunders, published in the Wolverhampton Express & Star on 23rd October 1917:
Comrades in Death
In Memory of Privates J H Belcher and Haden Elliot, late assistant librarians at Wolverhampton Free Library, and inseparable companions in civilian life, who recently died for their country on the Western Front.
Two more of our brave lads, alas! gone West,
All silently across the Great Divide.
Comrades in civil life they did their best,
And in their tragic death are still allied;
A bright example to those laggards, who
All idly talk of deeds, but never do.
Their King and Country stood in direst need;
Prompt was their answer to that urgent call.
Not theirs the soulless slackers' shameless greed
Of earthly gain, while nobler Britons fall;
No new-found conscience blurred their moral sense,
And made them deem a duty an offence.
Life's book for them is closed, while scarce begun;
The Great Librarian has decreed it thus.
Their daily round 'mongst well-loved tomes is done;
Their names enrolled in Honour's page for us.
As British patriots true they gave their all -
Friends, family, life for deathless fame in Gaul.
Commemoration
Ernest and Selena Elliot left Dartmouth in 1915 to move to Denton, in Manchester, where Ernest continued his work as a Congregational Minister. Haden is thus commemorated on the Denton War Memorial, in Victoria Park, Denton.
He is also commemorated on the War Memorial in St Luke's Church, in Upper Villiers Street, Wolverhampton, close to his grandparents' house; and, together with Joseph Belcher and other members of his unit, on a memorial in Wolverhampton erected to their fallen comrades by members of the 3rd North Midland Field Ambulances in the 46th and 59th Divisions.
In Dartmouth, Haden is commemorated on the war memorial in the Flavel Church, where his father had served as Minister.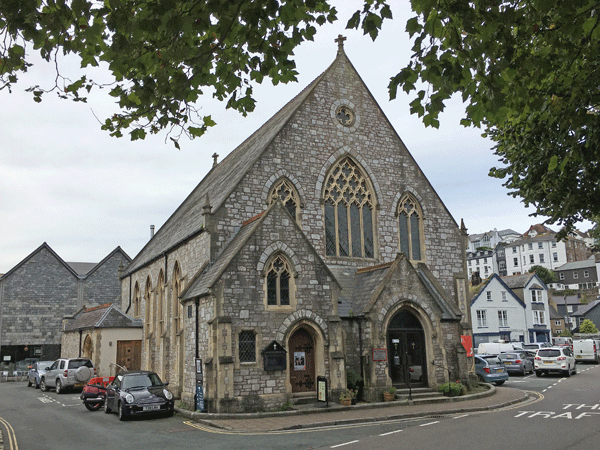 Flavel Church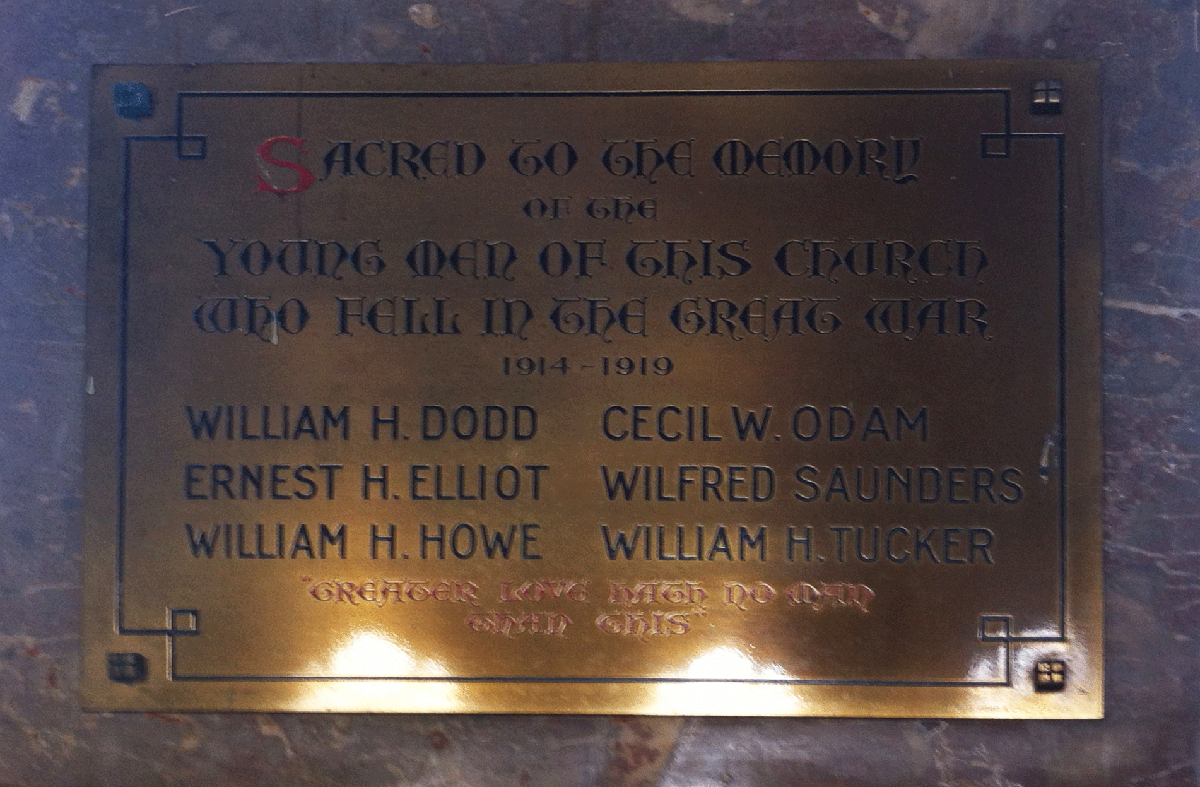 Memorial Board
Sources
Service Papers of Ernest Haden Elliott [sic] and Joseph Horace Belcher are held at the National Archives and are accessible through subscription websites.
Adult Education and the Public Library in 19th Century Wolverhampton, by Patrick Quirke
Field Ambulance War Diaries are available from the National Archives, fee payable for download. References:
59thDivision 2/1 North Midland Field Ambulance Feb 1917- July 1919 WO 95/3018/1
59th Division 2/3 North Midland Field Ambulance Feb 1917- July 1919 WO 95/3018/3
The Long Long Trail: The Field Ambulances
The Long Long Trail: 59th (2nd North Midland Division)
The Territorial Divisions 1914-1918, by J Stirling, publ London, Toronto, New York, 1922
Journal of the Royal Society of Medicine, November 2006: Trench fever: The British Medical Response in the Great War, by R L Atenstaedt
Wolverhampton's War - Lost Voices from the Great War: use the search box to find entries for Ernest Haden Elliot and Joseph Horace Belcher
St Luke's Church Memorial, Blakenhall, Wolverhampton
RAMC Memorial, St Peter's Church, Exchange Street, Wolverhampton
Information Held on Database
| | |
| --- | --- |
| Surname: | Elliot |
| Forenames: | Ernest Haden |
| Rank: | Private |
| Service Number: | 421338 |
| Military Unit: | 2nd/3rd North Midland Field Ambulance, RAMC |
| Date of Death: | 01 Oct 1917 |
| Age at Death: | 22 |
| Cause of Death: | Died of wounds |
| Action Resulting in Death: | Third Battle of Ypres |
| Place of Death: | 4th Casualty Clearing Station |
| Place of Burial: | Dozinghem Military Cemetery, Belgium |
| Born or Lived in Dartmouth? | No |
| On Dartmouth War Memorial? | No |
| On St Saviour's Memorials? | No |
| On St Petrox Memorials? | No |
| On Flavel Church Memorials? | Yes |
| In Longcross Cemetery? | No |
| In St Clement's Churchyard? | No |
| On a Private Memorial? | Yes |
| Name of Private Memorial: | |
| On Another Memorial? | Yes |
| Name of Other Memorial: | Denton War Memorial, Manchester; RAMC Memorial, St Peter's Church, Exchange Street, Wolverhampton; St Luke's Church Memorial, Blakenhall |
---
This information was last updated on Friday 29 September 2017 at 23:30:54.