James (and William) Carroll
James and William Carroll, both lost with HMS Defence at the Battle of Jutland, were brothers. They have the sad distinction of being the only brothers on our database to die together, on the same day, in the same action; for this reason we have combined their stories. James was not a native of Dartmouth but came to the town because of his career in the Navy; he then married a Dartmouth girl. We don't know if William ever came to Dartmouth, but the brothers' deaths were announced in the Dartmouth Chronicle, and so they are on our database.
Family
James and William were sons of Patrick Carroll and his wife Alice Murtagh, and were born in Togher, in County Louth. Togher is a rural coastal parish on Ireland's north-east coast, situated roughly midway between Dundalk and Drogheda, north of Dublin. Louth is the smallest of Ireland's 32 counties.
Little is known of Patrick and Alice's origins. At the time of their marriage, in the Catholic parish of Togher on 12th August 1871, Patrick lived in the townland of Woodtown, near Castle Bellingham, in County Louth; Alice lived nearby in the townland of Roodstown. We know from other records that Patrick was a carpenter.
Information from the baptism records of their children shows that both James and William were born at Seafield, Togher, very close to the coast. They were part of a large family - Patrick and Alice had fourteen children, including, apparently, two sets of twins (we have not been able to identify whether all the children survived to adulthood):
Anne Mary, 11th May 1872, address Seafield, Togher
Michael 12th May 1873, address Seafield, Togher
Thomas John 14th Sep 1874, address Seafield, Togher
James 15th Dec 1875, address Seafield, Togher
Patrick 16th Sep 1877, address Seafield, Togher
Peter 21st May 1879, address Seafield, Togher
John 24th December 1880, address Seafield, Togher
William 5th September 1882, address Seafield Cross, Togher
Mary Alice 12th August 1884, address Seafield, Togher
Columba (sic) and Margaret, both 22 June 1887, address Johnstown, Togher
Alice and Nicholas, 22nd and 23rd March 1890, address Boycetown, Togher
Christopher 19 Dec 1891, address Slate Row, Togher
Johnstown and Boycetown are townlands very close to each other and to Seafield.
The first Census in Ireland of which records still exist is that of 1901. The most likely record shows Patrick Carroll, aged 60, living with William, shown as aged 17, in a three-room house in Johnstown, Dunany. Patrick was working as a Carpenter and William as a Labourer. Patrick was a widower, so (assuming this to be the correct family) Alice must have died some time between 1891 and 1901 - we have not been able to trace the exact date.
The only children (other than James and William) it has been possible to trace so far were the twins Columbus and Margaret, and their younger sister, Alice. Columbus was recorded as a pupil at St Joseph's Industrial School in Artane, North Dublin, and Margaret and Alice (junior) were recorded at St Joseph's Orphanage and Industrial School in Dundalk. These schools provided accommodation and food, and some sort of training, for children who were orphaned or in great poverty. The school in Dundalk was described as teaching "household and laundry work, cooking, dairy management and the care of poultry, as well as sewing, knitting, and embroidery". Useful though these skills may have been, the schools are likely to have been a harsh environment. The children's presence in these places suggests that Patrick was perhaps unable to care for his younger children after his wife had died. We have not been able to trace where the youngest, Christopher, was accommodated.
For the older boys and girls, opportunities for work in Togher are likely to have been limited. The family lived only a very short distance from the sea, so James may have had some experience of it, though when he joined the Navy his previous occupation was stated to have been that of farm labourer. It seems likely that his experience encouraged his younger brother to join up also. The Navy offered secure employment, steady pay, a pension after 22 years, career prospects, and the opportunity to see the world. This was an attractive prospect for many young men in Ireland as in Devon, especially from a background of rural poverty.
Patrick Carroll, aged 72, was recorded in the 1911 Census living in the household of his son, Patrick, and his wife Bridget, and their three surviving children, Patrick, Matthew, and Peter, in Castlebellingham Town, Louth. According to the Census return, they had married ten years earlier. As well as Patrick Carroll senior, the household also included Columbus Carroll, aged 24. Despite his age Patrick senior was recorded as a labourer, along with Patrick junior and Columbus. Records show that Columbus Carroll later emigrated to America.
Service: James
James joined the Navy on 12th September 1896 as a Stoker 2nd Class, aged 20, on a twelve year continuous service engagement. His naval record states that he was 5ft 6¾ ins, with brown hair, hazel eyes, and a "fresh" complexion. He spent the first year of his service in training at Devonport, and on 1st October 1897 was sent to HMS Pearl, a protected cruiser built at Pembroke Dockyard and launched seven years earlier. Pearl was on her way to the North American and West Indies stations, service which was not uneventful - in 1897 there were terrible hurricanes causing much damage in the West Indies, though Pearl herself was not reported affected. Two years later she was reported participating in celebrations of the Queen's birthday at Tampa, Florida, before leaving the West Indies in August for home. James left HMS Pearl on 5th December 1900, having been rated Stoker 1st Class on 1st April 1898.
After a short period at Devonport, James arrived in Dartmouth, being appointed to HMS Britannia on 4th February 1901. Although work on the site of the new College had started, officer cadets were still accommodated in the old warships Britannia and Hindostan, moored in the river Dart. A year after his arrival, James was rated Leading Stoker 2nd Class, on 3rd February 1902. He presumably witnessed the visit of King Edward VII and Queen Alexandra in Dartmouth a month later, on 2nd March, to lay the foundation stone of the new building and within it, two caskets made especially for the purpose to commemorate the event.
Although James left HMS Britannia on 9th October 1902, it was presumably during his time in Dartmouth that he met his wife, Elizabeth Jane Gurney. Jane, as she was called, was born in 1883. She was the third daughter of James Gurney and his wife Elizabeth Triggs, both of whom had been born and brought up in Dartmouth. They had married in 1873.
The family was recorded in the 1891 Census living in Above Town, and in 1901, at "Board School Steps" off Higher Street. In 1891, the eldest, Julia, was a dressmaker's apprentice; Beatrice and Jane were still at school; William, at the time the baby of the family, was at home. James Gurney was a seaman on the Pilot Cutter, Rose, in Dartmouth harbour. He was directly involved in the Thekla tragedy, in January 1893, when he attempted to save men thrown into the sea whilst picking up Pilot Thomas Crocker from the merchant ship Thekla (see also the story of Beatrice Crocker, on our database). James Gurney and his colleague William Kelland searched for several hours in heavy seas for the men who had gone overboard, and nearly drowned themselves, finally being picked up exhausted where they had landed near Blackpool Sands the following day. It may be no coincidence that the children of the Gurney family were all baptised at St Petrox shortly after this incident - Julia Ellen, on 10th February, Beatrice and Jane on 17th May, and the two youngest children, William and Jessie Louise, born earlier that year, the following day. So Jane was no stranger to the perils of life at sea.
After several months at Devonport, James was sent to HMS Magnificent on 20th June 1903. Magnificent, a Majestic-class pre-dreadnought, was at that time the flagship of the Channel Fleet. In February 1904, he transferred to HMS Victorious, one of Magnificent's sister ships, as she was recomissioned after a refit to serve as second flagship of the Channel Fleet (he joined the ship the same day as Frederick Brewster, also on our database). While serving in HMS Victorious, James married Jane Gurney at St Mark's, Devonport, on 23rd June 1904.
James left HMS Victorious on 31st December 1906, having been promoted to Stoker Petty Officer the previous July. For the next two years he was based ashore, at the Naval Base at Devonport. His next appointment, however, took him to the other side of the world. On 23rd January 1909 he was appointed to HMS Fantome, which since 1906 had been operating as a Royal Naval Survey Ship in Australian waters. He had signed on for a further ten years service in the Navy the previous September.
The 1911 Census duly recorded him aboard HMS Fantome on the night of the 1911 Census, in Sydney Harbour. Jane, meanwhile, was living in Dartmouth, at 1 Elm Grove, Victoria Road, with her youngest sister Jessie. Although her mother Elizabeth had recently died, and her elder sister Julia lived in Devonport with her husband and family, her sister Beatrice and brother William (now both also married) still lived in Dartmouth.
James came home from Australia aboard the cruiser HMS Edgar, arriving in England on 22nd July 1911. His next appointment brought him back to Dartmouth, where the Royal Naval College was now fully completed. He spent the next two years in Dartmouth.
On 2nd September 1913, he joined HMS Defence - and the following day, his brother William also joined the ship.
Service: William
William joined the Navy as a Boy 2nd Class whilst James was serving in HMS Britannia. He gave his date of birth as 20th October 1885, understating his trye age by over two years, presumably to meet the age requirement for entry at this level. He may have been the more able to do this because he was short - 5ft 2ins. His naval record describes him as having auburn hair, grey eyes and a "fresh" complexion.
William's training began at HMS Black Prince, a training ship at Queenstown, in Ireland, on 1st May 1901, followed by the training ship HMS Agincourt at Portland, until 26th October 1902. On 17th March 1903, he began his first time at sea, joining the battleship HMS Ocean, far away on the China Station.
In 1905, Britain and Japan agreed a treaty of alliance and in consequence, the British presence in the Far East was reduced and HMS Ocean was recalled. She left Hong Kong on 7th June 1905, arriving home in Plymouth on 16th August 1905. Whilst serving in her, William had been rated Ordinary Seaman on what the Navy thought was his eighteenth birthday, 20th October 1903, and Able Seaman on 3rd August 1905, shortly before his arrival home.
Time at sea was followed a long period ashore, at the Naval Base at Devonport until 28thApril 1908, a tour of duty which overlapped with James, also appointed to Devonport at roughly the same time. His next sea appointment was HMS Suffolk, a Monmouth class cruiser, as she was recommissioned after a refit for service with the 5th Cruiser Squadron of the Mediterranean Fleet. Her time there appears to have been uneventful - all that the newspapers could find to report of her activities was her contribution of "an accomplished male quartet party" to a large "Temperance Day" event in Malta.
His next appointment was to the destroyer depot ship HMS Blake, though his naval record does not show to which destroyer he was sent. This was followed by about ten months at HMS Impregnable, the old wooden warship (previously HMS Howe) used as the seaman boys training establishment at Devonport. He was appointed to HMS Defence on 3rd September 1913, the day after his brother James.
For the rest of James and William's service on HMS Defence, including the ship's fate at the Battle of Jutland, see our separate article here.
Death
On 9th June 1916 three announcements appeared in the Dartmouth Chronicle, placed by Jane Gurney and her sisters and brothers, and by James and William's sisters Margaret and Alice:
Carroll - May 31st 1916, through the sinking of the ill-fated HMS Defence, James, the devoted husband of Janie Carroll, and son in law of the late Mr and Mrs James Gurney, age 38. RIP.
Carroll - in loving memory of our dear brothers Jim and Will Carroll, who were killed in action on HMS Defence, May 31st 1916. Sadly missed by sisters Maggie and Alice, and brother Chris (in France) RIP.
Carroll - May 31st, killed in action on HMS Defence, James Carroll, the beloved brother in law of Julie, Beattie, Will and Jessie; will be sadly missed by his little nieces and nephews. RIP.
Commemoration
Though announcements of their deaths were made in the newspaper at the time, the brothers were not commemorated on Dartmouth memorials after the war.
However, they were commemorated on the War Memorial in Castlebellingham, in their home county of Louth, which recorded all those from the three parishes of Kilsaran, Dromiskin and Togher who "died for Ireland in the Great International War 1914-1919".
Their youngest brother Christopher, who was a member of the Royal Munster Fusiliers, and in the trenches in France at the time of their death, was killed in action on 21st March 1918 and is also commemorated on the Castlebellingham War Memorial (Army and Commonwealth War Graves Commission records show his name as O'Carroll).
Like all those who sailed from Plymouth who were lost at sea with no known grave, James and William are also commemorated on the Plymouth Naval Memorial.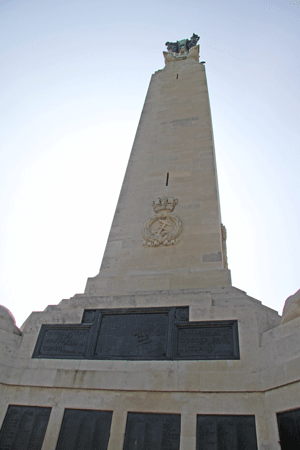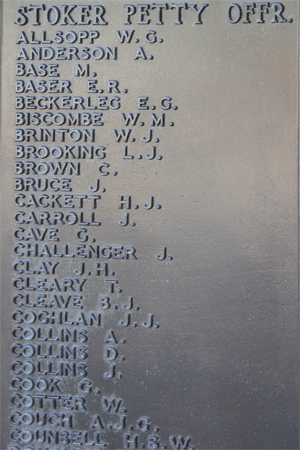 Plymouth Naval Memorial
Sources
Naval service records available for download from The National Archives, fee payable:
Information on the parish of Togher, County Louth
http://www.rootsireland.ieBaptism and marriage records for County Louth accessed at Rootsireland (subscription required)
Census of Ireland records accessible at the National Archives of Ireland
Castlebellingham War Memorial included on Irish War Memorials
Note: The Register for the Plymouth Naval Memorial states that James was the son of "Patrick and Alice Carroll of Dartmouth". (William's entry contains no information about his parents.) Although the names are correct, there is no indication (so far as we are aware) that Patrick Carroll lived in Dartmouth. His wife Alice had died, so far as we are aware, by the time of their sons' deaths.
Jane Carroll remarried in 1919 in Pontypool, Monmouthshire. Her second husband was John H Lewis.
Information Held on Database
| | |
| --- | --- |
| Surname: | Carroll |
| Forenames: | James |
| Rank: | Petty Officer Stoker RN |
| Service Number: | 283529 |
| Military Unit: | HMS Defence |
| Date of Death: | 31 May 1916 |
| Age at Death: | 40 |
| Cause of Death: | Killed in action |
| Action Resulting in Death: | Battle of Jutland |
| Place of Death: | North Sea |
| Place of Burial: | Commemorated Plymouth Naval Memorial |
| Born or Lived in Dartmouth? | Not Known |
| On Dartmouth War Memorial? | No |
| On St Saviour's Memorials? | No |
| On St Petrox Memorials? | No |
| On Flavel Church Memorials? | No |
| In Longcross Cemetery? | No |
| In St Clement's Churchyard? | No |
| On a Private Memorial? | No |
| On Another Memorial? | Yes |
| Name of Other Memorial: | Dartmouth Chronicle Obituary |
---
This information was last updated on Monday 30 May 2016 at 23:21:23.