Frederick Charles Brewster
Family
Frederick Charles Brewster was born in Harrow on 13th Dec 1884 (according to his naval record), and baptised on 18th January 1885 in Wealdstone. He was the younger son of Alfred Lionel Brewster and his wife Lucy Harrison. Alfred came from Bury St Edmonds and his wife Lucy from Brighton - they had married in London, having met while both in service to Alfred Henry Barford, who ran a well-known school at 1 Cornwall Terrace, Regents Park. By the time of Frederick's birth, they had moved to Harrow, and Alfred worked as a butler.
Alfred and Lucy's eldest son, Alfred James, was born soon after his parents' marriage, in 1882. The 1891 Census recorded the family at 28 Alma Cottages, Harrow Weald. In addition to Alfred junior and Frederick, the couple also had two daughters, Agnes Lucy, born in 1887, and Ethel Henrietta, born in 1890. Another daughter, Emily Gertrude, was born in 1893.
In 1895 the family moved to Kingswear, presumably because Alfred obtained a new position as butler in the area. Frederick attended the school in Kingswear and did well. A fourth daughter, Laura, was born in Kingswear on 31st August 1896, though not baptised until three years later, on 24th February 1899, at St Petrox. In the 1901 Census the family was recorded at 3, Overhill, Wood Lane, Kingswear. Frederick, now 16, was apprenticed to a mason. The four girls were (presumably - though the Census does not record it) at school, being 13, 10, 7 and 5.
Frederick's elder brother, Alfred James, had felt the lure of the sea and had joined the Navy as a Boy 2nd Class on 23rd February 1900 (understating his age). He evidently liked the life and did very well (indeed, he achieved Warrant Officer rank in 1913, Mate in 1914, and Lieutenant in 1917). Fatefully, Frederick abandoned his work as a mason, and chose to follow in his brother's footsteps.
The rest of the family remained in Kingswear, where at the time of the 1911 Census they were recorded at "Overhill Villa". Alfred was still working as a butler. The three youngest daughters, Ethel, Emily and Laura, were still at home. Agnes Lucy was working as a "nurse" (most probably looking after the children) in the household of the Reverend Charles Burrell Yonge, Rector of Newton Ferrers.
By the time of Frederick's death Frederick's parents had left Kingswear and moved to Oxford. However, Frederick appears to have remained in close touch with Kingswear through his sweetheart, Edith Lawrence. The 1911 Census records that Edith lived with her widowed mother Eliza, her younger brothers George and William, and her younger sister Florrie, at 2 Summerland Terrace. Edith worked as a Dressmaker.
Service
Frederick joined the Navy on 8th October 1901 as a Boy 2nd Class. His service record states that he was 5ft 2 ½ins tall, with brown hair, brown eyes and a "fresh" complexion.
For his initial training, he was sent to training ships HMS Northampton and HMS Cleopatra, as well as spending three months at Devonport. His first appointment at sea was to HMS Magnificent, a Majestic-class pre-dreadnought battleship which had entered service in 1895. When Frederick joined her, on 14th May 1902, she was the flagship of the Rear Admiral second in command of the Channel Squadron. On 13th December of that year, he was rated Ordinary Seaman and began his twelve year continuous service engagement. By this time he had grown a few inches, being recorded as 5ft 7ins.
On 2nd February 1904 he was appointed to HMS Victorious, a sister ship of Magnificent, which was recommissioned on that date, after a refit, to serve as second flagship of the Channel Fleet. Frederick was rated Able Seaman shortly after, on 22nd March 1904, and acting seaman gunner on 15th December 1904. On 28th January 1905, as Victorious transferred under a reorganisation to the Atlantic Fleet, Frederick was sent for further training at Devonport and specifically at HMS Cambridge, the gunnery school, after which as a trained seaman gunner he was reappointed to HMS Victorious until 31st December 1906, when she ended her service in the Atlantic Fleet and paid off at Devonport. Whilst in Victorious, he served under Captain Robert Falcon Scott, appointed flag-captain to Rear Admiral Sir George Egerton in August 1906.
Frederick's next appointment was to HMS Ramillies, on 2nd February 1907. Ramillies was another pre-dreadnought battleship, of an earlier generation than the Majestics. She had suffered a collision with HMS Resolution the previous year during the combined manoeuvres of the Atlantic, Channel and Reserve Fleets. In March 1907 she was recommissioned at Devonport with a reduced crew.
Just over two years later, on 9th February 1909, Frederick left Ramillies for the new armoured cruiser, HMS Defence, which had been commissioned only a few days earlier. She was assigned to the Home Fleet. He remained with the ship for two years, leaving her on 13th February 1911. Probably because he had been at sea for some time, he appears next to have had some time ashore, including further gunnery training, qualifying as Gunlayer third class on 6th November 1911. The 1911 Census recorded him as an Able Seaman at the Royal Naval Barracks, Keyham, Devonport.
On 1st May 1912 he was rated Leading Seaman and on 3rd December 1912 he passed educationally for Petty Officer. His next posting was once more at sea. On 17th June 1913 he joined HMS Indefatigable, and was serving on her when war broke out. War appears not to have dimmed his enthusiasm for a naval career, for on 13th December 1914 his twelve year service engagement came to an end and he signed on for a further ten years. He passed professionally for Petty Officer on 6th May 1915, and was appointed Petty Officer whilst still serving in HMS Indefatigable, on 9th September 1915.
For the rest of his service on HMS Indefatigable, including the ship's fate at the Battle of Jutland, see our separate article here.
Death
On 9th June 1916 two announcements of Frederick's death appeared in the Dartmouth Chronicle:
Brewster: Killed in action on the 31st May, in the North Sea, on HMS Indefatigable, Frederick Charles Brewster, second son of Alfred and Lucy Brewster, late of Kingswear, and of 65 Banbury Road Oxford, age 31.
Brewster: May 31st, killed in action on HMS Indefatigable, Frederick Charles Brewster, aged 32 years, the dearly loved friend of Edith Lawrence, 2 Summerland Terrace, Kingswear.
A bitter blow.
The following week, a notice of thanks appeared in the paper, from "Mr and Mrs Brewster and family, also Miss Edith Lawrence" to "all kind friends for letters of sympathy in their recent sad bereavement".
At the time of his brother's death, Alfred James Brewster was serving as Acting Mate in Submarine C35, part of the 4th Flotilla, based at Dover. He served in submarines throughout the war. He retired from the Navy in 1920.
Commemoration
Frederick is on our database because an announcement of his death appeared in the Dartmouth Chronicle.
He is commemorated on the Kingswear War Memorial in St Thomas of Canterbury, Kingswear, together with his shipmate, Richard Giles Todd.
As one of those who sailed from Plymouth who was lost at sea with no known grave, he is also commemorated on the Plymouth Naval Memorial.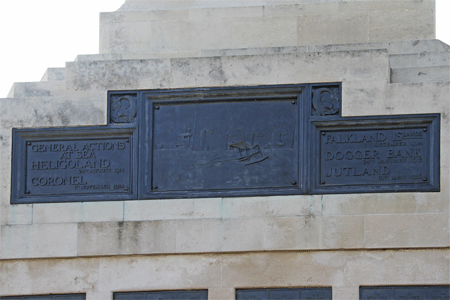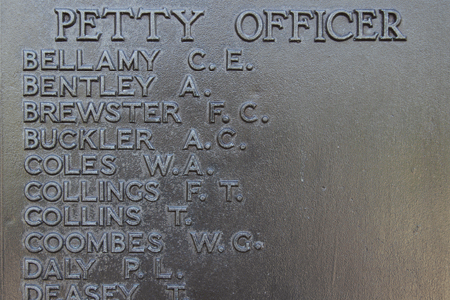 Plymouth Naval Memorial
Sources
Naval service records available for download from The National Archives, fee payable:
Kingswear's Heroes in Peace and War, by Tessa Gibson and Trevor Miles
Information Held on Database
| | |
| --- | --- |
| Surname: | Brewster |
| Forenames: | Frederick Charles |
| Rank: | Petty Officer RN |
| Service Number: | 217466 |
| Military Unit: | HMS Indefatigable |
| Date of Death: | 31 May 1916 |
| Age at Death: | 31 |
| Cause of Death: | Killed in action |
| Action Resulting in Death: | Battle of Jutland |
| Place of Death: | North Sea |
| Place of Burial: | Commemorated Plymouth Naval Memorial |
| Born or Lived in Dartmouth? | Not Known |
| On Dartmouth War Memorial? | No |
| On St Saviour's Memorials? | No |
| On St Petrox Memorials? | No |
| On Flavel Church Memorials? | No |
| In Longcross Cemetery? | No |
| In St Clement's Churchyard? | No |
| On a Private Memorial? | No |
| On Another Memorial? | Yes |
| Name of Other Memorial: | Dartmouth Chronicle Obituary, also Kingswear Memorial, St Thomas of Canterbury |
---
This information was last updated on Monday 30 May 2016 at 23:16:56.