Benjamin Henry Brittain
Family
Benjamin Henry Brittain was born in Lowestoft in 1895. He was the fourth surviving son of Joshua George Brittain and his wife Hannah, or Anna, Maria Mewse, who married in Lowestoft in 1882. Joshua was a fisherman. He and Hannah had a large family:
Elizabeth Ellen, born 1882
Alice Maud Mary, born 1883
Frederick Joshua, born 1885
Edith Maria, born 1886
Charles Edward, born 1887
Samuel George, born 1890
Ethel May, born 1892, who died aged three, in 1895
Benjamin Henry, born 1895
John William, born 1898
Ada Gladys, born 1900, who died the following year, aged one
Annie Eliza, born and died 1901, when only a few weeks old.
At the time of the 1901 Census, the family lived in 4 Strand Cottages, in Lowestoft. By this time the eldest girls were no longer living at home. Frederick (recorded as Joshua) was working as a fisherman like his father - the younger boys, including Benjamin, were still at school.
Unfortunately we have not been able to trace Benjamin in the 1911 Census - he was not recorded at home in Lowestoft with his parents - but he too seems to have worked in the fishing industry.
Service
The only record of Benjamin's war service we have been able to trace is his appearance on the medal roll of the Royal Naval Reserve. This provides a few clues about what he may have done. His service number, 812/DA, suggests that he was recruited into the RNR as a deck hand, and suggests that he served in the Trawler section of the RNR. His rating on the medal roll, however, is not "deck hand" but "engineman", a more senior rating, so he must have had some previous relevant experience and qualified later in that role. The award of the 1914-1915 Star shows that Benjamin served at sea sometime during the period from the start of the war to the end of 1915. At least two of his brothers, Charles and John, also joined the RNR Trawler section, both of them during 1915, so perhaps Benjamin joined at about the same time. Unfortunately, Benjamin's RNR service record does not appear to have survived, so nothing is known about the vessels on which he served, or where. So far nothing else has come to light to provide any more information about his wartime service, but research continues.
For more on the RNR (Trawler Section), see the stories of William James Burton and James Taylor.
Nonetheless it appears that his activities brought him to Dartmouth, for on 4th January 1917 he married Rosina Pockett, by special licence, at St Clements Townstal. Rosina was the daughter of William Pockett and his wife Mary Jane Brown. William and Mary Jane had married in 1896 (also in St Clements Townstal), and Rosina was born in 1898. In the 1901 Census, when Rosina was three, the family lived in Crowthers Hill. William was the fireman in a steam yacht; by the time of the 1911 Census, he was working in the same role, but for an "engineering company" . The family continued to live in Crowthers Hill; Rosina, aged 13, was still at school, along with her five younger brothers and sisters. Her elder sister Elizabeth was no longer at home.
Death
Sadly, Rosina and Benjamin had only a year of married life together. On 10th January 1918, Benjamin died at their home on Kings Quay, Dartmouth. He was buried in Longcross Cemetery on 16th January 1918, aged only 22.
Benjamin's family placed the following announcements in their local paper in Thetford (Thetford and Watton Times, 26th January 1918):
Brittain - In loving remembrance of our dear son, Benjamin Henry Brittain, who died at Dartmouth January 10th 1918, aged 22 years.
"When alone in my sorrow, and bitter tears flow,
There stealeth a dream of the sweet long ago.
And unknown to the world he stands by my side
And whispers "Dear Mother, death cannot divide".
From his sorrowing Father and Mother.
Brittain - In ever loving memory of our dear brother, Benjamin Henry Brittain, who died at Dartmouth January 10th 1918, aged 22 years.
"Could we have seen him at the last and held his dying hand,
Or heard the last sigh of his heart, or held his drooping head,
Our hearts, we think, would not have felt such bitterness of grief:
But God had ordered otherwise, and now he rests in peace."
From his sorrowing Brothers and Sisters.
Benjamin is commemorated in Dartmouth on the Town War Memorial. However, he does not appear as a war casualty in Commonwealth War Graves Commission records.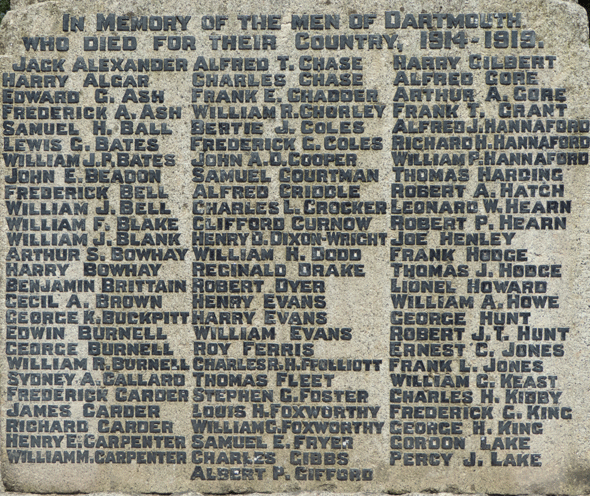 Dartmouth Town Memorial
Information Held on Database
| | |
| --- | --- |
| Surname: | Brittain |
| Forenames: | Benjamin Henry |
| Rank: | Engineman |
| Service Number: | 812/DA |
| Military Unit: | Royal Naval Reserve |
| Date of Death: | 10 Jan 1918 |
| Age at Death: | 22 |
| Cause of Death: | Not known |
| Action Resulting in Death: | |
| Place of Death: | Dartmouth |
| Place of Burial: | Longcross Cemetery, not a war grave |
| Born or Lived in Dartmouth? | Yes |
| On Dartmouth War Memorial? | Yes |
| On St Saviour's Memorials? | No |
| On St Petrox Memorials? | No |
| On Flavel Church Memorials? | No |
| In Longcross Cemetery? | Yes |
| In St Clement's Churchyard? | No |
| On a Private Memorial? | No |
| On Another Memorial? | No |
---
This information was last updated on Tuesday 01 May 2018 at 13:55:42.