James Taylor
James Taylor was not a native of Dartmouth, nor did he ever live in the town - the war brought him to Devon. He is included on our database because he died in or near Dartmouth and was buried in Longcross Cemetery.
Family
According to his naval records, James was born on 11th March 1884, in Sunderland, County Durham. He was the eldest son of Joseph Taylor and his wife Agnes Gibson. Joseph was originally from the small village of Cameron, near St Andrews, in Fife, Scotland. In 1881, according to the Census, he was living in Sydney Place, Dryfesdale, Lockerbie, and working as a Coach Fitter. Later that year, he married Agnes Gibson, in Lockerbie. Their first child, Wilhelmina, was born in Lockerbie, but evidently by the time of James' birth, the couple had moved south, over the border to Sunderland.
They did not stay in England long, for by the time of the birth of their next child, Andrew, Joseph and Agnes had returned to Joseph's home county of Fife. Andrew was born in the village of Ceres, near Cupar; and Agnes, their fourth child, in Kilmany, a few miles to the north. By the time of the birth of their fifth child, Thomas, they had settled in Newburgh, a small port on the southern side of the Firth of Tay. The 1891 Census recorded the family at Livingstone Hall Cottage. Joseph was working as a gardener - Wilhelmina and James, as the two oldest children, were at school, and Agnes looked after the youngest ones at home.
By the time of the 1901 Census, the family had moved a short distance, to a cottage in the village of Lindores, just south of Newburgh. Four more children had been born - George, Joseph, Euphemia, and, only a month before the Census, Robert. Joseph (senior) continued to work as a gardener. The three eldest children had all begun their working lives: Wilhelmina ("Minnie") was in domestic service at Guthrie Lodge, Newburgh, the home of George Anderson, Linen Manufacturer; Andrew worked as a draper's assistant. James, now aged 17, worked in a "floor cloth" factory, most likely, the factory of the Tayside Floorcloth Co. Ltd in Newburgh, which made linoleum. The company was established in the town in 1891, and had soon become Newburgh's main industry.
The 1911 Census recorded Joseph and Agnes with their two youngest children, Euphemia and Robert, living at Kirkstyle, in Abdie, the parish adjoining Newburgh. All the other children had by then left home. Unfortunately, it has not yet been possible to trace James at this date - we know only that by 1915, four years later, he was in Swansea.
Service
On 8th April 1915, James enrolled in the Royal Naval Reserve. His address at enrollment was 34 Maes Street, St Thomas, Swansea. His RNR service record says he was 5ft 6ins tall, with brown eyes and a "dark" complexion. There is no indication of his previous employment, but his RNR service record says that on 21st September 1915 he was sent to his first appointment, HM Trawler Benton Castle, as an Engineman, being mobilised before undergoing any training. The more senior rating of "Engineman" indicates that James already had experience in this role on a comparable fishing vessel (possibly even the Benton Castle herself).
The Benton Castle was a 283ton trawler built by Smiths Dock Co. Ltd of Middlesbrough in 1914, for Castle Steam Trawlers Co Ltd of Swansea, where she was first registered. The use of trawlers for minesweeping purposes had been recommended by Lord Charles Beresford in 1907, while Commander in Chief Home Fleet. Trawlers were used to keep naval and other ports free for warships and other shipping. The Royal Naval Reserve (Trawler Section) (RNR(T)) was formed in 1910 to recruit and train fishermen for wartime service as minesweepers, and by 1912 the Trawler Section consisted of 142 trawlers and 1269 personnel.
However, as the extent of the German mine-warfare threat became clear, it became obvious that the numbers of trawlers mobilised at the outbreak of war for minesweeping were insufficient to meet it, and many more were requisitioned. The Benton Castle was hired by the Admiralty in September 1915, when James joined her. She was given the number 1972, and fitted with a 6- pounder gun. She was one of 36 hired trawlers taken up from Swansea between 1914-1918.
Death
HMT Benton Castle operated out of Devonport, as part of the minesweeping flotilla based at the port. Although most German minelaying activity was concentrated on the East Coast of England, submarines from the German submarine Base between Ostend and Zeebrugge in Flanders were sometimes successful in getting through the Dover Patrol to target western areas of the English Channel. The tactic was to lay mines on the observed track of merchant ships and then move back out to sea, waiting for traffic to be diverted so that it could be attacked by torpedo. The British response was to minimise the mined area and to move traffic closer into shore, thus placing the remaining mines between the ships and the U-boats.
On 10th November 1916 HMT Benton Castle was patrolling the approaches off Dartmouth, when she struck a mine laid shortly before by UC17, a German submarine commanded by Ralph Wenniger. UC boats were submarines specially designed as coastal minelayers, carrying 18 mines launched through six tubes, as well as seven torpedoes. UC17 had been commissioned only four months earlier, part of the substantial expansion of the German submarine fleet to attack Allied mercantile marine resources.
The resulting explosion sank the Benton Castle. According to a modern diving report on the wreck of the ship (which survives about 3 ½ miles off Dartmouth):
To the starboard side, a big hole in the shows where the Benton Castle fatally struck a mine. Across to the port side, the hull is all there, but split outwards as the keel twisted with the explosion and subsequent impact with the seabed ... Further aft, the central area of the deck and lower parts of the superstructure ... are more intact ...
Another Admiralty trawler, the Riskato, was in the vicinity, and provided assistance. The Skipper, William J Smith, was mentioned in despatches for doing so, and for "saving life in HMT Benton Castle". This suggests that not all the crew died. However, seven members of the crew were lost at sea following the explosion, according to Commonwealth War Graves Records:
Engineman Frank Beard RNR
Ordinary Telegraphist Francis William Bonner RNVR
Deck Hand George Llewellyn Garnham RNR
Trimmer Thomas Brooks Simmons RNR
Deck Hand William Thomas RNR
Deck Hand Charles Henry Hicks RNR
Second Hand Leon O'Connell Spence Simpson RNR
Their names are amongst those on the Plymouth and Chatham Naval Memorials.
In addition, Lieutenant Frederick Victor Varley RNR, in command of the patrol, and Skipper Alfred Thomas RNR, were both killed, but their bodies were recovered. According to newspaper reports, Lt Varley was buried at Anfield Cemetery, in Liverpool, on Wednesday 15th November, only a few days after the loss of the ship. Alfred Thomas's body appears to have been recovered later, for (according to his service record) he was buried at Stokenham Church on 7th December 1916. Subsequently, he was reburied in Portsmouth.
According to his RNR service record, James survived the explosion, and was picked up (presumably by HMT Riskato). However, he must have died of his injuries very soon after, for his date of death is given on his record as 10th November 1916, the same date as those killed outright. He was buried in Longcross Cemetery, in Dartmouth.
Commemoration
James' grave in Longcross Cemetery is now marked by a Commonwealth War Graves Commission headstone.
In addition, he is commemorated on the Newburgh war memorial, and with his mother, father and two of his brothers on a family gravestone in Abdie Old Churchyard, Fife. His younger brother Thomas Gibson Taylor, a private in The Black Watch (Royal Highlanders), was killed in action in France in 1918.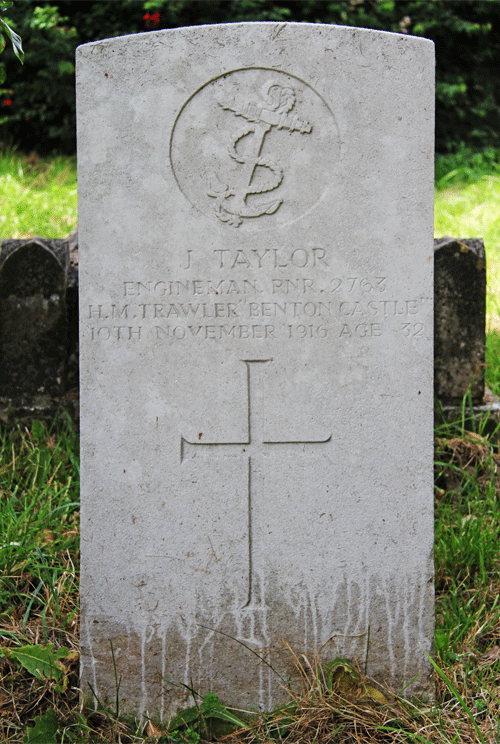 Sources
Royal Naval Reserve Ratings' Records of Service, Service Record Cards, are available for download from The National Archives, fee payable:
Details of wreck of HMT Benton Castle available on "Wrecksite.eu"
Report of dive of wreck on Divernet, appeared in Diver in October 2008
The Benton Castle was the first of four ships sunk near Dartmouth by U-boats, known locally as The Red Light Steamers, as they fall within the red sector light at the entrance to Dartmouth harbour.
UC17 and Ralph Wenniger
"The U-boat in the Great War", Western Front Association
Newburgh War Memorial is described and pictured at The Scottish Military Research Group - Commemorations Project
A picture of the Taylor family grave is available at The Scottish War Graves Project
Information Held on Database
| | |
| --- | --- |
| Surname: | Taylor |
| Forenames: | James |
| Rank: | Engineman RNR |
| Service Number: | 2762 Dev |
| Military Unit: | HM Trawler Benton Castle |
| Date of Death: | 10 Nov 1916 |
| Age at Death: | 32 |
| Cause of Death: | Died of injuries |
| Action Resulting in Death: | HMT Benton Castle hit by mine |
| Place of Death: | In or near Dartmouth |
| Place of Burial: | Buried Longcross Cemetery, Dartmouth |
| Born or Lived in Dartmouth? | No |
| On Dartmouth War Memorial? | No |
| On St Saviour's Memorials? | No |
| On St Petrox Memorials? | No |
| On Flavel Church Memorials? | No |
| In Longcross Cemetery? | Yes |
| In St Clement's Churchyard? | No |
| On a Private Memorial? | No |
| On Another Memorial? | No |
---
This information was last updated on Sunday 04 December 2016 at 19:53:38.