John Bellett Wood
Family
John Bellett Wood was born in Salcombe on 13th January 1879. He was the third of five sons of Joseph Adams Wood and Fanny Fewings Anderson.
Joseph Adams Wood was a Master Mariner who came originally from East Portlemouth. His father too was a mariner, and his mother, Sarah Adams, was a Master Mariner's daughter. Joseph married Fanny Anderson at St Petrox, Dartmouth, on 5th June 1872. She was the daughter of James Anderson, a mariner, though her father had died by the time she was two. Widowed, her mother found work as a laundress; Fanny worked alongside her mother.
Joseph and Fanny first settled in Dartmouth, where William Henry was born on 30th October 1874 and Joseph Frederick on 20th January 1877. Joseph (senior) continued to work as a mariner. The family then moved to Salcombe, where John Bellett was born in 1879 and Samuel Gurney on 17th October 1880. At the 1881 Census, the family was living in "The Island", Salcombe. It seems that Joseph was away at sea; living at home were Fanny and her four boys, with Sarah Wood, Joseph's mother, now widowed. Thomas George, the couple's fifth son, was born in Salcombe on 12th February 1882.
Soon after Thomas' birth, Joseph and Fanny moved back to Dartmouth, where Samuel and Thomas were baptised together at St Petrox on 2nd June 1882. At the time of the 1891 Census, they lived in New Road. Joseph (junior) had started his working life as a draper's assitant; the three younger boys, including John, were still at school. William was staying with his aunt Sarah, his father's sister, and her husband, William Abbott, in St Austell, Cornwall.
Service
John joined the Navy in HMS Impregnable in Devonport on 24th May 1894, aged not quite 15 ½, as a Boy 2nd Class. His naval service record states that previously, he had been a baker; and that he was 5ft 3 ½ins tall, with brown hair, grey eyes, and a "fair" complexion. During his training, he opted for, or was selected for signals, and on 13th January 1897, while serving in the battleship HMS Magnificent, he signed a continuous service engagement and was rated Ordinary Signalman.
In 1901, while based in Devonport, he married Freda Kate Wellington, the youngest daughter of George Alexander Wellington and his wife Susan Lewis. Freda was born in Dartmouth in 1878. Her father George had spent most of his working life as a seaman, but by 1890 had retired, running first a greengrocer's shop and then working as a pork butcher. After George died in 1893, Susan continued to run the butcher's shop on her own. At the time of the 1901 Census, Freda, aged 22, was working as a servant, though still living at home with her mother Susan, her elder brother and widowed sister George and Emma, and Emma's two children, Gladys, aged ten, and Dulcie, aged eight. With John away in the Navy much of the time, it seems that, after her marriage, Freda remained at home with her family.
John progressed quickly, being rated Leading Signalman on 4th November 1901, 2nd Yeoman of Signals on 1st October 1903, and Yeoman of Signals on 2nd April 1904, following which he was appointed to HMS Russell, a pre-dreadnought battleship, as she was recommissioned for service in the Home Fleet. He remained in HMS Russell for two years.
On 5th March 1907, he was appointed as Yeoman of Signals to HMS Aboukir, assigned to the Mediterranean Fleet. Later that year, on 1st October, he transferred to the new Wireless Telegraphy branch. The Navy had been experimenting with wireless communications since 1895, and Marconi equipment was first fitted to four ships in 1899. Responsibility for the operation of wireless telegraphy was at first seen as a matter for electrical rather than signal experts, so responsibility was first given to the Torpedo branch, and further development for fleet purposes took place at the Torpedo school at Plymouth, HMS Defiance, moving to HMS Vernon in Portsmouth in 1901. The technology developed quickly - by 1905 all ships larger than destroyers were fitted with wireless, and by 1906 the Admiralty began to plan for its own high-powered transmission stations (rather than using the Marconi Company's transmitter in Cornwall). That year, an International Radio Telegraphic Conference agreed the allocation of frequencies between merchant shipping and naval use. Wireless equipment spread throughout the fleet.
Initially, the new equipment was manned by Signalmen, with special training. However, in 1906 the Admiralty decided to set up a separate Wireless Telegraphy branch, so that each ship had specialist operators available exclusively for that purpose. To build up numbers quickly, volunteers from any branch, with the necessary aptitude, were to be encouraged, but it was proposed that 192 Higher Signal ratings should move to the new Branch. Evidently John was one of them. He was promoted Petty Officer (Telegraphist) on 17th January 1908, whilst still serving in HMS Aboukir, and at the same time, signed on with the Navy for a further ten years service.
John was thus involved at the start with the further development of this new technology, and in its implementation throughout the fleet. By 1909, 157 British warships were fitted with wireless telegraphy; between 1909 and 1914 the number increased to 435. John took the expertise he had gained in a battleship to destroyers, as the technology was "rolled out". He returned to the UK in 1909 for training in HMS Defiance and HMS Vernon, where research and experimental work continued. He was then sent to HMS Blake, a destroyer depot ship, between 17th September 1909 to 20th October 1910. This was followed by six months in HMS Sentinel, the leader of the 5th destroyer flotilla, at Chatham; and then by a little over a year in HMS Adventure, the leader of the 2nd destroyer flotilla at Devonport, until 21st June 1912.
In the meantime, Freda continued to live with her family in Dartmouth. John must have obtained some home leave at the time the 1911 Census form was taken, for he completed it for his mother-in-law, who was recorded, sadly, as blind. Freda seems to have taken over the shop from her mother, being recorded as a "Pork and General Dealer". The home in Lower Street still also accommodated Freda's brother and sister, George and Emma, and Emma's two daughters; and two boarders.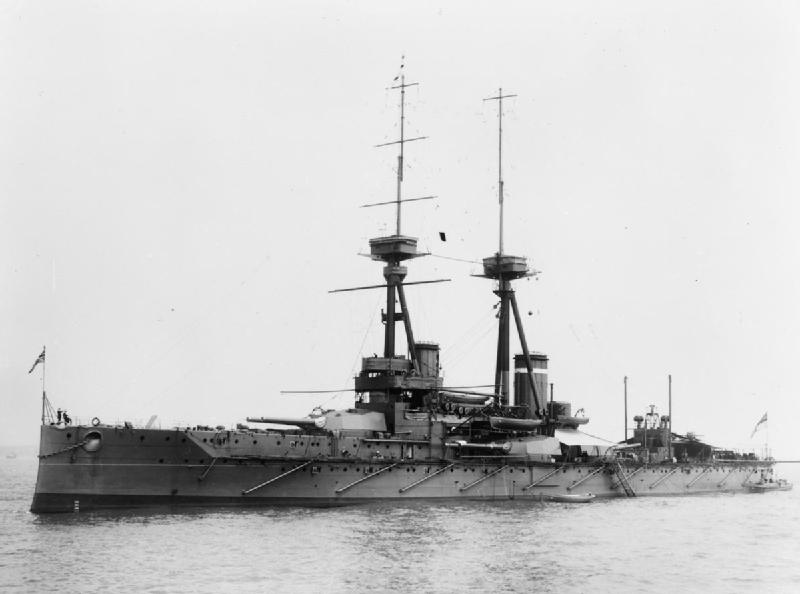 HMS Collingwood
 On 23rd June 1912, John was appointed as Acting Chief Petty Officer (Telegraphist) to the battleship HMS Collingwood, the flagship of the 1st Battle Squadron. Kings Regulations and Admiralty Instructions of 1913 state that Chief PO Telegraphists were to be rated Acting for one year, and then confirmed by the Captain if their conduct and ability was satisfactory. Evidently John met this requirement, for he was promoted Chief Petty Officer (Telegraphist) just under a year later, on 1st June 1913. He served in Collingwood until 23rd June 1914, when she ceased to be the flagship.
By the outbreak of war, Wireless Telegraphy was an accepted means of communication within the fleet, though still seen as supplementary to the tried and tested visual signalling methods. There remained limitations in range and reliability, and it was still the case that ships transmitting at the same time interfered with each other. Battleships and battlecruisers had a high power set of transmitters, with a range of about 500 miles, and a lower power auxiliary set. Cruisers had a lower power standard ship transmitter, with a range of about 100 miles, and an auxiliary set, while small ships had only a single low power set, with a designated range of 50 miles.
A Chief PO (Telegraphist) was required to undertake a requalifying course every four years and on 24th June 1914, John returned to HMS Defiance for a few weeks. On 2nd August 1914, with war looming, he was appointed to HMS Prince George when she briefly served as the flagship of the 7th Battle Squadron, and was then transferred to HMS Vengeance, when she took over as flagship. He remained with HMS Vengeance for two months, leaving her on 24th October 1914 for a fairly long period of time ashore. From 9th November 1914 to 14th March 1916, John served in HMS Impregnable, at Devonport, as Chief Petty Officer (Telegraphist).
During this period, John must have been able to come home to Dartmouth relatively frequently, notwithstanding the wartime demands of the service. John and Freda's only child, Dulcie Lorraine, was born on 9th January 1915.
The "Q"-ship HMS Vala
On 11th July 1916, after three months in HMS Defiance, John was appointed as Chief PO (Telegraphist) to Special Service Ship Q-8, or HMS Vala.
A "Q-ship" was an armed decoy, which appeared to be a small merchant ship of some kind, but which carried a naval crew and hidden guns. The aim was to present the ship as an easy target, so as to entice U-boats to the surface to carry out their attack (rather than remaining submerged and using up their torpedoes). The submarine could then itself be attacked by the Q-ship's guns. The crews disguised themselves as civilians, and learned to minic the appearance and behaviour of a civilian crew when stopped by a submarine. A "panic party", sufficient to look like the whole crew, would abandon the ship, manning the lifeboats and rowing away. Crew still on board would remain concealed, waiting for the submarine to surface and come within range; at the last moment, they would send up the White Ensign, and open fire.
Robert Massie describes the camouflage:
To deceive the captain of a ... U-boat ... the Q-ship crew had to become actors. Stripped of their uniforms and clothed in rags picked up in dingy waterfront shops, they let their hair and beards grow long and their moustaches sprout and droop ... The regular navy's scrupulous deference to rank was laid aside: no salutes were given or returned; seamen slouched and shuffled, kept their hands in their pockets and their pipes in their mouths. Garbage was dumped carelessly over the side - anathema in a man of war .... Most important was the concealment of the guns. Some were placed behind wooden bulwarks, which, at the pull of a lever, would instantly collapse, nakedly exposing the submarine to the gun and the gun to the submarine [As U-boats became more cautious] the guns were concealed in hatchways and covered by tarpaulins as if they were cargo. Sometimes they were placed inside false lifeboats, which would suddenly fall away ... Eventually, Q-ships carried hidden depth charges that could be rolled off the stern, and some were even equipped with submerged torpedo tubes.
Initially the Navy had selected crews from amongst those who had suffered discipline problems, presumably because the assumption was that "hard men" would be what was required; but Q-ship commanders eventually convinced the Admiralty that the characteristics required were self-discipline and reliability, and that only the best were good enough. Crews were volunteers; and much was expected from them - conditions on the ships were crowded (because there were twice the crew the ship was designed to hold) and crews stayed at sea for long periods. The role was, as Massie describes it, "a unique blend of extreme danger and dullest monotony", steaming back and forth through dangerous waters, hoping to meet a submarine.
Gradually, U-boats adapted their tactics, and by 1917 were increasingly reluctant to engage on the surface. Sources vary on U-boat losses attributed to Q-ships, but the total during the three year Q-ship campaign was less than fourteen, though more were damaged. Approximately 27 Q-ships were lost to U-boats.
The cargo steamship Vala was launched on 9th December 1893 by Ramage & Ferguson, Leith, for Messrs Salvesen & Co, Grangemouth, and was used for the coastal and continental trade. On 17th November 1914, she had been requisitioned for Admiralty service as a collier; on 7th August 1915, she entered service as a "Commissioned Miscellaneous Vessel" or Decoy Ship, as HMS Vala. She initially operated out of Orkney, and later transferred to Queenstown (now Cobh) in Ireland - U-boat attacks on merchant shipping were concentrated in the western approches.
During 1916/1917, she was involved in several encounters with U-boats. She damaged some, but did not sink any; she was herself also damaged on several occasions. By August 1917, she was commanded by Commander Leopold A Bernays, CMG, described by E Keble Chatterton in his 1922 book about the Q-ships as "one of the most unusual personalities in a unique service ... just the man for Q-ship work ... a "rough customer" who might have stepped out of a Wild West cinema". Her encounters during the first part of 1917 brought John a medal - along with several other members of the crew, the London Gazette of 10th August 1917 listed CPO Telegraphist John Bellett Wood as a recipient of the Distinguished Service Medal, for services rendered in action with enemy submarines.
On 19th August 1917, HMS Vala sailed from Milford Haven to cruise between the Fastnet and the Scillies. She was last heard of in the early hours of the following day. On 20th August 1917, 120 miles south-west of the Scillies, she was seen by UB54, commissioned on 12th June 1917, and commanded by Egon von Werner. UB54 observed the Vala moving slowly, sometimes stopping, with several lookouts, which suggested she was a Q-ship, so she was torpedoed. She was hit in the forward hold, laid over to port, but then righted herself. Two boats with 12-14 men were launched, but eight were still visible on board. UB54 fired a second torpedo, which hit the rear. An additional 16-29 men left the steamer, which was sinking rapidly. At the time the crew left the ship, the weather was recorded to be worsening.
When Vala did not return to Queenstown, another Q-ship, Heather, went to look for her. Vala was assumed to have been lost during the week of severe weather which followed after she was last heard of, until an announcement was made on 7th September 1917 by the German Government that she had been sunk by a U-boat.
Death
Exactly what happened to John is not known - he may have died on the ship, or have made it into the boats, only to die later. None of the 43 members of the crew survived - the ship's boats are assumed to have been overwhelmed by the bad weather that followed.
His naval record shows "Missing when HMS Vala was sunk", with no date; and then that he was "killed on duty" on 21st August 1917. This date seems to have been the date from which the crew were declared missing, and was subsequently presumed to be the date of death.
It was not until several months later that familes were informed. The Dartmouth Chronicle of 7th December 1917 carried the following announcement:
CPO's presumed death: We regret to hear that Mrs Wood, of Willsdene Terrace, has been advised by the Admiralty that the ship upon which her husband, Mr John B Wood, CPO and telegraphist, was serving, has been missing since August 21st, and that his death must be presumed from that date. Only a fortnight previous to the date mentioned he had been listed for the DSM for gallantry in operations against enemy submarines. His widow is left with a daughter three years old.
Commemoration
As one of those whose death had occurred at sea, John is commemorated on the Plymouth Naval Memorial.
In Dartmouth, he is commemorated on the Town War Memorial and the St Saviour's Memorial Board.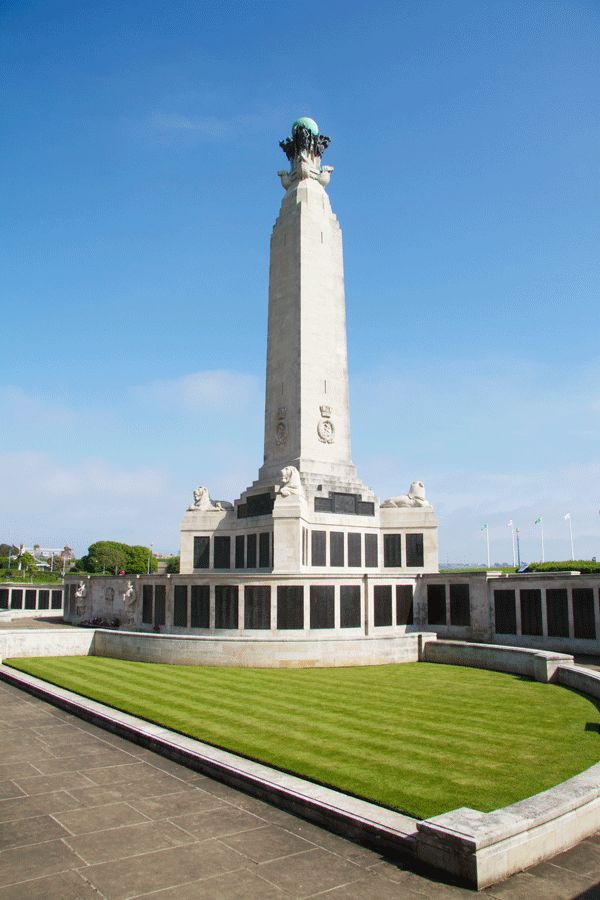 Plymouth
Naval Memorial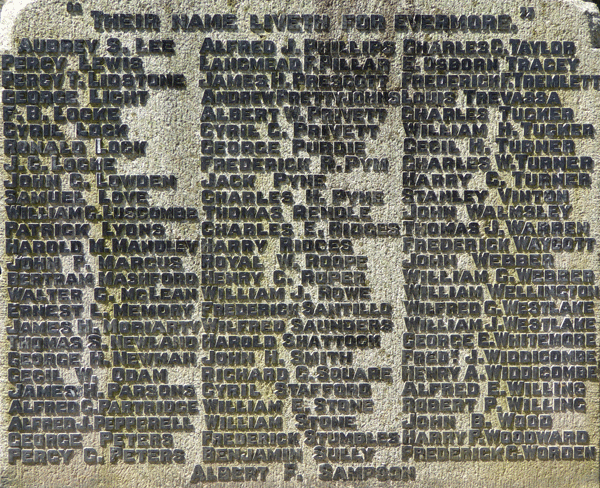 Dartmouth
Town Memorial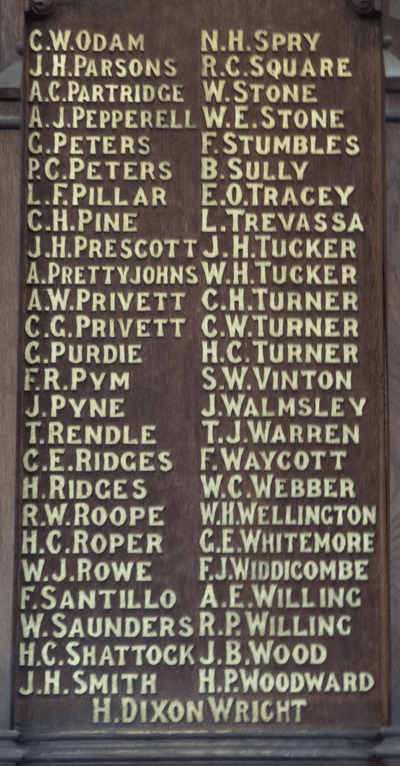 St Saviour's
Memorial Board
Sources
Naval Service Record for John Bellett Wood available for download from The National Archives, fee payable, reference ADM 188/298/179611
Kings Regulations and Admiralty Instructions 1913 Appendix: Wireless Telegraphy
Signal! A History of Signalling in the Royal Navy, by Captain Barrie Kent, publ 2004, Hyden House
Castles of Steel; Britain, Germany and the Winning of the Great War at Sea, by Robert K Massie, publ 2007, Vintage Books
Q-Ships and Their Story, by E Keble Chatterton, publ 1922, Sidgwick & Jackson
Q-Ships of the Great War, by Barbara J Coder, LCDR, USN, April 2000, Research Paper from US Defense Technical Information Center
Ships requisitioned as auxiliaries: HMS Vala
Information Held on Database
| | |
| --- | --- |
| Surname: | Wood |
| Forenames: | John Bellett |
| Rank: | Chief Petty Officer Telegraphist RN |
| Service Number: | 179611 |
| Military Unit: | HMS Vala |
| Date of Death: | 21 Aug 1917 |
| Age at Death: | 38 |
| Cause of Death: | Died at sea following U-boat attack |
| Action Resulting in Death: | |
| Place of Death: | 120 miles SW of Scilly Isles |
| Place of Burial: | Commemorated Plymouth Naval Memorial |
| Born or Lived in Dartmouth? | Yes |
| On Dartmouth War Memorial? | Yes |
| On St Saviour's Memorials? | Yes |
| On St Petrox Memorials? | No |
| On Flavel Church Memorials? | No |
| In Longcross Cemetery? | No |
| In St Clement's Churchyard? | No |
| On a Private Memorial? | No |
| On Another Memorial? | Yes |
| Name of Other Memorial: | Plymouth Naval Memorial |
---
This information was last updated on Tuesday 22 August 2017 at 15:34:36.