John Henry Walmsley
Family
John Henry Walmsley was not a native of Dartmouth but like so many others, came to the town through his career in the Navy. According to his naval service record, he was born on 4th December 1874 in Manchester. He was the second eldest son of John Walmsley and his wife Jane Swail, and was baptised in Christ Church, Bradford, Manchester, on 17th February 1875. At the time, his family was living at 22 Chatsworth Street, Beswick, near the centre of Manchester. John Walmsley senior was an Iron Turner. John and Jane had married at Manchester Cathedral in 1869.
John (junior) was thus brought up in industrial Manchester far from the sea. The 1881 Census recorded the family still in Chatsworth Street, Beswick, at number 60; by the time of the 1891 Census, the family had moved a short distance to Ardwick, where they were recorded at 66 Prince St. John Walmsley (senior) was still working as an Iron Turner and his eldest son, William Frederick, had gone into the same trade. Harriet, his eldest daughter, was working in the cotton mills as a Pin Winder. John (junior), aged 16, was working as a Fitter. Sarah Ann was at school and Thomas, the youngest, aged 3, was still at home.
By the time of his marriage, six years later, John was working as a mechanic. On 14th August 1897, at All Souls Manchester, he married Sophia Townsend, with his sister Harriet as one of the witnesses. Sophia was the daughter of Henry Townsend and his wife, Margaret Ellen Beswick. She was born on 13th February 1875 and baptised a few weeks later on 21st March, at St Andrew's, Ancoats, Manchester. Henry worked in the cotton mills as a Cotton Spinner; the family lived at 1 Grove Place, Ancoats. Ancoats was the world's first heavily industrialised suburb. At the beginning of the nineteenth century it had transformed during a very short time from green fields to factories, mills and terraced houses; by the last quarter of the century the people who lived there suffered from the highest mortality rates in Manchester - in 1901, out of every 1000 children born in Ancoats, 234 died in their first year.
Of Henry and Margaret Townsend's nine children, eight survived the dangerous early years - one of Sophia's younger sisters, Margaret Ellen (named for her mother), died age 5 in 1887. In the 1891 Census, Henry and Margaret were recorded at 36 Tutbury Street, Ancoats, with their surviving children - Thomas, age 20, a Van Driver; Hannah and Sophia, 18 and 16, who both worked in the cotton mills along with their father; John, aged 14, Alice, age 12, Henry, age 6, Sarah Ann, age 4, and Joseph, age 2.
John and Sophia thus came from the same area of Manchester, though how they met is not known. It seems that after their marriage, they settled in Ancoats, for their first child, Elsie, was born on 14th July 1898 at 107 Devon Street, and baptised at St Andrew's, Ancoats. Their second child, Alice, was born on 12th April 1900, also in Manchester.
Service
On 11th March 1901, John Walmsley joined the Navy as an Acting Engine Room Artificer 4th Class, signing on for a twelve year engagement. John was 26, an experienced man, having been working for at least ten years. His trade was given as "Fitter and Turner". His naval service record says that he was 5ft 3 ½ins, with brown hair, hazel eyes and a "fair" complexion.
Why he chose this career is not known. There appear to be no previous naval associations either in his family or Sophia's, so perhaps his working prospects in Manchester were poor. As an employer, the Navy offered a steady wage, technical training, prospects of promotion, a pension (after twenty two years service), and the chance to see the world. On the other hand, it meant leaving the family for long periods - and of course naval service had risks attached.
Engine Room Artificers had been introduced to the Navy in 1868 to look after ship's engines and other equipment as the Royal Navy moved from sail to steam and beyond. In 1913, King's Regulations stated that a man joining at John's level had to be:
acquainted with the first four rules of arithmetic
able to read and write sufficiently well to be able to note in the Register the particulars of the working of the engine and boilers
generally acquainted with the names and uses of different parts of marine engines
able to understand the use and management of the various gauges
able to ascertain the density and height of the water in the boilers and what should be done in the event of water passing into the cylinders, or of a bearing becoming heated
able to act appropriately on the occurrence of any of the ordinary casualties of the engine room.
The upper age limit was 28.
John began his naval training at the Engine Room Artificers School at Devonport. His record shows him at HMS Vivid and HMS Triumph, then a depot ship at Devonport, between 11th March 1901 and 12th April 1902. The night of the 1901 Census recorded him at "The Sailor's Rest", 14 William Street, Devonport, along with many other naval ratings. On 13th April 1902 he achieved the substantive rate of ERA 4th Class and three weeks later was sent to HMS Defiance, the Devonport torpedo and mining schoolship.
On 22nd April 1903, he was appointed to HMS Aurora, an Orlando-class armoured cruiser launched in 1887, which was on her last period of service in the reserve at Devonport by the time he joined her. While serving in Aurora he was rated ERA 3rd Class. His next appointment was to HMS Prometheus, on 1st October 1904. Prometheus was a protected cruiser designed for service with the overseas fleet, rather than the main battle fleet, and was stationed in the Far East. John thus had his first taste of international travel with the Navy.
In September 1906, he travelled home on HMS Terrible, another protected cruiser, which had escorted the Prince and Princess of Wales on their tour to India in 1905. It was reported that, whilst on her journey home to England, Terrible lost her starboard propeller and eight feet of her tail shaft. Nonetheless, by 25th October 1906 she had left Port Said, and four days later she had arrived at Malta. On 9th November she sailed from Gibraltar for England. John left her on her arrival home on 12th November 1906.
John's next appointment brought him to Dartmouth for the first time, where he was appointed to HMS Espiegle on 13th November 1907. Espiegle was a sloop, serving at that time as a training ship attached to the Royal Naval College. But he was not in Dartmouth long, moving on 1st February 1908 to HMS Sapphire II, the name given to an old ship, HMS Imperieuse, while serving as a depot ship for destroyers at Portland. He was presumably appointed to a destroyer during this time but his naval record does not indicate which one. During this period he was rated ERA 2nd Class, having completed seven years service.
On 2nd October 1908 he was back in Dartmouth, where he remained until 21st November 1910. It seems that at some time during this period, his family joined him, coming to live in the town. His daughters, Elsie and Alice, aged 12 and 10, were recorded on the night of 2nd April 1911, for the 1911 Census, boarding at 3 St Clair's Terrace, Clarence Hill, with Henry Seek Veale, builder, his wife Ada, and his sons Theodore and Lawrence. The relationship with the Veales was evidently close - the time of John's death, Mr and Mrs Veale described him as a "sincere friend" (see below). Sophia, however, appears to have remained in Manchester, perhaps to be close to her parents, and perhaps because she had obtained work - the 1911 Census recorded her occupation as "Laundry Worker, Corporation Lodging House".
John's record shows that he was appointed to HMS Blake, a protected cruiser launched in 1889, which in 1907 had been converted to a destroyer depot ship. His naval service record does not state which destroyer(s) he served in but the 1911 Census records him at Portsmouth as one of the crew of HMS Rattlesnake, a torpedo gunboat launched in 1886, which had become an experimental submarine target ship in 1906. He continued serving in destroyers until 6th September 1912, whilst on the books of HMS Blenheim, another protected cruiser converted to a destroyer depot ship for the Mediterranean Fleet.
He then returned to the UK for another period of training at Defiance, the torpedo and mining schoolship he had attended earlier in his career. On 12th February 1912 he was rated acting Chief Engine Room Artificer 2nd Class, having met the necessary educational and engineering standards. A couple of weeks later he signed on for a further ten years service for a pension. He was evidently doing well.
He was appointed to HMS Indefatigable on 17th June 1913, and on 12th February 1914, achieved the substantive rate of CERA 2nd Class.
For the rest of his service on HMS Indefatigable, including the ship's fate at the Battle of Jutland, see our separate article here.
Death
It seems his daughters had remained in Dartmouth. On 13th November 1914, John Walmsley's name appeared in a list of "residents of the borough and of the district serving with HM Forces" published in the Dartmouth Chronicle as part of a series of such articles, recording that he was serving in HMS Indefatigable.
An announcement of John's death appeared in the paper on 9th June 1916, placed (presumably) by Mr and Mrs Veale, on behalf of John's daughters and themselves:
Deaths
Walmsley
In Loving Memory of John Walmsley CERA HMS Indefatigable killed in action May 31st; beloved father of Elsie and Alice and sincere friend of Mr and Mrs H Veale and sons.
John's daughters retained a connection with Dartmouth - Alice married Rolstone Langmead in 1921, and settled in the town. They were recorded at 1, Above Town, in the 1939 Register.
Commemoration
John is commemorated on Dartmouth's Town War Memorial and the St Saviour's War Memorial Board.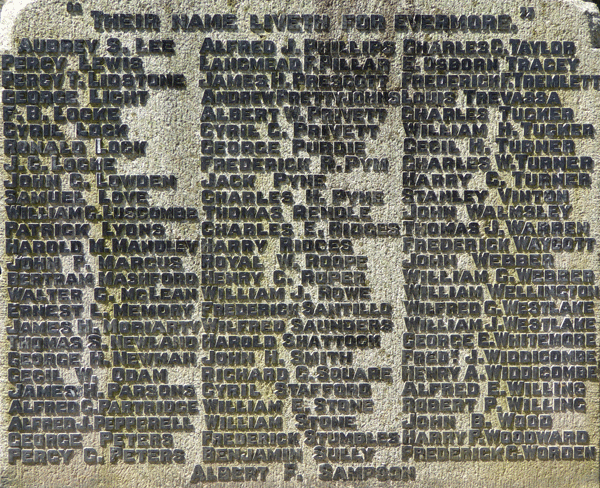 Dartmouth Town Memorial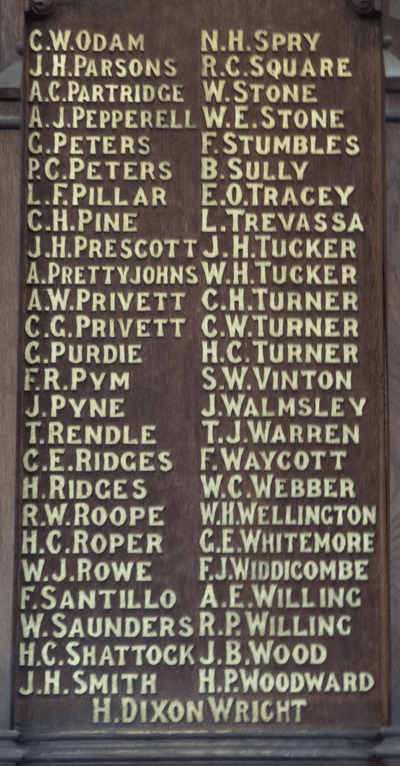 St Saviour's Memorial Board
As one of those who sailed from Plymouth lost at sea and having no known grave, he is also commemorated on the Plymouth Naval Memorial.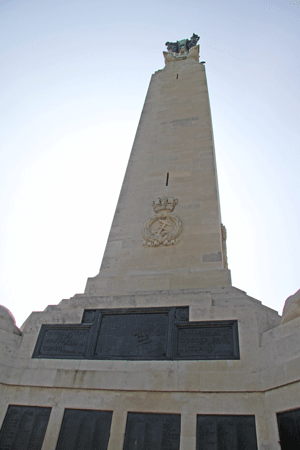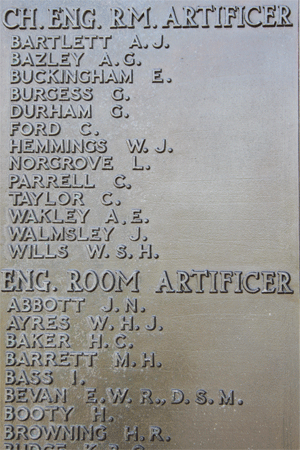 Plymouth Naval Memorial
Sources
Naval service record available for download from The National Archives, ref ADM 188/433/270409, fee payable.
Information Held on Database
| | |
| --- | --- |
| Surname: | Walmsley |
| Forenames: | John Henry |
| Rank: | Chief Engine Room Artificer 2nd Class RN |
| Service Number: | 270409 |
| Military Unit: | HMS Indefatigable |
| Date of Death: | 31 May 1916 |
| Age at Death: | 41 |
| Cause of Death: | Killed in action |
| Action Resulting in Death: | Battle of Jutland |
| Place of Death: | North Sea |
| Place of Burial: | Commemorated Plymouth Naval Memorial |
| Born or Lived in Dartmouth? | Yes |
| On Dartmouth War Memorial? | Yes |
| On St Saviour's Memorials? | Yes |
| On St Petrox Memorials? | No |
| On Flavel Church Memorials? | No |
| In Longcross Cemetery? | No |
| In St Clement's Churchyard? | No |
| On a Private Memorial? | No |
| On Another Memorial? | No |
---
This information was last updated on Monday 30 May 2016 at 23:15:42.