Ernest Osborn Tracey
Family
Ernest Osborn Tracey was born on 25th October 1899 at the Vicarage, in Dartmouth. He was the only son of Harry Frank Tracey and his wife, Alice Rose Cuming, and was the son and grandson of two Vicars of Townstal and St Saviours. John Tracey, his grandfather, was first appointed as "evening lecturer" at St Saviours and Assistant Curate in 1835. He was collated to the post of Vicar by Bishop Henry Phillpotts in 1837 and served until 1871. Harry Frank was his twelfth child, born and brought up in Dartmouth. He first joined the Navy as a Paymaster, but resigned his commission to go into the church. He was appointed Vicar of Townstal and St Saviours in 1890, and the same year, married Alice Rose Cuming, daughter of Charles Cuming and his wife, Hannah Wippell, of Bradninch. Charles Cuming was a paper manufacturer.
As Vicars of Townstal and St Saviours, both Ernest's father and grandfather were of course well-known figures in the town. The church of St Saviours contains several memorials to members of the Tracey family.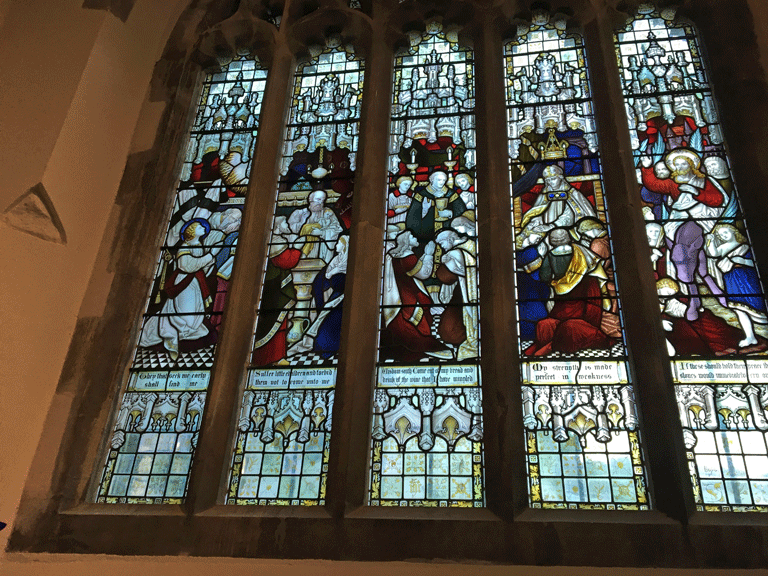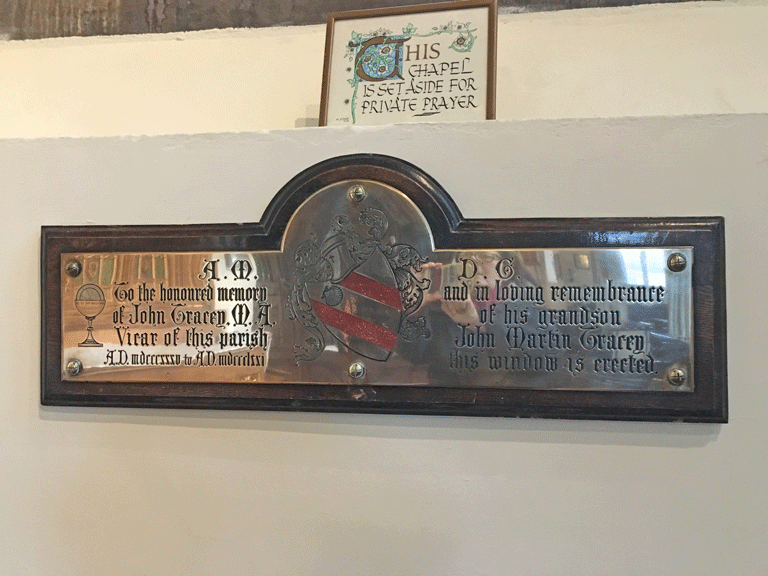 St Saviours, South Transept Window, memorial to Reverend John Tracey MA
Ernest's only sibling, his older sister, Rosamund Nancy Margaret, was born on 27th September 1897, and baptised on 12th December that year in St Saviours. Ernest was baptised in St Saviours on 10th December 1899. Both were baptised by their father. The 1901 and 1911 Censuses recorded both children living in the Vicarage with their father and mother; in 1911 Ernest was recorded as at school, although where he went to school at this time is not known.
In 1913, Harry Frank Tracey made what the Dartmouth Chronicle called a "Remarkable Decision". On 5th September 1913, the newspaper reported that he had decided to leave Dartmouth and go to New Zealand. He wrote to his parishioners in his somewhat unusual style:
I shall be leaving you very shortly, at any rate for a season. I mention this because otherwise I might have to fall over a cliff to account for my disappearance - and that might hurt more than one bargained for … I have realised for some time that I have been here too long to be good for the parish or myself. It also seemed time to earn one's own living. This has never been possible here. As there seems no room in England I am going to try my fortune in New Zealand. The climate is said to be the best in the world and I have friends and relatives there. If this proves a failure you will see me back again. So you will probably wish me every success. I would have sought a curacy in England, but my wife says no vicar would stand me more than three weeks, so it is not worthwhile to risk it.
Reportedly this astonished "even his churchwardens". He left in October 1913, formally resigning as Vicar of Townstal & St Saviours in March 1914 on obtaining a curacy in New Zealand. His wife and children did not go with him, but they were, apparently, able to continue to live at the Vicarage for some time. Later, Ernest and his mother and sister moved to North Ford Road, Dartmouth.
After the outbreak of war Harry Frank Tracey was accepted as a military chaplain, and in June 1915 was appointed chief chaplain to New Zealand Forces at Trentham Camp, with the rank of Colonel. He remained in New Zealand throughout the war.
In the meantime, Ernest joined Blundells School in September 1914, where he did well (see the report below, at the time of his death). He left in July 1917 and, with a background in the OTC, was accepted for a cadetship at Woolwich. However, he soon transferred to the Royal Flying Corps, volunteering for pilot training. He joined the RFC at South Farnborough on 31st October 1917 five days after his 18th birthday, with the starting rank of Air Mechanic 3rd Class.
Service
At the outbreak of war, the Royal Flying Corps, the aviation wing of the British Army, consisted of 179 aircraft. In 1917, there were 10,938 aircraft, in 115 operational and 109 training squadrons.
During 1917, the RFC substantially revised the pilot training programme to take account of the rapidly developing and expanding role of aircraft in helping to fight the war, and to give pilots the skills they needed in combat.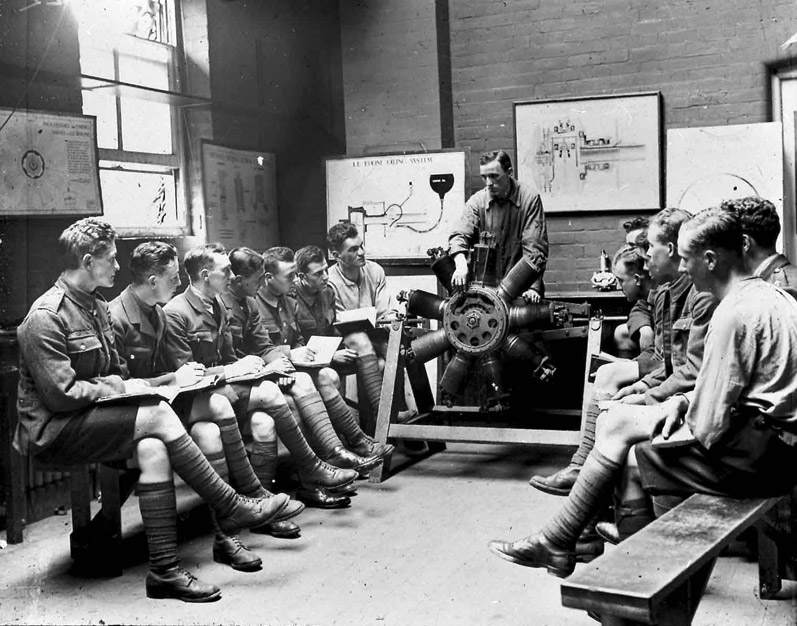 Air cadets in training
By the time Ernest joined, cadets went through several phases to qualify for their wings. At the "Cadet Wing" they received basic military training during a two-month course, including physical training, drill, rifle shooting, map reading and navigation. They also studied airframes and aero engines. It appears from Ernest's record that he joined No. 5 Cadet Wing on 7th November 1917, at that time in Hastings, and then moved to No. 2 Cadet Wing, also in Hastings, three weeks later on 1st December 1917. Having completed the first phase of his training, he then moved on 22nd February 1918 to the School of Military Aeronautics at Denham, for a two-month course. This included:
The theory of flight
Compass theory, map reading and aerial navigation
Airframe rigging
The working of aero-engines; common faults, and how to cure them
Practical photography as an introduction to aircraft reconnaissance
The working and operation of Vickers and Lewis machine guns
Types of bombs and how to drop them accurately
Basic aircraft handling skills (starting up, taxiing, shutting down)
Wireless signalling and morse code, to assist in cooperation with artillery and infantry
Working of flight instruments
The course finished with a series of examinations to test whether students were ready to pass on to the next phase. Evidently Ernest passed the course, because he was appointed Flight Cadet on 12th April 1918. Twelve days previously, he had been transferred automatically to the Royal Air Force, established on 1st April 1918 by amalgamating the Royal Flying Corps and the Royal Naval Air Service. He was thus one of the founder members of what was at the time the largest air force in the world.
The next phase of his training was flying, at a Training Depot Station. Cadets were expected to complete a minimum of 25 hours elementary flying training, both dual and solo, over three months. Ground instruction was also provided. Finally, cadets completed a further 35 hours flying time with a minimum of five hours on a modern "front-line" type of aircraft. Student pilots also had to demonstrate proficiency in cross-country and formation flying, reconnaissance work and gunnery. Finally, students completed their training at a specialist school, in the skills needed for their operational role. By 1918, total training time was therefore about eleven months.
Ernest was posted to No. 13 Training Squadron, based at Yatesbury, Wiltshire. By the end of May, he must have completed a sizeable part of his elementary flying training. RAF records show that he was training as a reconnaissance pilot.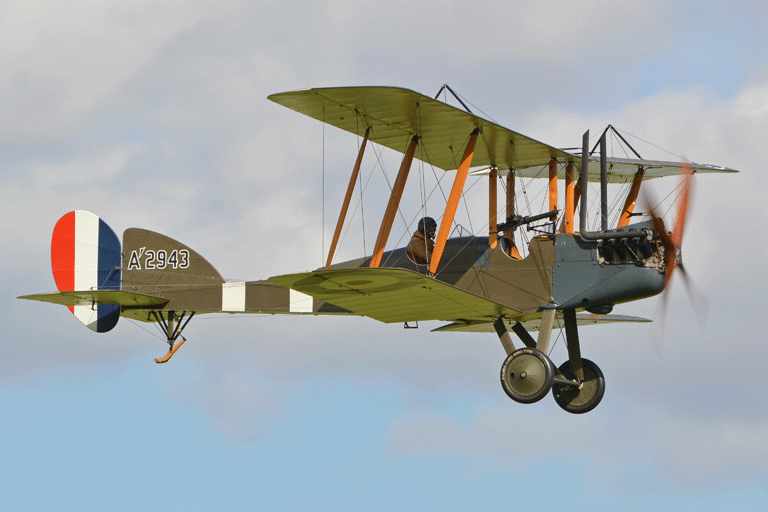 Replica Royal Aircraft Factory B.E.2.e
Photograph by Alan Wilson from Stilton, Peterborough, Cambs, UK
Death
On 31st May 1918, at Yatesbury, Ernest was flying a Royal Aircraft Factory B.E.2e, number C7119. The BE aircraft was designed originally for the reconnaissance role, being inherently stable and therefore easier and safer to fly. The B.E.2e was a later version, with a maximum speed of 82mph at 6,500 ft, and an endurance of four hours.
At 8.30pm, Ernest was in a mid-air collision with an RE8 piloted by Lt Stanley Burnet. Ernest's aircraft went into a spinning nose dive and he was killed instantly; Stanley died in hospital two hours later from shock and burns. According to the RAF Court of Enquiry, the cause of the accident was "neglect of orders on the part of Flight Cadet Tracey in doing a left hand circuit to land instead of right hand as per orders".
Ernest's body was brought back to Dartmouth and rested overnight in St Saviours. He was given a full military funeral, reported at length in the Dartmouth Chronicle of 7th June 1918. In the absence of his father, still in New Zealand, the officiating clergymen were two of his uncles, Revd Stewart Sim, and Revd Frederick Tracey.
Perhaps because there were so few other funerals in the town for those who died due to the war, or just perhaps because Ernest was so young - not yet nineteen - and was well-known, his seems to have had a particular resonance:
Sad Flying Accident
Dartmouth Officer Killed
Late Flight Cadet E O Tracey RAF
We regret to record the death on May 31st of Ernest Osborn, flight cadet RAF, son of Colonel H F Tracey, Chaplain of the Forces, New Zealand, late vicar of St Saviours, Dartmouth, and Mrs Tracey, of North Ford. The young officer was undergoing his final training at a southern aerodrome when the accident occurred through a collision in the air, and his injuries were so severe that he passed away the same day.
The news of the calamity became known in Dartmouth on Saturday, and was received with general feelings of grief and sorrow. Born at St Saviours Vicarage in October 1899, he was only in his nineteenth year, and just at the threshold of life, but he had already displayed many of those qualities which foreshadowed a sturdy and successful manhood. He was educated at Blundells, and was a worthy son of that famous school. He held a house-master's scholarship, and when he left in the middle of last year he was the winner of the Coles Prize for Science; was one of the Shooting Eight, of which he had his cap and colours; a member of the Upper Sixth, the OTC and also first prizeman for drawing. On leaving Blundells he obtained a cadetship at Woolwich and was transferred to the RAF. He showed keen enthusiasm in this branch of the service, and had reached his final course for his pilot's certificate when the accident occurred.
The sincere sympathy of Dartmouth residents will be extended to Mrs Tracey and family on their irreparable loss and bereavement.
The body was brought on Monday to Dartmouth - his home, where he was so well-known and esteemed - being escorted on the journey down by four brother officers of the RAF, Lieutenants P S Griffiths, H E Wood, R S T Hartley, and E W Shaw. On arriving at Kingswear the escorting party and coffin were met by the churchwardens and sidesmen of St Saviours Church, and the body was brought across the Dart and thence placed reverently in the Chancel of the church where for so many years his father and grandfather had officiated. The Rev Stewart Sim, vicar of Lower Brixham, an uncle, read a prayer, and the organist, Mr Friendship, played Mendelssohn's "O Rest in the Lord".
The Funeral
The body was committed to its last resting place in Townstal Graveyard on Tuesday morning. The first part of the Burial Service was read in St Saviours Church by the Rev Frederick Tracey, rector of Flax Bourton, Bristol, another uncle, and there was a large attendance of mourners and friends. The mourners were his mother and sister (Mrs and Miss Tracey), the Rev Stewart Sim, the Rev and Mrs A M Voisey, Morebath, uncle and aunt, Mr and Mrs F W Cuming, Bradninch, uncle and aunt, Mrs Gordon, Paignton, aunt; Miss Hearn, and Captain Whyte Cooper, RAMC. Also in the church were the Rev F R B Simpson, Mr A M Davson, Mr Peter Varwell, Mr W H Goodridge, Mr Wood, Mr J Pillar, Mr John Stephens, Mr F C Simpson, the escorting RAF officers from the aerodrome, Lieut P Oldreive, Lieut J Burt, Major Alan Goodridge, Mrs Wotton, Mrs Lonte, and several wounded soldiers from the Cottage Hospital.
The coffin was draped with the Union Jack, on which had been placed several choice floral tributes, and the impressiveness of the service, combined with the solemnity of the occasion, produced a deep effect on all those present. While the coffin was being carried down the aisle by the RAF officers and Lieutenants Oldrieve and Burt to the hearse waiting outside, Mr Friendship feelingly played Chopin's beautiful Funeral March.
In the meantime Major Alan Goodridge, who was responsible for all the funeral arrangements, had drawn up a company of the Dartmouth Cadet Corps, of which body the Major was in command, in the unavoidable absence of Captain Shiner, and with arms reversed, the Cadets slowly led the funeral cortege through the town. Blinds were drawn and there was every manifestation of sympathy and mourning. At Townstal the wounded soldiers took charge of the coffin and laid the officer to rest in a grave lined with ivy and roses, the work of Mr and Mrs Seccombe, Miss Veale, and Mrs Pyle. The Rev Stewart Sim read the concluding portion of the Burial Service, and Corporal Tucker sounded the "Last Post".
The coffin bore the inscription:
Flight Cadet Ernest Osborn Tracey
No. - Squadron
Died May 31 1918
Aged 18 years.
Commemoration
Ernest's grave in St Clements Churchyard is an official war grave, though it remains marked with the private memorial erected by his family (sadly now damaged).

Private Memorial in St Clements Churchyard
He is commemorated in Dartmouth on the Town War Memorial and the St Saviours Memorial Board.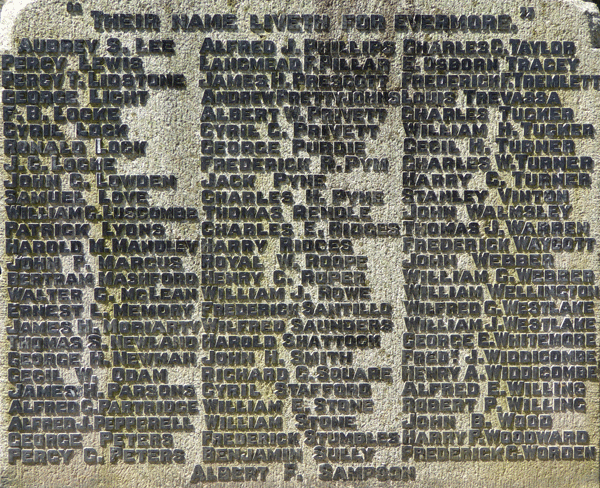 Dartmouth Town Memorial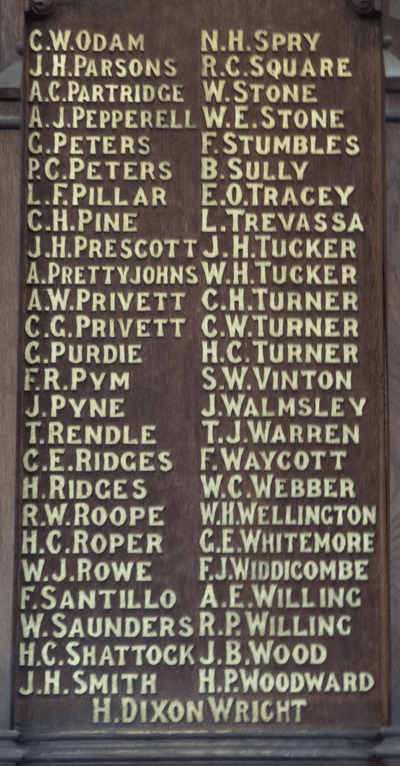 St Saviour's Memorial Board
He is also commemorated on the War Memorial at Blundells School.
Harry Frank Tracey, Ernest's father, returned to England in 1919, living first in Staffordshire and then in Sussex. Alice Rose, Ernest's mother, remained in Dartmouth with her daughter, known as "Nan", who married (William) Ronald White Cooper, an officer in the RAMC, two weeks after Armistice Day, on 27th November 1918 at St Saviours. At the wedding, the congregation was asked to pray for fallen brothers, in memory of Ernest. Dr White Cooper later became a well-known GP in Dartmouth, remaining in the town for many years.
Sources
Service Records for Ernest Osborn Tracey available from the National Archives:
Officer's service record, fee payable for download, reference AIR 76/511/179
Airmen's Service Records, reference AIR 79/906/100438, available to download from National Archives partner website Findmypast (free to search)
Officer's services, Long Service Papers (not available for download), reference WO39/130076
Casualty Records held at RAF Museum, searchable online (free)
Pilot Training in 1918 from RAF Museum
Denham Aerodrome in the First World War
Blundells School Memorial and Roll of Honour
Call the Doctor, by Ronald White Cooper with Deborah White Cooper, pub 2014, Pan Books
Note:
Lt Stanley Burnet, who was also killed in the accident, is commemorated in Luton
Information Held on Database
| | |
| --- | --- |
| Surname: | Tracey |
| Forenames: | Ernest Osborn |
| Rank: | Flight Cadet RAF |
| Service Number: | 100438 |
| Military Unit: | 13 Squadron RAF |
| Date of Death: | 31 May 1918 |
| Age at Death: | 18 |
| Cause of Death: | Killed while flying (crashed) |
| Action Resulting in Death: | Training |
| Place of Death: | Yatesbury Camp, Wiltshire |
| Place of Burial: | St Clements Churchyard, Dartmouth |
| Born or Lived in Dartmouth? | Yes |
| On Dartmouth War Memorial? | Yes |
| On St Saviour's Memorials? | Yes |
| On St Petrox Memorials? | No |
| On Flavel Church Memorials? | No |
| In Longcross Cemetery? | No |
| In St Clement's Churchyard? | Yes |
| On a Private Memorial? | No |
| On Another Memorial? | No |
---
This information was last updated on Tuesday 22 January 2019 at 00:05:48.