Frederick Edmonds Stumbles
Family
Frederick Edmonds Stumbles was not a native of Dartmouth but was born in Kingsbridge in 1894. He was the eleventh child (according to Census records) of William Hardy Stumbles and his wife Annie Elizabeth Edmonds.
William Hardy Stumbles was the son of an agricultural labourer, another William Stumbles, in Thurlestone, and he followed his father early into the same line of work. He was at work by the age of ten, as a farmer's boy in South Allington, at a farm run by James Hannaford. However, when young, he also seems to have had a brief flirtation with the sea, for the 1871 Census recorded him in harbour in Bristol as an "ordinary seaman" on board the merchant ship "Lizzy Farrow".
In 1872, William married Annie Elizabeth Edmonds. Annie came from Kellaton, a hamlet in Stokenham. Her father, Edward Edmonds, was also an agricultural labourer. He had lost his wife, Jane Wood, when Annie was only three. By the time of her marriage to William, Annie already had a daughter, Margaret Ellen, recorded as 10 months old in the 1871 Census.
William worked for the rest of his life as an agricultural labourer. They moved around the Kingsbridge area, but not very far. They first settled in Stokenham, where their first two children were born, Elizabeth Jane in 1874, and George Edward in 1876. From there they moved to Chivelstone, where Dora Annie was born in 1878 and Eva Mary in 1880, and where they were recorded in the 1881 Census in a cottage in the village. Ten years later they were still in Chivelstone, and the family had grown further: Blanche was born in 1882, William Alfred in 1884, Caroline in 1885, Martha in 1887, and William Henry in 1888. By the time of the 1901 Census, the family had moved to Enfield Cottages, South Pool, near Kingsbridge. Ernest was born in 1893, Frederick in 1894, and finally, Philip Harold in 1897.
Sadly, both William and Annie died in 1907, Annie only a few months after William, when Frederick was fourteen and his brother Harold, the youngest of the family, only ten. Whilst several members of his family lived close by - Dora in Hallsands, where she had married a fisherman, George Prettejohn; and Eva and Alfred even nearer, in South Pool, Frederick may have found a home in Dartmouth - two of his sisters had married men from the town and come to settle there. Margaret Ellen, his oldest sister, had married Thomas Widdicombe of Dartmouth in 1891. Thomas was a butcher and the couple lived in Foss Street. By the time of the 1911 Census, Margaret was recorded as a "restaurant proprietress".
Also in Dartmouth was Frederick's sister Caroline, who had married Samuel Courtman in 1907. Samuel worked in a brewery in Dartmouth as a cellarman. In the 1911 Census, Samuel and Caroline were recorded at 5, Ford Vale, with their daughter, Vera, aged three, and also Samuel's mother and sister. Samuel is also on our database and will be commemorated in 2017.
Frederick's oldest brother George had joined the Royal Navy as a Boy 2nd Class in 1891 and had reached the rank of Petty Officer 1st Class before being invalided out of the service in October 1905. Perhaps it was his experience and example that encouraged Frederick to make the Navy his chosen career.
Service
Frederick joined the Navy at HMS Impregnable in Devonport as a Boy 2nd Class on 12th January 1911. His naval service record says that he was 5ft 3ins tall, with brown hair, grey eyes and a "fair" complexion.
On 18th August he was rated Boy 1st Class and sent to HMS Donegal, a Monmouth-class armoured cruiser, for his sea training. After a short period of shore leave he was appointed briefly to HMS King Alfred for the month of February 1912 in the reserve fleet, before his appointment to HMS Indefatigable on 1st March 1912. He did well, being rated Ordinary Seaman and beginning his continuous service engagement on 6th July 1912, by which time he had grown two inches. A little under two years later, with consistently good marks for "character and ability", he was rated Ordinary Seaman on 13th March 1914. He was still serving in Indefatigable at the outbreak of war.
For the rest of his service on HMS Indefatigable, including the ship's fate at the Battle of Jutland, see our separate article here.
Death
The follwing announcement appeared in the Dartmouth Chronicle on 16th June 1916:
Stumbles - In Loving Memory of our dear brother Fred, killed in action on HMS Indefatigable, May 31st 1916. Sadly missed by his brothers and sisters.
Commemoration
Frederick is commemorated on the Town War Memorial and on the St Saviour's Memorial Board.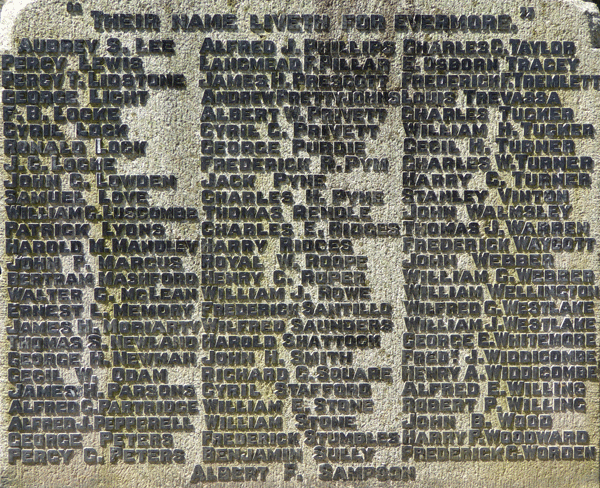 Dartmouth Town Memorial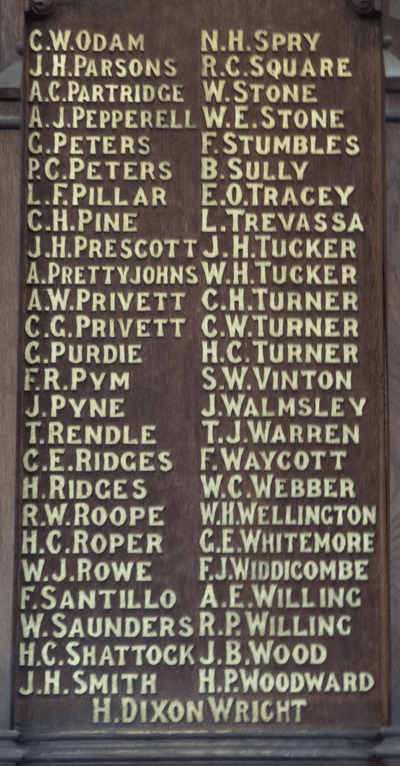 St Saviour's Memorial Board
As one of those who sailed from Plymouth lost at sea and having no known grave, he is also commemorated on the Plymouth Naval Memorial.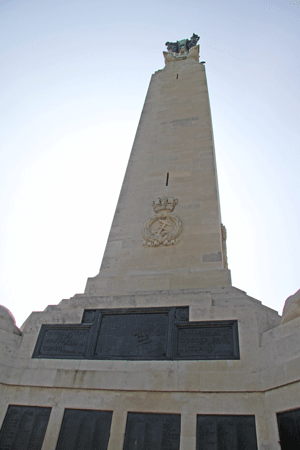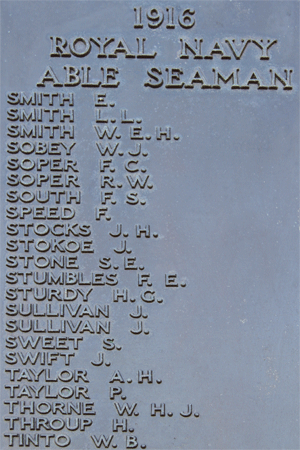 Plymouth Naval Memorial
Sources
Naval service records available for download from The National Archives, fee payable:
Information Held on Database
| | |
| --- | --- |
| Surname: | Stumbles |
| Forenames: | Frederick Edmonds |
| Rank: | Able Seaman RN |
| Service Number: | J/10881 |
| Military Unit: | HMS Indefatigable |
| Date of Death: | 31 May 1916 |
| Age at Death: | 21 |
| Cause of Death: | Killed in action |
| Action Resulting in Death: | Battle of Jutland |
| Place of Death: | North Sea |
| Place of Burial: | Commemorated Plymouth Naval Memorial |
| Born or Lived in Dartmouth? | Yes |
| On Dartmouth War Memorial? | Yes |
| On St Saviour's Memorials? | Yes |
| On St Petrox Memorials? | No |
| On Flavel Church Memorials? | No |
| In Longcross Cemetery? | No |
| In St Clement's Churchyard? | No |
| On a Private Memorial? | No |
| On Another Memorial? | No |
---
This information was last updated on Saturday 01 April 2017 at 22:29:52.