William Richard Stone
Family
William Richard Stone was born in Plymouth on 10th May 1895. He was the son of Mabel Arthur - the record of his baptism, at Holy Trinity Plymouth, on 24th May 1895, gives no name for his father, and he was baptised William Richard Arthur. Mabel's address was given as 66 High Street Plymouth. She was not yet 16.
Mabel was the youngest daughter of Richard Arthur (or Arthurs) and his wife Elizabeth Palmer. Richard was an agricultural labourer originally from Mary Tavy, north of Tavistock. He and Elizabeth married in Tavistock on 10th November 1859. Census and baptism records show frequent moves in Devon, presumably in search of work, from around Okehampton to around Kingsbridge, by way of Plymouth. By the time of Mabel's birth in 1879 they were living in South Milton, west of Kingsbridge, where they were also recorded in the 1881 Census. In 1891 they were living in Colebrook, part of Plympton (now itself part of Plymouth). The older children had left home and only Mabel and her brother Richard remained.
It would seem that Mabel's mother and father looked after her and the baby as in 1901, she and William were recorded living with her father at Slue Farm, Brixton, Plympton. Mabel's mother Elizabeth had died two years earlier. Richard was still working as an agricultural labourer. In the Census, Mabel was recorded as Mabel Tolcher, and married. William was recorded as William R Arthur.
Later that year, on 12th November 1901, at All Saints Plymouth, Mabel married Richard John Stone. Richard was described as a widower and Mabel as a spinster. Richard was in the Navy, a Petty Officer 1st Class. They both gave as their address 1 Cambridge Lane West. Witness to the wedding was one of Mabel's elder brothers, Sidney Arthur, who had joined the Navy as a boy, in 1886.
The connection between Richard and Mabel may have been another of her brothers, Alfred, who joined the Navy in the same year as Richard. Their naval records show that on several occasions they were appointed to the same ships and establishments at the same time or overlapping with each other, and they both achieved the rating of Petty Officer 1st Class. Alfred was invalided out of the Navy in May 1899 (his naval record does not give any reason) but he died at the end of the following year in Plymouth.
Richard Stone, Mabel's husband, was born on 15th July 1868 in Plymouth, the eldest son of John Stone, also known as John Stone Tolcher, and Emma Jane Langmead, who married in Plymouth on Christmas Day, 1866. Both were under full age. Rather unusually, John and Emma married each other a second time, in 1869, though this time John Stone used his full name; and Richard was also baptised a second time, in the name of Richard John Stone Tolcher, in 1870, in Ellacombe, Torquay.
In the 1881 Census Richard was recorded living with his mother, father, and younger brothers, in Union Lane Torquay, in the name of Richard John Stone Tolcher. He was an assistant cook in a hotel, perhaps the same hotel where his father was a "plateman". In 1883, he joined the Navy, aged 15, in the name of Richard John Stone.
At the time of his marriage to Mabel, Richard had just been appointed to HMS Defiance, the torpedo school at Devonport. Their daughter, Kathleen Mabel Elizabeth Stone, was born on 10th August 1902, and baptised at All Saints Plymouth on 30th September of that year. At that time they were living at Slew (or Slue) Farm, Brixton, Plympton, where Mabel was recorded with her father and William in 1901. By the time of the birth of their son Bertram Cecil David Stone, on January 21st 1906, Richard and Mabel (and presumably William) were living in Colebrook, Plympton. Bertram was baptised on 1st March 1906. Mabel's father died in the Union Workhouse at Plympton and was buried at Plympton St Mary on 12th April 1906.
Richard became a Chief Petty Officer on 3rd December 1904, while serving on HMS Ariadne, which was at the time in Canada. He retired from the Navy on 15th July 1906, shortly after Bertram's birth. He obtained work at the Royal Naval College in Dartmouth and the family moved to Dartmouth. In the 1911 Census they were recorded living at 1 Ford Cottages, Victoria Road. William was recorded in the name of William Richard Arthur, aged 15. He was a Plater's Labourer at Simpson and Strickland Engineering Ltd, one of Dartmouth's leading shipbuilding and engineering firms. Their works at Noss, across the river from Dartmouth, were extensive; in 1910 they built boats for seven countries - Britain, India, Italy, Brazil, Belgium, Russia and Argentina; launched a yacht for the Prince of Monaco and one for the Grand Duke Stephen of Austria. They employed about 300-400 men. But perhaps work at Simpson and Strickland offered less excitement than a life in the Cavalry.
Service
Some time before the war, William joined the 9th (Queen's Royal) Lancers, in the name of William Richard Stone. His service papers have not survived, and there are no nominal rolls for the regiment between 1902 and 1914, so we do not know exactly when he joined. However, his four digit number, 4723, suggests he was already serving in the 9th Lancers when war broke out in August 1914; and comparing this with the numbers of others in the Corps of Lancers for whom service papers do exist, suggests that he joined between January and September of 1913, possibly around the time of his eighteenth birthday in May. "Soldiers Died in the Great War" states that he enlisted in Dartmouth.
The 9th Lancers went to France on 16th August 1914 as part of the 2nd Cavalry Brigade of the 1st Cavalry Division. However, it appears from his Medal Index Card that William did not go with them. He arrived in France later, on 6th September 1914. Although there are several references in the 9th Lancers War Diary to reinforcements arriving during September, when the regiment was on the Aisne, other ranks are not mentioned by name.
Further, the nominal roll of the 9th Lancers for the First World War states that "Stone 4723" joined "A" squadron of the regiment on 10th March 1915 from 5th Dragoon Guards. This matches a reference in the War Diary to two OR joining from 5th Dragoon Guards on that day.
The other Lancer joining with William was Alfred Williams 3549, who also disembarked in France on 6th September 1914, according to his Medal Index Card. This perhaps suggests that William and Alfred went to France together, separately from the rest of the regiment for some reason, perhaps because they had been involved on other duties, and found themselves attached to the 5th Dragoon Guards together. Unfortunately, there is no reference in the 5th Dragoon Guards War Diary to personnel attached from 9th Lancers, so it is not known when they joined that regiment. Consequently we cannot be certain where William spent the first six months of his service.
What follows here tracks William's service from 10th March 1915, as we know that he was with the regiment from that date. The War Diary records that they were in billets at Meteren, south-west of Ypres, and just over the border into France. Here they remained in relative comfort for the rest of March and most of April, though held ready at very short notice to go wherever they might be sent. The experiences of the regiment illustrate how the cavalry were being used at this time - they were frequently held in reserve because the horses enabled them to be deployed rapidly to where they might be most needed, but once they were at the front line, the horses had to be left behind, and the cavalry were used as infantry.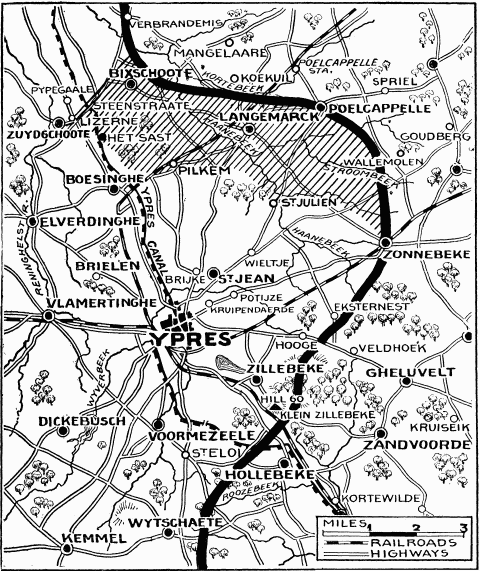 2ndBattle of Ypres
On the afternoon of 22nd April, the Germans attacked the Allied line to the north of the Ypres salient, opposite Langemarck, with chlorine gas. The attack was effective, as French and Algerian troops died or retreated in confusion and panic, and a gap opened up.
The neighbouring sector of the line was held by Canadian troops and as a result of the French withdrawal, the left of their position became dangerously exposed. However, they put up strong resistance and, together with reinforcements, were able to hold a line running south-west from the village of St Julien to the Yser Canal; that day, the Germans failed to press home their advantage fully, partly due to apprehension themselves about the effects of the gas.
On 23rd April, as part of the response to the attack, the 9th Lancers were moved forward to Brielen, and the following day to the wood south-east of Elverdinghe, to act as support to the other two units of the 2nd Cavalry Brigade which were to occupy the village and prepare its defence. However, on 25th April the whole Brigade was moved well back from the front, to the north-west of Ypres at Woesten, in order to act as general reserve to the French, who were now holding the line of the canal between the British at Boesinghe and the Belgians at Steenstraate. In the meantime the Germans had renewed their attack, using gas again, resulting in the capture of the village of St Julien, which had previously been to the rear of the Canadian sector.
An Allied counter-attack on 26th April failed to win back the lost ground, and the 9th Lancers, ready to move wherever they were required, in fact stayed where they were. On 28th April they were sent back to billets near Wormhoudt, eighteen miles to the rear of the battle line. In the meantime the Allied commanders debated whether to withdraw to a prepared second line closer to Ypres, or try again to recover the ground that had been lost. Eventually, on 1st May the British front fell back about two miles to a new line around the east of Ypres.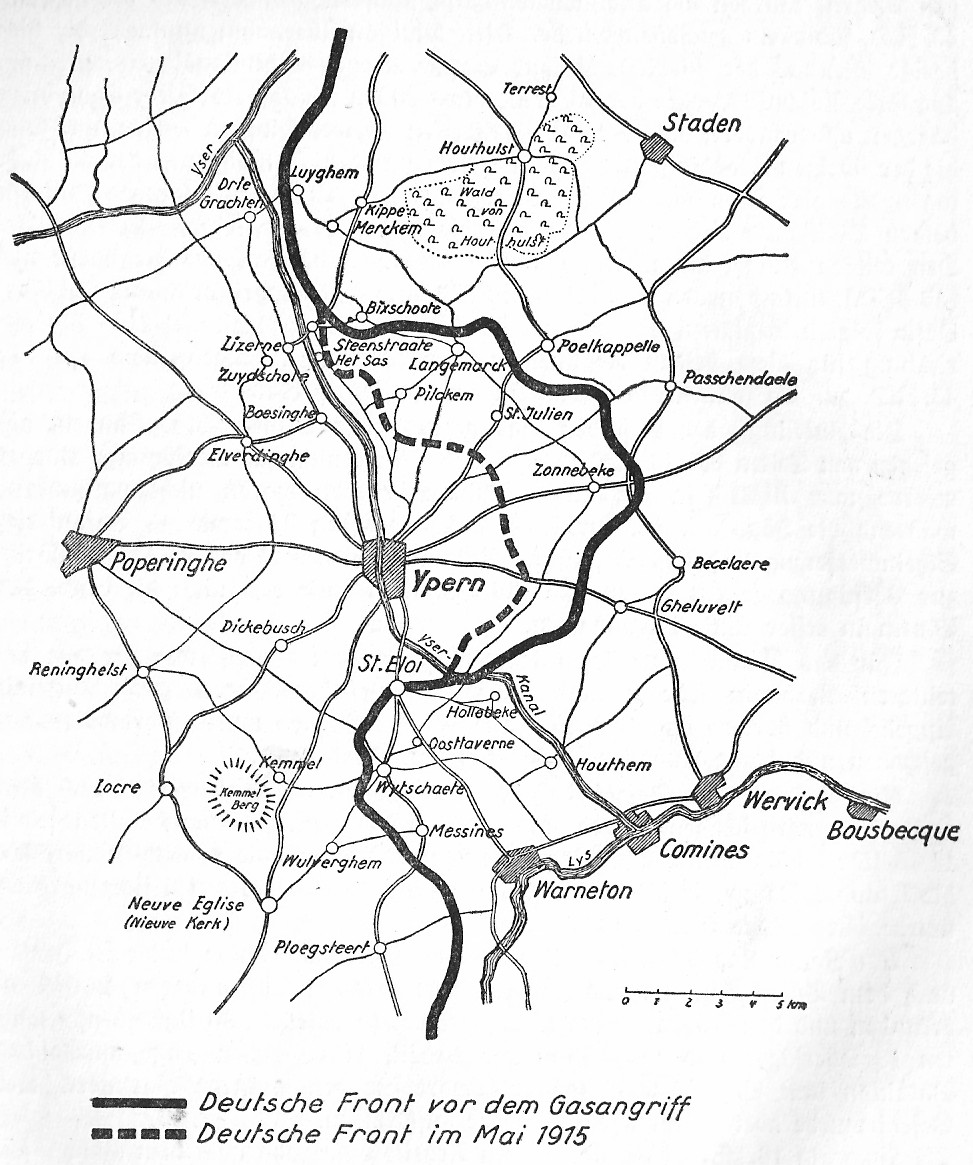 New Allied Front Line
On 6th May the Lancers were called forward for a working party one mile north of Ypres, to assist in constructing defence systems behind the new line. 250 men went up, and for two nights 150 men formed the working party, "respirators issued to all", leaving the horses at Brielen. On 8th May the regiment was reunited at their billets at Meteren.
However, early the following morning there was a fresh German attack on the ridge at Frezenburg, and reinforcements were summoned urgently. On 9th May the 2nd Cavalry Brigade occupied trenches in the third line of defence (the "GHQ line") from Potijze to the Menin Road about 1 ½ miles north east of Ypres, whilst under heavy shelling. They remained subject to heavy shelling all the time whilst in the trenches, though that day, numbers of casualties were small.
On the night of 10th May they were relieved by the Queen's Bays (2nd Dragoon Guards) and bivouaced at an old chateau. The following day they were ordered to relieve 27th Division, which had so far withstood most of the fighting. The War Diary comments: "300 rifles per regiment required so we have to take men from the led horses and echelon B".
On 12th May they relieved the Warwickshire Regiment in a front-line trench sector north east of Wieltje, having sent the horses back to Meteren. The War Diary says "trenches very much out of repair and work carried on all night on them".
On 13th May the Diary states: "Bombardment of our trenches started 4 am and continued with the greatest violence for 11 ½ hours". It was so fierce that the 18th Hussars on the left and the 5th Dragoon Guards on the right both had to leave their trenches, which were collapsing. Lt Col Beale-Browne of the 9th Lancers positioned two machine guns to bear on the vacated trenches to left and right, to prevent the Germans occupying them. In a report of the operation he said: "This had the effect of making them return very hurriedly and no further attempt was made to occupy these trenches".
Despite the bombardment being renewed, including a Minenwerfer "as a variation from every known sort of shell", according to Lt Col Beale-Browne's report, the 9th Lancers held the position and were able to hand over at 1.30am on 14th May to the Royal Irish Fusiliers. They went back to the support trenches and then back to billets in huts a mile from Vlammertinghe, which they reached at 2.30 am on 15th May. The Regimental History describes them as "wet to the skin, worn out with noise and weariness and the depression caused by fearful sights and heavy losses". Nonetheless they were back in the trenches on 17th May.
Death
The War Diary reports the casualties on 13th May as:
1 officer and 13 other ranks killed
2 officers and 50 other ranks wounded, 4 other ranks died of wounds
2 other ranks missing
One of those missing was William Richard Stone. The uncertainty about what had happened to him evidently persisted for some time. The nominal roll of the 9th Lancers describes him as:
missing 13.5.15, now reported killed in action 7.9.1915, to be regarded for official purposes as having died on or about 13.5.1915.
The UK Army Registers of Soldiers Effects noted his date of death as "on or since 13th May 1915 death presumed".
In the Dartmouth Chronicle of 4th June 1915 a small piece appeared:
Missing Dartmouth soldier: Mr and Mrs R J Stone, Ford Cottages, Dartmouth, yesterday received an official communication stating that their son, Pte W J Stone, 9th Lancers, has been missing since May 19th (sic) last.
At the time of William's death, Richard, who had been called up at the outbreak of war, was serving at HMS Defiance, at Devonport, as a Chief Petty Officer. The following year, on 12th May 1916, he was awarded the Distinguished Service Medal, "in recognition of the services of Petty Officers and Men of the Eastern Mediterranean Squadron during the evacuation of the Gallipoli Peninsula in December 1915- January 1916". He was demobilised in 1919.
Mabel's elder brother Sidney Arthur, who had been at their wedding, and who had retired from the Navy in 1910, was also called up; he too survived the war, and was demobilised in 1920.
Very sadly, Richard and Mabel also lost their younger son Bertram, aged 11, in 1917.
Richard died in 1938 and Mabel in 1949.
Commemoration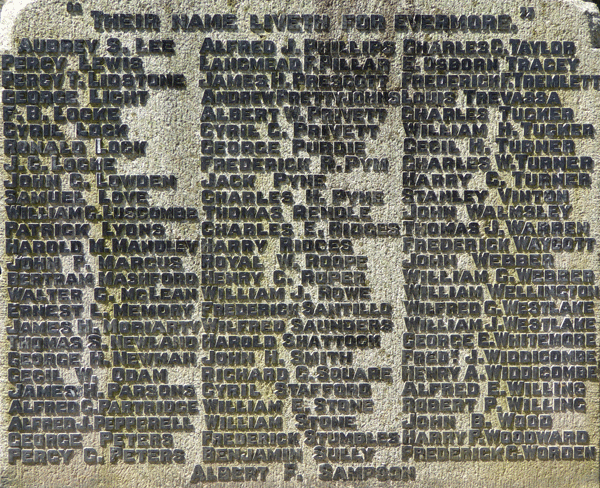 William Richard Stone is commemorated in Dartmouth on the Town War Memorial and on the St Saviour's Memorial Board.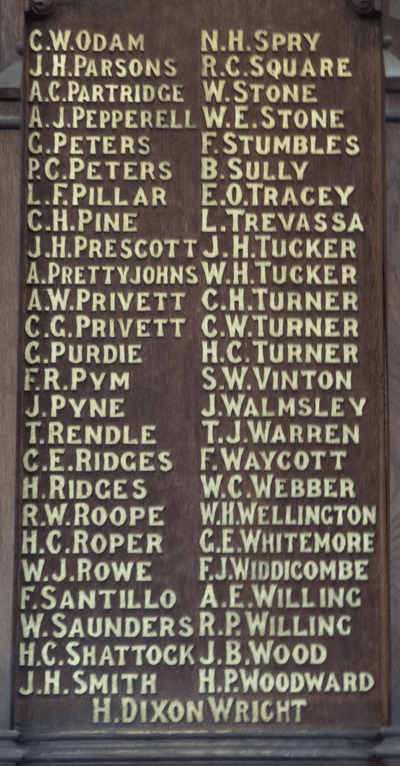 Along with several other members of the 9th Lancers who are now recorded as having died that day, he is commemorated on the Menin Gate at Ypres, close to where he died, as someone whose "loss has been officially declared by their relevant service but there is no known burial for the individual".
William is also commemorated on the 9th Lancers Roll of Honour in Canterbury Cathedral, which shows him as "missing presumed killed in action 13th May 1915".
Sources
We are most grateful to Mrs Angela Tarnowski, Curator of the 9th/12th Royal Lancers Museum, for her assistance in researching William Stone's service with the 9th Lancers.
The nominal roll of the 9th Lancers during the First World War may be searched on the museum's website
The museum's website also provides access to a digitised copy of the Regimental History: "The 9th Queen's Royal Lancers 1715-1936" by Major E W Sheppard, pub Gale and Polden Ltd, 1936
The War Diary of the 9th (Queen's Royal) Lancers is downloadable from the National Archives (fee payable) reference WO 95/1113/2
9th (Queen's Royal) Lancers Roll of Honour Canterbury Cathedral
Naval service records mentioned are also downloadable from the National Archives (fee payable): references:
Richard John Stone ADM 188/164/124598
Sidney Arthur ADM 188/189/137457
Alfred Arthur ADM 188/161/123083
Information Held on Database
| | |
| --- | --- |
| Surname: | Stone |
| Forenames: | William Richard |
| Rank: | Private |
| Service Number: | 4723 |
| Military Unit: | 9th (Queens Royal) Lancers |
| Date of Death: | 13 May 1915 |
| Age at Death: | 20 |
| Cause of Death: | Missing, presumed killed in action |
| Action Resulting in Death: | Second Battle of Ypres |
| Place of Death: | Wieltje, Ypres |
| Place of Burial: | Commemorated Menin Gate Memorial |
| Born or Lived in Dartmouth? | Yes |
| On Dartmouth War Memorial? | Yes |
| On St Saviour's Memorials? | Yes |
| On St Petrox Memorials? | No |
| On Flavel Church Memorials? | No |
| In Longcross Cemetery? | No |
| In St Clement's Churchyard? | No |
| On a Private Memorial? | No |
| On Another Memorial? | No |
---
This information was last updated on Friday 15 May 2015 at 22:32:53.