William James Rowe
Family
William James Rowe (or Row, as the name was sometimes spelt) was born in Dartmouth on 10th August 1892. He was baptised William James Partridge at St Mary's, Upton, Torquay, along with his twin sister, Mabel Elsie, on 20th December 1893, son and daughter of Jessie Louise Partridge, of Lower Street, Dartmouth.
Jessie was born and brought up in Dartmouth, baptised at St Saviours on 12th March 1871. She was the second of seven children of Alfred John Partridge and his wife Harriet Selina Thorn. The family lived in Church Street, just by St Saviour's; Alfred worked as an ostler, and later on, as a gardener. In the 1891 Census, Jessie, together with her two sisters Annie and Charlotte, were recorded as working in domestic service.
In 1895, Jessie married Thomas Rowe. Thomas was born in Dartmouth, on 28th August 1869, and baptised at St Saviours on 24th October of that year. He was the second son of another Thomas Rowe, also born in Dartmouth, and his wife Elizabeth Lorain, from Torcross. Thomas Rowe senior was a Cooper, who had joined the Navy and served in that capacity and as an Able Seaman, from 1857 to 1866. For most of the time he was serving, the family had lived in Portland, in Dorset, but they had returned to Dartmouth some time before the baptism of Thomas's older sister Caroline at St Saviour's in 1865. The 1871 Census recorded the family living in Victoria Place, Dartmouth.
Sadly, when Thomas (junior) was only eight, his father died, aged only 48, on 28th April 1877. Thomas Row (senior) was buried at St Clement's Townstal four days later, leaving his wife Elizabeth with several young children to look after. In the 1881 Census she was recorded living with her three youngest children in North Ford Lane, working as a charwoman and also taking in a lodger to help make ends meet. Her elder daughter Caroline was working in Dartmouth in domestic service, and Thomas' elder brother George as a shipwright. But thanks to her husband's naval service, Elizabeth was able to obtain a place at Greenwich Hospital School for Thomas (junior), who was of an age to benefit. The 1881 Census recorded him there, aged 11, and on 7th October 1884 he duly joined the Navy as a Boy 2nd Class on HMS Lion, at that time a boys training ship at Devonport. He was rated Ordinary Seaman on 1st September 1887 and Able Seaman on 9th December 1888, and served until 6th March 1895, when he was invalided from the service (the reason was not specified on his naval record).
Perhaps he knew Jessie already, or perhaps they met after he returned to Dartmouth having left the Navy. In any case, they married in 1895. The 1901 Census recorded them living in Silver Street (now Undercliff), with William James, now eight, recorded with Thomas' surname of Rowe. We have not been able to trace William James' twin sister, Mabel Elsie. Thomas' occupation was given as "general labourer".
His naval service record shows that on 6th May 1903 he was accepted for the Royal Fleet Reserve for five years, and that he re-enrolled in 1908 for a further five years. However, in an echo of his father's early death, Thomas died on 24th February 1911, aged only 41. The Dartmouth Chronicle announced on 10th March 1911 the death of Thomas Row, the beloved husband of Jessie Row, at Smith Street. In the 1911 Census, taken only a few weeks later, Jessie was recorded living in Smith Street with her son (William) James, now aged 17. His occupation was given as "general labourer". Also in the household were Jessie's younger brother, William Partridge, who worked as a coal lumper; and two nephews, Percy and Arthur Dimond, aged 14 and eight.
Percy and Arthur were the children of Jessie's older sister Harriet Ann, who had married Arthur William Dimond in 1899. Arthur's naval career as an Able Seaman had included a period on HMS Britannia from February 1892 to October 1894 and it seems he had met Harriet Ann at this time. But Jessie's sister Harriet had died in 1907. Although Arthur had left the Navy in 1901 and had come to live in Dartmouth, where he was recorded at the time of Arthur (junior's) baptism in 1902 as a coal lumper, it seems that by 1911 he had left the town and was working in Liverpool in the merchant navy. The two children had thus come to live with their aunt Jessie and their cousin William.
Although William James' father and grandfather had both died at a relatively young age, his grandmother Elizabeth Row survived her husband by over forty years. She died at St Saviour's Place, Dartmouth on December 16th 1908, and was buried beside her husband in St Clements churchyard.
Service
William James thus had much naval experience to draw upon in both his mother's and father's family. He joined the Navy on a "Special Service Engagement" as a Stoker for five years on 22nd November 1912. His previous occupation was given on his service record as "platers helper". Special Service Engagements had been introduced in 1903 to encourage more adults into the Stoker Branch in particular, though later men were also allowed to sign on for this type of engagement in the Seaman Branch.
William James began his service with just under seven months training at Devonport and on 17th June as a Stoker 2nd Class was appointed to HMS Indefatigable - his first, and last ship.
For the rest of his service on HMS Indefatigable, including the ship's fate at the Battle of Jutland, see our separate article here.
Death
On 16th June 1916 the following announcement appeared in the Dartmouth Chronicle:
Rowe - In loving memory of W J Rowe, killed in action on HMS Indefatigable, May 31st, aged 22 years.
Commemoration
William James is commemorated on the Town War Memorial and on the St Saviour's Memorial Board.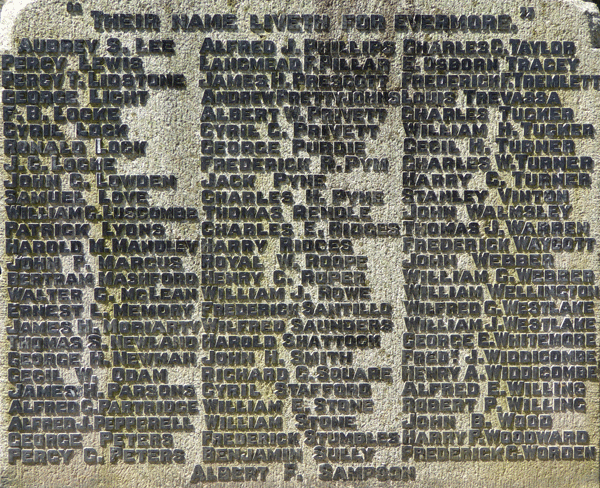 Dartmouth Town Memorial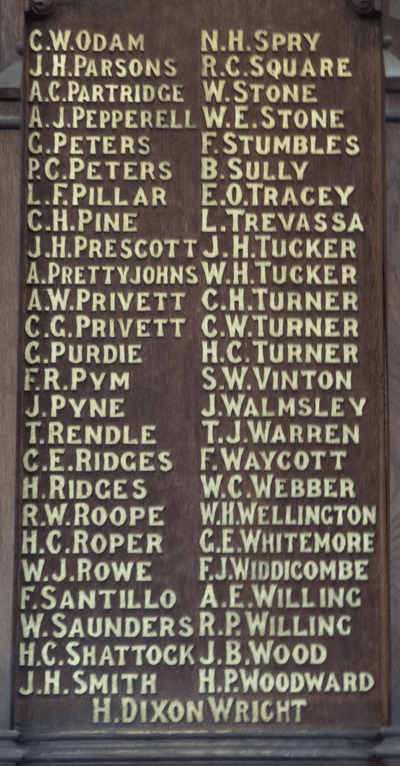 St Saviour's Memorial Board
As one of those who sailed from Plymouth lost at sea and having no known grave, he is also commemorated on the Plymouth Naval Memorial.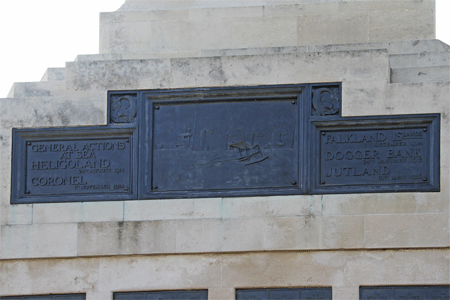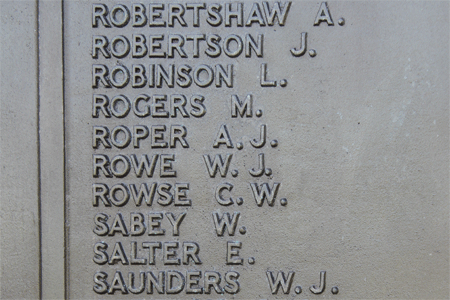 Plymouth Naval Memorial
Sources
Naval service record available for download from The National Archives, fee payable: William James Rowe: ADM 188/1119/113044
Information Held on Database
| | |
| --- | --- |
| Surname: | Rowe |
| Forenames: | William James |
| Rank: | Stoker 1st Class RN |
| Service Number: | SS/113044 |
| Military Unit: | HMS Indefatigable |
| Date of Death: | 31 May 1916 |
| Age at Death: | 23 |
| Cause of Death: | Killed in action |
| Action Resulting in Death: | Battle of Jutland |
| Place of Death: | North Sea |
| Place of Burial: | Commemorated Plymouth Naval Memorial |
| Born or Lived in Dartmouth? | Yes |
| On Dartmouth War Memorial? | Yes |
| On St Saviour's Memorials? | Yes |
| On St Petrox Memorials? | No |
| On Flavel Church Memorials? | No |
| In Longcross Cemetery? | No |
| In St Clement's Churchyard? | No |
| On a Private Memorial? | No |
| On Another Memorial? | No |
---
This information was last updated on Monday 30 May 2016 at 23:11:42.