William John Milne
Family
William John Milne was born in Holmpton, Yorkshire in 1857, the eldest surviving son of George Milne and his first wife, Joanna Connor. George, who was originally from Glasgow, Scotland, had joined the Navy aged 20, on 12th February 1842. After marrying Joanna in Cork, Ireland, in 1851, George had joined the Coast Guard the following year. By 1854, he was serving in the Coastguard Station at Holmpton, where William's elder brother, George James, named for both his grandfathers, was born.
By the time of the 1861 Census, two more little boys were added to the family, Arthur Connor in 1859 and Thomas Henry in 1860. Joanna's mother, Catherine, and a niece, Maria, also lived with them. George had been promoted Commissioned Boatman in 1857 and Divisional Carpenter in 1858.
Sadly, George James died in 1862, but William soon had two younger sisters, Mary Jane in 1863, and Catherine Ellen in 1866. Perhaps his mother did not fully recover from the birth of her sixth child, for she died in 1867, when William was about ten. The 1871 Census recorded the family still living in Holmpton, for George was still serving in the Coastguard as Divisional Carpenter. The five children, William, Arthur, Thomas, Mary and Catherine, were all at school. George, a widower, employed a housekeeper, Elizabeth Anfield, to look after the family.
George retired from the Coastguard on 31st March 1874. Two years later, in 1876, he married again. His second wife, Elizabeth Rudkin Cheshire, was originally from Leicestershire, but by the time of the 1871 Census, was working in domestic service as a cook, in Sculcoates, Hull. The 1881 Census recorded George and Elizabeth living at 1 Rose Street, Sculcoates, with Catherine, the youngest child of his first family, now aged 14, and his second family, Charles Percy, aged 3, and Frederick Cheshire, aged 1, both born in Withernsea. By this time all the elder children, had left home. William and his brother Thomas were lodging not far away in Wright Street, West Sculcoates. William worked as an engine fitter and Thomas as a bricklayer. Arthur had joined the Royal Engineers, and was married - later he emigrated to Canada. Mary Jane went into domestic service.
George died in Hull in 1889, and two years later, William lost his younger sister, Catherine. By this time, it seems, William had gone into the merchant navy. From 24th October 1890 to 6th February 1891, and for most of 1891, he appears in the crew list of the SS Rialto, owned by Thomas Wilson Sons & Co, of Hull, as Third Engineer. His previous voyage had been on the same ship. The company, usually known as the Wilson Line, was a family company founded in 1822, which had grown rapidly after entering the steam shipping business in the early 1850s. From about the time William joined them, the Wilson Line owned at least half of the tonnage registered in the port of Hull.
William does not seem to have been recorded on the 1901 or 1911 Censuses, perhaps because he was away at sea on both occasions. However, he appears in 1913 in a Hull Directory as a "Marine Engineer", living at 150 de la Pole Avenue.
Regrettably there are no individual service records for the merchant navy at this period. However, from the Crew Lists made available by the National Maritime Museum and the National Archives, it is possible to trace William's activity in 1915. He was still working for the Wilson Line, but by 1915, was the First Engineer in the SS Colorado. During that year, he appears on the following crew lists for the ship:
from 11th January - 30th January (his previous ship was also the Colorado)
from 15th February - 1st April
from 18th April - 25th May
from 8th June - 21st July
from 1st August - 12th September
from 4th October - 20th November
The SS Colorado, a cargo ship, was built by Russell & Co Ltd of Greenock for the Wilson Line in 1914, the second ship of that name to be owned by the company. As William was still serving in her in 1917, it seems likely that he joined her at the start of her working life and remained with her throughout. The Wilson Line was bought by the shipping magnate Sir John Ellerman in 1916, becoming Ellerman's Wilson Line.
Death
The Imperial German Government had announced the beginning of unrestricted submarine warfare on any and all shipping entering the war zone on 31st January 1917, with the aim of forcing Britain to surrender through lack of essential supplies. Losses were extremely heavy, though during 1917, gradually reduced as the convoy system was introduced. The middle of 1917 marked the high point of total losses:
June: 696,000 tons
July: 555,000 tons
August: 472,000 tons
September: 353,000 tons
The German campaign was carried out by U-boats - large ocean-going submarines operated in the Western Approaches, and smaller submarines in the Channel and North Sea. UB31, commissioned in March 1916, had first joined the Baltic Flotilla, transferring to the Flanders Flotilla on 24th February 1917, commanded by Oblt Thomas Bieber. Off the South Devon coast near Dartmouth lie several ships sunk by UB 31:
the passenger ship Medina, sunk on 28th April 1917 while en route to London from Australia and India. There were six casualties and survivors were brought to Dartmouth and Brixham
the cargo ship Brunhilda, sunk on 11th July 1917, no casualties
the cargo ship Waikawa, sunk on 19th October 1917, no casualties
Elsewhere in the Channel are several more.
On 20th October 1917, the SS Colorado was on a voyage from Hull to Alexandria with a cargo of coal and coke, by way of the English Channel. By this stage, like many merchant ships in response to the submarine threat, she was "defensively armed" - that is, according to Admiralty Instructions, her armament "was supplied solely for the purpose of resisting attack by an armed vessel of the enemy" and "the object of the master should be to avoid action whenever possible".
When 1½ miles off Start Point, the SS Colorado was torpedoed without warning by UB 31, and sank. It seems that most of the crew were able to leave the ship before she sank. There were four casualties, one of whom was William. Death records show that three of the crew were killed by the explosion when the ship was torpedoed:
Adolf Ingberg, age 42, Donkeyman, born Stockholm, Sweden
Carl Rojahn, age 43, Fireman and Trimmer, born Oslo, Norway
John Henry Stretton, age 21, Fourth Engineer Officer, born Hull, England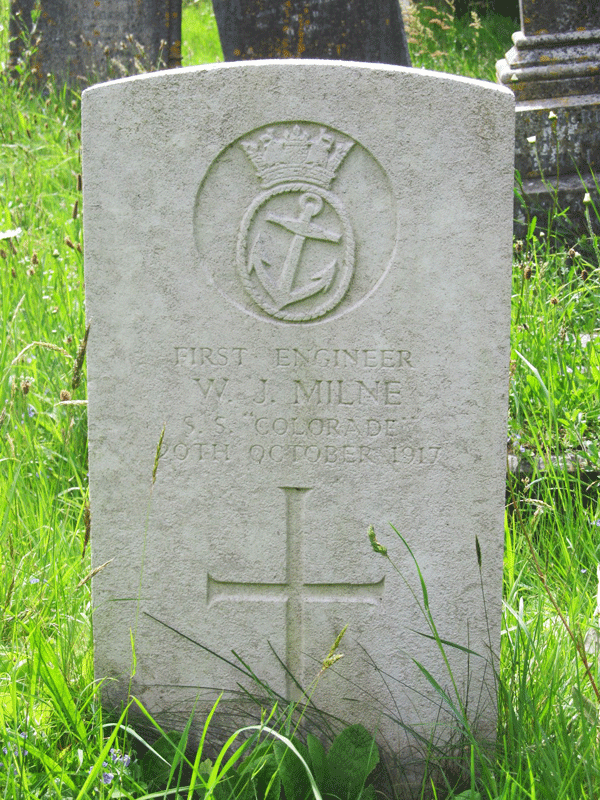 William "died in boat from injuries received when vessel was torpedoed". His body was brought to Dartmouth, presumably by some of the survivors, and he was buried in Longcross Cemetery on 22nd October 1917.
Commemoration
William's grave in Longcross Cemetery was marked by a Commonwealth War Graves Commission headstone after the war. The ship's name is shown as SS Colorade in error.
As he had no family connection to Dartmouth, his name does not appear on any of the public memorials in the town.
Sources
Naval Service record for George Milne available at the National Archives, fee payable for download, references ADM 188/50/66347; see also Entry Books of Certificates of Service, ADM 29, accessible on subscription website Ancestry.
Crew Lists of the Merchant Navy - 1915
Castles of Steel, by Robert K Massie, publ Vintage Books, 2007
The Merchant Service on the Defensive, from The Merchant Navy Volume II, by Archibald Hurd, publ John Murray, 1924, available on naval-history.net
Uboat.net: Thomas Bieber and UB31, ships hit
Register and Indexes of Deaths at Sea 1891-1972, held at the National Archives, reference BT334, accessible on subscription website FindMyPast
Information Held on Database
| | |
| --- | --- |
| Surname: | Milne |
| Forenames: | William John |
| Rank: | 1st Engineer Mercantile Marine |
| Service Number: | |
| Military Unit: | SS Colorado |
| Date of Death: | 20 Oct 1917 |
| Age at Death: | 60 |
| Cause of Death: | Died in boat from injuries received when vessel was torpedoed |
| Action Resulting in Death: | Torpedo attack on SS Colorado by German submarine UB 31 |
| Place of Death: | At sea near Dartmouth |
| Place of Burial: | Buried Longcross Cemetery, Dartmouth |
| Born or Lived in Dartmouth? | Not Known |
| On Dartmouth War Memorial? | No |
| On St Saviour's Memorials? | No |
| On St Petrox Memorials? | No |
| On Flavel Church Memorials? | No |
| In Longcross Cemetery? | Yes |
| In St Clement's Churchyard? | No |
| On a Private Memorial? | No |
| On Another Memorial? | No |
---
This information was last updated on Saturday 21 October 2017 at 20:12:14.