Walter George McLean
Family
Walter George McLean was not a native of Dartmouth but, like so many, came to the town because of his father's service in the Navy. He was born on 29th June 1880, in the parish of St Andrews, Plymouth. St Andrew was the parish church of Sutton, one of the three towns combined to form the city of Plymouth. The 1881 Census recorded him, aged 9 months, with his mother Ellen, at 8 Wyndham Street West.
Walter was the eldest son of Walter McLean and his wife Ellen Rosetta Giles. Walter McLean senior was born in Glasgow. He had joined the Navy on 28th September 1870 as a Boy 2nd Class - the 1871 Census recorded him in HMS Ganges, the old warship used as a training ship for boys, usually stationed at Falmouth but on the night of the Census, moored in Plymouth Sound. Beginning a ten year engagement on 20th August 1872, when the Navy thought he was 18 (he was most probably a bit older), he signed on for a further ten years on 20th August 1882. On 1st December 1877 he was appointed to HMS Britannia, in Dartmouth, rated Able Seaman.
It seems that during his time in Dartmouth, he met Ellen Rosetta Giles, born in Morrice Town, Devonport, in 1855. Ellen's father William Giles had also served in the Navy, volunteering for a continuous service engagement in 1854. Ellen was brought up in Plymouth; by the time she met Walter, her father had left the Navy and the family were living in the parish of St Andrews. Walter and Ellen were married at the church of Charles The Martyr, Plymouth. Walter's address was "HMS Britannia"; Ellen was living at 33 Park Street, Plymouth. Walter and Ellen settled in Plymouth and the 1881 Census recorded Ellen and Walter George, aged 9 months, living at 8 Wyndham Street West, in St Andrews Plymouth. Her father and other brothers and sister were living at 2 Gascoyne Place, in the neighbouring parish of Charles the Martyr.
Walter (senior) was appointed to HMS Britannia a second time on 5th January 1884. By this time he was rated Petty Officer 2nd Class. The family therefore moved to Dartmouth. Margaret Ellen was born on 25th August 1884 and her younger brother Joseph Sydney on 11th December 1887. They were both baptised at St Petrox. The 1891 Census recorded Ellen and her children living in New Road, Dartmouth: Walter George, aged 10; Margaret, aged 6; Joseph, aged 3, and William Charles, aged only a few weeks. Also in the house to help with the baby was a nurse, Mary Bulford. Ellen's husband Walter was recorded as Petty Officer 1st Class on board Wave, a tender to HMS Britannia. Wave was a small steam sloop which was used for instruction in steam and sail drill.
Walter (senior) left HMS Britannia, and the Navy, on 27th August 1892, having completed the twenty years adult service that at the time he joined was the entitlement for a pension. He was then able to obtain work in Dartmouth as a Postman. The couple's last child, Herbert Henry, was born shortly after his father left the Navy, on 8th November 1892.
In the meantime, Walter and Ellen were able to secure entry for Walter George to Greenwich Hospital School. New admission criteria for the school put in place in 1870 required applications to be taken in order of precedence:
Orphans, i.e. both parents being dead
Sons of seamen killed or wounded while in the service
Sons whose fathers had been in the service and who had died subsequently
Sons of Naval pensioners and of seamen and marines still serving, both of whose parents were living
Sons of seaman and marines not included in the previous categories
Sons of other seafaring persons
The length of time a parent had served was particularly taken into account.
Walter George fell into the fourth category. When he joined is not known, but the age limit for entry to the Lower Division of the School, since the 1870 Review, had been from 10 to 10¼ years, so it is likely he arrived at the school soon after he was recorded in the 1891 Census in Dartmouth. Boys had to be physically fit for sea service, able to read an easy sentence, and possess a knowledge of the first four rules of Arithmetic. The course of instruction in the Lower Division was "a sound English education", including English History, Geography, Grammar and Arithmetic, combined with "industrial occupation" - mending and making their own clothes, cleaning the school, and assisting in all the domestic duties.
Children could leave from the Lower Division at thirteen for any occupation, but those undertaking to enter the Royal Navy entered the Upper Division, where the course of study was divided between "ordinary book work", to a more advanced level, and "those duties specially bearing on a sailor's calling". For this purpose there was a ship built on the premises, and boats also provided for use on the river. Provided they achieved the necessary standards, at 15 ½ (or so) the boys entered the Navy, in whatever capacity was considered appropriate. Walter joined as a Ship's Steward's Boy from the Greenwich Hospital School on 2nd July 1895.
In the meantime, the rest of his family remained in Dartmouth. In 1901 Walter (senior), Ellen, and the other four children, Margaret, Joseph, William and Herbert were recorded living in 5 Elm Grove; by 1911, they were living in 1 Dartville, South Ford Road. It seems that Joseph Sydney had decided to try life in Canada; the others remained in Dartmouth. William was a cabinet maker, working for a furniture dealer; Herbert a shipwright's apprentice, working for one of the engineering and ship building firms in Dartmouth (the Census form does not record which).
Service
Walter George began his career in the Navy at Devonport. His first appointment was back in Dartmouth, where he joined HMS Britannia on 12th November 1895. His naval service record states that he was 4ft 10ins tall, with brown hair, grey eyes, and a fair complexion. No doubt his father was able to give him plenty of help in how best to get on in the ship, having left only a few years earlier.
Walter George remained in Britannia until 6th April 1897. If he wanted to see the world, his ambitions were realised, for on 7th April 1897 he went out to join HMS Centurion, the flagship on the China Station. From 23rd August 1897 he served in HMS Rainbow, also on the China Station, being reappointed to Centurion on 22nd April 1898.
Walter remained in the Far East for the next three years. He began his twelve year continuous service engagement on 29th June 1898, on reaching his eighteenth birthday, and was rated Ship's Steward Asistant two days later. During this period, Walter had his first tast of action in May 1900, when HMS Centurion was engaged in Allied operations in Northern China during the Boxer Rebellion, landing an international force of troops from eight countries to protect foreign legations during the revolt. Walter's naval record states that he was specially promoted to Acting Ship's Steward for his services in Northern China, and passed for Ships Steward on 29th June 1901.
The description of the requirements for the role in King's Regulations and Admiralty Instructions 1913 gives some indication of his responsibilities:
Knowledge of weights and measures and of arithmetic
Scale and allowance of provisions and substitutes, mode of issue to Messes, Sick Mess, Bakeries etc. Ability to prepare demands for Provisions, Clothing, Soap, Tobacco, Implements, Mess Traps, having regard to numbers borne, and the authorised stocks. Regulations and general routine as regards issue of Clothing.
Acquaintance with usual precautions for the safe custody of Provisions, Clothing, Implements etc to prevent deterioration. Method of stowing holds, and storage of Clothing.
General knowledge of Admiralty Instructions as far as they relate to Provisions, Clothing, Soap, Tobacco, Implements, Mess Traps, etc. Ability to keep [same] together with the subsidiary books, Certificates etc.
HMS Centurion ended her China Station service in June 1901, arriving at Portsmouth on 19th August 1901. She was paid off into reserve on 19th September 1901 and Walter George left her on that day.
After six months or so ashore, he was appointed to HMS Severn on 15th February 1902, coastguard ship at Harwich, and HMS Mersey on 11th February 1903, in the Home Fleet. He was then appointed to HMS Impregnable, the boys training ship at Devonport, until 21st October 1904.
After this perhaps humdrum period, he was once more on his travels round the world, joining HMS Shearwater at Esquimalt, Vancouver Island, Canada. Esquimalt had been the location of the Royal Navy's Pacific Station from 1865. Walter George joined the ship on 22nd October 1904. Although the Pacific Station closed in 1905, HMS Shearwater, a Condor-class sloop, remained there, and Walter remained with the ship until 15th November 1906. During his time on board, HMS Shearwater discovered a new volcano in the north-east of Unimak Island, the largest island in the Aleutian Island Chain off Alaska, while on patrol in the Behring Sea. She also reported "an unprecedented number of Japanese schooners sealing there".
Walter then returned to the UK for his next appointment, which was to HMS Edgar, based at Chatham, from 12th January 1907 to 31st December 1908, followed by HMS Hannibal, until 28th February 1910, in the commisioned reserve at Portsmouth. He then joined HMS Vanguard, on 1st March 1910. Vanguard was a St Vincent class dreadnought battleship, commissioned on the day he joined for service in the 1st Division of the Home Fleet. The highlight of her first tour was her participation in the Coronation Fleet Review at Spithead on 24th June 1911. Whilst serving in Vanguard, he signed on for a further ten years, to complete the time necessary for a pension, on 29th June 1910.
After this long period of continuous service at sea, Walter had six months ashore at Devonport, most probably including some leave. He joined HMS Defence on 2nd September 1913.
For the rest of his service in HMS Defence, including the ship's fate at the Battle of Jutland, see our separate article here.
Death
On 9th June 1916, the Dartmouth Chronicle carried the following announcement:
McLean - May 31st, killed in action on HMS Defence, Walter George (chief ship's steward), the devoted son of Mr and Mrs McLean, Duncannon House, Dartmouth. Mourned by all.
Commemoration
Walter is commemorated in Dartmouth on the Town War Memorial and the St Saviour's Memorial Board.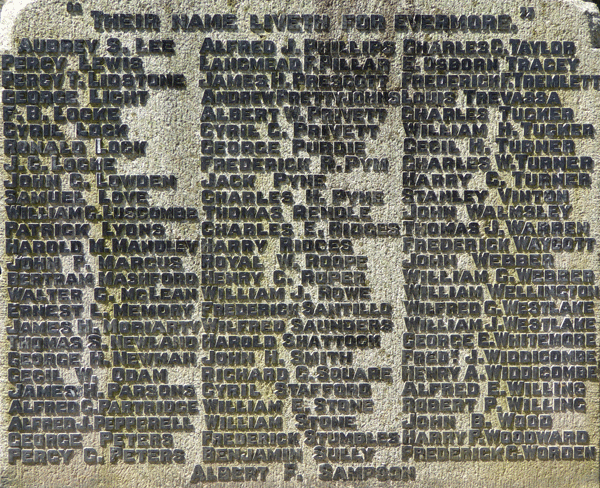 Dartmouth Town Memorial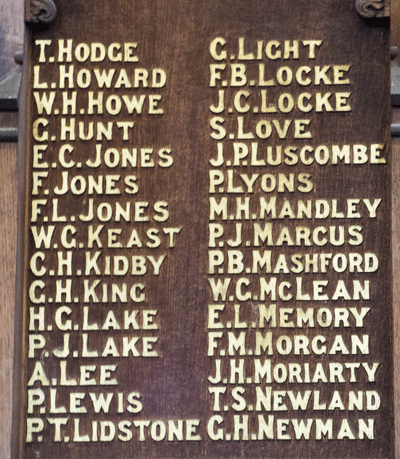 St Saviour's Memorial Board
Like all those who sailed from Plymouth who were lost at sea with no known grave, Walter is also commemorated on the Plymouth Naval Memorial - doubly appropriate in his case, as he was born in the city.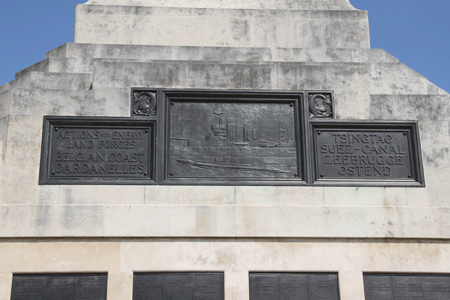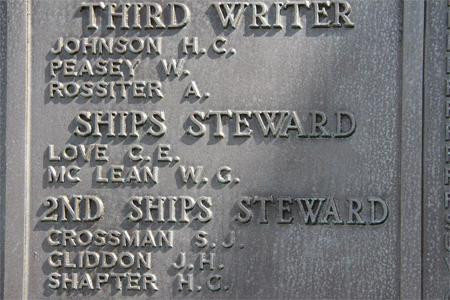 Plymouth Naval Memorial
Sources
Naval service records available for download from The National Archives, fee payable:
Information Held on Database
| | |
| --- | --- |
| Surname: | McLean |
| Forenames: | Walter George |
| Rank: | Ships Steward RN |
| Service Number: | 350336 |
| Military Unit: | HMS Defence |
| Date of Death: | 31 May 1916 |
| Age at Death: | 35 |
| Cause of Death: | Killed in action |
| Action Resulting in Death: | Battle of Jutland |
| Place of Death: | North Sea |
| Place of Burial: | |
| Born or Lived in Dartmouth? | Yes |
| On Dartmouth War Memorial? | Yes |
| On St Saviour's Memorials? | Yes |
| On St Petrox Memorials? | No |
| On Flavel Church Memorials? | No |
| In Longcross Cemetery? | No |
| In St Clement's Churchyard? | No |
| On a Private Memorial? | No |
| On Another Memorial? | No |
---
This information was last updated on Monday 30 May 2016 at 23:09:40.