Bertram Mashford
Family
Bertram Mashford was born in Heavitree, Exeter in 1881 and was baptised on 23rd April 1883, at St Michael's, Heavitree. He was the tenth of eleven children of Thomas Mashford and his wife Sarah Elizabeth Orchard.
Thomas and Sarah married in Colyton, East Devon, on 12th March 1861. Thomas was a policeman, and his work meant that the family moved quite frequently. At the time of the 1861 Census, shortly after their marriage, Thomas and Sarah lived in Colyton; by the time of the birth of their first child, William, they had moved to Uplyme, near Lyme Regis. William was baptised there on 22nd December 1861, followed by Thomas, on 3rd April 1864, and John Charles, on 25th February 1866.
The family next moved to Stoke Canon, a village north of Exeter. Two children were baptised there, Walter on 16th August 1868, and Ann, their eldest daughter, on 14th May 1871. The 1871 Census recorded the family at "Purslakes", Stoke Canon. Thomas was described as "county policeman", meaning that he was a member of the force of the Devon Constabulary, established in 1856. Ann was a baby of one month.
By the birth of their next child, Samuel, in 1873, the family had moved to Heavitree, outside Exeter, where Thomas was stationed next. Sarah Elizabeth was born in 1875 and she and Samuel were both baptised together in Heavitree on 19th November 1875. Emily was born in 1877 and Alice in 1880.
PC Mashford's name occurs many times in newspaper reports of cases brought in the courts or at inquests into unexplained deaths. It would seem that policing Heavitree was no picnic; the sometimes extremely rough circumstances were perhaps most vividly captured in a newspaper account of 28th December 1877, in the Exeter and Plymouth Gazette, describing an attack upon Thomas Mashford in the course of his duty. Sarah, who had come to see what was happening to her husband, was also attacked; and their sons William and Thomas were called as witnesses as they had seen what had happened.
Brutal assault upon a Policeman by Artillerymen
At the Castle of Exeter, on Friday ... Wm Burgess, corpl, and Ed. Scales and Thos. Croucher, gunners, belonging to the Royal Horse Artillery, stationed at Topsham Barracks, and Eliza Channing, a young women, were summoned for assaulting PC Mashford whilst in the execution of his duty at Heavitree on the night of 8th December ... [in addition] James Channing and George Boutcher were charged with inciting the mob; Corporal Burgess was charged with assaulting Sarah Mashford, wife of the police constable; and PC Mashford was charged with assaulting Corporal Burgess and James Channing....
PC Mashford stated that he had been in the police force over 19 years and during the past four years had been stationed at Heavitree ... On 8th ... he was standing on the footpath opposite the Horse and Groom, when the Corporal ... after saying with an oath that he was the constable who sent a woman to prison the other day, struck him twice in the head with his fist ... Witness ...collared [the corporal], charging him with having assaulted him whilst in the execution of his duty.
[Eliza Channing ran to get Croucher and Scales from the Ship Inn and then she hit Thomas Mashford] ... in the head twice with the big end of a soldier's whip ... Croucher and Scales then commenced beating him about the head and shoulders with their whips. He had been holding the corporal during this time, and in a scuffle ... witness fell to the ground pulling the corporal down with him ... the two other soldiers ...took the corporal out of custody. Witness then got upon his feet and drew his staff ... struck Croucher in the head and knocked him down ... also struck at Scales who staggered ... Witness was then struck on the back of the head by someone from behind and the two soldiers kicked him whilst he lay on the ground ... when he was knocked down he heard Channing and Boutcher [inciting the crowd to hit him and take away his staff] ... Channing was the father, and Boutcher the husband, of the woman whom witness caused to be sent to prison a short time since for larceny ... finding they could not get [his staff] out of his hand, they dragged him about ... after this he was again kicked about and became insensible ...
... Sarah Mashford, wife of the police-constable, stated that when she got through the crowd to her husband, whilst he was lying on the ground insensible, Burgess told her to keep out of it, and on her telling him she was his wife, he caught her by the hair, and struck her several times ... he threw her on her husband's back, and ... she was kicked severely ... Thomas Mashford [her son] in corroboration, said he saw Burgess trip his mother up and slap her face ... [the assault was also corroborated by other independent witnesses]."
After recovering from his injuries, which took "eight or nine days", Thomas went to Topsham Barracks and charged the soldiers with assault. In the meantime the soldiers had alleged that Thomas had assaulted them, and furthermore, that he was drunk on duty. So the court also heard evidence on that charge at the same time.
The judges decided firmly in Thomas' favour, convicting the soldiers of assault. As Burgess' senior officer had given him a good character, he was fined £1 for assaulting Thomas, and £1 for assaulting Sarah, plus costs, or a month's imprisonment; Gunners Scale and Croucher, and Eliza Channing, were each fined £1, and costs, or a fortnight's imprisonment, and Channing and Boutcher were fined £1 and 10s respectively, for inciting the crowd. Thomas Mashford "left the court without a stain on his character".
Notwithstanding this experience, Thomas remained a policeman in Heavitree for some time. At the time of the 1881 Census, Thomas and Sarah, with their seven children, lived in 3 Shelton Place, Heavitree. Also living with them as a boarder was another Police Constable, William Hocking. Bertram was born later that year.
Sadly Alice died in 1882; she was baptised on 4th March, died on 15th March, and buried at St Michael's Heavitree three days later, aged two. At that time the family lived in Fore Street. The youngest child in the family, Alfred Henry, was born in 1884, and baptised in Heavitree soon after on 3rd October 1884, together with his rather older sister Emily.
Some time after 1887, Thomas and Sarah, with their younger children, moved to from Heavitree to Dartmouth, where he embarked upon the final stages of his career. He appears to have retired from the County Police Force in 1889, being given a grant from the Superannuation Fund in that year (Western Times 25th October 1889). In the 1891 Census, Thomas and Sarah were recorded living in Lake Street, Dartmouth, with their daughter Sarah, aged 15, and their youngest sons "Bertie", aged 10, and "Frederick", aged 6 - apparently an error for Alfred (who was perhaps called "Fred" within the family). Emily was working in domestic service in a house in Victoria Place, Dartmouth, and Samuel was an assistant in Wellingtons, a bakery and grocery shop in Lower Street. Thomas' occupation was given as "pensioner".
On 13th August 1898, aged only 55, Sarah died in Dartmouth. She was buried at St Clements, Townstal, on 17th August. The 1901 Census recorded Thomas living at Ford, Dartmouth, as a widower, with two of his sons. Confusingly, the boys' names seem to have been recorded wrongly; Bertram seems to have been recorded as Alfred, and Alfred Henry once again as Frederick. Bertram worked as a house painter, and Alfred was apprenticed as a coppermsmith. In 1906 he joined the Navy as an Engine Room Artificer.
Bertram, known apparently as "Phil", became well-known in the town. A short piece in the Dartmouth Chronicle at the time of his death (see below) said that he had "previously worked for Mr Faremouth as a painter and decorator, was a well-known Rugby footballer, and played for both Dartmouth and Paignton. He was also formerly a member of the Swimming Club Committee." Richard Henry Faremouth, who had lived in the town all his life, ran a long-established painting and decorating firm in Dartmouth.
On 10th, 17th and 24th July 1910, banns were read at St Barnabas, Dartmouth (the chapel of ease to St Petrox in South Town) for the marriage of Bertram Mashford and Mabel Pepperell. Bertram was by this time living in the parish of St Mary Magdalene, Upton, Torquay, and banns were read there too. Bertram and Mabel were duly married on 31st July 1910 in St Petrox. Mabel was the eldest daughter of Percival Pepperell and his wife, Ina Emily Prowse, who had married in Dartmouth in 1886. Ina was from Dartmouth and Percival originally from Stoke Fleming. He was a tailor by trade.
Bertram's father, Thomas, died soon after. The Dartmouth Chronicle recorded the death "at Above Town, Dartmouth, September 15th 1910, Thomas Mashford, ex constable Devon Constabulary, in his 80th year". He was buried on 20th September in St Clements, Townstal.
Bertram and Mabel made their home in Dartmouth. At the time of the 1911 Census, they lived in two rooms in Higher Mount Galpin, Clarence Hill. Their first child, a girl, Gwendoline Mabel, had been born only a few weeks earlier - in the census form her age was recorded as "under one month". Another daughter, Olive, was born in 1913.
Service
Bertram's individual service papers have not survived, and so far, no other information has come to light about when he joined up. The Somerset Light Infantry Medal Roll records that he served with the 12th Battalion (and does not refer to any other prior service in a theatre of war). His regimental number was 36533.
However, a possible clue comes from the surviving papers of number 36536 in the Somerset Light Infantry, named Henry Hudson. Henry was a skilled man, a painter and decorator, like Bertram. In early 1917, Henry was posted to an Infantry Works Company (in the Devon Regiment) and then to the Labour Corps in 1917. He was transferred to the Somerset Light Infantry on 20th May 1917; and posted to the 12th (WSY) Battalion Somerset Light Infantry on 29th July 1917, the day he sailed for Alexandria. He disembarked there on 19th August 1917 and joined the 12th Battalion SLI in the Egypt Expeditionary Force on 7th September 1917.
Bertram may have followed a similar route, as an older man being assessed on call-up as fit for labour service, and posted to a company of an infantry works battalion. He may even have been in Henry Hudson's company, as such companies were frequently organised by trade. Infantry Works Companies were brought into the Labour Corps when it was set up in February 1917. Men were examined every three months and those meeting the standard for general service were transferred to infantry battalions. If Bertram followed Henry Hudson's path, he would have transferred to the Somerset Light Infantry sometime in May.
The surviving papers of another man in the Somerset Light Infantry, number 36544 Samuel Bowater, show he was mobilised on 19th May 1917 and posted to the 3rd Battalion SLI on 22nd May 1917. He was posted to India, so his subsequent service does not give any guide to what Bertram's experience may have been. But the experience of these two individuals with regimental numbers close to Bertram's suggests that, whatever route he took beforehand, Bertram joined the Somerset Light Infantry in late May 1917. It therefore seems likely that he too was posted to the 12th Battalion on 29th July 1917, and embarked from the UK for Alexandria that day. Again, the surviving papers of others in the 12th Battalion embarking at the same time show that they arrived in Alexandria on 19th August and joined the EEF on 7th September 1917.
12th Battalion Somerset Light Infantry
The 12th Battalion Somerset Light Infantry was formed on 4th January 1917 by the conversion of the West Somerset Yeomanry to an infantry battalion. The West Somerset Yeomanry, a Territorial Force light cavalry unit, had gone to Gallipoli as dismounted troops late in the campaign, landing at Suvla on 9th October 1915. After Gallipoli was evacuated, the regiment was involved in the defence of the Suez Canal and in a campaign against the Senussi, who attacked British-occupied Egypt from the west during 1916.
While serving in Egypt it formed part of the 2nd Dismounted Brigade, which was reorganised on 17th January 1917 as the 229th Brigade, part of the 74th Division - made up of three brigades of dismounted yeomanry. Over the next few months the Battalion was gradually brought up to strength with drafts from the Somerset Light Infantry.
During the early part of 1917, plans were made for the Egypt Expeditionary Force to mount an offensive against the Ottoman Empire in Palestine. General Murray, commanding the EEF, was given the objective by the War Cabinet to defeat Ottoman forces south of Jerusalem and occupy the holy city. Ottoman forces occupied a line between Gaza, to the north, and Beersheba, to the south.
General Murray's first target was Gaza, but in two attempts, he failed to take the town, which had been heavily fortified by the Turks. In June 1917, he was replaced by General Allenby, who instead decided to attack Beersheba, at the southern end of the Ottoman line, where the defences were considerably less well-developed. If he could take and hold Beersheba, he could be assured of a reliable water-supply and would be able to outflank Ottoman positions at Gaza.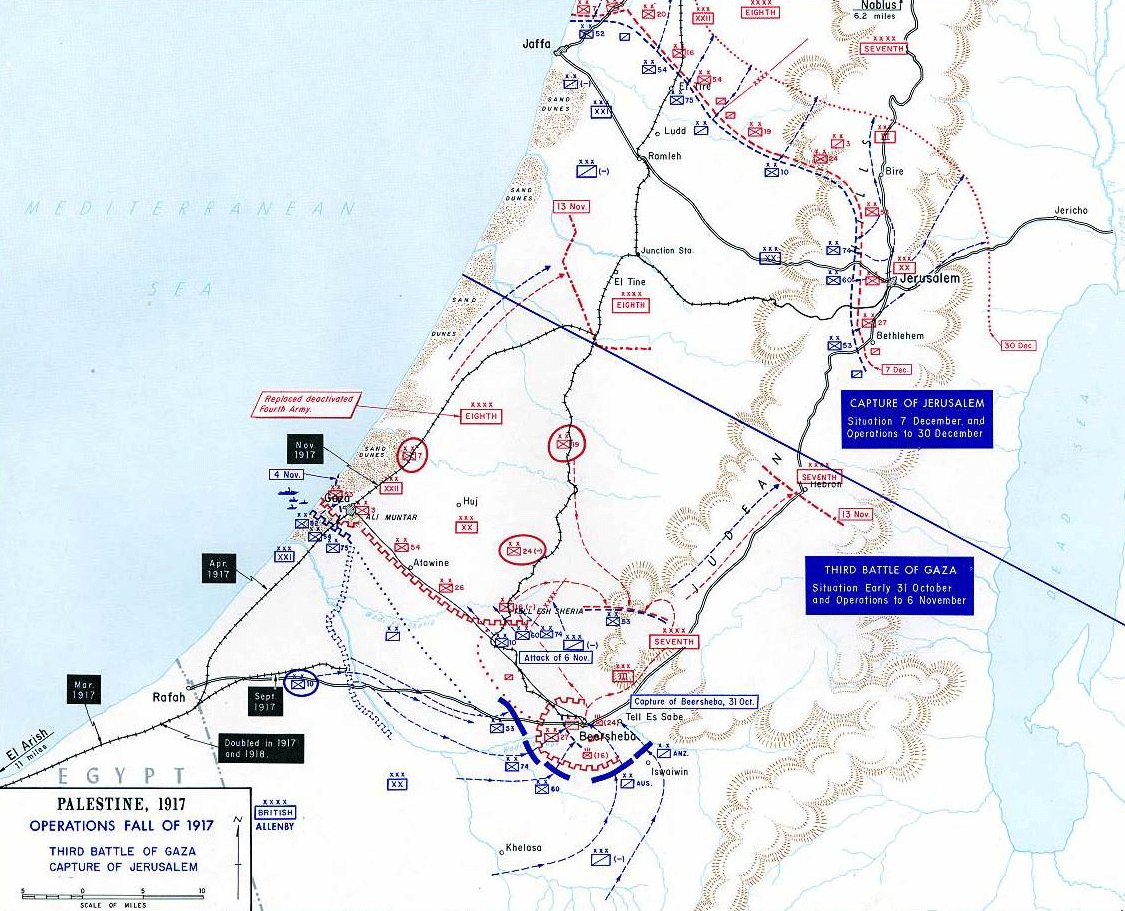 General Allenby's Offensive, November-December 1917
General Allenby's plan involved moving infantry and cavalry units gradually into positions over ten days, to avoid alerting the defenders. In addition, an elaborate deception attempted to mislead Ottoman commanders into thinking that a further attack would be made on Gaza, so that they would concentrate their forces there.
The 12th Battalion had spent most of the summer in training and preparation and in all likelihood, Bertram joined them during this time. However, for the attack on Beersheba, the Battalion was in Divisional Reserve. The infantry attacked from the west of the town on 30th October, but, even though Ottoman forces were weak, and the attack was a surprise, there was some stiff resistance. The infantry reached its designated positions but that night moved no further.
Riding overnight, the Desert Mounted Corps circled around the town to attach from the north-east. Once again there was still resistance, and General Sir Harry Chauvel, commanding the DMC, decided on a direct cavalry assault on the town. In the largest cavalry charge of the Great War, the defenders were overcome. The infantry moved in from the west and the town fell, the Ottoman garrison withdrawing to the north.
On 1st and 2nd November, British forces attacked Ottoman positions facing Gaza, while the Desert Mounted Corps moved in the direction of Jerusalem. The purpose was to draw off Ottoman defences from the centre of the Gaza-Beersheba line, which was Allenby's next objective. On 6th November, he attacked at Hareira and Sheria.
On this occasion, the 12th Battalion was in the Brigade front, to the left. There had been little time for planning or reconnaissance but, as the Battalion's history describes the action:
...there was no mistake in our direction nor any lack of warmth in our reception; heavy machine gun and rifle fire received us, both from our front and from the right flank ... This enfilade fire caused considerable loss, and it was only after heavy fighting that the 230th Brigade [to the right rear] and the 231st Brigade [to their right rear] were able to clear that flank. Our immediate concern was to press forward ... towards our objectives - a succession of works distant from our jumping-off place about 4000 yards. The ground was gently rolling and quite devoid of cover ... On a succession of undulations the Turkish trenches were dug deep and admirably sited, commanding in every case an uninterrupted field of fire ... They were unprotected by wire, but were stiff with machine guns, with field artillery in close support.
Our advance therefore ... was carried out at great speed ... There was no question of advancing under a creeping barrage ... The only course was to press forward as rapidly as possible and thereby to minimise losses. Once away from the cover afforded by one fold of the ground, there was nothing for it but to gain the next, and speed was the great factor in our success.
Attacking at 5am, they gained their first objective by 7.15am. To their left, the 60th (London) Division with one brigade of the 10th (Irish) Division then advanced, quickly taking their initial objectives. The 12th Battalion, resuming their attack, "found that opposition had very greatly diminished", and were able to take their final objective, the Sheria-Beersheba railway line, by later in the afternoon. Sheria railway station was taken that evening.
That night Ottoman forces withdrew, evacuating Gaza; EEF troops entered the town unopposed on 7th November.
Death
Though they had ultimately succeeded in gaining their objectives, 12th Battalion had suffered badly in the attack; two officers and 41 men were killed, with four officers and 193 men wounded, heavy losses out of a strength of under 700. For two nights after the battle, the Battalion bivouacked on "Cactus Ridge", the line of their first objective, using the daylight hours to clear the battlefield.
It seems that Bertram was one of those wounded in the attack, for the available records show that he died of wounds the following day, on 7th November 1917. The account in the Battalion's history states that those who had died in the attack "were buried at the Cactus Garden the following day". Subsequently the graves were brought into Beersheba Military Cemetery, where they remain.
News of Bertram's death reached Dartmouth fairly quickly. The Chronicle of 23rd November 1917 reported:
Died of Wounds
Lance Corpl "Phil" Mashford
Another well-known Dartmouth man gave his life for his country on November 7th, when Lance Corporal Bertram (Phil) Mashford died of wounds in Palestine. He was fighting with the Somerset Light Infantry, and the information of his death, which came by cable from Alexandria, was officially conveyed to his widow, at 7 Elm Grove, Victoria Road, on Thursday last, who with her two children, reside at that address. Lance Cpl Mashford previously worked for Mr Faremouth as a painter and decorator. He was a well-known Rugby footballer, and played for both Dartmouth and Paignton. He was also formerly a member of the Swimming Club Committee. The greatest sympathy is being expressed with the widow and fatherless children.
(Apparently Bertram had been recently promoted to Lance Corporal, though all records show his substantive rank as Private.)
Commemoration
Bertram is commemorated in Dartmouth on the Town War Memorial and the St Saviours Memorial Board.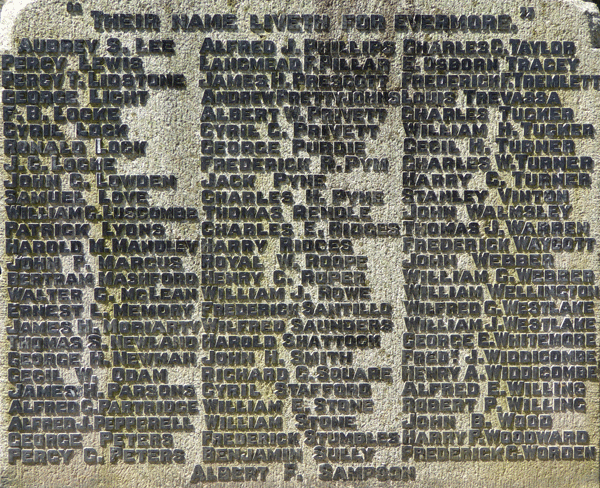 Dartmouth Town Memorial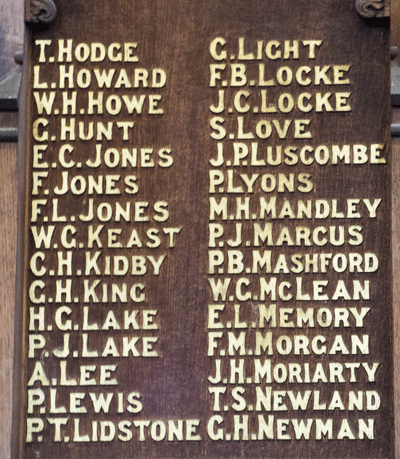 St Saviour's Memorial Board
After the war, Mabel married again. Her second husband was Alfred Henry Mashford, Bertram's younger brother. They married in 1919, subsequently moving to Yorkshire.
Sources
A Record of the West Somerset Yeomanry 1914-1919, by Captain R C Boyle MC, publ London 1920
The Fall of the Ottomans: The Great War in the Middle East 1914-1920, by Eugene Rogan
Note: "Soldiers Died in the Great War" shows Bertram Mashford's death in error as 29th July 1917.
Information Held on Database
| | |
| --- | --- |
| Surname: | Mashford |
| Forenames: | Bertram |
| Rank: | Private |
| Service Number: | 36533 |
| Military Unit: | 12th Bn Somerset Light Infantry |
| Date of Death: | 07 Nov 1917 |
| Age at Death: | 34 |
| Cause of Death: | Died of wounds |
| Action Resulting in Death: | Third Battle of Gaza |
| Place of Death: | Near Beersheba, Palestine |
| Place of Burial: | Buried Beersheba War Cemetery, Israel |
| Born or Lived in Dartmouth? | Yes |
| On Dartmouth War Memorial? | Yes |
| On St Saviour's Memorials? | Yes |
| On St Petrox Memorials? | No |
| On Flavel Church Memorials? | No |
| In Longcross Cemetery? | No |
| In St Clement's Churchyard? | No |
| On a Private Memorial? | No |
| On Another Memorial? | No |
---
This information was last updated on Wednesday 15 November 2017 at 23:15:36.