William Walter Leach
Family
William Walter Leach was born in Dartmouth on 22nd February 1888 and baptised at St Saviours on 25th March of that year. He was the son of Walter Leach and his wife Mary Ann Cole.
Walter Leach was not a native of Dartmouth, being born in Yeovil, Somerset. He had joined the Navy as a Boy 2nd Class on 30th October 1877. On 12th June 1885, he was appointed to HMS Britannia, the young officers training ship in the Dart, as an able seaman. While in Dartmouth, he met Mary Ann Cole, a seaman's daughter, born and brought up in the town. They married in 1886 and settled in Dartmouth - Mary Ann remained in the town, close to her parents, Nathaniel and Mary Ann, while Walter was posted elsewhere.
In 1890, Walter signed on for another ten years service, to complete the necessary period for a pension. By this time he had been rated Leading Seaman. In 1896, while serving in HMS Impregnable at Devonport, he was rated Petty Officer 2nd Class. He returned to HMS Britannia on 1st November 1899 for the final few months of his service, before leaving the Navy, aged only 38, on 21st May 1900.
The 1901 Census recorded Walter and Mary Ann living in Clarence St. Walter was working as a general labourer, though the family would also have had his naval pension to rely upon. William, 13, Elsie, age 12, and Alice, age 9, were all at school. By the time of the 1911 Census, William had joined his father in the coal portering trade. The family lived in Silver Street. Elsie had married the previous year. Her husband, William Thomas Wills, was in the Navy.
Service
According to the official history of the Merchant Navy:
Before the first month of hostilities had come to an end, it was clear that [harrying submarines and mine-layers] was to be a war of small craft. The Admiralty therefore determined at the beginning of September [1914] to utilise all steam-yachts, trawlers and motor-boats, and to form these into units; each unit was to consist of one yacht, four trawlers, and four motor-boats, which were to be sent where they were required. The first places would be Scapa, Loch Ewe, Rosyth, Humber, and Cromarty. As more vessels became available, additional units were to be formed. The yachts and trawlers armament would be either 3-pounders or 6-pounders, the yachts having two guns and the trawlers one.
Forthwith the Admiralty began to take up all the steam-yachts fit for service, and to send them to Portsmouth and Devonport, to have their gun-mountings placed forward and aft. Many of these yachts had but recently finished their summer cruising, and as soon as their guns were in position, their hulls painted grey, and their wireless gear installed, they were dispatched to the North Sea...
These additional yachts which were now to be taken up were to work inshore, thus enabling the destroyer patrol flotillas to go farther out to sea, and they were to capture any vessel, of whatever nationality, suspected of laying mines ... At first these yachts were lent by their owners free of charge, the Admiralty paying all expenses of equipment and running. At the end of three months, provided the yachts were found suitable for service, they were chartered at an agreed rate per ton per month. Owners who possessed the necessary qualifications were invited to take command and accept commissions as lieutenants of the Royal Naval Volunteer Service, though subsequently they were transferred to the Royal Naval Reserve.
Early in 1915 the Government advertised extensively for volunteers to join HM Yacht Patrol. For example, the Western Mail of Wednesday 17 February 1915 carried the following:
Wanted for HM Yacht Patrol, employed on active service
Able Seaman - wages, including food and all allowances 40s per week
Engineers - ditto various
Fireman - ditto 40s per week
Carpenters - ditto 45s per week
Cooks - ditto 43s per week
Assistant Cooks - ditto 35s per week
Volunteers should send their names to the Flag-captain HM Dockyard Portsmouth, stating date and place of birth, sea experience, where last employed and name of employer, last time employed on board a ship and in what capacity, name of owner of vessel and name of captain.
Terms of Agreement: to sign on for the duration of the war. Only British subjects of British parentage accepted. Pensions in the event of injury or permanent disablement. Pensions to dependents or widows.
Further Particulars can be obtained on application to Flag-captain, Portsmouth Dockyard.
The men joining, if they were not members of the Royal Naval Reserve, became members of the Mercantile Marine Reserve, established in August 1916 for ratings on merchant ships which, like the yachts, had become "commissioned fleet auxiliaries". The establishment of the MMR standardised rates of pay and also the terms and conditions on which the men served.
Service records for men in the MMR appear not to have survived, though the naval medal rolls include them. When William joined up is not known, but it appears to have been in the second part of 1915 - the name "Alfred Walter Leach" appeared with three others in the Dartmouth Chronicle of 20th August 1915 as residents of Dartmouth who had joined HM Yacht Patrol as Firemen.
By the time of his death in September 1916, William was serving on HM Yacht Conqueror II. The steam-yacht Conqueror II was built by Russell & Co, Greenock, in 1889. Her first owner was Walter S Bailey, of Hull, and two others, and Hull was her first port of registration. She was then bought by Frederick W Vanderbilt, of the American Vanderbilt family, who sold her in 1913 to William Montagu, the 9th Duke of Manchester. She was hired by the Admiralty on 1st February 1915 and commissioned as HM Yacht Conqueror II.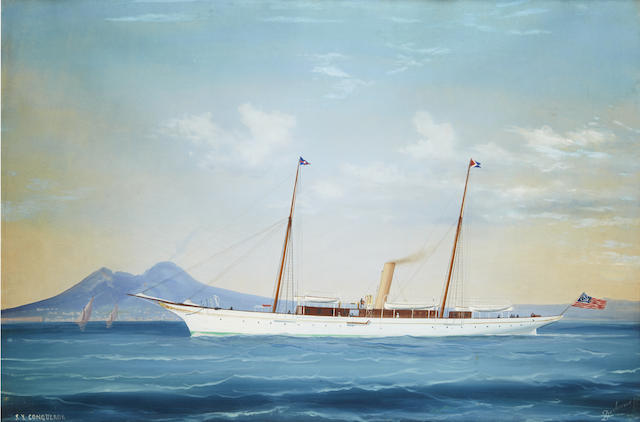 SS Conqueror II in the Bay of Naples in 1913
Death
On 26th September 1916, HMY Conqueror II, with HM Trawler Sarah Alice, were in the process of investigating an unidentified merchant steamer north of Fair Isle. They were attacked by German submarine U52. Both the yacht and the trawler were sunk. Nineteen minutes later, the merchant steamer, which was the collier St Gothard, was sunk by the submarine. Seventeen lives were lost on the Conqueror II, including William, and sixteen on the Sarah Alice. The crew of the St Gothard were saved.
Commemoration
As one of those who has no known grave, William is commemorated on the Plymouth Naval Memorial.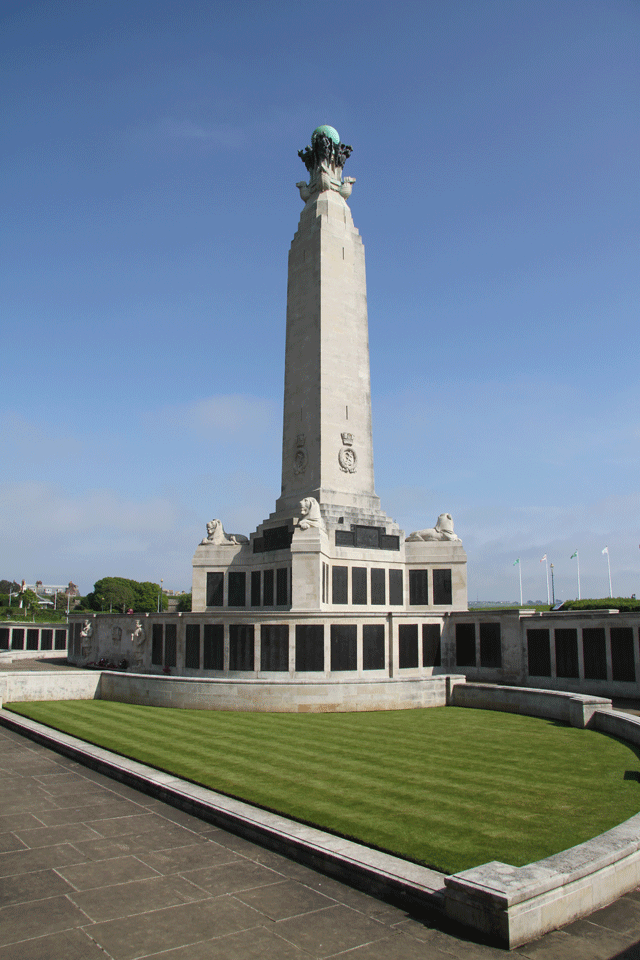 Plymouth Naval Memorial
He is not commemorated on public memorials in Dartmouth. However, an announcement of his death appeared in the Dartmouth Chronicle, and he is included on our database for that reason.
William's father Walter also served in the Navy during the war. He had joined the Royal Fleet Reserve in 1908 and so was mobilised on 2nd August 1914. At the time of William's death, he was serving on HMS Ringdove, previously HMS Melita, which was converted to a salvage vessel in 1915. He was demobilised in February 1919.
Sources
Naval service record of Walter Leach available from the National Archives, fee payable for download, reference ADM 188/118/101927
The Merchant Navy, by Sir Archibald Hurd, in two volumes, publ London 1924. Accessed online at naval-history.net
Naval casualty figures from naval-history.net
Information on HM Yacht Conqueror II from Wrecksite and Clyde Built Ships
Information Held on Database
| | |
| --- | --- |
| Surname: | Leach |
| Forenames: | William Walter |
| Rank: | Fireman, Mercantile Marine Reserve |
| Service Number: | |
| Military Unit: | HM Yacht Conqueror II |
| Date of Death: | 26 Sep 1916 |
| Age at Death: | 28 |
| Cause of Death: | Killed in action |
| Action Resulting in Death: | Sunk by German submarine U-52 off Fair Isle |
| Place of Death: | At sea off Fair Isle |
| Place of Burial: | Commemorated Plymouth Naval Memorial |
| Born or Lived in Dartmouth? | Yes |
| On Dartmouth War Memorial? | No |
| On St Saviour's Memorials? | No |
| On St Petrox Memorials? | No |
| On Flavel Church Memorials? | No |
| In Longcross Cemetery? | No |
| In St Clement's Churchyard? | No |
| On a Private Memorial? | No |
| On Another Memorial? | Yes |
| Name of Other Memorial: | Dartmouth Chronicle Obituary |
---
This information was last updated on Monday 26 September 2016 at 14:09:12.