George Hunt
Family
George Hunt was not a native of Dartmouth - he came to the town with his wife and family a little before the war. His origins are obscure - according to "Soldiers Died in the Great War", he was born in the small village of Feckenham, Worcestershire; and according to his Scottish death registration records (see below) his father, William Hunt, was a coachman, but had died by 1917. Notwithstanding these clues, we have been unable to trace George in Census records before 1911. His year of birth is also uncertain - according to the age reported when he died, he was born around 1867; according to the age given in the 1911 Census, he was born around 1873.
We thus have no information about George's early family and working life. But by 1905, he had arrived on the Isle of Wight, where on 24th June, at the Wesleyan Chapel, Sandown, he married Alice Fenza Mitchelmore. Alice was born in Sherford, near Kingsbridge, Devon, in 1882, second daughter of Robert Mitchell Mitchelmore, an agricultural labourer, and his wife Eliza Pike. By 1901, when her parents had moved to Diptford with their two youngest children, Alice was working in domestic service and had moved away from home. She was at that time a housemaid in the household of William James Craig, Congregational Minister, and his family, nearby in Ermington. William Craig died in 1904 and his widow moved to the Isle of Wight - it appears that Alice moved with the family.
George and Alice's first child, a daughter, Ivy Eleanor, was born in Sandown on 18th December 1905, but soon after, they moved back to Alice's home county, Devon. Edith Mary, their second child, was born in Stoke Fleming on 15th December 1907; by 1910, when their son, Arthur George was born, they had returned to her home village of Sherford, where on 4th September 1910, Edith and Arthur were baptised at St Martin's, the parish church. Ivy and Edith attended the National School in the village, though a surviving logbook records that Ivy had left on 29th March 1911 because she had "gone to Stoke on a visit". This may have been a visit to her grandparents, Robert and Eliza Mitchelmore, who by this time were living in Stoke Fleming, at "Cosy Corner". Robert died only a few weeks after the Census was taken, on 19th May 1911.
The 1911 Census recorded George and Alice still in Sherford. George was working as a farm labourer. He gave his age as 38, and his place of birth as Worcester. Alice was at home looking after the three children - Ivy, aged 5, Edith, aged 3, and the baby Arthur, aged nine months. Evidently Ivy's visit to Stoke had not involved a permanent move.
However, by July 1912, George and Alice had moved to Dartmouth, perhaps because George was looking for better employment opportunities. Their third daughter Peggie was born on 7th July 1912, followed by a fourth daughter, Ruby Maud two years later, on 22nd June 1914. On 8th April 1915, Peggie and Ruby Maud were baptised at St Saviours, in Dartmouth. However, by this time, the war had provided George with an unforeseen opportunity, and he had already joined up. His occupation was recorded as "soldier" - indeed, he had probably already left Dartmouth - see below.
Service
Like so many, George's individual Army service papers have not survived. However, Medal Roll records show that he enlisted with the 24th Battalion, Royal Fusiliers, service number 2916. This suggests that he joined a little earlier than two other Dartmouth men, Cyril and William Bell, who joined in early February, with the consecutive numbers of 3129 and 3130. The 24th Battalion was known as the second Sportsman's Battalion, which together with the 23rd, was recruited as a result of a private initiative by Emma Cunliffe-Owen, a wealthy "society lady". During December 1914 and January 1915 there was a recruiting drive for the Sportsman's Battalions in Devon, led by Captain A E Dunn, past Mayor of Exeter and past MP for Cambourne. Several Dartmouth men joined, one of whom was George - Soldiers Died in the Great War records that he enlisted in Dartmouth.
A feature of the Sportsman's Battalions was that they took men who were older than the usual recruitment age - Emma Cunliffe-Owen had obtained special permission from Lord Kitchener to raise a battalion "of middle and upper class men, physically fit, able to shoot and ride, up to the age of 45". Whilst George could presumably not be described as "middle or upper class", he may have fitted some of the other criteria. He must certainly have fitted the age criterion, and perhaps this was why he joined the 24th Battalion. If the 1911 Census was correct, he must have been at least 41 - and may very possibly have been older - if the age given at his death in 1917 was right, he would have been about 48 in 1914. The upper age limit at this time was 35 for new recruits and 45 for ex-soldiers (50 for certain ex-noncommissioned officers). It is not known if George had a previous Army career.
On 16th March 1915, the West Country Company of the 24th Battalion left Exeter for London. They were inspected on Horse Guards Parade the following day and two days after that, moved to new headquarters at Hare Hall, Romford. Unlike many other recruits at this period, they benefited from excellent field barracks, provided by the generosity of the Cunliffe-Owens. Beds turned to the wall during the day provided seats; there was electric light; there were sufficient shower baths, with hot and cold water; there was a hospital with 24 beds, plus a bootmaker, post office, tailor and barber.
In June they came under command of 99th Brigade, in the 2nd Division, and moved to Clipstone Camp, Nottinghamshire; and in July they moved to Tidworth Army Camp, Wiltshire. They embarked for France on 15th November 1915, and George's Medal Roll details show that he arrived in France at this time, entitling him to the 1915 Star.
For the experiences of the 24th Battalion Royal Fusiliers after their arrival in France, during 1916, and including their participation in the Battle of the Somme, see the story of William Bell, already referred to above. So far no record has been found which enables us to identify when George returned to the UK, or why - we have not been able to locate him in published casualty lists, so perhaps he returned to the UK because he was suffering poor health, or was assessed as not fit for front line service. As an older man he may have found the conditions in the field very challenging - as early as February 1916, the Battalion's War Diary refers to concern about whether the older recruits could sustain the pace. Whatever the reason, at some point before 1st September 1916, he was posted from 24th Battalion to the 30th Battalion Royal Fusiliers, which was the training and reserve battalion for the 23rd and 24th Battalions.
On 1st September 1916, the reserve infantry battalions were reorganised to form the Training Reserve - the link with the infantry regiments disappeared, and battalions formed new brigades of the Training Reserve, to which newly conscripted recruits were posted for training before being sent to an active service unit. The 30th Battalion Royal Fusiliers accordingly became the 106th Training Reserve Battalion on that date, and George transferred with them.
We don't know what his role was in 30th/106th Battalion, but from his subsequent history we know that shortly before he died, he was transferred again, to become a member of 459th Home Service (Employment) Company in the new Labour Corps, which had been set up in February 1917. According to John Starling and Ivor Lee:
By the early part of 1917 there were some 80,000 men serving in 30 Labour Battalions and 120 Infantry Labour Companies in France, and over 100,000 men in Britain. It was apparent that they could not be satisfactorily administered unless brought together in one corps. On 21st February 1917 a Royal Warrant sanctioned the creation of the Labour Corps ... The object was to obtain "more fluidity in utilising the services of men in Infantry Labour and Works Units, and to simplify administrative work."
In May 1917, more changes were made, to add Employment Companies to the Corps. There were four types: Divisional and Area Employment Companies served overseas, and Home Service and Depot Employment Companies served in Britain. The Employment Companies were formed from men who were employed on command, garrison or regimental duties. Some 59,000 men were transferred to Home Service Employment Companies; one of whom was George. An examination of surviving service papers of men with Labour Corps service numbers very close to his (236470) shows two other men who transferred from 30th Battalion Royal Fusiliers to 106th Training Reserve Battalion, and from there to the Labour Corps, on 8th June 1917, so this may well have been the date on which George also transferred.
Again, what George's role was in the Labour Corps is not known, but the "Recognised Trades" for Employment Companies were:
Batman
Cook
Telephone Operator
Sanitary duty
Orderly
Clerk
Storeman/Caretaker
Shoemaker
Policeman
Butcher
Loader and brakeman
Salvage
Laundry
Tailor
Bath and drying room
Traffic Control
Regimental Institute (included running Cinema, Theatre, and Canteens).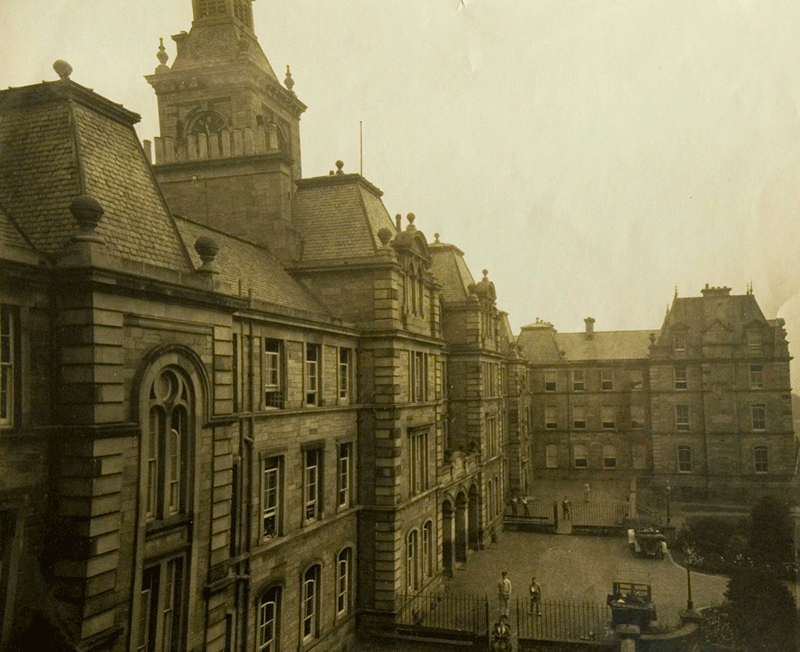 Craigleath Hospital
The men transferred to these companies were those of the lowest possible medical categories, to ensure that the fitter men were sent to companies overseas.
According to John Starling and Ivor Lee, "there are no surviving records for these companies so it is not possible to identify exactly where an individual company or detachment was employed". However, 459 Employment Company was based in Edinburgh, and it was to the 2nd Scottish General Hospital in Craigleith that George was taken when he became ill.
Death
On 3rd July 1917, at 2.30am, George died at Craigleith Hospital. The cause of death was recorded as "stricture of oesophagus", though it seems that this may be a symptom of several underlying diseases. The "duration of disease" was recorded as six months - he had evidently been ill for some time, though apparently, not ill enough to be discharged from the Army altogether. The person reporting the death the following day in Edinburgh was Alice, who had travelled all the way from Above Town, Dartmouth, George's home address. One can only hope that she had been able to spend time with George before he died. There is a hint that George might have been in hospital for some time, in that George's unit was reported at the time the death was registered as 106th Training Reserve Battalion - either Alice, or the hospital bureaucracy, had not caught up with his recent transfer to the Labour Corps. He was reported to be 50 years old.
George was buried at Comely Bank Cemetery, in Edinburgh. At the time of his death he was recorded as a member of 459th Home Service Employment Company Labour Corps. However, in 1919 it was decided that the headstone of a member of the Labour Corps who had previously served in any other unit should record his connection with his previous regiment. George's headstone thus records him as a member of the Royal Fusiliers; the Commonwealth War Graves Commission cemetery register (and thus the CWGC database) also records his transfer to the Labour Corps.
Commemoration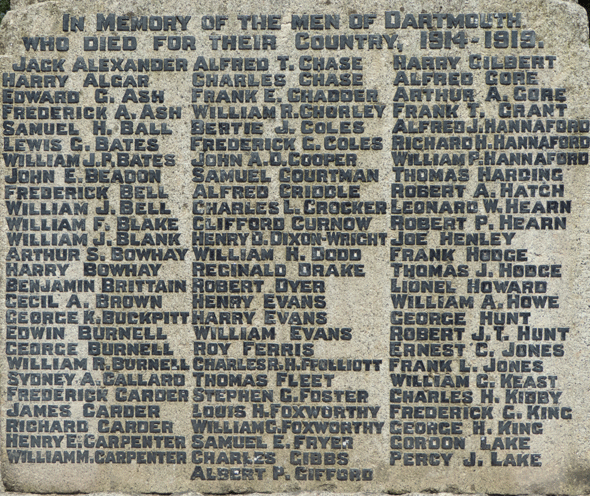 Dartmouth Town Memorial
George is commemorated in Dartmouth on the Town War Memorial and the St Saviours War Memorial Board.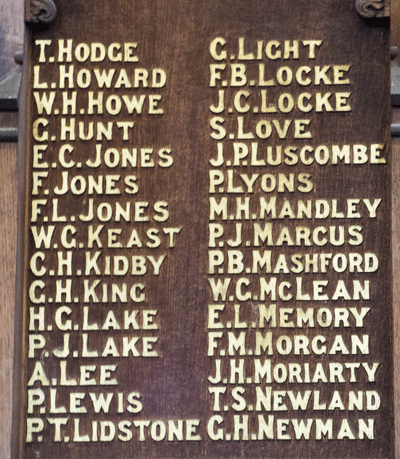 St Saviour's Memorial Board
Sources
No Labour, No Battle: Military Labour During the First World War, by John Starling and Ivor Lee, publ History Press, ebook edition, 2014
M*ch*More One Name Study, Southern South Hams, Tree O1
Information Held on Database
| | |
| --- | --- |
| Surname: | Hunt |
| Forenames: | George |
| Rank: | Private |
| Service Number: | 2916, 236470 |
| Military Unit: | Royal Fusiliers. Labour Corps |
| Date of Death: | 03 Jul 1917 |
| Age at Death: | 50 |
| Cause of Death: | Stricture of oesophagus |
| Action Resulting in Death: | |
| Place of Death: | Craigleith Hospital Edinburgh |
| Place of Burial: | Comely Bank Cemetery, Edinburgh |
| Born or Lived in Dartmouth? | Yes |
| On Dartmouth War Memorial? | Yes |
| On St Saviour's Memorials? | Yes |
| On St Petrox Memorials? | No |
| On Flavel Church Memorials? | No |
| In Longcross Cemetery? | No |
| In St Clement's Churchyard? | No |
| On a Private Memorial? | No |
| On Another Memorial? | No |
---
This information was last updated on Thursday 29 June 2017 at 00:38:24.