Alfred William Hannaford
Family
Alfred William Hannaford was born on 20th April 1882 in Dartmouth. He was the second surviving son of William Hannaford and his wife, Mary Jane Cole.
William Hannaford was a carpenter, originally from Stoke Fleming. Mary Jane Cole came from the nearby village of Blackawton. They married at St Michael's, Blackawton, on 12th May 1870. Their first child, William Robert Hannaford, was baptised at St Michael's on 26th January 1871, but sadly died soon after. Whether because of this, or for other reasons, William and Mary Jane then moved to Dartmouth, where Sidney Robert was born on 7th May 1876 and baptised at St Petrox on 9th July 1876.
The family then moved within the town; Edith Jane was baptised at St Saviour's on 22nd November 1878 and Clara Ann on 23rd February 1881. Although the baptism records for both girls show William as a carpenter, the 1881 Census recorded him, with Mary and their three children Sidney, Edith and baby Clara, as "Hulkkeeper" aboard the Monarch. The Monarch was a coal hulk owned by coaling company Powell Duffryn, which had been brought to Dartmouth in 1876. Alfred William was the next to join the family, in 1882, so he may also have begun life on the Monarch.
William and Mary Jane's fifth child, Mary Ellen, was born the following year. She was baptised privately on 15th February 1884, by which time the family had returned to dry ground in Townstal. Mary Ellen died aged 11 months and was buried at St Clements on 28th July of that year. The next baby, William, was born on 20th May 1885, and Alfred and William were baptised together in St Saviours two months later, on 26th July 1885, when Alfred was three years old.
Another brother, Ernest John, was born on Christmas Day 1887, and baptised at St Saviours on 9th March 1888; but he too died young, only fourteen months old. Alfred's youngest brother, Frederick John, was born on 5th February 1890 and baptised at St Saviours on 30th April of that year. The 1891 Census recorded the family living in four rooms in Silver Street, Dartmouth (now Undercliff). William still worked as a carpenter; Sydney, the oldest, and by now aged 15, had begun his working life as a blacksmith's apprentice. Edith, though only 12, was not at school - as no occupation is given for her in the Census return, it is quite likely she helped her mother run the house and look after the youngest children. The other four children - Clara, Alfred, William and Frederick - were all "scholars", though in Frederick's case, as he was only just over one year old, this may be an error.
The 1901 Census also provides a snapshot of the whole family, still living in Silver Street. William continued to work as a carpenter. Alfred's eldest brother Sydney had decided on the Royal Navy as his career, joining in 1895; but on the night of the census, was either home on leave or his parents decided to include him in the return anyway. By the time of the Census he had reached the rate of Leading Stoker. Edith and Clara were both in domestic service - Edith as a cook and Clara as a general servant. Alfred was a general labourer, and his younger brother William was a blacksmith. Only Frederick, the youngest, was not at work.
However, soon after, Alfred decided to leave home, and to join the Army. On 14th November 1903, he volunteered for the Territorial Force, and joined the Devon Royal Garrison Artillery. He stated when joining that he had been working for the shipbuilding and engineering firm, Phillip & Son, in Dartmouth, as a labourer; however, at the time of his application, he was living at 6 Russell Street, Plymouth, so must have left the firm. We know from the attestation form that he was 5' 3", with blue-grey eyes and light brown hair, and a "fresh" complexion. It seems that his militia application was the prelude to joining the regular army, because he remained in the RGA for only a few weeks, enlisting in the Gloucestershire Regiment on 23rd January 1904, and receiving a new service number, 7421.
Less than three months later, Alfred's mother Mary Jane died, on 29th March 1904, at Silver Street. The loss of his wife seems to have sent William, Alfred's father, off the rails, and this in turn caused problems within the family - perhaps these problems had preceded her death too, and had influenced Alfred's decision to leave home. A series of reports in various papers, including the Dartmouth Chronicle, paint a sad picture.
On 2nd January 1907, William was summoned before the Dartmouth Police Court for stealing wood from Mr Tuckerman, haulier, and selling it, pretending it was his. His penality was a fine of 11s or three weeks in prison, and he took the prison sentence, presumably being unable to pay the fine.
On 9th April 1907, he was charged with stealing a hand saw, but acquitted, and discharged. But a month later, on 13th May 1907, he was charged with larceny at the Petty Sessions on two counts, once again with stealing wood, and also with stealing a paring hook. On the same day, he was also charged at Paignton Police Court with the theft of a coat, worth 5s, from Ernest Friend, a dairyman, a few days earlier, after being given a job to sharpen a saw, for sixpence. He elected to be tried by a jury, and was committed to the Assizes.
William appeared at the Assizes on 14th June 1907. He was found guilty of stealing the coat. No further evidence was offered in the second case of stealing firewood or the paring hook, and these charges were not proceeded with. The Dartmouth Chronicle further reported:
Police Sgt Rogers said that accused's wife died a year ago [in fact, three years ago], since when he had given way to drink, and his children refused to have anything to do with him.
William was sentenced to one calendar month's hard labour, at Exeter; from which he was released on 11th July 1907, to an address in Higher Street, Dartmouth.
On 25th October 1907, he was charged at Totnes, with stealing cabbages and turnips, value 1s. He was found guilty, and sent to prison for three weeks' hard labour. The Dartmouth Chronicle reported:
Prisoner said that he had been to Mr Lethbridge's field, and taken seven turnips. Mr Lethbridge asked him why, and the prisoner said "I had no work and no money".
After this, William's situation seems to have improved, as no further offences were reported for a while. The 1911 Census recorded him living with his eldest daughter Edith and her husband James Heard, in Clarence Street.
Service
Alfred's militia papers recorded the date he joined the Gloucestershire Regiment, 23rd January 1904, but the record of his regular service has not survived. The usual pattern of service was seven or eight years with the colours and four or five on the reserve. We know from subsequent events (see below) that he spent time with the 1st Battalion in India (they were stationed there from 1903 to 1910) and the 1911 Census recorded him in Malta as a member of the 2nd Battalion. The 2nd Battalion went to China in 1913 and he appears to have left active service by then.
Alfred did not return to Dartmouth. Casualty list information recorded that the location given for his "next of kin" was the village of Bream, in the Forest of Dean, and a report in the Gloucester Journal of 27th September 1913 shows (amongst other things) that he found work there as a collier:
Alfred W Hannaford (Bream), Ernest Cooper and Henry Bowley (Churchfield, Lydney) Albert Mills (Bream) and Joseph Matthews (Tutnalls, Lydney) colliers, were summoned by P C Chamberlain for using abusive language on the 29th ult; and not appearing, were fined 2s 6d with 8s costs each.
At the time of his death in 1917, Alfred's legatee was his father, William. A report in the Dartmouth Chronicle of 18th September 1914 suggests that William (who had once more been accused of stealing vegetables, this time beetroot and beans, from an allotment in Dartmouth) had only recently returned to the town after having been away. This suggests that Alfred may have given William a home in Bream, after he came out of the army. But at the outbreak of war, he still had a reserve commitment. He was mobilised on 5th August and joined the 1st Battalion of his Regiment, which had speedily returned from training at Aldershot to its own station at Bordon, in Hampshire. It looks as if William, in the meantime, went back to Dartmouth.
The 1st Battalion was part of the Expeditionary Force sent immediately to France in 1914. On 12th August 1914, they left Bordon, arriving in France the following day. The 1914 Star Medal Roll for the Regiment confirms that William went with them because it records his disembarkation date as 13th August 1914. The Gloucesters were not involved in the fighting at the Battle of Mons ten days later (they were based at the village of Haulchin, a position which they had been ordered to hold "at all costs") but came under fire during the retirement the following day. They suffered their first casualties at Landrecies. The history of the Regiment records that "for thirteen days (from 24th August to 5th September inclusive) the Gloucesters had been on the move and during that period had marched 200 miles at least, to say nothing of the three days approach march from Beaurepaire to Haulchin (20th - 22nd August inclusive) another 44 miles".
As the BEF then began to advance, the Gloucesters crossed the Grand Morin, the Petit Morin, and the Marne "without firing a shot or without encountering the enemy". They were involved in their first substantial engagement in the Battle of the Aisne on 14th-15th September, during which they lost one officer and ten men killed, and two officers and 72 men wounded (and two missing). On the 16th September, the line held by the BEF was ordered to be strongly entrenched, and during that day, there were further casualties - 3 killed and 9 wounded.
We know that at some stage during these first few weeks, Alfred was wounded, for he was reported in casualty lists as having been admitted to the American Women's War Relief Hospital at Paignton on 27th September 1914. Within two weeks of the outbreak of war the American Women's War Relief fund had been formed with the aim of creating a hospital at Oldway House in Paignton, given by Mr and Mrs Paris Singer (the son of the millionaire Isaac Singer, the founder of the sewing machine company). The contingent of 150 or so wounded soldiers arriving that day had travelled from France on the "Carisbrooke Castle" and reached the hospital at 7.30pm, travelling by special train. They were the first to be admitted by the hospital, and came from seven different regiments. The Paignton Western Guardian reported that "the majority were wounded in the lower limbs, but there were around thirty cot cases ... many of the others were able to walk ... they were in good spirits and chatted and joked freely".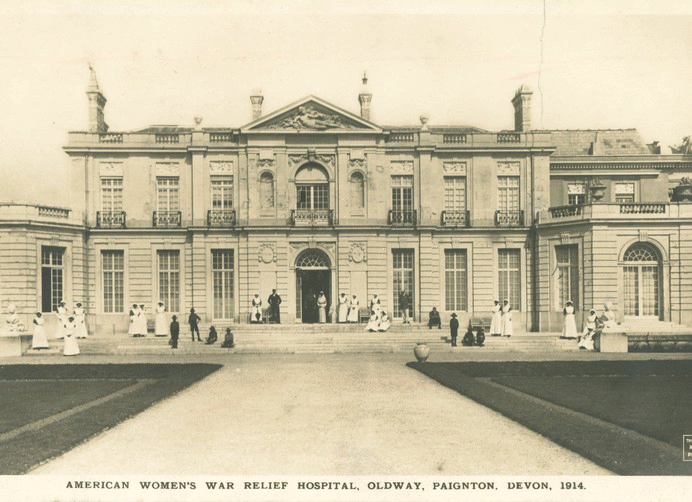 We don't know how long it took Alfred to recover, and when he returned to the Gloucesters. During October and the early part of November, the Battalion was involved in the defence of Ypres, and was severely depleted - by 7th November the strength of companies was A-61; B-44; C-49; and D-59. They left Ypres on 16th November for a period of rest, during which reinforcements of around 400 men arrived; however, at the end of December they were rushed south as emergency reinforcements to the defence of Cuinchy, sustaining further heavy casualties. The Regimental History observes that "by the end of the year the Battalion had been practically re-formed".
The first few months of 1915 seem to have been relatively uneventful for the Battalion. But according to casualty records, Alfred was wounded again some time during the period "June and July". These figures did not appear until early November 1915, being described at that time as "not previously published".
The date of "June and July" seems a little odd. After a quiet few months at the beginning of 1915, 1st Gloucesters had fought in the Battle of Aubers Ridge, south of Ypres, on 9th May, sustaining heavy casualties. During June and July, they undertook a series of spells of duty in the trenches in the area around the Béthune-La Bassée road, interspersed with periods of rest, and the usual working parties. Casualties for those months were relatively few. The following are recorded in the Battalion's War Diary:
4th June: working party under Royal Engineers bombed while working on a mine crater; 1 man killed three wounded
1st July: In the trenches. Casualties, one killed five wounded
21st July: A listening post consisting of one NCO and three men was buried by falling earth from [an enemy mine] explosion, the NCO being blown to pieces
24th July: two men injured by enemy's bombs (grenades)
However, if the casualty records, as published, are accurate, Alfred was presumably one of these fifteen men.
Again, we don't know how severe his wound was, or when he returned to the Battalion. It would seem that, on this occasion, he was treated in France. If unlucky, he may well have recovered in time to fight with the Battalion at Loos, where they sustained heavy casualties at the beginning of the battle (25/26thth September 1915) and also on 8th October 1915, when they were involved in repelling a German counter-attack. Total losses were 5 officers and 63 other ranks killed, and 5 officers and 251 other ranks wounded.
After Loos, several new officers joined the Battalion, one of whom was Captain Guy Gregory Harper Reade, who had previously been a Lieutenant in the Canadian Expeditionary Force (though British). He arrived in France on 11th February 1916, and joined the Battalion on 26th March 1916; we know that at some point, Alfred was appointed as his batman.
The Battalion remained in the Loos sector, which was characterised at this point by mining and counter-mining, as well as heavy artillery bombardment from both sides, until 4th July 1916. They therefore missed the opening day of the Battle of the Somme, but instead were brought in for the second phase, known as the Battle of Bazentin Ridge. On 5th July 1916, they were ordered to proceed to the Somme.
On the afternoon of 14th July 1916, they took over the line near Contalmaison, just north of the village, along the road to Longueval. On the night of the 16th July, they attacked, took, and held, about 1200 yards of two lines of German trenches, with a loss of about 70 casualties. According to a report contained in the Battalion's War Diary, success was attributed to:
darkness, preventing enemy machine-gun fire being targeted
short but very intensive bombardment of the enemy line, followed immediately by the assault, accepting risk of casualties from friendly fire so as to enter the enemy trenches directly the barrage lifted
wire being successfully cut during the day
but perhaps most significant:
enemy trenches not being strongly held and hasty retreat by most of the garrison on being attacked.
Despite their early success, the Battle of the Somme took its usual heavy toll, even when there was no attack. On 18th July, as the new lines were worked on and consolidated, "steady shelling of both lines and heavy gas shells over village caused casualties" - three killed, six wounded, and twenty gassed. The Battalion was relieved that night and moved back to Becourt Wood, and during the relief, two men were killed and eleven wounded. On 20th July, they moved further back again, to Albert, but a fatigue party of 50 men "for wiring" suffered six wounded and one gassed.
Four days later, they were back in the line they had left. On going in, seventeen men were wounded. The following day, they were in support to an attack led by the South Wales Borderers, whom they relieved that evening. There was an enemy counter-attack on ANZAC forces to their left, but this was successfully resisted by the ANZACs with the assistance of the Gloucesters' machine guns. That evening, the Gloucesters were relieved again, having suffered five men killed and two officers and 29 men wounded. By 9.45pm on 26th July, they were in billets in Millencourt, where they enjoyed a break out of the line, though they were involved in quite intense training activity.
On 16th August, they were once again brought forward, and on 20th August found themselves in the line immediately west of High Wood. Here they remained for seven days, during which, according to the Regimental History
...they were subject to concentrated shell-fire such as they had not experienced during the whole period of the War to that date. Those seven days in the line alongside High Wood were a veritable nightmare ... the front line was entirely obliterated and men held a series of shell holes in front of it.
They neither attacked, nor were attacked, but casualties were:
20th August: one officer and 12 men killed, one officer and 38 men wounded
21st August: 12 men killed, one officer and 37 men wounded, three men missing
22nd August: three men killed, one officer and 23 men wounded
23rd August: four men killed and 21 wounded
24th August: three men killed, three men wounded and one officer shell-shocked
25th August: five men killed, eight wounded
26th August: two men killed, four wounded
27th August: one man killed, four wounded
At some point during July and August, Alfred was wounded a third time, and it may have been during this period of service that he was affected by gas. His wound must have been serious, because on 31st August 1916, he was once again admitted to hospital in England.
The very sad conclusion to Alfred's story is based on the report of the inquest into his death, in the Gravesend and Dartford Reporter on 3rd February 1917.
Death
On 13th October 1916, six weeks after his admission to hospital in England, Alfred was discharged, and provided with a ten-day leave pass. However, he never returned to his unit.
At some stage while in hospital, Alfred had met, and was "walking out" with Sarah Beecham, of Lilac Cottages, Betsham, Southfleet, Gravesend. He had told her about his military history, and that he was waiting for discharge from the Army because of the extent of his wounds. In the meantime, it appears, he was living with Sarah and her parents, in Gravesend.
 On 9th January 1917, Sarah and Alfred had both gone to Woolwich, because he had an interview and medical examination. This diagnosed him as unfit for further wartime service. In a second interview on 10th January, arrangements for his discharge had been finalised. Alfred came back to tell Sarah that all was well, and she then left for work.
Alfred then had an argument with Edith, Sarah's mother, who told him that she could no longer afford to keep him and Sarah at home. Alfred then hit Edith, knocking her over. One of Sarah's brothers went to fetch Sarah's father, Frederick, and Alfred was, apparently, thrown out of the house.
Alfred returned to the cottage the next day, but Edith told him he could not come in until her husband returned. On 11th January 1917, Alfred was found dead by the local police constable, in a shed at a farm nearby. He was wearing his Army uniform, which included three wound stripes. In his pockets were one shilling, an open pack of cigarettes, a box of matches, and four postcards, on one of which was written:
Just a few lines. I cannot stick it any longer. My pains are too awful. Yours Alf.
A post-mortem carried out by a Northfleet doctor discovered that death was due to carbolic poisoning.
Captain Reade gave evidence at the inquest, which took place at Southfleet school on 26th January 1917. The inquest heard brief details of Alfred's service and Captain Reade described Alfred as "a good soldier, of rather an excitable disposition, and easily upset". The inquest also heard that Alfred had been wounded four times [sic], one of which was a head wound, and also had been gassed.
The jury returned a verdict of "Suicide whilst temporarily insane", and the Great War claimed another casualty.
Alfred's funeral took place at St Nicholas Southfleet on 31st January 1917 with full military honours. A firing party was provided by 3rd Battalion Gloucester Regiment, under Captain Reade's command. Alfred's coffin was carried on a gun carriage supplied by the Suffolk Regiment at nearby Milton Barracks, which was escorted by soldiers from the anti-aircraft service and police officers from the Kent County Constabulary. As Alfred's coffin was lowered into the grave, the bugler sounded the Last Post.
Notwithstanding the report in the paper, the date given in official records for Alfred's death is 24th January 1917, and we have used that date in our database. "Soldiers Died in the Great War" has 23rd October 1916, which can only be an error.
The Commonwealth War Graves Commission burial register gives the cause of death as "died of wounds (gas)". Other more contemporary records, however, record that the cause of death was suicide. CWGC records also give Alfred's Battalion as 3rd Battalion. Though he served throughout the war with 1st Battalion, it is entirely consistent with his story that by the time of his death he was on the books of 3rd Battalion (the training and reserve battalion), since he was awaiting discharge.
Commemoration
Alfred is commemorated in Dartmouth on the Town War Memorial. His name appears there with an incorrect middle initial of "J", rather than "W".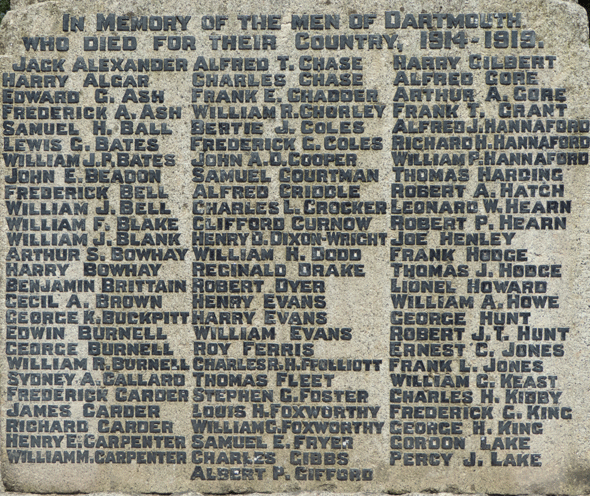 Dartmouth Town Memorial
The error may have been because his name was added to the list for the war memorial only a short time before it was finalised. Alfred's death does not seem to have been reported in Dartmouth at the time. But his elder brother Sydney and elder sister Edith still lived in Dartmouth after the war, and so perhaps were responsible for ensuring that his name was commemorated too.
Sources
Alfred's militia attestation available on subscription websites
War Diary of the 1st Battalion Gloucestershire Regiment available for download at The National Archives, fee payable, reference WO 95/1278
The Gloucestershire Regiment in the War 1914-1918, by Everard Wyrall, first published 1931, published 2016 by Albion Press
Gravesend in the Great War, by Stephen Wynn, publ 2016, Pen & Sword Books
The American Women's War Hospital
Information Held on Database
| | |
| --- | --- |
| Surname: | Hannaford |
| Forenames: | Alfred William |
| Rank: | Private |
| Service Number: | 7421 |
| Military Unit: | 3rd Bn Gloucestershire Regiment |
| Date of Death: | 24 Jan 1917 |
| Age at Death: | 34 |
| Cause of Death: | Suicide |
| Action Resulting in Death: | |
| Place of Death: | Dartford, Kent |
| Place of Burial: | Southfleet, Kent |
| Born or Lived in Dartmouth? | Yes |
| On Dartmouth War Memorial? | Yes |
| On St Saviour's Memorials? | No |
| On St Petrox Memorials? | No |
| On Flavel Church Memorials? | No |
| In Longcross Cemetery? | No |
| In St Clement's Churchyard? | No |
| On a Private Memorial? | No |
| On Another Memorial? | No |
---
This information was last updated on Tuesday 24 January 2017 at 11:50:24.