Charles Ferris Hannaford
Family
Charles Ferris Hannaford was born in Dartmouth on 28th March 1869 and baptised at St Saviour on 10th December 1873. He was the youngest son of Robert Hannaford and his wife Elizabeth Dier Ferris.
Robert Hannaford was born in Blackawton where his father and grandfather, George and John Hannaford, farmed at Higher Cliston. Evidently he felt the lure of the sea for he became a mariner. His Certificate as a Master Mariner, which he obtained in Cork in 1864, recorded that he had spent nineteen years at sea, indicating that he first went to sea aged 17. The certificate provides a continuous record of his service for eleven of those years, on ships registered in Dartmouth:
the Calypso, as a Boatswain, for nine months in 1852
the Betsy, as Master, from December 1852 to August 1854
the Sarah Ann, as Master, for six years, from August 1854 to September 1860
the Rhoda, of which he had been Master since October 1860 (and on board which he was recorded in Durham on the night of the 1861 Census)
On 9th September 1853, he married Elizabeth Dier Ferris at St Saviour. Elizabeth was the daughter of another mariner, Thomas Ferris, who had also captained the Sarah Ann, between 1845 and 1850. She was born and brought up in Dartmouth. In the 1851 Census she was recorded working as a dressmaker.
Elizabeth and Robert made their home in Dartmouth. The 1861 Census recorded Elizabeth on her own in the family home in Lower Street with three children: Elizabeth, Robert and Rebecca. Robert (junior) subsequently died aged 5, of scarlet fever. By the time of the 1871 Census, four more had been born: George, Lydia, a second Robert William, and Charles, the youngest. The family were still living in Lower Street.
All Robert's sons followed their father to sea, notwithstanding his death "missing presumed drowned" on the schooner Bonnie Dunkeld, of Dartmouth, lost at sea with his six crew in October 1884 whilst sailing from South Shields for Teignmouth with a cargo of gas coal. George qualified as "Only Mate" in 1882. He had to reapply for his certificate in 1894 when his ship, the J M Lennard, was stranded at Goole on the river Ouse and his papers were lost. Robert achieved his Master Mariner's certificate for the foreign trade at South Shields in 1897.
Service
Charles was therefore fifteen when his father died, and had already embarked upon his life at sea. He had begun his career in March 1893 working for his father on the Bonnie Dunkeld as a cook and steward, but fortunately had left her by March 1884, to join the Chanticleer, a brig registered in London, as an "Ordinary Seaman". In May 1888 he obtained his first job as "Able Seaman" on the brig Beagle, and in October 1890, his first job as Boatswain, on the SS Fulham, registered in London. He achieved his certificate of competency as Second Mate on 19th March 1892. The form records that he was at that time 5' 6 ½" tall, with brown hair, hazel eyes and a "dark" complexion. He gave his permanent address as South Ford Road, Dartmouth.
On 13th December 1894, Charles married Ida Maria Hickey, at St Saviour. Ida was born in Dartmouth on 29th March 1871 and baptised in St Saviour on 16th April following. She was the third of five children of Thomas Hickey and his wife, Agnes Rogers.
Thomas was born in Looe, Cornwall, and joined the Royal Navy in 1860, where he was recorded on board the training ship HMS Implacable in the 1861 Census. He signed on for ten years service in 1864, on reaching the age of 18, and for a further ten years in 1874, having achieved a rating of Petty Officer 1st Class. In 1878 he was promoted to Chief Petty Officer, whilst serving on HMS Renard, on the Australia Station. He retired to pension on his birthday in 1884, aged 38. In the 1891 Census, Thomas and Agnes, and four of their children, were recorded living in Dartmouth in Mansion House Slip. Thomas was working as a boatman. His three daughters, Ann, Ida and Edith were all working as dressmakers, and their young brother Thomas was recorded as a shoemaker's apprentice.
Charles and Ida had three children, all born in Dartmouth:
Cyril Charles Ferris, 1st November 1896
Ida May, 18th May 1899
Percy James, 16th August 1903
In the 1901 Census, Ida, Cyril and "May" were recorded at Above Town, Dartmouth - Charles was presumably away at sea. By the time of the 1911 Census, however, the family had moved to Middlesbrough. Charles and Ida were recorded at 21 Surrey Street, with Cyril and Ida May junior. Also living with them were Ida's parents, Thomas and Agnes Hickey. The Census recorded that Percy was living with his uncle and aunt, his father's brother George and his wife Mary, and their four children, at 88 Crescent St, Middlesbrough.
In 1913, Ida died, aged only 41, while on a visit to Devon, leaving Charles a widower. He continued to work in the Merchant Navy when war broke out. The sea, always a source of danger, had become even more so.
In 1915 he became the Master of the SS Friargate, a steam cargo ship built in 1910 in Great Yarmouth and owned by Chester Albert & Co of Middlesbrough. The 1915 Crew List shows that his daughter, Ida May Hannaford, also served on her as a stewardess, aged 16. It was her first ship.
On 3rd November, 1915, the Friargate was on a voyage from London to Middlesbrough with a cargo of loam, when she struck a mine laid by the German submarine UC6, four miles east of Orfordness. The ship sank. However, all but two of the crew survived, including Charles (it is not known whether Ida was also on board on this occasion); the two who died were Second Engineer Thomas Henry Dolby of Middlesbrough, and Mate Nils Andersen, from Norway. A subsequent report in the Newcastle Journal, of 2 February 1916, stated that "Captain Hannaford ... was left for many hours struggling in the icy cold water". He must have thought he had had a lucky escape - but his luck ran out all too soon.
Death
On returning to Middlesbrough, Charles' next ship was the SS Hummersea. Her Master, Henry Fryett, aged 70, had died while at sea, on 19th November, "supposed drowned", and Charles was appointed to take his place.
The Hummersea was a steam cargo ship built in 1897. She was owned by the Skinningrove Iron Company - she is shown here at the company's jetty about to load up with iron.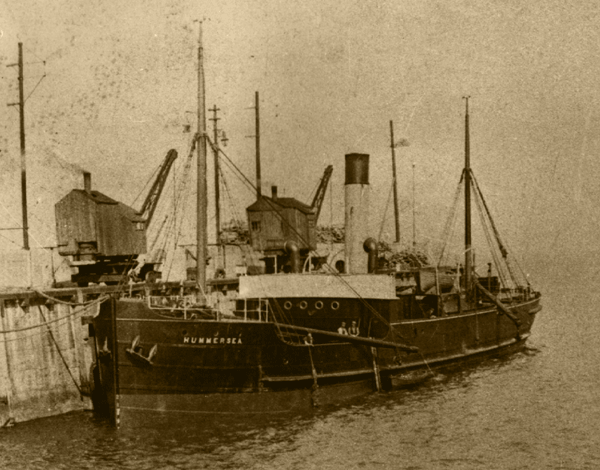 SS Hummersea (Source: Skinningrove History Group)
On 30th December 1915, the Hummersea left for Caen, in France. Nothing more was heard from her. Newspaper reports of her feared loss began to appear at the beginning of February; on 9th February 1916, Lloyds posted her as one of five ships officially "missing", several of which had sailed at about the same time. What happened to her is not known. The Hummersea is not known to have been hit by a torpedo or to have been mined - the most likely explanation is extremely bad weather.
In addition to Charles, nine crew members were recorded as having died at sea, presumed drowned:
Seaman Fritz Hailstorm
Seaman John Jacobsen
First Mate K de Vries
Chief Engineer Peter Dodds
Seaman A Nicholai Blomquist
Second Mate Thomas Henry Burrows
Fireman Joseph Wilson
Steward Thomas Rodham Laverick
Second Engineer David Wilson
The entry for K de Vries in the register of deaths at sea 1891-1972 (National Archives series BT334) additionally records that he was "supposed drowned off Whitby".
The Western Times of Friday 28 July 1916 reported a sad sequel to the tragedy from Paignton County Court:
Mr S Richards applied for the payment out of £29, part of the sum of £297 6s paid into Court for the dependents of Charles Ferris Hannaford, captain of a merchant ship belonging to a Middlesbrough corn (sic) company, who was drowned at sea on December 30th last. Deceased, who was a widower, left three children dependent on him, aged 19, 17, and 12. The eldest son is serving with the Army in France and is in no immediate need of assistance. Mrs Lavers, of Dartmouth, and sister in law of deceased, took charge of the children on deceased's death, and had supported them since. After the payment out of £29, he asked that the balance be invested and £1 10s be paid each month for the support ofeach child. This His Honour agreed to, and allotted £20 to the eldest child, £110 to the second, and the balance less costs, to the youngest.
The "Mrs Lavers" referred to was Ida's eldest sister Emily, who lived in Dartmouth and had no children of her own.
Commemoration
Charles is not recorded on public memorials in Dartmouth but his death was announced in the Dartmouth Chronicle. He is commemorated on the Tower Hill Mercantile Marine Memorial in London, and on the Middlesbrough War Memorial.
Sources
SS Friargate:
SS Hummersea:
Information Held on Database
| | |
| --- | --- |
| Surname: | Hannaford |
| Forenames: | Charles Ferris |
| Rank: | Master, Mercantile Marine |
| Service Number: | |
| Military Unit: | SS Hummersea |
| Date of Death: | 30 Dec 1915 |
| Age at Death: | 46 |
| Cause of Death: | Lost at sea |
| Action Resulting in Death: | Unknown |
| Place of Death: | Unknown |
| Place of Burial: | Commemorated Tower Hill Memorial |
| Born or Lived in Dartmouth? | Yes |
| On Dartmouth War Memorial? | No |
| On St Saviour's Memorials? | No |
| On St Petrox Memorials? | No |
| On Flavel Church Memorials? | No |
| In Longcross Cemetery? | No |
| In St Clement's Churchyard? | No |
| On a Private Memorial? | No |
| On Another Memorial? | Yes |
| Name of Other Memorial: | Dartmouth Chronicle Obituary, Middlesbrough War Memorial |
---
This information was last updated on Tuesday 29 December 2015 at 22:00:20.