Stephen George Foster
Family
Stephen George Foster was born in Dartmouth in 1897. He was the only son of George Hannaford Foster and his wife Florence Jolliffe.
George came from Kingswear, where his father, John Foster, had worked as a Platelayer on the railway. At the time of the 1891 Census, George lived with his family in Brixham Road, and worked as a parcel delivery boy.
George married Florence in 1895. She was one of several daughters of Edward Jolliffe and his wife Elizabeth Asquith. She was born in Plymouth, but her family had come to Dartmouth soon after, where her father worked as a packer at the Dartmouth factory of the Torbay & Dart Paint Company. In 1881, the family lived in Clarence Street. By the time of the 1891 Census, Florence, now aged 18, was at work too, in domestic service. She was the "general servant" for Miss Georgina Gibbs, who lived in Ridge Hill, Dartmouth.
After they married, George and Florence settled in Dartmouth. Stephen was born in 1897 and his sister Marjorie Gertrude in 1899. The 1901 Census recorded the family living in Mariners Place. By this time George had obtained work as a member of the civilian staff of HMS Britannia, where he was a Cadet servant. (Although work on the site for the new Royal Naval College began in 1898, the foundation stone was not laid until 1902 and the College was not opened until 1905.) By 1911, the family had moved to Duke Street. George still worked at the Royal Naval College, as a servant in the Cadet mess. Stephen, aged 14, and Marjorie, aged 12, were both at school.
Service
Unusually, Stephen's Army service papers are amongst those to have survived, and, though partly damaged and in some places, difficult to read, include details of his service and the circumstances of his death.
Stephen enlisted at Dartmouth on 23rd February 2016. He had just turned 19, and lived at 3 Church Road, Townstal, with his parents and sister. He was a Waterman, and for this reason, was recruited into the Inland Water Transport department of the Royal Engineers.
The use of the canal and river systems of France and Belgium had not been part of the Army's logistics and supply planning in the early part of the war. However, with the beginning of trench warfare, and the commitment to a large British army on the Western Front, the value of the inland water system to move supplies became more apparent. When it also became apparent that Belgian and French civilians were unlikely to provide sufficient or suitable manpower (typically whole families lived on their barges) the nascent Inland Water Transport department began to recruit experienced men from the necessary trades in Britain (and later, elsewhere) into the Royal Engineers.
Between January to September 1915, the department expanded from "one tug and thirty-four hired barges" to control a fleet of 270 vessels. The scope of the network expanded in parallel; at first only the northern waterways connecting Calais, Dunkirk, Armentieres and Bethune were used, but in the summer of 1915, it was extended to the Somme; in September 1916 to the Seine; and in July 1917, to the River Scarpe, which was reopened to navigation between Arras and Fampoux. In addition, there was eventually a coastal service between Dunkirk and Le Havre, which enabled a connection to be made between the different river systems, and a cross-channel service; due to congestion at Dover, a new depot and base was built at Richborough, Kent, involving the construction of a train ferry port.
The tonnage moved increased from just under 200,000 tons in 1915, to over 2,800,000 tons in 1918. Many different types of craft were in use. The service carried supplies such as forage, timber, building material for roads and railways, trench material, and ammunication; other branches of the work were carriage of the wounded in ambulance barges; and supply of drinking water. The service also built and repaired waterways and wharves, and repaired and maintained the craft. In 1916 and 1917, a large amount of pumping and filtration work was done to deal with inundation and drainage.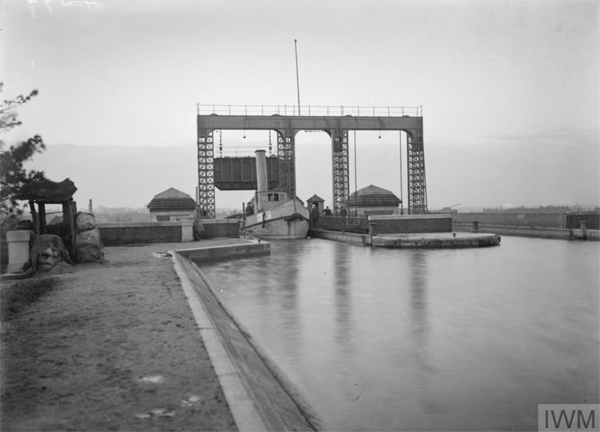 Inland Water Transport
St Omer, France
© IWM (Q 35674)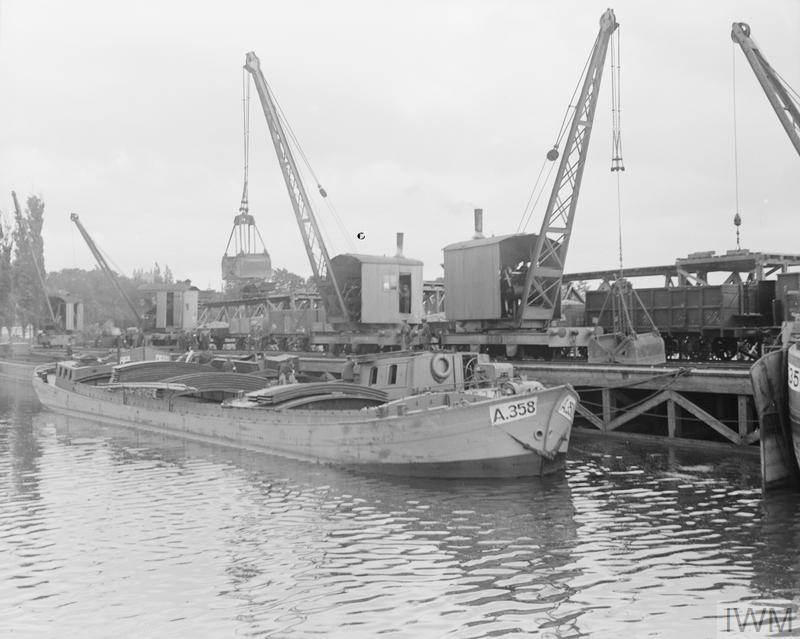 A barge unloading at a quay on the canal at Bergues, France, 23
rd
August 1917
© IWM (Q 5920)
As part of a wider recruitment campaign, the Inland Water Transport came to Dartmouth to recruit men in February 1916. On 18th February 1916, the Dartmouth Chronicle reported:
Fourteen men left Dartmouth on Wednesday morning for service in the Inland Water Transport section of the Royal Engineers. They included nine Dartmouth men, one from Kingswear, and one from Blackawton. It is probable that twenty other recruits will leave tomorrow (Saturday). Others will take their departure next week, the total number of men already enlisted at Dartmouth this week for the Inland Water Transport being thirty-nine.
The newspaper published a list of recruits, including Stephen, and also William Henry Dodd and Charles Henry Gilbert, both of whom are on our database (and both of whom died after the Armistice).
The pay was good - up to 3s 2d per day; recruits were to be between the ages of 19 and 40, but in certain trades and specialisms, older men were accepted. Recruitment advertisements declared that men were "not required to go into the trenches in France although they will be given a certain amount of military training before being sent to their work". Evidently Stephen, and others, found this an attractive proposition.
For his training, Stephen went first to Longmoor Military Camp, in Hampshire. He then served in the UK until 4th August 1917 - unfortunately, the army form giving details of his service at home is damaged, so where he served is not known. However, it is clear that he went to France on 5th August 1917, and by 19th August, two weeks later, was at St Omer, an important centre for the Inland Water Transport in France.
Death
On the morning of 20th August 1917, Stephen disappeared. The following day, his body was found in the river. A Court of Enquiry was immediately convened and a report of the proceedings was included in Stephen's service papers. The evidence of Stephen's colleagues provides a glimpse of everyday life for members of the Inland Water Transport, housed on Barrack Barge A198 at St Omer - and also tells us a little more about Stephen:
Proceedings of a Court of Enquiry assembled at St Omer on the 21st August by order of D[irector], IWT, for the purpose of investigating the circumstances under which No. 150288 Sapper Foster RE IWT met his death on 20th August 1917.
President: Lieut G Williamson RE IWT
Members: Lieut F Smith RE IWT; 2 Lieut A Lilwall RE IWT
The Court, having assembled pursuant to order, proceed to take evidence.
1st Witness 264877 Cpl E Jones RE IWT states:
On the morning of the 20th August 1917 on 7am parade, the deceased, Sapper Foster, 150268, was first missed. After the parade I immediately reported his absence to CSM Hagues. I did not see the deceased again until this morning 21st August at 8.20am when his body was recovered by Sappers Warren and Brown from the starboard side of Barge A198.
Question: When did you see the deceased last?
Answer: At 6pm on 19th August, when I posted the Guard, and again at 10pm.
Question: Was he in normal condition then?
Answer: Yes, quite normal, sir.
Question: Had he any peculiarities of physical effects?
Answer: Yes, he was very near-sighted.
Question: Do you know if the deceased could swim?
Answer: No, he could not, sir.
Question: How long have you known deceased?
Answer: 4 or 5 years previous to the war
2nd Witness 235077 Sapper Abbott A.E., RE, IWT states:
On the morning of 20th August 1917 at about 6.30am I saw Sapper Foster RE go up the stairs of Barrack Barge A198 with some clothes under his arm. This was the last I saw of him until his dead body was recovered from the canal at about 8.20am this morning.
Question: When you saw him did he appear quite normal?
Answer: Yes, sir.
Question: Did you hear a splash?
Answer: No, I heard nothing.
Question: Do you know for what purpose he went on deck?
Answer: I believe he was taking some clothes to hang up to dry.
Question: How long have you known deceased?
Answer: For about a week.
Question: Has he appeared to be depressed in any way?
Answer: No, perfectly happy.
3rd Witness 200719 Sapper Welland J, RE IWT states:
On the morning of 20th August 1917 Sapper Foster was having his breakfast, sitting beside me at the table on Barrack Barge 198. He ate about half of it, left the table, and that was the last I saw of him.
Question: Did he say anything before leaving the table?
Answer: No sir, he was a very quiet chap and seldom spoke at all.
Question: Was he normal or did he appear excited about anything?
Answer: He always appeared excited [sic] and seemed no different to any other morning.
Question: Did you see him go on deck?
Answer: No sir, I only saw him leave the table.
4th Witness 135005 Sapper Warren J, RE, IWT states:
On the morning of 20th August [sic] Sapper Brown and I were instructed by Corporal Jones, who is in charge of Barrack Barge 198, to fell [feel] along the starboardside (farthest from the bank) of the Barge with a boathook, to see if we could find the body of Sapper Foster, in case he had fallen overboard, as he had been missing the previous morning. We got the boat and boathook, and after about 2 hours search, found the body at about 8.20am, 2 feet under the Barge amidships. We got the body ashore, placing it in a shed and informed CSM Hagues. An ambulance arrived in about 20 minutes and removed the body to the Mortuary.
Question: How far from the top of the staircase leading up on to the deck of the barge, would it be from the position you found the body?
Answer: Right in line with the top of the gangway.
Question: Was he fully dressed?
Answer: Yes, excepting his cap.
5th Witness 272680 Sapper Brown AJ, RE, IWT states:
I received instruction to search for the body of Sapper Foster, from Corporal Jones, this morning, 21st August at 6.20am together with Sapper Warren. After 2 hours search we found the body abreast of the gangway leading up from the barge. We took it ashore and shortly afterwards the body was removed to the Mortuary in an Ambulance.
Question: Had deceased any peculiarities?
Answer: No, he was a very quiet inoffensive lad, as far as I can say.
6th Witness 228570 L/Cpl Leray W, RE, IWT states:
On 19th August 1917 I was Corporal in charge of the Guard at the Camp, Sapper Foster being one of the Guard. He was on guard from 8pm till 10pm and from 2am - 4am on morning of 20th August, and was quite alright, performing his duties in an efficient manner. I dismissed the Guard at 6.5am and that was the last I saw of the deceased.
Question: Was he perfectly sober when dismissed from the Guard?
Answer: Yes, he was a teetotaler.
Question: Did you notice anything strange in his manner that might lead you to think that he had anything on his mind?
Answer: No sir.
Question: Had you noticed anything the matter with deceased's eyes?
Answer: He told me he was shortsighted and nearly blind in one eye.
Medical Opinion is that No 150288 Sapper Foster died of "Drowning".
E A Burke, Lt Col RAMC, OC 10 Stationary Hospital
The verdict reached by the enquiry was that:
The Court having considered the evidence are of opinion that No 150288 Sapper Foster RE IWT met his death accidentally by drowning on the morning of 20th August 1917, but there is no evidence to shew how he came to be in the water.
Stephen had undergone a medical examination when joining the IWT. The form completed by the doctor at the time records that he suffered from "internal strabismus" in his left eye - that is, when one eye turns inwards relative to the other - but his vision was assessed as satisfactory at the time. It is interesting that though he had worked as a waterman in Dartmouth before joining, he could not swim.
Stephen was buried in Longuenesse Cemetery, at St Omer. He had been in France for only two weeks.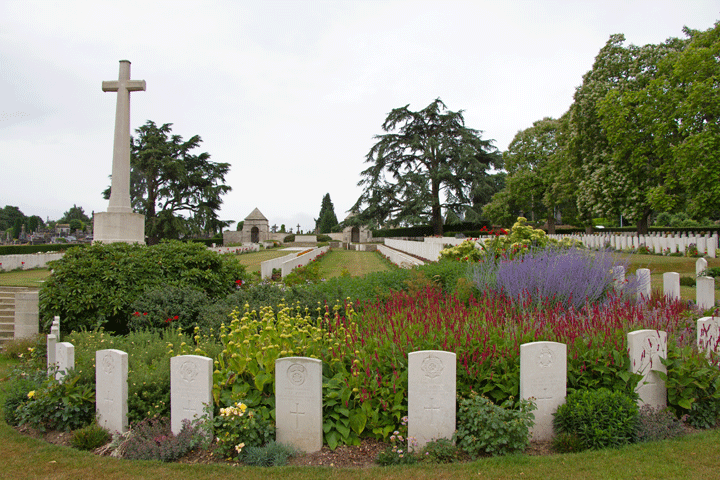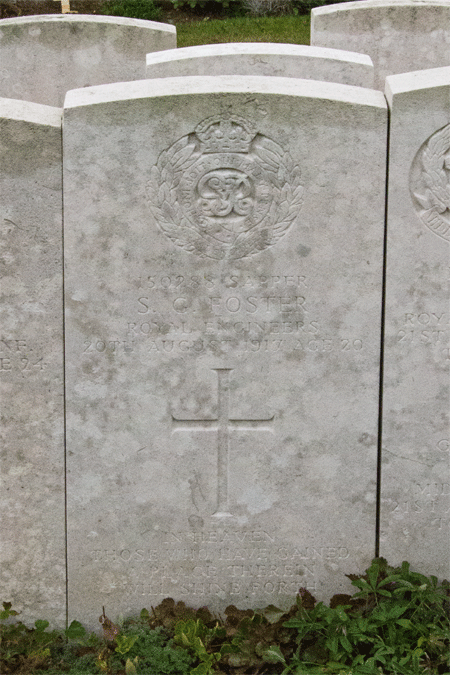 Longuenesse Cemetery, St Omer
His mother, Florence, had his headstone engraved with the words: "In heaven those who have gained a place therein will shine forth".
News of his death quickly reached George and Florence in Dartmouth. A brief announcement appeared in the Chronicle of 31st August 1917:
Foster - In France, on August 21st (accidental), from submersion, Stephen G Foster, age 20.
Oddly, there seems to have been some confusion about the date recorded for Stephen's death. The Commonwealth War Graves Commission Graves Registration Report of 1920 recorded his date of death as 21st August 1917; and, as shown above, this was the date announced by the family. However, Stephen's service papers clearly show the date of death as 20th August 1917, and the latter was the date engraved on his headstone.
Commemoration
Stephen is commemorated in Dartmouth on the Town War Memorial and on the St Petrox Memorial Board. It will be seen that the St Petrox memorial records that he was "killed in action" (which clearly is incorrect) and that his date of death was 21st, rather than 20th August 1917.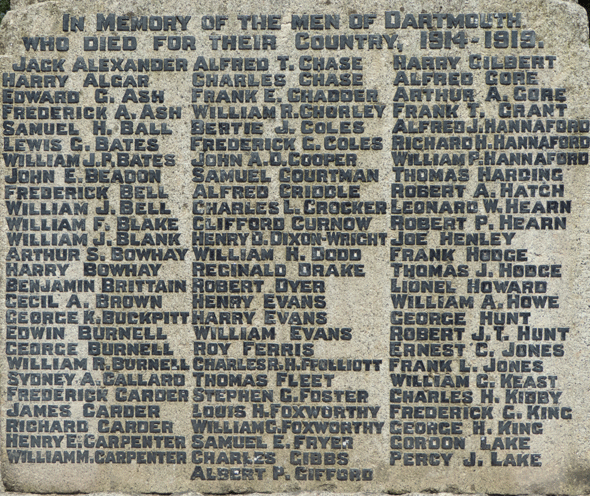 Dartmouth Town Memorial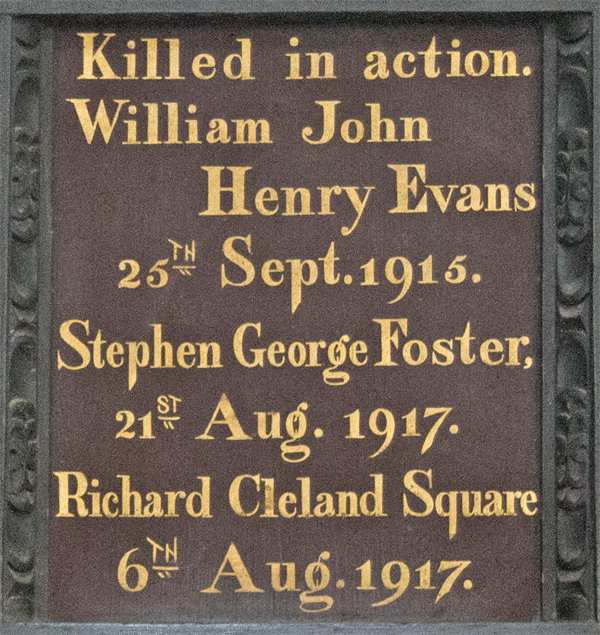 St Petrox Memorial Board
Sources
Stephen's service papers are held by the National Achives and are accessible through subscription websites.
Logistics and the BEF: The Development of Waterborne Transport on the Western Front, 1914-1916, Christopher Phillips, 2016, British Journal for Military History, Volume 2 no 2
The other citizen soldiers: recruiting technical experts on the Western Front, by Christopher Phillips
Imperial War Museum Collection
Information Held on Database
| | |
| --- | --- |
| Surname: | Foster |
| Forenames: | Stephen George |
| Rank: | Sapper |
| Service Number: | 150288 |
| Military Unit: | Inland Water Transport, Royal Engineers |
| Date of Death: | 20 Aug 1917 |
| Age at Death: | 20 |
| Cause of Death: | Accidental drowning |
| Action Resulting in Death: | |
| Place of Death: | St Omer, France |
| Place of Burial: | Buried St Omer Cemetery, France |
| Born or Lived in Dartmouth? | Yes |
| On Dartmouth War Memorial? | Yes |
| On St Saviour's Memorials? | No |
| On St Petrox Memorials? | Yes |
| On Flavel Church Memorials? | No |
| In Longcross Cemetery? | No |
| In St Clement's Churchyard? | No |
| On a Private Memorial? | No |
| On Another Memorial? | No |
---
This information was last updated on Monday 21 August 2017 at 00:09:32.