Thomas Fleet
Family
Thomas Fleet was born in Kingswear on 3rd February 1879. He was the eighth of eleven children of Thomas Fleet and his wife, Emma Jane Row.
Thomas Fleet (senior) was born on Hayling Island, Hampshire, where his father, Eli Fleet, was a fisherman. Thomas went into the same line of work. In the 1861 Census, though aged only 19, he was recorded as Master of the "Four Brothers", moored overnight at Pill Creek, off the Bristol Channel. According to the return Thomas completed, the vessel weighed 21 tons, was registered at Falmouth, and was employed in the fishing and coasting trade.
Some time in the 1850s, the family came to Devon. Thomas Fleet's older brother, Alfred, also a fisherman, had come to Kingswear by 1856, when his daughter Anne was born; and Thomas came to Kingswear too. On 17th November 1863, Thomas married Emma Jane Rowe, at St Thomas' Kingswear. Emma was born in Plymouth, where her father, Matthew Rowe, was a Cooper. Emma's mother, Elizabeth, had died when Emma was four, and for a while their grandfather looked after her and her younger sister Mary, until he too died in 1853. When Emma came to Dartmouth is not known, but her arrival in the town may have been linked to the marriage of her uncle, William Sowden, to Mary Ann Bellett, of Dartmouth, in 1855. Her father was recorded as a witness.
Thomas and Emma made their home in Kingswear. At the time of the 1871 Census, they lived at 1 Alma Place, where there was soon a growing family. Elizabeth Thomasine was born in 1866, Henrietta in 1868, and Charles Ernest in 1870. Later in 1871, a third daughter joined the family, Ada Minnie Emma Jane. A fourth, Rosa Evelyn Maria, was born in 1873, but sadly, she died the following year; the next child, Ellen Louise, was born in 1875, but she too died when less than a year old. Both babies were buried in Kingswear. Harry Stewart was born in 1877, followed by Thomas in 1879.
By the time of the 1881 Census, the family had moved across the river to Lower Street, Dartmouth. Thomas was a "fish dealer", also dealing in rope, twine and fishing tackle. His father, Eli, with his second wife Susan, still lived in Kingswear; Thomas' older brother Alfred, still a fisherman, lived with his wife and family at Smiths Slip. Three more children completed the family: Walter James, later in 1881; Jessie Helena, in 1883; and Florence Edith Eugenie, in 1884.
The 1891 Census recorded the family in Duke Street, where Thomas ran a fishmongers. The two eldest boys, Charles and Harry, were both fishermen. Thomas, aged 11, together with his younger brothers and sisters, was still at school. The 1890s were a difficult period for fishermen in Devon. According to newspaper reports of evidence given by Thomas to successive enquiries run by the Devon Sea Fisheries Committee, he had operated a trawler for thirty years prior to 1894, when controls were put in place to limit trawling in the bays along the Devon coast; the trawler had earned him a gross income of £400 a year, but he had lost money since the bays were closed because the trawler had been laid up. Nevertheless, by 1901, the two younger boys, Thomas and Walter, had entered the fishing business. Thomas (senior) continued to run the fishmongery in the Butterwalk, Duke Street.
On Christmas Day 1901, Thomas (junior) married Hannah Jury, at Christ Church, Ellacombe, Torquay. Hannah was the youngest child of William Jury, a farm labourer, and his wife Lydia. She had been born and brought up in Waddeton, in the parish of Stoke Gabriel, upriver from Kingswear. At the age of five, her parents had decided to emigrate to Canada, and Hannah, with five of her brothers and sisters, was taken to Quebec in 1883. However, it seems that they were not happy there - although one of her elder sisters stayed, the rest of the family returned to Stoke Gabriel. At the time of the 1901 Census, Hannah was still living at home with her parents, the last of the family to leave; but at the date of her marriage, a few months later, she was resident in Ellacombe.
Thomas (junior) and Hannah's first child, Reginald, was born on 20th October 1903, at the Butterwalk, Duke Street, and baptised at St Saviours on 14th January 1904. Thomas continued to work as a fisherman, presumably within the family business. By the time of the birth of their second child, Elspeth, on 1st February 1906, they had moved out of Thomas' family home, down the street, to a house in Victoria Road. Elspeth was baptised at St Saviours on 7th June.
Early in 1907, Thomas had a distressing reminder of the dangers of his line of work. The Western Times reported on 23rd January 1907:
Disaster at Dartmouth
Boat Capsized and Fisherman Drowned
Much consternation was caused at Dartmouth yesterday upon the circulation of the news that Andrew Adams, a fisherman, had been drowned, and his fishing boat, BSF DH 7, sunk.
A number of fishing boats left Dartmouth early yesterday morning for the fishing grounds in Start Bay, these including the BSF occupied by Adams, and the Ivy DH 39, occupied by Thomas Fleet, junr, another fisherman, also of Dartmouth.
Very rough weather was experienced, and most of the boats returned during the morning, several being towed in by the pilot-cutter. The boats occupied by Adams and Fleet were about to return later, when the wind, which was blowing strongly from the eastward, increased in violence, and boats reached in under the cliffs between Redlap and the Grange, where they anchored for some time.
Subsequently Adams reefed down, apaprently with the intention of making for Dartmouth, for which he made a start. The movements of the boat were meanwhile being watched by a party ... shooting on the cliff ... who saw the boat suddenly vanish ... The boat was evidently swamped, as it sank immediately, and nothing more was seen of it. Fleet had intended following Adams, but was informed of his disappearance and made for Redlap Cove ... The sportsmen ... with much difficulty ... helped Fleet to pull his boat ashore, high and dry. Fleet was much distressed at the sad death of Adams. He stated that he did not see the other boat sink, but it was no doubt swamped.
Adams was an elderly man, and leaves a widow and a grown-up family.
Thomas and Hannah's third child, Edith, was born only a few weeks after this incident, on 1st March 1907. She was baptised at St Saviours on 25th April. The family's address was recorded as "Edendale", in Victoria Road. They were still there when their fourth child, Florence, was born on 29th May 1910 and baptised at St Saviours on 11th August. On this occasion, and at the date of the 1911 Census a few months later, Thomas described his occupation as "yachtsman"; but by the time of the birth of his fourth daughter Eileen, on 26th October 1913, he had reverted to "fisherman". Eileen too was baptised at St Saviours, on 23rd November 1913.
Sadly, Reginald died at the family home, Edendale, on 30th August 1912, aged 8 years. He was buried at St Clements, Townstal, on 2nd September 1912. Thomas and Hannah's sixth and last child, Thomas Edward, was born on 25th February 1916; just a few weeks before, on 29th January, Thomas' father, Thomas Fleet senior, had died at the family home at Harbour View, Above town, Dartmouth.
Round about this time, Thomas obtained work at Ridley House School, Kingswear. Ridley House was a small preparatory school run by Reverend Ernest Clapham Bayliss, which had opened in 1905. An advertisement placed in a number of newspapers in 1912 gives something of the flavour of the establishment:
Ridley House School Kingswear Dartmouth (1mile from Royal Naval College)
Preparatory for Public Schools and Osborne
Lofty bracing site, overlooking sea. The ideal school for future sailors. Rowing sailing, swimming, besides all usual games. Swedish gym. Carpenter's shop. Rifle range. Staff of four. Entire charge undertaken.
Prospectus from Rev E C Bayliss
The reference to "entire charge" indicated that children whose parents were abroad could be looked after full-time, including school holidays. At the time of the 1911 Census, nine boys were boarding at the school.
We know about Thomas' work there from the reports of the Dartmouth tribunal which, in October 1916, considered the application from Reverend Bayliss to exempt Thomas from conscription under the Military Service Act. The act was extended to married men on 25th May 1916, and Thomas had been called up. Reverend Bayliss clearly valued Thomas' work at the school, which enabled him to provide "the ideal school for future sailors" - the school operated a 5 ton cutter, and in 1916 was advertising "fishing under careful supervision". The Dartmouth Chronicle recorded the tribunal discussion:
Rev C E Bayliss, Ridley House School, Kingswear, renewed his application on behalf of Thomas Fleet, 37, married, Victoria Road, Dartmouth, employed as a fisherman and instructor in swimming, boating, etc at the school during the summer and as a gardener during the winter. Exemption sought on the ground that Fleet was the only man in Mr Bayliss's employ and that his services were essential if the work of the school was to be carried on. In making the application, Mr Bayliss said that for the winter work, he must have a man of Fleet's qualifications. He did a large amount of instructional work for which he was very valuable. He claimed that the work of the school was of National importance…
Major Knollys said that Fleet was passed in a useful class, because he was available for garrison duty at home. Mr Bayliss had another man there, so if he could get help from women or boys he might be able to keep his garden going without serious damage. He thought Mr Bayliss was only called upon to suffer the inconvenience many thousands of people were called upon to put up with.
Rev Bayliss said that women could not do the work of constant small repairs, and that if Fleet went he would have to close the school.
The Tribunal granted conditional exemption until 1st January 1917, but the Army appealed, and the appeal was allowed. The school did not in fact close until 1921, though a series of advertisements placed in 1917 suggests that Reverend Bayliss was facing some difficulty in filling his places - he targeted "parents living in the west country" on the grounds that "travel difficulties make distant schools expensive".
Service
Thomas joined the Royal Navy on 30th March 1917 as an Ordinary Seaman, and reported to HMS Vivid, the Devonport Naval Base, the following day. His naval record states that he was 5ft 2in, with brown hair, blue eyes, and a "fresh" complexion. His record also states that he had formerly been a member of the Royal Naval Volunteer Reserve, but the National Archives appears to hold no record of that service.
His war service lasted a day or so over six weeks. On 13th May 1917 he died "in Deck Quarters" at the Naval Base, from pneumonia and heart failure.
A sad notice appeared in the Dartmouth Chronicle of 18th May 1917:
Deaths: Fleet: May 13th, died at Naval Barracks, Plymouth, Thomas Fleet, the dearly beloved husband of Hannah Fleet, age 38 years. Sadly missed by all.
Thomas was buried in St Clements, Townstal. Hannah marked his grave with a private memorial, also providing a memorial to their young son Reginald.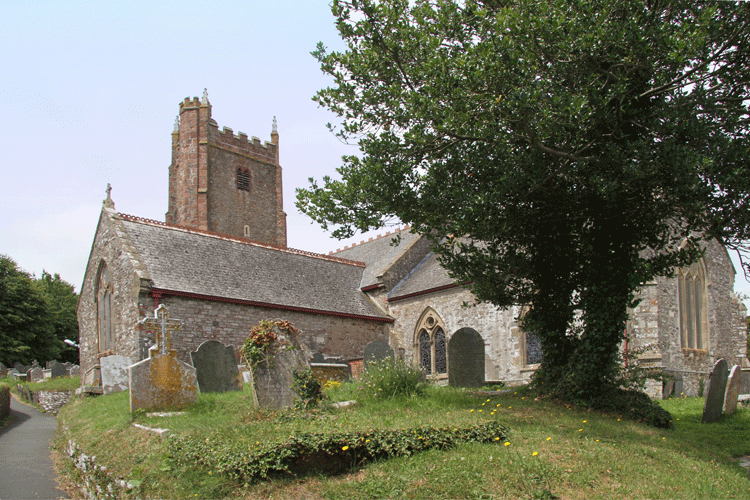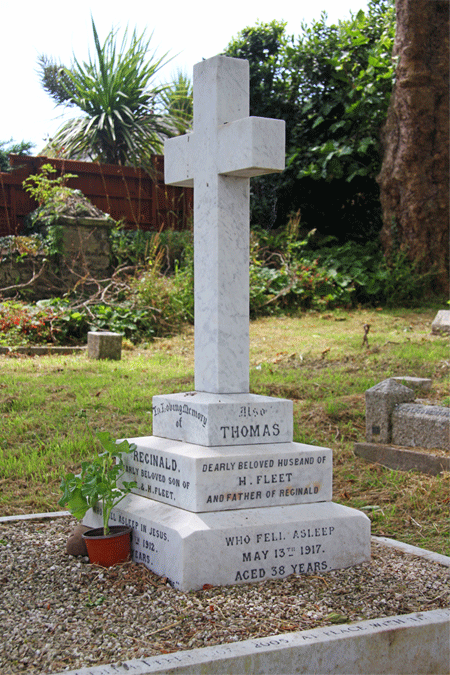 Commemoration
Thomas is commemorated in Dartmouth on the Town War Memorial and the St Saviours War Memorial Board.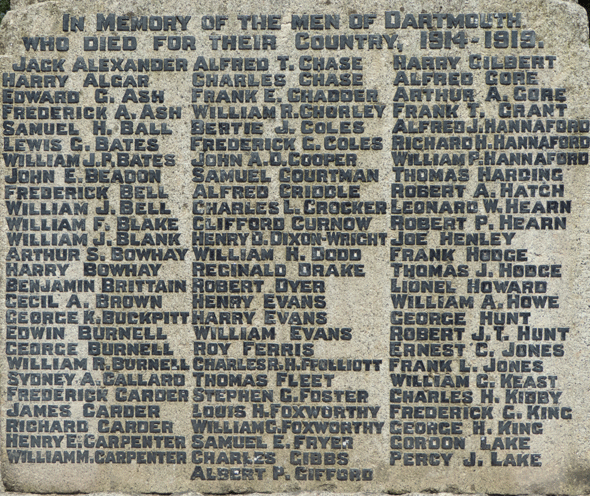 Dartmouth Town Memorial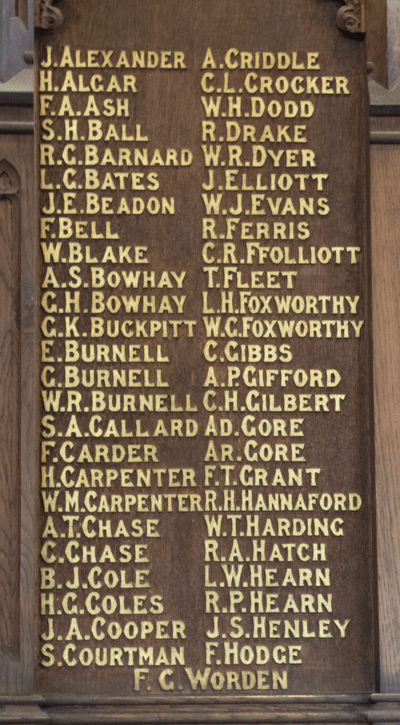 St Saviour's Memorial Board
Sources
Naval service record for Thomas Fleet available for download at the National Archives, fee payable, reference ADM 188/784/68942
Information Held on Database
| | |
| --- | --- |
| Surname: | Fleet |
| Forenames: | Thomas |
| Rank: | Ordinary Seaman RN |
| Service Number: | J/68942 |
| Military Unit: | HMS Vivid (Devonport) |
| Date of Death: | 13 May 1917 |
| Age at Death: | 38 |
| Cause of Death: | Died from disease |
| Action Resulting in Death: | |
| Place of Death: | Naval Barracks, Plymouth |
| Place of Burial: | St Clements, Dartmouth |
| Born or Lived in Dartmouth? | No |
| On Dartmouth War Memorial? | Yes |
| On St Saviour's Memorials? | Yes |
| On St Petrox Memorials? | No |
| On Flavel Church Memorials? | No |
| In Longcross Cemetery? | No |
| In St Clement's Churchyard? | Yes |
| On a Private Memorial? | No |
| On Another Memorial? | No |
---
This information was last updated on Friday 12 May 2017 at 01:37:09.