Charles Russell Hastings Ffolliott
Family
Charles Russell Hastings Ffolliott was born in Lee, Kent, on 6th May 1892, the only son of Charles Nicholas Ffolliott and his first wife, Ethel Treliving. His connection with Dartmouth was through his father, who came to the town around 1910. He does not appear to have lived in the town himself.
Charles Nicholas Ffolliott was the son of Nicholas Ffolliott and his wife Frances Hastings Allen. Nicholas Ffolliott was a surgeon and physician who had spent his medical career in the British Army, retiring in 1882 in the rank of Honorary Deputy Surgeon General, when Charles was ten. Nicholas and Frances made their home after his retirement at Preston House, Lee. Frances died in 1889.
Following in his father's footsteps, Charles Nicholas registered as a medical student on 22nd January 1890, having begun his medical studies at Charing Cross Hospital the previous October. Later that year, on 2nd August, he married Ethel Treliving at the Wesleyan Chapel in Warwick Gardens, London. Ethel was the daughter of Alfred Treliving and his wife Mary Ann; Alfred was a merchant and manufacturer of various goods.
Presumably because they did not have their parents' consent, both Charles and Ethel overstated their age in order to marry - Charles declared he was 23, when he was in fact 18; Ethel said she was 21, although she was only 17. Exactly what happened is not clear, but at the time of the 1891 Census, and despite having married the year before, both Charles and Ethel were recorded as "single", living with their respective families, Charles in Lee and Ethel nearby, in Eltham. Notwithstanding these rather unusual arrangements, their son was born in May the following year.
But the marriage was not happy. In 1896 Ethel petitioned for divorce, alleging Charles' adultery with two named women, and also "unkindness and cruelty", including several specific instances of assault. She was awarded a divorce, costs, custody of Charles Russell, and regular payments for his maintenance. The decree absolute was granted on 18th January 1897.
In 1899, Ethel married again. Her second husband, Harry Dawson Barber, was a commercial traveller. At the time of the 1901 Census, Harry and Ethel lived at 24 Rosenthal Road, Lewisham, with Charles Russell, by then aged eight. Harry and Ethel had no children, so Charles was brought up as an only child.
Charles also remarried in 1899. His second wife was Eliza Olive Williams, who was the daughter of Charles Williams, a colonial broker's clerk. The following year, Charles and Eliza had a son, Thomas Alan, but sadly he died when only a few weeks old. Charles and Eliza were recorded in the 1901 Census living at 31 Rosebury Square, Holborn. By the time of his second marriage, Charles had abandoned a career in medicine and was instead working as a solicitor's clerk.
From 1902-1905, Charles Russell attended Colfe's School in Greenwich, and was then registered for Epsom College by his stepfather. Epsom College began life as the Royal Medical Benevolent College, to provide support for qualified medical practitioners and their spouses, and a school for their sons. Charles Russell's connections with medicine through his grandfather may have played a part in this choice of school. He entered the Lower III form on 19th January 1906, proceeding to Propert House in the Upper School. He did well, winning the Carr Divinity Prize in 1907. However, when he left Epsom College in 1909, he did not go into medicine, choosing instead a career in chemistry and mineralogy. At the time of the 1911 Census, he was living with his mother at 86 Burnt Ash Road, in Lee, whilst studying to become a metallurgist.
While Charles Russell applied himself to his education, his father, Charles Nicholas, continued to lead a complicated personal life. Having come into a sizeable inheritance he no longer needed to work. In 1906 he went to Australia, leaving Eliza in England. From Sydney he took another woman to Japan, travelling as "Mr and Mrs C N Ffolliott". He then returned to England via America, travelling on his own.
In April 1907, he again travelled to Sydney, possibly intending to settle there. He was accompanied by "Mrs C N Ffolliott", but his companion was not Eliza. In November 1907, while still married to Eliza, and apparently whilst living with the woman with whom he had travelled to Australia, Charles married a third woman, Florence Emily Freda Nesbitt, in Redfern, Sydney. But this third marriage did not last long; although "Mr and Mrs C N Ffolliott" returned to England in February 1908, Florence remained in Australia.
In 1909, Florence petitioned for divorce. Sydney newspapers of 2nd December 1909 reported:
Petitioner said she was married to respondent in November 1907 at Redfern, according to the rites of the Congregational Church. She was 18 years of age when the marriage took place, but at Ffolliott's request she told the officiating clergyman she was 21. Another woman who lived with them was called Mrs Ffolliott, and respondent told petitioner she was his housekeeper, but he had allowed her to use his name to prevent a scandal. At Manly, respondent and this woman stayed at the Steyne Hotel as Mr and Mrs Ffolliott. Respondent took a room for petitioner at a boarding-house, as he said there was not accommodation at the hotel, and tole her she would have to pass by her maiden name there ... Her husband had a yacht, and gave her an allowance, first of £2 a week, then £3, but reduced to £2. He ceased to pay her anything last Easter. When petitioner suggested going to England, he said he would stop her allowance. Respondent went to England with his paramour ... and she had traced him through her solicitor. Her husband came from England a few months before he married her. She had to live with her own people. There was no issue of the marriage.
The Court was persuaded that Charles was domiciled in Australia, even though he had by then returned to England, and Florence was granted a divorce on grounds of his adultery. The Australian court did not seem to have been aware that when Charles had married Florence in Sydney in 1907, he was still legally married in England to his second wife, Eliza - presumably because Florence herself was unaware of this.
While these divorce proceedings were underway in Sydney, divorce proceedings were also underway in England. On 6th May 1908 Eliza petitioned for "restitution of conjugal rights", the necessary first step to establishing desertion; when Charles failed to comply, she duly petitioned for divorce on 23rd November 1908, alleging adultery "with a woman named Walker", with whom Charles had lived as "man and wife". Charles did not contest the case and, being able to prove both his desertion and his adultery, Eliza was granted a decree nisi on 22nd April 1909. The marriage was finally dissolved on 13th June 1910.
By that date, Charles had moved to Dartmouth, apparently to start afresh. By the time he stood in the elections for the Borough Council in November 1910, he was already well known in the town. Although he was not successful in winning a seat at first, he stood in a bye-election a few weeks later caused by the elevation of the two of the successful councillors as aldermen. The Dartmouth Chronicle reported "an unusually heavy poll" due to a popular ex-Mayor standing again: "it was generally thought that Mr Brown would be returned at the top of the poll as an appreciation of his services as Mayor of the borough and as a protest against his not having been re-elected as an alderman" (25th November 1910). Charles Ffolliott attributed his own success in gaining a seat to "the dear old ex-Mayor" and observed that "he would do his utmost to serve the town well and he had no other interest at stake". He was still serving at the time of his son's death.
"Mr and Mrs C N Ffolliott" first appeared at High Bank, Above Town, in the Residents Lists published in the Dartmouth Chronicle on 22nd July 1910. They were recorded there at the time of the 1911 Census. Shown as Charles' wife of four years was Elizabeth Ffolliott, age 30; also living with them were Rose Harriet Walker, her sister, and Grace May Ffolliott-Beavis, aged 10, described as "daughter of wife". It appears that Elizabeth was the woman named in Eliza Ffolliott's divorce petition; and was probably the woman with whom Charles travelled to Australia and who was referred to in Florence Ffolliott's divorce petition.
Elizabeth was the daughter of Josiah Walker, a house painter and decorator, and his wife Emma, of Tottenham. She married Sydney Beavis on 13th February 1900 and their daughter Grace May was born on 16th November 1900. But shortly afterwards Sydney, described as a "broker" at the time of his marriage, was convicted of fraud, and sent to prison. In the 1901 Census, Elizabeth and Grace were living with Elizabeth's grandparents, while Sydney was serving his sentence in Pentonville. Subsequently Sydney emigrated to Australia, changed his name, became a ventriloquist, and remarried in 1926. Most probably because of this, Charles Ffolliott did not actually marry Elizabeth Beavis until the same year. But their relationship lasted until Charles' death in 1943.
Service
As his father became increasingly prominent in Dartmouth, Charles Russell began his working life far away. He went first to South Africa to work as a chemist and metallurgist, but had to return home due to the effects of blackwater fever, a severe form of malaria. However, he was able to recover and return to Africa, this time to Macaquece/Masikesi in the centre of the Manica goldfields, near the border between Mozambique and Zimbabwe. He found work in 1912 at the "Guy Fawkes" mine, formerly known as the Pardy mine, which had been re-opened in 1906 in the search for gold, copper and other minerals. He was still in Africa as the war began.
At the outbreak of war he enlisted in the Rhodesian Legion of Frontiersmen. This became part of the 1st Rhodesia Regiment, formed in October 1914 as one of two infantry units "to be placed at the disposal of the Imperial Government for active service". The 1st Rhodesia Regiment (1RR) saw active service in German South West Africa, assisting Union troops to quell the Boer rebellion, and serving under General Louis Botha in the campaign to take German South-West Africa. Charles was promoted to Troop-Sergeant and transferred to the Imperial Light Horse in January 1915. While serving he was wounded in his left hand, losing a finger.
The German forces in South West Africa surrendered to General Botha on 9th July 1915 and at the end of the campaign Charles was demobilised. But like many men in his position, he wished to continue to serve, so he left South Africa to enlist in England. On 27th August 1915, "Mr C R H Ffolliott, Chemist" arrived at Tilbury on the Kenilworth Castle, from Durban.
Along with several others who had previously served in the Rhodesia Regiment, Charles enlisted in a group with a battalion of the Kings Royal Rifle Corps, becoming a part of what were referred to as Rhodesian Platoons. He attested on 18th September 1915 at the Corps depot in Sheerness, Kent, as Pte R15963. He gave his address as 86 Burnt Ash Road, in Lee, and named his mother Ethel, also of that address, as his next of kin.
However, he was soon approached for a commission, so was discharged from the KRRC and gazetted temporary Second Lt in the Lincolnshire Regiment on 18th December 1915. He was appointed first to the 11th Battalion, formed in October 1915 as a training and reserve battalion for the 10th Battalion. Before he was sent overseas, he took the opportunity to get married. On 28th April 1916, the Dartmouth Chronicle reported:
A wedding of considerable interest to Dartmothians took place at St Joseph's RC Church, Bensham Road, Gateshead, on Wednesday, when Lieut Charles Russell Hastings Ffolliott 11th Lincolnshire Regiment, only son of Mr C N Ffolliott, High Bank, Dartmouth, was married to Miss Mary Emily Catherine Murray, second daughter of Mr and Mrs Murray, Lewisham, London. Many of the bridegroom's fellow officers were present at the ceremony, in addition to many personal friends.
The service, which was choral, was conducted by the Rev Father McDermott. Miss Mary Murray was the bridesmaid, Lt Cameron, 11th Lincolns, gave the bride away, and Lt Diekbeck (?) also of the 11th Lincolns, was the best man.
Both the bridegroom and his best man fought under General Botha in the German West African campaign, the former being wounded twice, whilst Lieut Cameron fought in the Boer War.
Councillor Ffolliott, father of the bridegroom, journeyed from Dartmouth to Gateshead, on Tuesday, and was present at the wedding.
Other local press provided the further details that "the bride was in a simple frock of white silk and lace, and wore a veil and orange blossom, and carried a beautiful bouquet. The bridegroom's mother was attired in champagne silk with large black picture hat and roses".
This occasion was, presumably, the first time that Charles (senior) and Ethel had met for some years. Mary Emily Catherine Murray was the second daughter of Samuel Murray and his wife Mary Emily; Samuel was a postman. The family had moved to Lewisham from Sussex by the time of the 1901 Census.
On 4th August 1916, newspapers reported C R H Ffolliott amongst the list of Temporary Second Lieutenants transferred from Reserve Battalions. He was posted to the 10th Battalion, most probably joining them after they had left the Somme front in late August. In July 1917, the Old Epsomian Magazine reported him wounded, while attached to a Trench Mortar Battery; Colfe's school records say that he was wounded a total of four times during his service in South Africa and France & Flanders.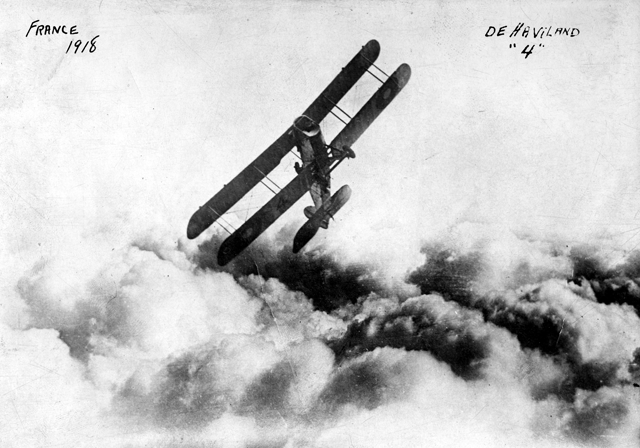 The Airco DH4
By August 1917, he had recovered and had decided on a new military career. He transferred to the Royal Flying Corps and began his training at the School of Instruction in Reading on 4th August 1917, moving to 1 (Auxiliary) School of Gunnery at Hythe a week later. On 23rd September 1917, after only six weeks training, he was appointed to 18 Squadron in France as an observer, flying in Airco DH.4s, two-seater biplanes designed for both bombing and aerial reconnaissance, which had come into service earlier in 1917. His formal date of transfer to the RFC General List was 28th October 1917, with seniority from 24th September 1917.
By late 1917 the Royal Flying Corps had expanded its role from artillery cooperation and photographic reconnaissance to strategic bombing and ground attack during offensives. The significance of air power had been widely recognised and, as Charles began his training, the government agreed to form the Royal Air Force, bringing together the Royal Flying Corps and the Royal Naval Air Service. Sadly, Charles did not live to see the amalgamation take place.
On 6th December 1917, Charles was flying as observer with pilot 2nd Lt B Bate, 18 Squadron, taking photographs and approaching Valenciennes, when they were attacked by a large formation of enemy aircraft. After a short combat at close range with the leading machine, an Albatros C, its tail snapped as though shot through the longerons and the aircraft crashed to earth. Charles and his colleague finished the photography, although they had several more encounters and fired nearly 1000 rounds at enemy machines and had 40 bullet holes through their machine.
His RFC service record shows that he was posted to Biggin Hill on 22nd January 1918 but he was very soon back with 18 Squadron, flying on 4th February 1918 as the observer with Canadian flying ace Alfred Clayburn Atkey, when he shot down the first two of the 38 enemy aircraft attributed to him, while over Messines. Returning from a photographic and bombing expedition, they were attacked by about ten enemy scouts. They fired a burst at the leader, who went down out of countrol, losing a portion of his tail. They then fired at a second enemy aircraft, which also went down out of control. The remainder of the formation then broke off the combat. Their machine was badly shot about, the magazine gun and the observer's drum being shot through, and one of the elevator control wires shot away.
On 8th February 1918, the Dartmouth Chronicle reported the news that he had been awarded the Croix de Guerre:
Lt C R H Ffolliott, only son of Mr Councillor Charles N Ffolliott, of Highbank, Dartmouth, has been awarded the French Croix de Guerre. He went on a special flying mission into German territory, and was attacked by sixteen hostile aeroplanes. He shot one of them down. His own machine was severely riddled, but he returned to the allied lines without having sustained any injury, and with valuable photographic information.
(His RFC record in fact states that he was awarded the Belgian Croix de Guerre - gazetted 15th April 1918).
Death
On 10th March 1918, Charles took off on a bombing raid at 10.55 in DH4 A7719 of 18 Squadron, flying as observer with pilot 2nd Lt J N B McKim. The combat report stated that they were "last seen going down under control near Oignies at 12.00 during combat with enemy aircraft during bombing". Oignies is east of Lens.
Charles and his colleague were at first reported as missing; on 5th April the Dartmouth Chronicle carried the news of the loss of his aircraft. It seems that, at the time, the loss was incorrectly linked to a bombing raid on the Daimler works in Stuttgart, which had taken place the same day. A British aircraft had been seen on that operation to go down "under control" with engine trouble, to which reference had subsequently been made in the House of Commons, and it seems that this was thought to have been Charles' aircraft. However, 55 Squadron undertook that operation, and no serious harm had resulted to the pilot and observer concerned. 18 Squadron's operation, which took place on the same day, was to bomb ammunition dumps and railway stations.
As the aircraft was reported to have gone down "under control", it was assumed, or hoped, that Charles and his colleague had been taken prisoner.
However, on 3rd May 1918 the Dartmouth Chronicle carried the further news that he had been killed:
As the other British aeroplanes saw the machine in which Lt Ffolliott was observer and Lt McKim [the] pilot spiral down as if under control, news was expected that the officers were prisoners, but a message has been dropped by a German aeroplane since, which says: "Lt J N B McKim and Lt C R H Ffolliott were shot down near Allennes and both killed". Apparently the officers must have been shot and killed in the air and the machine spiralled down of its own accord.
A letter of sympathy to the relatives says: "Both officers were very popular in the squadron, and were doing exceptionally well". Great sympathy is felt for the widow (Lt Ffolliott was married about two years ago) and the father in the loss of this gallant officer.
Charles and his pilot had been shot down by Oblt Hans Bethge, a German flying ace, his twentieth victory. Bethge himself was shot down a week later by a DH4 of 57 Squadron.
Charles and his pilot were buried together in the German extension of the churchyard of the little village of Herrin, in northern France, south of Loos; confirmation of their burial there was later provided by the British Red Cross. In 1921, their graves, both marked with a cross, were brought into the Military Cemetery at Rue Petillon, Fleurbaix, together with others also buried at Herrin earlier in the war (and from other small cemeteries in the neighbourhood).
Only a couple of months after her husband's death, on 12th May 1918, Charles's wife Mary gave birth to their daughter, Mary Hilary.
Commemoration
Charles' grave in the cemetery at Fleurbaix is marked with a Commonwealth War Graves Commission headstone. He lies next to his colleague, the pilot Lt J N B McKim.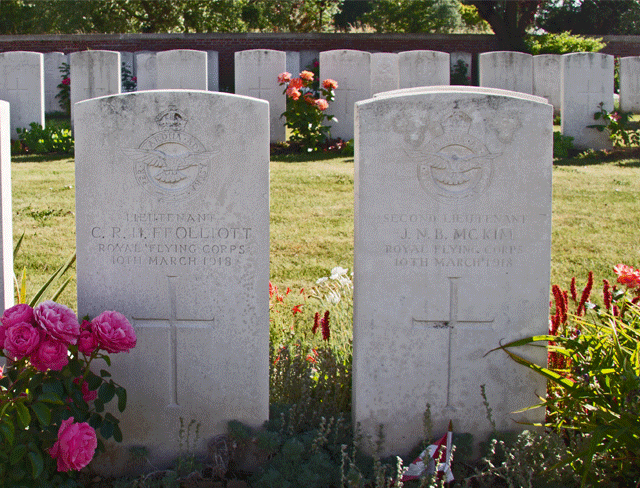 In Dartmouth, Charles is commemorated on the Town War Memorial and the St Saviours Memorial Board.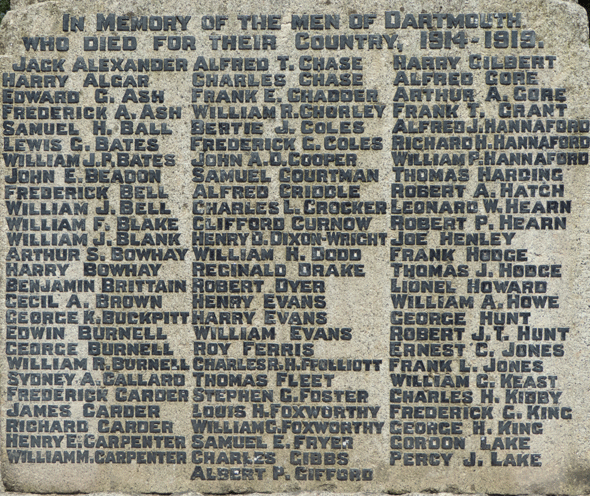 Dartmouth Town Memorial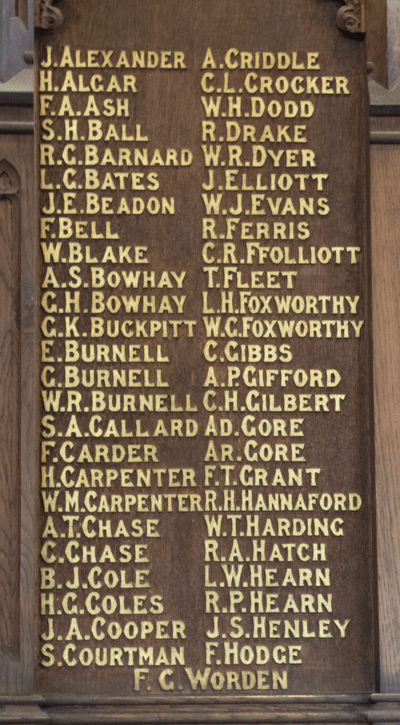 St Saviour's Memorial Board
Charles is also commemorated on memorials at St Saviour's Catholic Church, Lewisham High Street; Colfe's School, and Propert House, Epsom College. The new Nave of Epsom College Chapel was dedicated in 1925 to all those from the College who had fallen in the Great War.
As a former member of the Rhodesia Regiment, he has been included in the South Africa War Graves project.
Sources
RFC operations, 6th December 1917
RFC operations, 4th February 1918
RFC operations, 10th March 1918
Air Raids into Germany, Ministerial Statement of 19th March 1918, reported in Flight Magazine
South Africa War Graves Project
Information Held on Database
| | |
| --- | --- |
| Surname: | Ffolliott |
| Forenames: | Charles Russell Hastings |
| Rank: | Lieutenant |
| Service Number: | |
| Military Unit: | 1st Rhodesia Regiment, Lincolnshire Regiment, 18 Sqn Royal Flying Corps |
| Date of Death: | 10 Mar 1918 |
| Age at Death: | 25 |
| Cause of Death: | Killed in action |
| Action Resulting in Death: | Shot down by enemy aircraft |
| Place of Death: | Near Allennes-les-Marais, France |
| Place of Burial: | Military Cemetery, Rue Petillon, Fleurbaix, France |
| Born or Lived in Dartmouth? | No |
| On Dartmouth War Memorial? | Yes |
| On St Saviour's Memorials? | Yes |
| On St Petrox Memorials? | No |
| On Flavel Church Memorials? | No |
| In Longcross Cemetery? | No |
| In St Clement's Churchyard? | No |
| On a Private Memorial? | No |
| On Another Memorial? | Yes |
| Name of Other Memorial: | St Saviours Catholic Church Lewisham, Colfe's School, Propert House, Epsom College |
---
This information was last updated on Friday 15 June 2018 at 23:13:03.