Douglas Davidson Ferguson
Douglas Davidson Mitchell Ferguson is included on our database because he is buried in St Clement's Churchyard. He was not a native of Dartmouth and had no previous connection with the town. The war brought him to Dartmouth, but his death was a tragic accident, due, at least in part, to military restrictions on lights in the town at night.
Family
Douglas Ferguson was born on 30th August 1886 at 3 Carbeth Street, Possilpark, Glasgow (though his naval record gave his place of birth as Stirling). He was the youngest surviving son of Andrew Ferguson, also of Glasgow, and his wife Mary Mitchell. Mary died of cardiac disease only a few months after Douglas was born, in 1887. With four young children to look after, Andrew married again the following year; his second wife was Isabella Philip.
In 1891, Andrew, Isabella, and their four sons were recorded living in Thistle Street, in the Gorbals. Andrew was a gilder. At the time of the 1901 Census, the family lived in Margaret Street, in the Gorbals. All the boys were in work. Andrew's eldest brother John was a gilder, like his father; Robert was a tile layer; Alexander was a picture frame maker; Douglas, at 14, was a "message boy". Ten years later, the 1911 Census recorded Andrew, Isabella and Douglas still living in Margaret St, though the older boys had left home. Andrew was a "picture frame gilder" working for an art dealer. Douglas was a housepainter, working for a painting and decorating firm.
Service and Death
Douglas Ferguson's Royal Naval Reserve service record shows that he enrolled on 8th September 1915. His first appointment was to HMS Pactolus, an older cruiser being used as a depot ship for the boats of the Ninth Submarine Flotilla out of Ardrossan on the Clyde. On 14th December 1915, his record shows a transfer to HMS Vivid III, the Navy's Special Trawler Section. He joined the steam trawler Merisia on 20th January 1916, as a Cook. Merisia had been built in 1912 for the Fleetwood Steam Fishing Co Ltd, of Grimsby, and requisitioned in September 1914 for war service as a minesweeper, based in Devonport. It was commanded by Lt P N Taylor RNR, and called in at Dartmouth frequently.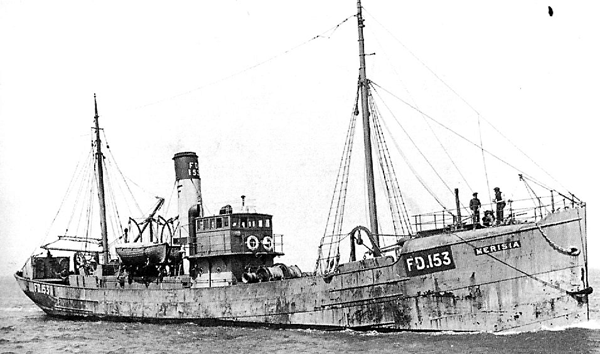 We know about the circumstances of Douglas' death from the inquest conducted at the Guildhall in Dartmouth and reported in the Dartmouth Chronicle on 3rd March 1916:
Dartmouth Harbour Tragedy
Another river tragedy, undoubtedly attributable to the lighting restrictions, occurred at Dartmouth on Thursday of last week, the victim being a Scotsman named Dougles Davidson Mitchell Ferguson, who had been employed as a cook on a Government trawler. His body was discovered in the Boat Float at low water on Friday afternoon and was removed to the mortuary...
Ernest Bridie, 1st Class Petty Officer, identified the body of the deceased, who had, he said, been cook on the vessel, and had joined it on January 20th. He last saw him on the ship at half past five on Thursday evening. As far as he knew, deceased enjoyed good health and he did not appear to be in any trouble.
Thomas George Elliott, licensee of the Britannia Inn, Clarence St, said deceased was in his house between half past five and six o'clock on Thursday evening. He came in by himself and had one drop of whisky. He mentioned that he had to pay for some provisions which he had obtained during the morning ... he was just the same as when he came in on several other occasions ...
William Bursey, seaman on a trawler, said that on Thursday evening at eight o'clock he was in the Kings Arms Hotel. Deceased was there with three Glasgow chaps and conversed with them, and he was quite quiet. He was on the premises half an hour while witness was there.
Frank Lavers, coal lumper, living at Clarence St, said he was on Bake Hill at ten minutes to ten o'clock on Thursday night and saw the deceased running along. He asked witness the time and witness told him what it was. Deceased said he had to be aboard at ten o'clock. Witness had not seen deceased before, but he identified the body as that of the man he had seen ...
Walter Fleet, captain of one of the River Dart steamers, said that on Friday afternoon at about half past three he was by the north-east corner of the Boat Float and saw what he took to be the body of a man. He called the attention of Captain F Brown to it and he agreed it was a body and said he would go to the police station and inform the officers there ... The body was lying face downwards on the bed of [the Boat Float]. Witness and P S Leach entered a boat and got the body ashore.
P S Leach corroborated the evidence of Captain Fleet as to the recovery of the body and added that he had had it removed to the mortuary. Upon it he found a purse containing 9s 5½d in silver and bronze, but no other property ... On Thursday night from ten minutes to ten o'clock to half past eleven he was in the vicinity of the Embankment and the Boat Float, but he heard no screams or shouts, such as might emanate from anyone in the water. Deceased had been well-known by sight as the vessel had visited the port several times ...
[In answer to questions from the coroner] All the lights in the town are extinguished by eleven o'clock, but there is a little light until then in certain parts ... It is the rule for all the men nightly [to be] on board at ten o'clock.
Dr G M Soper said he had examined the body and found no bruises upon it. Death was due to drowning. [In answer to question] He had been dead for some time by the afternoon.
The jury returned an open verdict. Lt P N Taylor, having been given permission to say a few words, said that was the fourth time he had visited the port with the vessel, and of all the places he had called at, and he had been at lots of ports, Dartmouth was the most dangerous for the purpose of embarkation at night. There were recesses in the Embankment which made it easy for a man to walk overboard in the darkness. The Boat Float was also in an unprotected state and anyone could walk straight from the roadway into it. He considered that rails should be put around the Boat Float and the Embankment.
Mr C H Ffolliott (a juror) said he spoke on behalf of the Town Council, who were not their own masters in the matter, for the lighting restrictions that prevailed were ordered by the military authorities ... A certain rearrangement of the lighting was desirable at an early date, with a view to preventing further tragedies. Mr P B Atkins (foreman of the jury) [agreed] that the lighting should be more efficient. He thought that more light could be provided, and at the same time, screened from the Channel. As to the officer's suggestion that railings should be erected, those who knew Dartmouth ... knew they had not been necessary before the war, when the lighting of the Embankment and the vicinity of the Boat Float was adequate. At the present time, however, railings were desirable ... It was decided to add a rider to the verdict urging the authorities to consent to the adequate lighting of the vicinity of the Boat Float, as advised by the Town Council.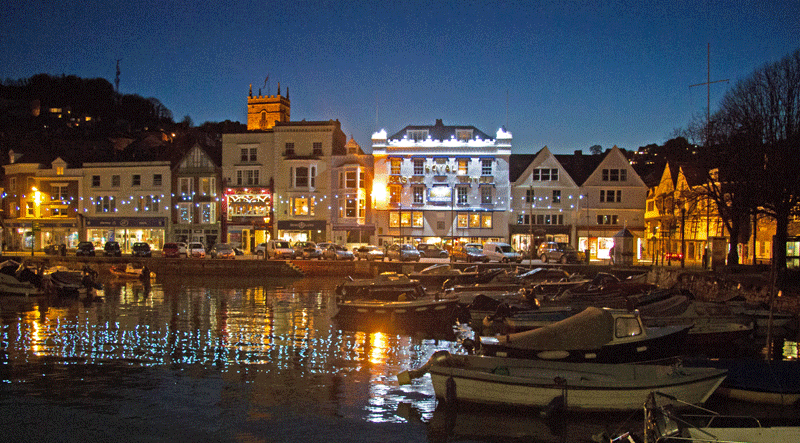 The Dartmouth Boat Float today - with lighting but no railings
Commemoration
Douglas was buried in St Clement's Churchyard, Townstal, where his grave is marked by a Commonwealth War Graves Commission headstone.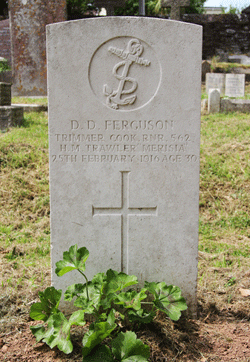 Presumably because he had no prior connection with the town, he was not commemorated on the public War Memorials.
The trawler Merisia survived the war and was returned to her owner at Fleetwood. She was lost in January 1940 off the Isle of Man.
Sources
Royal Naval Reserve Ratings Record of Service for Douglas Ferguson is available for download (fee payable) from The National Archives, reference BT 377/7/109101
Information on ST Merisia FD 153 from "The Bosun's Watch" the Fleetwood Steam and Sailing Trawler Website
Information Held on Database
| | |
| --- | --- |
| Surname: | Ferguson |
| Forenames: | Douglas Davidson |
| Rank: | Trimmer Cook RNR |
| Service Number: | 562 |
| Military Unit: | HM Trawler Merisia |
| Date of Death: | 25 Feb 1916 |
| Age at Death: | 29 |
| Cause of Death: | Accidentally drowned |
| Action Resulting in Death: | |
| Place of Death: | Dartmouth Harbour |
| Place of Burial: | St Clements Churchyard, Dartmouth |
| Born or Lived in Dartmouth? | No |
| On Dartmouth War Memorial? | No |
| On St Saviour's Memorials? | No |
| On St Petrox Memorials? | No |
| On Flavel Church Memorials? | No |
| In Longcross Cemetery? | No |
| In St Clement's Churchyard? | Yes |
| On a Private Memorial? | No |
| On Another Memorial? | No |
---
This information was last updated on Wednesday 24 February 2016 at 20:05:03.