Charley Dennis
Family
Charley Dennis was born in Dartmouth in 1881 and baptised - as "Charley" - at St Petrox on 13th November of that year. He was the third child and second son of John Henry Steer Dennis and his wife Emma Jane Collins. John and Emma had come to Dartmouth soon after their marriage in Ermington, her home village, in 1877, and all their children were born and baptised in the town. John's parents, John Dennis senior, and his wife Mary, had also moved from Diptford, their home village, to Dartmouth, at the same time. In 1881, when the family were first recorded in the town, both generations lived together in South Town, next door to the Admiral Nelson. John Dennis senior worked as a labourer, and John Henry Dennis, Charley's father, as a coachman.
Subsequent census and baptism records show John Henry Dennis's occupation sometimes as "gardener" and sometimes as "general labourer". The family address was recorded as Higher Street in 1891, Lower Street in 1901, and Newport Street in 1902. Charley's mother died at Newport Street in 1907, and John Henry, with his son George, moved back to Higher Street. Charley's only sister, Emily, had married Samuel Henry Partridge, a coal lumper, in 1901. In the 1911 Census she and Samuel were recorded in Newcomen Road, with her eldest son Percy, aged 14, the four children born to her marriage (Beatrice, Florence, Charlie - named presumably for his uncle - and Samuel), and her younger brother John, aged 17.
Service
Charley began his working life as a Farm Servant but must have decided soon that a life at sea held more attractions. He joined the Royal Navy as a Boy 2nd Class on 21st January 1897 when he was about 16 ½, though he would appear to have overstated his age by a year, because the Navy recorded his date of birth on joining as 3rd October 1880. His naval record states that he was 5ft 2 ½ inches, with brown hair, grey eyes and a "fair" complexion. He began his training as a Boy Seaman at HMS Impregnable.
On 3rd October 1898, when the Navy thought he was 18, and by which time he had grown to 5ft 4ins, he was up-rated to Ordinary Seaman and began a twelve year continuous service engagement, while serving at the Devonport Naval Base. After six months on HMS Nile, the port guardship at Devonport, he joined HMS Magnificent, a Majestic-class pre-dreadnought battleship, serving on her in the Channel Fleet for eighteen months, during which he became a "trained man" and was rated Able Seaman.
Charley's next appointments were to HMS Cambridge and HMS Defiance, for gunnery and torpedo training, and this speciality determined his naval career. During this time ashore he was able to attend his sister's wedding at St Saviour's, in Dartmouth, on 27th October 1901, where he was her witness.
Qualified as a Seaman Gunner and Leading Torpedo Operator, he joined HMS Bulwark on 18th March 1902 when she was commissioned at Devonport Dockyard for Mediterranean Fleet service. He then spent the next three years in Malta and the Mediterranean - his record shows him appointed successively to HMS Hibernia and HMS Egmont, the name of the Malta depot ship, followed by HMS Orion, a depot-ship for torpedo boats in Malta, and finally HMS Dryad, a torpedo gunboat, launched in 1893 as the first of her class.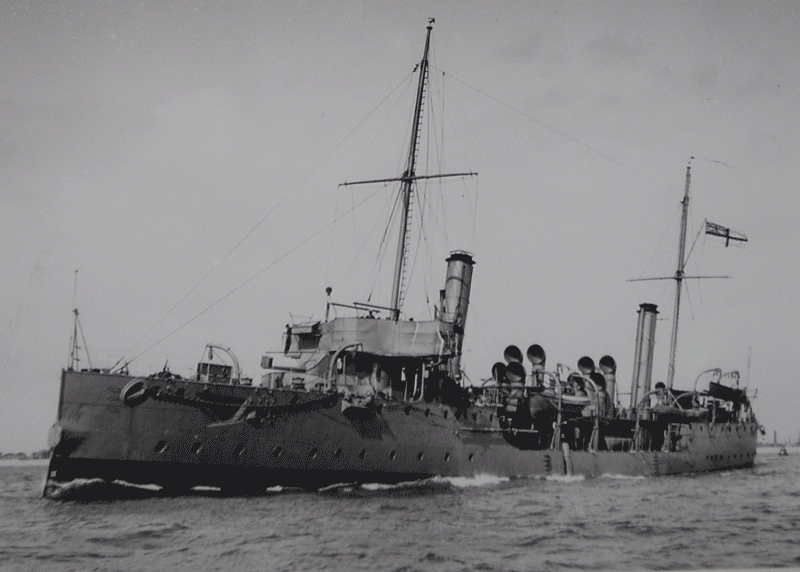 HMS Dryad in 1893
He then returned to England for a further period of torpedo training at HMS Defiance, and during this time was rated Leading Seaman on 18th April 1905. He was next appointed to HMS Arrogant, a "protected cruiser" designed to operate with the main battle fleet, to destroy damaged enemy ships by ramming. While serving on her he was rated as Petty Officer Second Class.
Once again he was sent back to HMS Defiance, and then on 29th March 1908 was posted to the armoured cruiser HMS Leviathan, completed around five years earlier. On 30th March 1908 the Portsmouth Evening News reported that:
The cruiser Leviathan was paid off from the Fifth Cruiser Squadron at Chatham today, and will be recommissioned tomorrow with a Devonport nucleus crew by Captain B H F Barttelot, for service as flagship of the Devonport Division of the Home Fleet.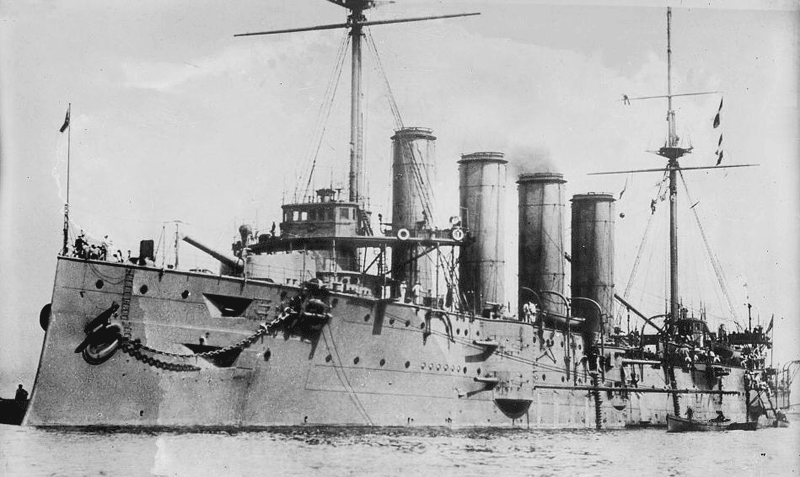 HMS Leviathan
He remained on Leviathan for over three years. Though this was still the peacetime navy, much time was spent in preparing for war, with exercises and manoeuvres, as well as "showing the flag", at home and abroad.
In April, the Portsmouth Evening News reported that the Devonport Division would shortly be exercising in the Channel. In May, Leviathan was reported to be trialling a new bakery, capable of baking two hundred loaves in 75 minutes; in June the Devonport Division conducted a trial mobilisation, involving four thousand seamen and marines arriving at Devonport barracks at 7am, who within an hour were embarked on their ships to bring the nucleus crews to war strength. Around 250 ships were mobilised, across the Home, Channel and Atlantic Fleet, for combined naval manoeuvres in the Firth of Forth. By November, Leviathan was back in Devonport, where she hosted Prime Minister Asquith and his wife, who had come to launch the new battleship HMS Collingwood.
In July 1909, Leviathan, as part of the Home Fleet, was part of an assembly of 150 ships in the estuary of the Thames, forming a line extending from the Nore to Westminister Bridge, and at the end of July she took part in the Fleet Review, off Cowes. She then embarked on a cruise to Africa and the Mediterranean, returning in December. During this cruise, according to a number of newspapers
serious disaffection had been evinced among the crew, who complained of continuous overwork. It was stated that, on returning to Gibraltar late at night, after a long day's firing practice at sea, the watch on duty were ordered to holystone the deck. This work not having been satisfactorily done, the order was given for them to do it again. This, with one consent, they refused to do, and the men assumed a threatening attitude. Nearly the whole of the watch, numbering over sixty men, were placed under arrest.
The four ringleaders were subsequently tried by court-martial and sentenced to two years imprisonment, with dismissal from the service, while sixty-one other men were awarded punishments ranging from three month's imprisonment to the loss of badges.... The incident ... has created a disagreeable impression in the Cruiser Squadron, where complaints of excessive overwork are rife.
It may be no coincidence that during Charley's time on Leviathan, he was demoted to Able Seaman on 8th February 1909, a significant break in an otherwise unblemished record in which two Good Conduct badges had previously been earned (after the demotion, he lost one). Although his demotion pre-dated the incident above, it would seem that discipline was stern and the atmosphere unhappy.
However, Charley seems to have recovered from this setback, having recovered his lost badge a few months later, on 19th August 1909, and being promoted once again to Leading Seaman on 9th June 1910. Leviathan had again been to the Mediterranean, returning to England in time to participate in more combined naval manouevres and another Royal Fleet Review, which was originally planned for Mount's Bay, in Cornwall, but was changed to Torbay at the last minute, because of bad weather. Leviathan was one of some 200 war vessels, the largest fleet ever seen in the bay. Unfortunately, the Leviathan suffered the loss of one of her crew during the review, who fell overboard, and was drowned.
After the 1910 Review the Leviathan, as the flagship of the 4th Cruiser Squadron, cruised to Norway, returning to Plymouth in September. On 3rd October of that year, as Leviathan began a cruise to "show the flag" in South America, Charley signed on for a further ten years naval service.
While in South America, Leviathan found herself accidentally under fire, when the Fourth Cruiser Squadron stopped at Rio de Janeiro. She had taken a position which exposed her to fire between Brazilian shore-based troops and a ship of the Brazilian Navy on which there was a mutiny. One of her searchlights was damaged but her crew sustained no injury.
On 13th January 1911, the Leviathan was back in Portsmouth, "for Christmas leave". She then went into Chatham for a refit, owing to the large amount of work at Devonport. The crew was formally discharged on 15th May 1911, after a long and eventful tour.
For a fourth time, Charley found himself back at HMS Defiance for torpedo training. He had "passed educationally for Petty Officer" while on Leviathan and while still at HMS Defiance, was rated Petty Officer 2nd Class - 1912 was the last year before the "new system" of rating was implemented, which abolished the rates of 1st and 2nd Class Petty Officer. On 12th November 1912 he was posted to HMS Blake, a depot ship for destroyers, and on 9th September 1913, was allocated to HMS Alarm, rated Petty Officer (NS) - that is, "new system".
By this time his sister's eldest son Percy had also joined the Navy, perhaps because of Charley's example, or perhaps because the Navy offered secure employment and a regular income - apart, of course, from the risk of war.
HMS Alarm was an "Acorn-class" destroyer. Destroyers had been developed originally to counter the threat from torpedoes, but by this time also carried torpedoes themselves. The Acorn class was built during 1910-1911 - Alarm was the second of the class, completed in March 1911, so when Charley joined the ship she was fairly new.
Charley was still serving on HMS Alarm at the outbreak of war. On 16th October 1914 the Dartmouth Chronicle, in one of its regular "Roll of Honour" lists of those serving, included his name and that of his nephew Percy, who was on HMS Orion.
The Acorn class formed the 2nd Destroyer Flotilla of the Grand Fleet, and was based at Rosyth. The destroyers' role was to provide an anti-submarine screen for the battleships, a nerve-wracking task. On 15th October 1914, Alarm and her company had a narrow escape. Together with three other sister destroyers (Lyra, Nymphe, and Nemesis) Alarm was patrolling off the eastern entrance of Scapa Flow, to protect the Grand Fleet, in line-abreast. According to the Official History of Naval Operations, at 1.20pm Alarm saw Nymphe hoist the submarine flag, and fire, and then saw a torpedo coming straight at her. The History quotes her commander: "I immediately rang down "Hard-a-starboard" and "Full speed ahead both" and just managed to avoid the torpedo, which passed down my starboard side not more than ten yards distant. I had to go hard-a-port to prevent my stern swinging on to the torpedo".
To the dangers of war were added the habitual dangers of weather and sea in a demanding area of the world in which to operate. A sister destroyer, HMS Goldfinch, was wrecked in fog on Start Point, Sanday, Orkney, on the night of 18th/19th February 1915. Fortunately, all the crew survived.
Death
Alarm survived the war, but without Charley. The precise circumstances surrounding his death are unknown, but the words appearing on his naval record, which (when accessed online from the National Archives) are partially obscured, appear to say "committed suicide". The Royal Navy and Royal Marine War Graves Roll records his death as "Killed or died as a result of an accident". According to the record of probate secured by his sister, Emily Partridge, he died at "Glasgow Naval Base", on 7th September 1915.
The following piece appeared in the Dartmouth Chronicle on 17th September:
Petty Officer's Death
The remains of the late 1st Class Petty Officer Charlie Dennis, son of Mr J H Dennis, of Higher St Dartmouth, who died suddenly on returning to the north after a visit to his home - were brought to Dartmouth on Friday last for interment. The funeral took place in the cemetery on Monday afternoon, the coffin being covered with a Union Jack and escorted by naval men. At the graveside the Last Post was sounded. The wreaths included one from the officers and men of the RN College.
Commemoration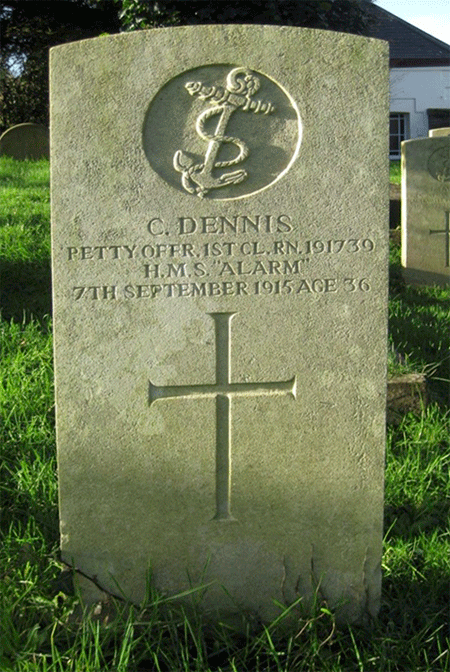 Photo courtesy of Dartmouth Town Council
Charley is buried in Longcross Cemetery, Dartmouth, where he is commemorated with a Commonwealth War Graves Commission headstone.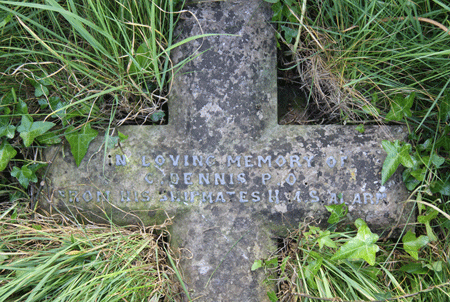 According to Commonwealth War Grave Commission records, Charley's shipmates provided a recumbent marble cross for his grave. The cross remains in position.
Sources
Naval Service Record for Charlie (sic) Dennis downloaded from The National Archives (fee chargeable) reference ADM 188/323/191739.
History of the Great War, Naval Operations, Volume 1, by Sir Julian S Corbett, publ Longmans Green & Co, 1938, accessible online.
Information Held on Database
| | |
| --- | --- |
| Surname: | Dennis |
| Forenames: | Charley |
| Rank: | Petty Officer RN |
| Service Number: | 191739 |
| Military Unit: | HMS Alarm |
| Date of Death: | 07 Sep 1915 |
| Age at Death: | 33 |
| Cause of Death: | Unclear - see story |
| Action Resulting in Death: | |
| Place of Death: | Glasgow Naval Base |
| Place of Burial: | Buried Longcross Cemetery, Dartmouth |
| Born or Lived in Dartmouth? | Yes |
| On Dartmouth War Memorial? | No |
| On St Saviour's Memorials? | No |
| On St Petrox Memorials? | No |
| On Flavel Church Memorials? | No |
| In Longcross Cemetery? | Yes |
| In St Clement's Churchyard? | No |
| On a Private Memorial? | No |
| On Another Memorial? | No |
---
This information was last updated on Tuesday 01 September 2015 at 23:37:05.