Edward Charles Curtis
Edward Charles Curtis was not born in Dartmouth, nor was he a resident of the town. The war brought him to Dartmouth, where he died and was buried in Longcross Cemetery.
Family
Edward Charles Curtis was born in South Walsham, on the edge of the Norfolk Broads, on 17th November 1893. He was the eldest son of Henry James Curtis, a woodman and agricultural labourer, also born in South Walsham, and his wife Harriett Emily Betts, who came from the neighbouring village of Upton. According to the 1911 Census record, the couple had eleven children, five of whom had died by the time of the Census. At that time Edward, who was aged 17, was working as a labourer. It would seem, however, that at some point between 1911 and 1915 he began work in the herring industry, working out of Great Yarmouth, a few miles up the road from South Walsham.
The Herring Industry
In 1900 the UK landed more than 50% of the total European herring catch, and Yarmouth was "the herring capital of the world". Up to 1900, growth had been achieved using sailing drifters (herring are caught using drift nets suspended just below the surface), but from 1900 onwards the industry had moved increasingly to steam power. Steam drifters were typically around 80-90 tons, with a secure covered fish hold able to accommodate catches of up to 45 tons of loose herring. The additional speed provided by steam power enabled fishermen to bring their catch to shore swiftly, in the best possible condition, thereby commanding a higher price. Before the First World War there were over a thousand drifters fishing out of Yarmouth, and it was said you could walk from one side of Yarmouth to the other across the boats.
A steam drifter typically had a crew of ten: the Skipper, his second in command the Mate; the Driver or Engineer; the Hawseman; the Whaleman; the Fireman or Stoker; two Younkers (who managed the nets), and the Cook. Herring fishermen were not employed on a regular wage but received a share of the boat's profits (after expenses). The allocation process varied from place to place. In Yarmouth, the boat's owners took 55½ per cent and the remainder went to the crew, being split into ten equal shares, apportioned to the crew according to role and seniority - thus the Skipper received (in Yarmouth) one and three quarter shares, while the cook received half a share, with the other crew members in between. In a good year the Skipper could earn on average around £200 - and the years running up to the outbreak of war were good years. On this basis, a junior crew member like Edward might have been earning in the region of £80 to £90 per year.
Edward was employed by the company Horatio Fenner Ltd. Horatio Fenner had been born in Milton, near Sittingbourne, Kent, but had come to Yarmouth from Queenborough, Sheppey, with his father and brothers, sometime between 1851 and 1861. They were already in the fishing trade. Over the next few decades they built the company into one of Yarmouth's largest drifter-owning companies. Horatio died in 1893 and the business was continued by his son, Horatio Pleasants Fenner. He married Clara Hastings in 1888 in Yarmouth. The boat Edward Curtis joined was the "Hastfen", built in 1911 by Fellows & Co Yarmouth for Horatio Fenner Ltd. It would seem that the boat's rather unusual name was a combination of the names "Hastings" and "Fenner" (one of Horatio and Clara's children was named Hastings Fenner).
The Fenner family had a connection with Dartmouth, in that Ernest Pleasants Fenner, Horatio Fenner senior's second son, also involved in running the fishing business, married Frances Ford Owens, of Hedley House, Dartmouth, in 1909. Her father, William Owens, was a marine engineer and the owner of a steam launch. Subsequently they made their home in Ravenswell, Kingswear. Frances Fenner continued to live in Kingswear after Ernest's death in 1917 (apparently from accidental poisoning) and was buried in Kingswear in 1950.
Service
Immediately upon the outbreak of war, the Admiralty began to requisition trawlers and steam drifters from their owners to meet a variety of operational and support tasks. Drifters, being smaller than trawlers, were used for many purposes - for example, anti-submarine patrolling, for convoy escorts, as mooring for barrage balloons, and for taking people to and from the shore to other boats, and delivering stores, water and fuel.
Before the war it had been planned to use trawlers for minesweeping (see the story of William James Burton, also on our database). But by as early as September 1914 drifters were being used for this purpose too, working in pairs with a net between them to "catch" mines and then detonate them, usually by shooting at them. Vessels on minesweeping duties generally had a 6-pound gun while those on other duties were more lightly armed.
Typically, trawlers and drifters were taken up complete with Skipper and crew, who became members of the Royal Naval Reserve (RNR). As the fishing industry in the North Sea was severely affected by the war, many fishermen had little practical alternative to signing up. By 1917 some 2,500 British fishing skippers were employed as RNR Skippers, 100,000 fishermen were serving in the RNR, and three quarters of all fishing vessels over 25 tons were in Admiralty service, including 1,400 steam drifters. Driftermen serving as RNR ratings earned between 7s 4d per day (Engineers) and 4s 10d a day (Other Crew). Owners were paid a charter fee, initially around £475 per year (though later this went up), and the Government agreed to underwrite the insurance industry for losses incurred while boats were on naval duty.
Hastfen was requisitioned on 18th January 1915 and armed with one two-pounder gun. As a member of its crew, Edward Curtis was enrolled into the Royal Naval Reserve as a Deck Hand on the same date. His record states that he was 5ft 6ins tall, with a "fresh" complexion and "greyish-blue" eyes. He had several tattoos.
Death
Just a little over three weeks later, on 11th February 1915, Edward died in Dartmouth Cottage Hospital of "acute pyaemia" - a form of blood poisoning, usually fatal before antibiotics, and so it proved in his case. We have not been able to establish why Hastfen was in the vicinity of Dartmouth, or the particular circumstances leading to Edward's death.
The Drifter Hastfen also did not survive the war. She hit a mine and sank on 24th September 1917 south of the Shipwash Sands, off Harwich, with the loss of four of her crew. The company which owned her, Horatio Fenner Ltd, continued in business after the war, but was unable to survive the decline in the herring industry during the 1920s, and was wound up in 1927.
Commemoration
Edward Curtis was buried at Longcross Cemetery, Dartmouth. His grave is now marked by a Commonwealth War Graves Commission headstone.
As he had no personal connection with Dartmouth he does not appear on any of the town's memorials. He is commemorated on the War Memorial in South Walsham, Norfolk, where he was born.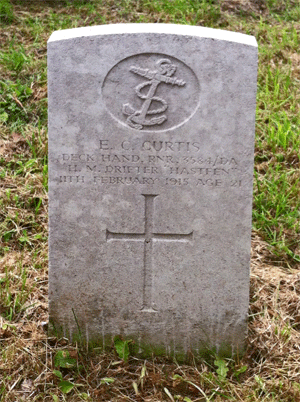 Sources
The British Herring Industry: The Steam Drifter Years 1900-1960, by Christopher Unsworth, publ Amberley Publishing, 2013
Details about Hastfen from the Fishing Boat Heritage website
National Archives Royal Naval Reserve Ratings Record of Service for Edward Curtis, BT 377/7/50058, downloadable here (fee payable)
Website for South Walsham War Memorial Norfolk
Information Held on Database
| | |
| --- | --- |
| Surname: | Curtis |
| Forenames: | Edward Charles |
| Rank: | Deckhand RNR |
| Service Number: | 3584/DA |
| Military Unit: | HM Drifter Hastfen |
| Date of Death: | 11 Feb 1915 |
| Age at Death: | 21 |
| Cause of Death: | Disease: blood poisoning |
| Action Resulting in Death: | |
| Place of Death: | Dartmouth Cottage Hospital |
| Place of Burial: | Longcross Cemetery, Dartmouth |
| Born or Lived in Dartmouth? | No |
| On Dartmouth War Memorial? | No |
| On St Saviour's Memorials? | No |
| On St Petrox Memorials? | No |
| On Flavel Church Memorials? | No |
| In Longcross Cemetery? | Yes |
| In St Clement's Churchyard? | No |
| On a Private Memorial? | No |
| On Another Memorial? | Yes |
| Name of Other Memorial: | South Walsham, Norfolk |
---
This information was last updated on Sunday 08 February 2015 at 12:24:15.