Clifford Matthews Curnow
Family
Clifford Matthews Curnow was born in Dartmouth in 1885 and baptised at St Saviours on 6th September of that year. He was the youngest child of Michael Curnow and his wife Marina Giles.
Michael Curnow was born in Strete but soon afterwards moved to Mansands, near Brixham, where his father, another Michael, was a Boatman in the Coastguard Service. Michael junior made his career in the merchant navy - according to his application for a certificate of competency as "Second Mate", awarded in 1870, his total service at sea by that stage was nearly ten years.
Michael and Marina married in about 1867, according to later Census information (we have been unable to trace the marriage record). Marina was the daughter of Peter Efford Giles, another merchant seaman, and his wife Selina Sullock, and was born in Dartmouth. At the time of the 1861 Census, Marina lived with her mother and father in Charles Street, and worked as a dressmaker.
The couple's first daughter, Merinna Pickford Curnow, was born on 17th July 1867 in Dartmouth. However, by this time, Michael was working in Liverpool ships, so the family settled there. They lived in 124 Park Street, in Toxteth, where their second daughter, Rose Amy, was born on 2nd October 1869 and where Marina and the two children were recorded living in Park Street in the 1871 Census. The census record is difficult to read but Marina appears to be described as "wife of Ships Carpenter"; Michael was evidently away from home. The two girls were baptised at St Peters, Liverpool, a few weeks earlier, on 4th January 1871. They soon had a brother - the couple's eldest son, Charles Sullock, was born on 14th October 1871.
Michael was awarded his First Mate's Certificate on 9th July 1873. Another daughter, Lily Battershill Curnow, was born on 10th February 1874, and on 8th June 1874, Charles and Lily were taken to St Peters to be baptised. But then tragedy struck the family - Merinna and Rose died within a few days of each other, aged 7 and 4. Merinna was buried in Toxteth Park Cemetery on 23rd August 1874, and Rose four days later.
Perhaps this was why the family moved back to Dartmouth. They found a home in Mariner's Place, close to Marina's parents. But sadly their next child, William Henry, born on 20th January 1876, survived only six months. He died on 12th June 1876 and was buried in St Clements churchyard, Townstal.
Notwithstanding the family's very sad loss, Michael continued to make progress, being awarded his Master's Certificate at Dartmouth on 29th July 1876. There was happier news at home too - Beatrice Kate was born on 11th April 1877 and Percy Michael on 5th September 1880. But links with Liverpool were still strong - Michael and Marina took both the younger children back to St Peters Liverpool to be baptised, Beatrice on 13th June 1878 and Percy on 5th September 1880.
The 1881 Census recorded Marina and the four surviving children - Charles, Lily, Beatrice and Percy - living in Mariners Place, Dartmouth, next door to their grandfather, Peter Giles, now widowed, and aged 82. Once again, Michael was away on the night of the census, presumably at sea. Clifford, the couple's last child, was born in 1885. He was not taken back to St Peter's Liverpool, but, as noted above, was baptised in Dartmouth, at St Saviours.
By the time of the 1891 Census, Michael and Marina had moved to a house in South Ford Road. For a third time, Michael was not recorded at home on the night of the Census. The family had once again suffered a bereavement - Clifford's eldest sister, Lily, died on 4th January 1891, a few weeks short of her 17th birthday. She was buried in St Clements churchyard.
Charles, Clifford's elder brother, went into engineering; in 1891 he was still serving his apprenticeship. He chose to pursue this career in the mining industry, and went to South Africa. On New Year's Day 1897 the Dartmouth Chronicle reported yet another sad loss to the family, noting Charles' contribution to Dartmouth life:
Sad Death of a Dartmouthian in South Africa
By the South African mail on Sunday intelligence was received of the untimely death of Charles Curnow, a promising young Dartmouthian, who left this town for the Cape about two years ago. He was employed as an engineer in the Violet Gold Mine, Krugersdorp, and it is believed that he was killed by an accident in the mine, though only the barest news is yet to hand…Deceased was a great favourite with Dartmouthians and was for many years, prior to his departure for Africa, a playing member of the Dartmouth Football Club, for which he has rendered excellent service as a forward. He was 24 years of age and the eldest son of Capt. Curnow. His mother, brothers and sister still reside in Dartmouth. Great sympathy is felt for the family in their sad bereavement. The accident occurred on November 30th last.
Meanwhile Clifford attended Dartmouth Board School, featuring in the columns of the newspaper twice as a prizewinner, in April 1896 (at "Standard IV") and April 1898 (at "Standard VI"). By the time of the 1901 Census he had left school and was working as a machine fitter, alongside his brother Percy. Percy it seems had a fine tenor voice, and later left engineering for a career on the stage as an actor and concert party singer.
In 1909 Michael and Marina moved to Devon Lodge, in Fairview Road. By the time of the 1911 Census, both Percy and Clifford had left home, and only Beatrice was still living with her parents. Michael had by now retired - this appears to be the first census since his marriage in which he was recorded living at home. Marina died on 27th April 1912, aged 69 - she was buried in St Clements churchyard alongside her daughter Lily. Michael married again in 1914, and the following year moved with his second wife Rovina to 6 Carlton Terrace, Victoria Road.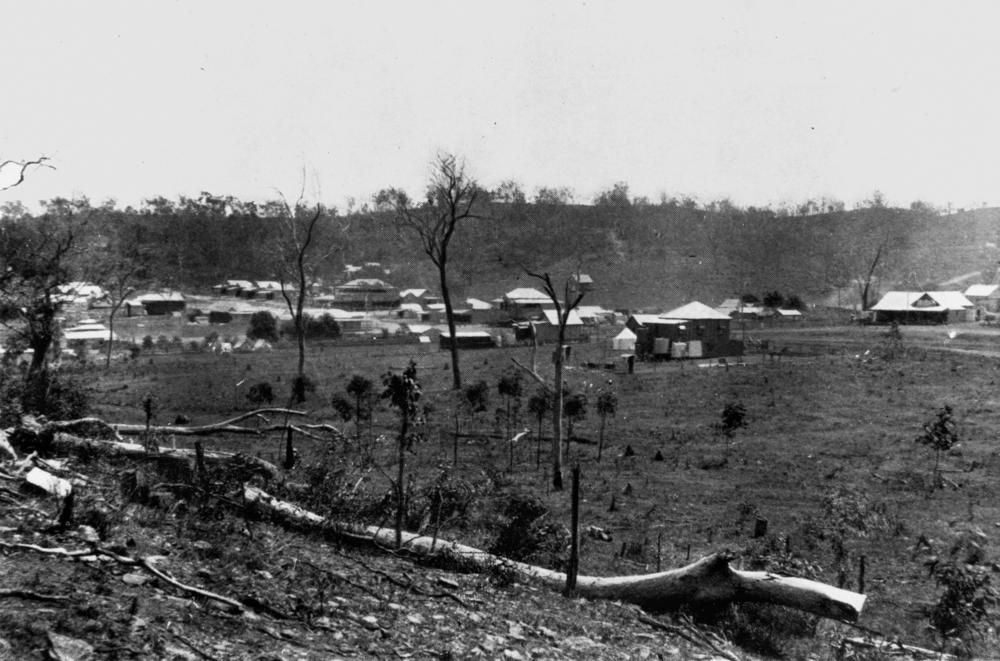 Mount Chalmers, c1909
Exactly when Clifford left Dartmouth is not known, but he seems to have left home before his mother's death. Passenger records show that early in 1907 he travelled from Liverpool to Montreal, and thence to the USA. By 1913 he had arrived in Australia, finding work as a turner in the small town of Mount Chalmers, near Rockhampton, in Queensland. It seems highly likely that he worked at, or in connection with, the Mount Chalmers gold and copper mine; in 1907, new plant had been installed there for separating gold and copper, and a railway line was opened in 1908. The town had grown rapidly as a result.
But the boom was brief; copper prices fell, and mining operations ended in 1914. Whether for this reason, or because of the outbreak of war, Clifford left Australia. It is not entirely clear when, or indeed whether, he came back to Dartmouth. At the time of his death, the Dartmouth Chronicle reported that "after an absence of nine and a half years, [he] returned from Australia and joined the RAMC in November 1914, being sent to Mesopotamia".
However, there appears to be no record of Clifford joining the RAMC. He certainly did join the Red Cross, though not until 1916. He is recorded on the British Red Cross Register of Overseas Volunteers, with a passport issued in Melbourne, and was engaged by them on 21st September 1916 to serve as an Engineer in the Motor Launch Department in Mesopotamia, with pay of £2 per week.
Service
The campaign in Mesopotamia began in November 1914. The background to, and general course of, the campaign is described in the story of Lewis George Bates who was wounded at the battle of Band-i-Adhaim on 30th April 1917 and died in Baghdad in May.
A Red Cross advance unit first arrived in Basra in April 1916. By early in 1917, the total strength of the unit in Mesopotamia was eight officers and 64 men, supported by local labour. A Base Depot was constructed in Basra and an Advance Depot at Amara, to provide "comforts" for the sick and wounded in the military hospitals established as part of the campaign. A report of 1917 on the Red Cross work in Mesopotamia describes the role of the river launches, on which Clifford worked. They were a vital part of the casualty evacuation chain:
Of all work done by the Order of St John and Red Cross in Mesopotamia that of the river launches has been unique, inasmuch as they alone have occupied this field of activity, and it is no exaggeration to say that without this organisation the Medical Service would have been seriously handicapped … in the autumn of 1915 two launches … were sent out; and in September of the same year … a larger boat … After [she] had been despatched … special launches were constructed for the specific purpose of carrying sick and wounded, whether sitting or stretcher cases. In all there are at present in Mesopotamia thirty-four launches provided by the British Red Cross Society, and … all transport of sick and wounded that can be effected by motor launches is done by these thirty-four boats supplemented by the additional launches provided by the Indian Branch of the Order of St John …
At Basra, Amara and Sheikh Saad the launches are employed for the discharging of the sick and wounded from the River Sick Convoy Steamers to hospitals … and for the evacuation of patients. At the front the launches have been utilised for carrying the sick and wounded from the advanced dressing stations just behind the trenches to the nearest field ambulances … The total number of sick and wounded carried by British Red Cross launches since the first boat arrived, up to January 31st 1917, was approximately 80,000, and the general utility of the boats can be gauged from the fact that the transport of sick and wounded, both main and subsidiary, is almost entirely by water … in no part of the river is navigation easy … whilst in some parts it is exceptionally difficult … the launches make very long trips up to 250 miles under their own power …
All repairs to the boats have been effected by our own repairing engineers. All the launches are manned by Red Cross drivers and engineers and are attached for duty to the medical authorities. Two or three different types are in service … but the majority are forty feet launches with a speed of eight to ten knots and one engine …
The report noted that the launch repair shop had just opened in Basra, and Red Cross records show that Clifford was appointed Head of the Repair Workshop (and that his pay in this role was £4 10s per week). They also show that he was of "very good" character, and was Mentioned in Despatches, on 28th August 1918 (after his death).
Death
The sad circumstances of Clifford's death were described in the Dartmouth Chronicle of 3rd May 1918:
Died in the Far East - News has reached Captain M Curnow, of 6 Carlton Terrace, Dartmouth, that his youngest son, Clifford Matthews Curnow, died in the Far East, on April 21st. Mr Curnow, after an absence of nine and a half years, returned from Australia and joined the RAMC in November 1914, being sent to Mesopotamia. Here he undertook the duties of running a motor boat, carrying the wounded up the river to the base. In June 1917, he was appointed managing engineer of the depot at Basra. He eventually contracted fever, but being successfully nursed and brought through, the firm [sic] gave a dinner in honour of his recovery. Leaving for a month's change in India he sailed to Calcutta, where he contracted small pox, and died on April 21st, aged 32.
His father also placed an announcement:
Deaths:
Curnow, April 21st 1918, at Calcutta, of smallpox, while on a month's leave from active service in the Persian Gulf, Clifford Matthews Curnow, youngest son of Captain M Curnow, of 6 Carlton Terrace, aged 32.
Commemoration
Clifford was buried in Lower Circular Road Cemetery in Calcutta. The Commonwealth War Graves Commission website states that: "Four First World War Graves remain in this cemetery, but as permanent maintenance cannot now be assured, the casualties are commemorated by name on the Madras 1914-1918 War Memorial in Madras War Cemetery". Clifford is one of these.
In Dartmouth, he is commemorated on the Town War Memorial.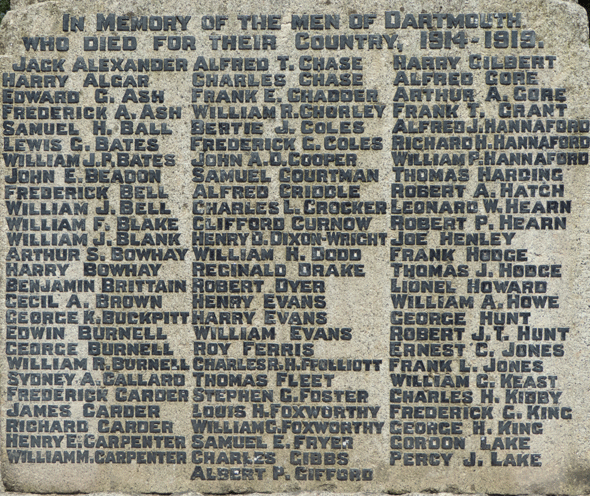 Dartmouth Town Memorial
He is also commemorated on the memorial to those who died in the Red Cross Motor Ambulance Service, in St James Piccadilly, London.
Sources
British Red Cross Society Service Records available from British Red Cross "First World War Volunteers" website
A Message from Mesopotamia, by The Hon Sir Arthur Lawley, pub Hodder & Stoughton, 1917
Red Cross memorial, St James Piccadilly
Information Held on Database
| | |
| --- | --- |
| Surname: | Curnow |
| Forenames: | Clifford |
| Rank: | Engineer Motor Launch |
| Service Number: | 10406 |
| Military Unit: | British Red Cross Society |
| Date of Death: | 21 Apr 1918 |
| Age at Death: | 32 |
| Cause of Death: | Smallpox |
| Action Resulting in Death: | |
| Place of Death: | Calcutta, India |
| Place of Burial: | Buried Calcutta, India |
| Born or Lived in Dartmouth? | Yes |
| On Dartmouth War Memorial? | Yes |
| On St Saviour's Memorials? | No |
| On St Petrox Memorials? | No |
| On Flavel Church Memorials? | No |
| In Longcross Cemetery? | No |
| In St Clement's Churchyard? | No |
| On a Private Memorial? | No |
| On Another Memorial? | Yes |
| Name of Other Memorial: | Madras 1914-1918 War Memorial, Chennai |
---
This information was last updated on Friday 07 December 2018 at 17:55:16.