Samuel Frederick Bickford
Family
Samuel Frederick Bickford was born and brought up in the villages of Strete and Blackawton, near Dartmouth. He is on our database because his obituary appeared in the Dartmouth Chronicle; and he may have lived in Dartmouth before he enlisted.
Samuel was born on 25th June 1890, the last but one of ten children of Nicholas Bickford, a farm labourer, and his wife Mary Mitchelmore. At the time of their marriage, on 16th November 1873, in St Michael's, Strete, Nicholas lived in Strete and Mary in Burlestone, a small hamlet a short distance away.
The 1881 and 1891 Censuses record Nicholas and Mary living in Strete with a steadily growing family. The children were all baptised in St Michael's, Strete:
Mary Ellen, 1874
John Henry, 1875
Charles, 1877
Hedley Lionel, 1879
Rosa Ann, 1881
Matilda Jane, 1883
Elizabeth Alice, 1886
Emma Elizabeth, 1888
Samuel Frederick, 1890
William George, 1892
When Samuel was seven, his father died, aged only 43. He was buried at St Michael's, Strete, on 2nd May 1897. By the time of the 1901 Census, Mary had moved to Blackawton. Still at home were the four youngest children, including Samuel, and Hedley, who worked as a gardener. John and Charles had both joined the Navy; Mary Ellen had married, while Rosa and Matilda were in domestic service, Rosa in Worcestershire and Matilda, a little nearer, in Starcross, Devon.
Mary Bickford remarried in 1902. Her second husband was William Merrifield, a labourer, born in East Allington - he had previously served in the Coldstream Guards. The 1911 Census recorded them living in Stoke Fleming. Mary's four youngest children were still living at home - (Elizabeth) Alice and her sister Bessie (Emma Elizabeth) were both described as "assistant school teachers", most probably at the Board School in the village. Samuel and his younger brother George both worked as domestic gardeners.
Service
Samuel's Army service records have not survived. According to Soldiers Died in the Great War, he lived in Dartmouth at the time he enlisted, and he first joined the 7th Battalion (Devonshire Regiment) Cyclists, number 2015. This suggests he was one of a large contingent of Devon Cyclists who transferred to the Somerset Light Infantry in the summer of 1916. See the stories of James Henry Moriarty and Albert Patrick Gifford. His Devonshire Regiment number indicates that he may have volunteered for the 7th Devons around May or June of 1915 (2029 attested for the Devon Cyclists on 8th June 1915, and 2058, on 28th June 1915). By this time, the Devons, having spent the first few months of the war on coastal defence duties in the North-East, had returned to Devon, where they remained until December 1915, then moving to Kent and Suffolk in 1916. Along with James Moriarty and Patrick Gifford, Samuel joined the 8th Battalion Somerset Light Infantry in the field on 6th August 1916.
When the Devon Cyclists joined them, the 8th Somersets, having been part of the attack on the first day of the Battle of the Somme, had been transferred to the sector between Arras and Lens, near Souchez - at that time, quiet. They returned to the Somme towards the end of October, and fought at the very last phase of the Battle of the Ancre. In February 1917, they moved north again, taking over trenches near Loos, and then on 9th April 1917, were brought into the Battle of Arras, moving up behind the initial attack to consolidate the gains made on the first successful day. For the background to the Battle of Arras, and a brief account of the opening day, see the story of Cyril Stafford.
For the Somersets' experiences up to and including their involvement in the phase of the Battle of Arras known as the "Second Battle of the Scarpe", on 23rd April 1917, see the story of James Moriarty, already referred to, later presumed to have been killed on that day. For the story of the further phase of the Battle of Arras known as the "Battle of Arleux", on 28th April, see the story of Albert Gifford, already referred to.
Death
It seems that what had happened to Samuel Bickford, during a period in which the Somersets had been in action twice, suffering substantial casualties on both occasions, was at first uncertain. His name was one of 21 from the Somerset Light Infantry reported on 15th June 1917 as "missing", in the Western Times "Roll of Honour: Latest Casualties in West Country Regiments".
All except a few of these men were subsequently recorded as having been killed in action on 28th April 1917. Further official news reached Samuel's mother in July; on 20th July 1917 the Dartmouth Chronicle carried the following announcement:
Deaths: Killed in action in France, April 28th, Pte Samuel Bickford, Somerset Light Infantry, loving son of M Merrifield, Stoke Fleming, Dartmouth, aged 26. Sadly missed.
On 31st July 1917, following issue of an official casualty list, the Western Times listed him as "previously reported missing, now reported killed".
Commemoration
It seems that Samuel's body was never found, or never identified, for he is commemorated on the Arras Memorial, which records the names of almost 35,000 men who died in the Arras sector between spring 1916 and August 1918, and who have no known grave.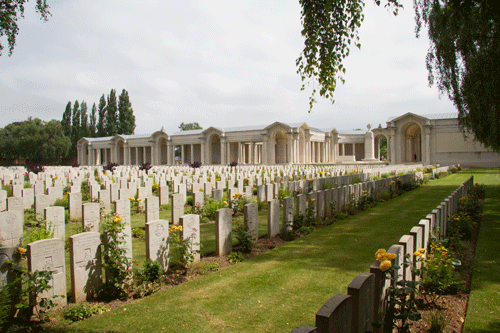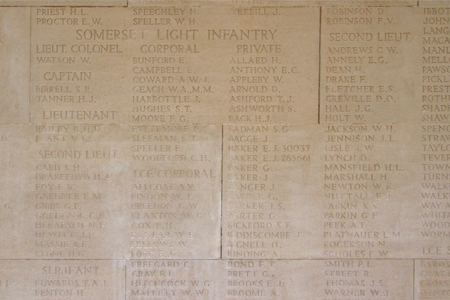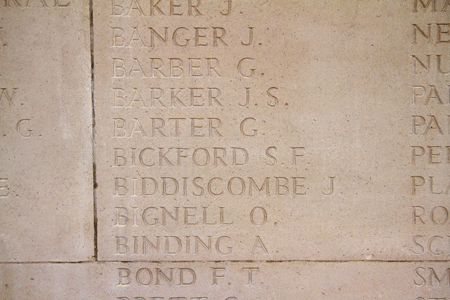 As one of the 579,206 casualties in the region of Nord-Pas-de-Calais, Samuel is also commemorated on the new memorial at Notre Dame de Lorette, "The Ring of Memory".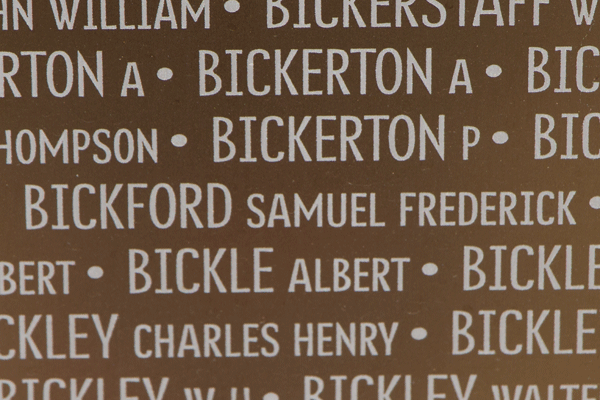 Ring of Memory memorial at Notre Dame de Lorette
In Devon, Samuel is commemorated on the Stoke Fleming War Memorial.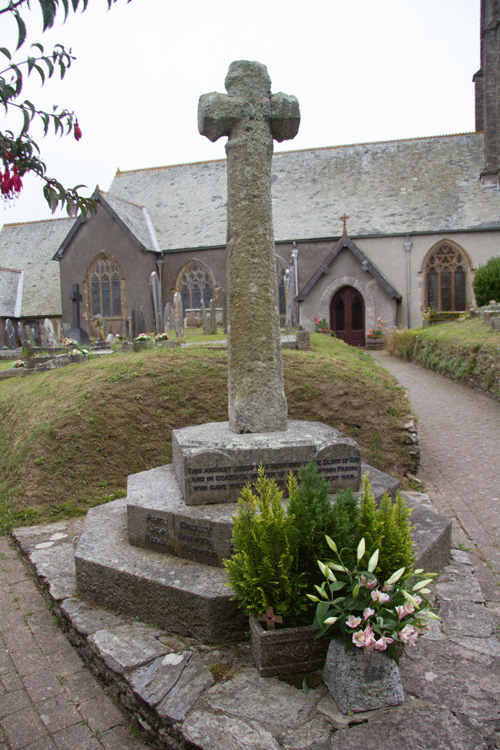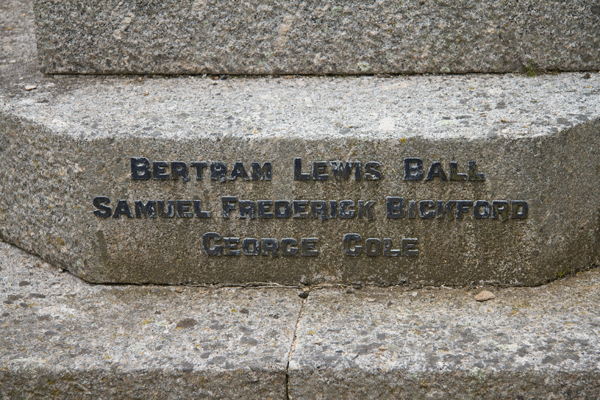 Information Held on Database
| | |
| --- | --- |
| Surname: | Bickford |
| Forenames: | Samuel Frederick |
| Rank: | Private |
| Service Number: | 29987 |
| Military Unit: | 8th Bn Somerset Light Infantry |
| Date of Death: | 28 Apr 1917 |
| Age at Death: | 26 |
| Cause of Death: | Missing presumed killed |
| Action Resulting in Death: | Battle of Arras |
| Place of Death: | Not known - see story |
| Place of Burial: | Commemorated Arras Memorial France |
| Born or Lived in Dartmouth? | Not Known |
| On Dartmouth War Memorial? | No |
| On St Saviour's Memorials? | No |
| On St Petrox Memorials? | No |
| On Flavel Church Memorials? | No |
| In Longcross Cemetery? | No |
| In St Clement's Churchyard? | No |
| On a Private Memorial? | No |
| On Another Memorial? | Yes |
| Name of Other Memorial: | Stoke Fleming Memorial; "The Ring of Memory" at Notre Dame de Lorette |
---
This information was last updated on Sunday 09 July 2017 at 16:54:59.