John Efford Beadon
Family
John Efford Beadon was born on 23rd November 1880 at Myrtle Cottage, South Ford Lane (now Road), in Dartmouth. He was the second son of Frank (Francis) Samuel Beadon and his wife Lavinia Ann Efford.
Frank Beadon came to Dartmouth from Exeter. He was born in the parish of St Sidwell's in 1843, where his father Thomas Beadon ran a successful private day school, offering boys a "commercial" rather than a traditional grammar school syllabus. Later in life Frank became an accountant, perhaps using skills he had learned at his father's school. But Thomas Beadon died in 1860, when Frank was not yet 17, and his mother Emily sold the school, having found someone who could take it over. Frank decided to join the Army, and on 13th September 1860, he enlisted in the Royal Engineers as a Sapper.
His service papers are fragmentary, but they show that he served for a few months short of five years. The 1861 Census recorded him at Brompton Barracks in Gillingham, Kent, after which he served for nearly three years in Malta and several months in Gibraltar. He did well, being promoted 2nd Corporal on 1st February 1864; but in March 1865, was ordered home, following a medical examination which diagnosed "deep seated disease to the eyes likely to get worse" and which "permanently incapacitate[d] him for the active duties of a soldier". He was discharged on 28th March 1865, returning to live with his mother Emily and sister Mary in Exeter.
In 1867, his sister Mary married Thomas Flower Gould. He was from a Dorset farming family, but had moved to London to work. They made their home in Lambeth, and Frank's mother Emily went to live with them. Frank remained in the south-west. On 25th June, 1868, at the Independent Chapel, Brixham, he married Lavinia Ann Efford, of Dartmouth.
Lavinia Ann was the only daughter of John James Efford and his wife Ann Cocker. John James was born in Plymouth in 1819 and had first gone to sea as a cabin boy in 1833. He was awarded his Master Mariner's Certificate of Service in 1850 after 14 years service as seaman, mate and master in the coasting and foreign trade. Ann came from Stokenham and she married John James there in 1843; their son, John James (junior) was born in Stokenham in 1844, and Lavinia was born in Slapton in 1845. Soon afterwards they moved to Dartmouth. The 1851 Census recorded Ann and the children at Slippery Hill (now Brown's Hill), John James presumably being away at sea.
Lavinia was thus brought up in Dartmouth, and she and Frank made their home there. Their first son, Thomas Frederick, named for Frank's elder brother who had died young, was born on 13th April 1869. In the birth announcement, Frank had described himself as "accountant", but soon afterwards he took over a coal merchant's business, occupying premises on Lower Street with a house, yard, wharf and stores. Frequent advertisements appeared in Devon papers during 1870 for his coal, but the business venture does not appear to have been a success. In August 1870 there was a tragedy when (according to the Dartmouth Chronicle of 2nd September 1870):
A painful accident occurred off [Dartmouth] Harbour on Monday 22nd ult, about twelve o'clock noon, whereby two men lost their lives. A barge belonging to Mr Beadon, coal merchant, had been to Redlap Cove, Stoke Fleming, for sand, and on returning was overtaken by a sudden squall and capsized. The two men on board, Godfrey and Deveridge, had no time to escape, as the lighter instantly went down. Mr Coaker, who was near the spot at the time and saw the accident, immediately went to their assistance but could see nothing of them, as the men did not rise. Deveridge leaves a wife and two children; Godfrey a widowed mother, whom he supported. The body of Deveridge has been recovered, but that of Godfrey still remains to be found. The accident took place about 30 yards from the shore, and attempts have been made to raise the lighter, the masts of which are distinctly visible at low water.
Robert Godfrey's body was finally found on 18th September. An inquest was held the following day, which returned a verdict of "accidental death".
Whether because of this, or for other reasons, in January 1871 the premises were being advertised as available for immediate possession; Frank was no longer in occupation. The 1871 Census recorded Frank, Lavinia, Thomas Frederick, and a new baby, Florence Emily, four months old, living at Hawley House, South Ford Lane. Frank was once again described as an accountant. A little further along the same road was the home of Lavinia's brother, John James Efford (junior). He was a Master Mariner, like his father; he had married the year before Lavinia and Frank, and he and his wife Emily (nee Furzman) had a young son, Charles, aged 2, and a daughter Emily, aged seven months.
After his brief foray into the coal business, Frank stuck to accountancy. Lavinia, meanwhile, looked after a growing family - Lily Mabel was born in 1872, and Bessie Gertrude in 1876. By this time they had left Hawley House and were living in Clarence Street. But only six months after Bessie's birth, Lily died, aged 4, on 14th November 1876. Then, as if repeating a pattern, another little girl, Mabel Gertrude, was born on 27th September 1879, only to be followed three weeks later by Bessie's death, on 16th October. She was 3½ years old. In the meantime the family had moved back into South Ford Lane, taking Myrtle Cottage. John Efford was born there on 23rd November 1880. The 1881 Census recorded the family there - the two surviving older children Thomas Frederick, aged 12, and Florence Emily, aged 10; and the two babies, Mabel Gertrude, aged 1, and John Efford aged 4 months. Frank continued to work as an accountant (other records show that he was employed as the clerk in a timber merchant's firm).
Another boy was born on 27th August 1882, and named Frank Percy. Two years and two days later, on 29th August 1884, Frank Samuel died, at the family home (now in Clarence Street) aged only 40. Lavinia was left with five children to care for, three of whom were under five. But both her parents, John James and Ann Efford, were nearby, able to provide support, and, no doubt, encouragement. Furthermore, Lavinia clearly had some enterprise of her own, for she took a house and shop situated in the centre of the town between Lower Street and South Embankment (paying an annual rent of £19 17s 6d) and started her own business as a draper. She remained in business for many years.
The 1891 Census recorded Lavinia and her five children living "above the shop" in Lower Street. The three younger children, Mabel, John and Frank, were still at school. Thomas Frederick had already followed his Efford grandfather into the merchant service, being apprenticed for five years in the foreign trade on 7th August 1883, serving on the British barque, Roscote, for seventeen months, and then on the barque Pleiad for just over four years. He was awarded his Second Mate's certificate on 21st March 1890 and became a Master Mariner on 16th November 1895.
His sister Florence had followed the example of her Beadon grandfather, becoming a schoolteacher. Where she worked is not recorded in the Census, but in 1893 she married John Loftus Sing, who had come to Dartmouth to teach as an assistant master at the Board School in Dartmouth. The marriage, which was described in the Dartmouth Chronicle as "pretty, though quiet" took place on Monday 21st August, when the Board Schools were closed for the Regatta. The following year, John Loftus Sing moved to another teaching post in North Devon, so he and Florence left Dartmouth for a while.
Mabel was the next to marry, in 1897. Her husband was Alfred Ernest Mitchelmore, known as Ernest, who that year inherited part of his father's painting and decorating business in Lower Street, which he continued to run; so Mabel, though she had left home, was still close by. By the time of the 1901 Census, Lavinina, still running her drapery shop, had only her youngest son Frank living at home, for John too had begun his working life.
Merchant Service
Before the Great War, Britain was the world's foremost trading nation, and had by far the largest merchant fleet in the world, handling much of the world's maritime trade, as well as the trade between the world and the British empire.
John followed his elder brother, uncle, and grandfather into the merchant service, being apprenticed in the foreign trade in 1897. He was not, apparently, put off by his older brother Thomas being shipwrecked that year on Inaccessible Island, one of the Tristan Da Cunha group in the South Atlantic. The ship Helenslea was sailing from Glasgow to Fremantle, Western Australia, with general merchandise. Thomas was not the Master, but must have been a senior member of the crew.
After bad weather conditions caused a navigational error, she struck a reef off the north of Inaccessible Island, and was completely wrecked, being a total loss. The crew evidently were able to launch the ship's boats, but were unable to land on the island (which lived up to its name) - however, they were able to reach Tristan da Cunha 28 miles away. They were then picked up by another ship, which took them to South Africa. On returning to the UK, Thomas had to apply for a reissue of his Master's Certificate because it had been lost in the wreck, together with all his personal belongings.
John's first ship was the barque Sabrina, which he joined on 25th October 1897. He served in her for three years, leaving on 2nd December 1901. According to his application for his Second Mate's certificate, his next appointment was as able seaman on a steamboat, Annie, registered in London, for fourteen months, from 22nd May 1901 to 23rd July 1902, However, he may have fitted in another voyage not shown on his papers, because he does not seem to have been recorded in the 1901 Census.
John was awarded his certificate of competency as Second Mate on a foreign-going ship on 12th September 1902. The papers tell us that he was 5ft 7 ½ins tall, with brown hair, blue eyes and a "fair" complexion. He had previously failed the "dictation" test, but on 8th September 1902 at Plymouth passed everything required. He continued to progress - his next ship was the barque Thetis, registered at Dundee, in which he served as 2nd Mate from 16th September 1902 to April 27th 1904. The Thetis appears to have run between New York and Sydney - just before John joined her she had made some particularly fast times. In September 1904 he was back in Plymouth to take the examinations for First Mate. He needed a second go at the navigation element but passed everything on 12th September and duly obtained his certificate of competency as First Mate of a foreign-going ship on 15th September 1904.
On 29th May 1906, John married Louisa Maud Grace Putt (known as Maud), at St Petrox Church. A few weeks later, on 9th July 1906, his elder brother Thomas married Maud's younger sister, Ethel Jane, also at St Petrox Church. Maud and Ethel were born in Dartmouth, the daughters of John Godwood Putt and his wife Louisa Bowden (nee Pope). John Putt came originally from East Prawle, and was a sailor and fisherman. He had moved to Dartmouth with his parents. Louisa was born in Strete but in the same way had come to Dartmouth as a girl. She had two children from her previous marriage, to Elijah Bowden, a carpenter. She was a dressmaker and, before they married, Maud and Ethel had worked in their mother's dressmaking business, run from home.
John's grandmother, Lavinia's mother Ann, had died earlier that year, aged 85, and on 3rd January 1908 the Dartmouth Chronicle carried the news of the death of John's grandfather, at 13 Clarence Street, in his 89th year:
Death of Capt J J Efford
At the ripe age of 88 years the death occurred on Monday last at his residence, Clarence St Dartmouth, of Capt J J Efford, senr. The late Capt Efford was very much respected, and great sympathy is felt for his family in their bereavement. The funeral took place at Townstal yesterday, when the Rev J T H Paynter, pastor of the Flavel Memorial Congregational Church, officiated.
When John and Maud's son was born on 9th March 1909, he was named for John's grandfather, John James Efford Beadon. The family called him Jack. He was baptised at St Petrox on 4th May 1909.
Three weeks before Jack's birth, John had been granted his certificate of competency as a Master of foreign-going ships. His statement of service showed (in addition to the Thetis):
Barque Northernhay, registered Sunderland, Mate, 5th Dec 04-11th Apr 06
Steamship Gafsa, registered London, 3rd Mate, 26th Jun 06- 9th July 07
Steamship Zafra, registered London, 2nd Mate, 11th Jul 07-20th May 08
He had fitted in his marriage between the Northernhay and the Gafsa. The papers show that the navigation element of the examination still posed a problem - he failed it three times, but finally passed on 9th February 1909. The Gafsa and the Zafra were in the fleet of C T Bowring & Co, a shipping company founded in Newfoundland, running both passenger and freight services across the Atlantic.
John's and Thomas's lives as Master Mariners meant that they were away from home a great deal and the 1911 Census shows that Maud and Ethel coped with this by continuing to live with the rest of their family. The Census recorded Maud, Jack, Ethel, their mother Louisa, and the younger members of the Putt family all living at Hayes House, South Town, Dartmouth (John Godwood Putt had died in 1908).
Lavinia, meanwhile, had moved to Southport House, Clarence St. She was now living on her own - like his elder brothers, Frank Percy had gone into the merchant service. On 4th August 1911, he was recorded as Able Seaman signing on to crew the ship Augustine, out of Liverpool, having previously been a member of the crew of the Snowflake.
The War
The outbreak of war meant, in one sense, business as usual, for John and his brothers. All three continued in the merchant service, but the risks they ran were comparable to those in the forces, for maintaining Britain's global supply system was vital, to keep the war going and the civilian population fed, fuelled and sustained - the trade routes were just as much the "front line" as the trenches. The recent release of 1915 Merchant Navy Crew lists shows the brothers' activity during this period. Neither of the ships in which John worked during 1915 survived the war; nor, indeed, did the Gafsa or the Zafra, on which he had worked previously.
Between 6th October 1914 to 17th June 1915, John was 1st Mate on the Pola, for two successive voyages, from Cardiff to Marseilles and back, and then Cardiff to Torre Annunziata (Naples), and back to Port Talbot. The Pola was torpedoed and sunk later in the war, on 18th March 1917, by German submarine U-81. On that occasion she was carrying coal from Cardiff to an unknown destination. There were five casualties.
After the Pola, John was Master of the El Zorro between 1st July to 25th August 1915. The El Zorro had been requisitioned for Admiralty service as an oiler on 29th September 1914. On 28th December 1915, while on passage from Port Arthur, Texas, to Dartmouth, she was torpedoed by German submarine U-24 about ten miles south of Kinsale, Co Cork. Two lives were lost. The following day she was taken in tow, but the tow broke; she then anchored, but this dragged and she drifted ashore and broke in two, becoming a total loss.
Thomas was Master of the San Zeferino from 11th November 1914 to 18th September 1915, and then Master of the San Geronimo from 28th October 1915 to 22nd December 1915. The San Zeferino was an oil tanker. On 18th September 1915, she was carrying fuel oil from Puerto Mexico to Sheerness when she was torpedoed and sunk by German submarine UC 6 off Deal. Two of Thomas' crew lost their lives in this attack, but (evidently) Thomas and the rest of the crew survived. The ship was subsequently raised and returned to service with a new engine, only to be hit again on 26th September 1917 in St George's Channel, whilst en route from Avonmouth to Tampico in ballast. On that occasion there were three casualties. The ship sustained damage but survived. However, the attacking submarine, UC 33, did not; RN patrol boat PC 61 located her shortly after the attack, and she was shelled, rammed and sunk.
Frank Percy served during 1915 in five ships (on six voyages), variously as Mate or 2nd Mate, or Able Seaman. Two of the five were later sunk - the Dauntless on 2nd February 1917 by gunfire, from German submarine UB 39, off the coast of western France, with fifteen casualties; and the Bangarth, on 13th December 1917, by torpedo from German submarine UB 34, north-east of the Tyne, with two casualties. Both were carrying coal.
Death
On 15th November 1916, John was First Mate on the Lorca. She was built in 1910 in South Shields as a cargo ship in 1910 for C T Bowring & Co Ltd, and registered at London. She was on her way from Gulfport, Mississippi via Norfolk, Virginia, to Calais, with a cargo of timber.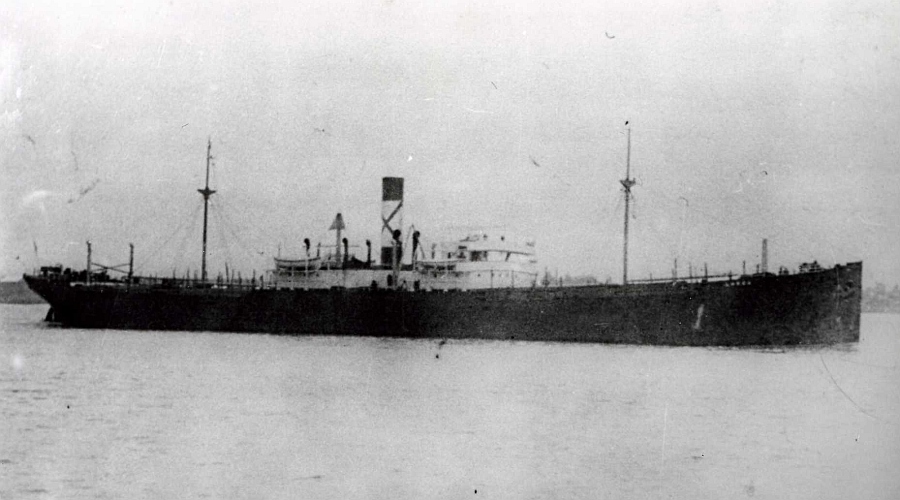 SS Lorca
She left Norfolk on 29th October; by 15th November she was approximately 200 nautical miles west of Ushant. Here she encountered German submarine U 49, commissioned six months earlier, an ocean-going submarine equipped with six torpedoes, at the end of her second patrol. Lorca was torpedoed, and sank. There were no survivors - all 32 crew were lost.
The Lorca's loss was not reported until January 1917 - the Western Times, for example, reported on 11th January:
Vessels missing and much overdue
The following vessels were today posted at Lloyds as "missing":
Pelaco of Barcelona
Serbistan of Swansea
The following are considered at Lloyds as "very much overdue":
Bornholm, of Veile, Denmark, reported sailed from Tyne for Rouen, November 4th
Lorca of London, reported sailed from Norfolk Virginia, for Calais, on October 29th last.
On 18th January 1917, the Western Times further reported that the Bornholm and the Lorca were "yesterday posted missing".
The Lorca's fate, and hence John's date of death, was still unconfirmed when Maud applied for probate later in 1917. Administration of John's estate was granted following his death "on or since 29th October 1916 at sea".
The Registrar General of Shipping and Seamen similarly recorded his death (and those of others on the Lorca) as "supposed 29th October 1916 at sea, supposed drowned" and recorded the ship as "missing".
Commemoration
John is commemorated on the Tower Hill Memorial to Merchant Seamen lost during the Great War "with no grave but the sea", together with the other members of the crew of the Lorca (apart from one, Rudolf Wensburg, whose body was later washed ashore at Angle, Pembrokeshire, and who was buried in St Mary's churchyard there).
In Dartmouth, John is commemorated on the Town War Memorial and on the St Saviour's Memorial Board.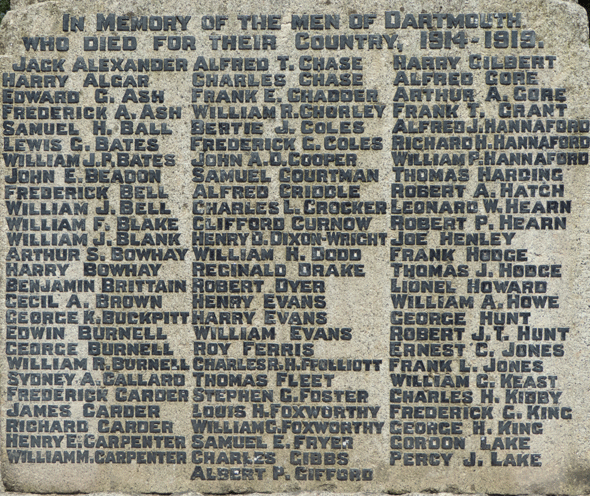 Dartmouth Town Memorial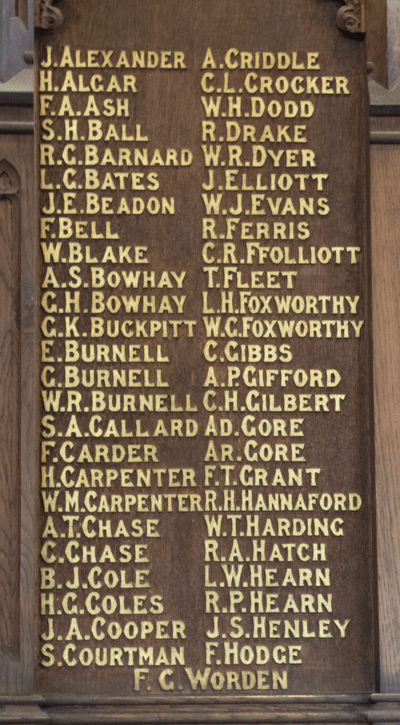 St Saviour's Memorial Board
Thomas and Frank both survived the war, but Frank was lost at sea in 1927. He was second mate of the cargo ship SS Emlynmor which foundered with all hands while on a voyage from Middlesbrough to Cardiff. She was last seen off Beachy Head. The cause of the loss was unknown, but was thought by an enquiry to be due to inability to maintain steam in very heavy weather, causing the ship to take on water.
Lavinia Ann died six months after Frank, in 1928. In later life she had moved from Dartmouth to Paignton, but she was buried beside her husband in the cemetery of St Clements, Townstal.
Sources
Crew Lists of the British Merchant Navy - 1915
The Ships List: The Fleets: C T Bowring & Co Ltd
Royal Fleet Auxiliary Historical Society: Requisitioned Auxiliary El Zorro
A Dartmouth Mitchelmore family
Information Held on Database
| | |
| --- | --- |
| Surname: | Beadon |
| Forenames: | John Efford |
| Rank: | First Mate |
| Service Number: | |
| Military Unit: | SS Lorca Mercantile Marine |
| Date of Death: | 15 Nov 1916 |
| Age at Death: | 35 |
| Cause of Death: | Lost at sea |
| Action Resulting in Death: | SS Lorca sunk by U-boat |
| Place of Death: | Off Ushant |
| Place of Burial: | Commemorated Tower Hill Memorial |
| Born or Lived in Dartmouth? | Yes |
| On Dartmouth War Memorial? | Yes |
| On St Saviour's Memorials? | Yes |
| On St Petrox Memorials? | No |
| On Flavel Church Memorials? | No |
| In Longcross Cemetery? | No |
| In St Clement's Churchyard? | No |
| On a Private Memorial? | No |
| On Another Memorial? | No |
---
This information was last updated on Wednesday 14 December 2016 at 20:45:26.