Harry Pullman Woodward
Family
Harry Pullman Woodward was born in High Barnet, Hertfordshire, in 1890, the eldest son of Alfred Woodward and Emma Knightley. The family does not appear to have had any previous connection with Dartmouth, and Harry himself does not appear ever to have lived in the town; he is commemorated on Dartmouth memorials because his parents moved to the town either shortly before or sometime during the war.
Alfred Woodward was born in Holloway, London, the son of a baker, and he went into the same line of work as his father. On Christmas Day, 1888, he married Emma Bancroft Knightley, at Christ Church, High Barnet. Emma had been baptised there with her elder brother Henry, known as Harry, on 28th May 1865. Her father, John, was a coachman. Sadly he died when Emma was ten. At that time the family lived at Mimms Side, on the north side of High Barnet.
Alfred and Emma began their married life living with Emma's mother, Emma Knightley, and sister Christina. In the 1891 Census, they were recorded at Sebright Cottages, Sebright Road, close to Christ Church. Emma (senior) worked as a laundress; Christina in domestic service; and Alfred as a "Journeyman Baker". Harry by this time was a little over one year old. He was baptised at Christ Church on 23rd February 1890; it seems likely he had been named for Emma's elder brother Harry.
Harry's brothers and sisters were also baptised at Christ Church:
Chrissie Bancroft, on 31 Dec 1893; by this time the family had moved to 4 Puller Road, the neighbouring street to Sebright Road.
Frank Alfred, on 31 May 1896. The family now lived at 17 Thornton Road, further south behind the High Street.
Ernest Knightley, on 27 Feb 1898. The family still lived in Thornton Road, but now at number 21
From a later report in the local newspaper, The Barnet Press (31st August 1907), it seems that Alfred worked for nineteen years as a baker for John Shephard "a well known Barnet man, who carried on business in the town as a baker for nearly 50 years". John Shephard had retired by the time of the 1901 Census, and by that time, Alfred was able to describe himself as a Master Baker. The family lived at 6, Oakleigh Road, Whetstone, most probably "over the shop". The household still included Emma's sister Christina, and also a young man described as a "domestic servant" but who more probably worked in the bakery. Harry was now 11 and still at school.
The couple's last child, Lilian Emma, was born on 21st August 1902. It seems that at about the same time, Alfred was able to move back into High Barnet, where he took an advertisement in the local newspaper, The Barnet Press, which first appeared on 30th August 1902:
Mr Woodward of Whetstone begs to inform the residents of Barnet and neighbourhood that he has taken over the old-established Baking and Confectionary Business, lately carried on by J. Tomlin, High Street, Barnet, and trusts by prompt attention to their requirements to merit their further patronage.
Lilian was duly baptised at Christ Church on 28th September 1902; her parents' address was 88 High Street, Barnet. Newspaper reports show that both Harry's brothers, Frank and Ernest, attended Christ Church School - Harry may perhaps also have attended there.
In 1908, Alfred expanded his business, opening a new branch at 1 Lyonsdown Terrace, Leicester Road, New Barnet. He described himself as "Baker, Confectioner and Pastry Cook - Silver Medalist, Cookery and Food Exhibition", and provided "teas and light refreshments - Wedding and School Cakes Made On Order at the Shortest Notice". His silver medal had been won in the Hovis confectionary competition at the Ideal Home Exhibition at Olympia that year.
In 1909, however, he was one of three bakers in Barnet summoned to appear before the local magistrates for "selling bread otherwise than by weight". From the account of the case, this was something of a shock and he was represented by "Mr Poole, on the instruction of the Barnet and District Master Bakers Association". Mr Robertson, Herts County Inspector of weights and measures, appeared for the County Council:
Sidney Quick, of Watford, said that on January 11th he went into Mr Woodward's shop and asked for a half-quartern loaf. Miss Knightley handed him one, and he paid 3d for it…
The Chairman: Was it weighed when it was handed to you? - No.
Mr Robertson said that he weighed the loaf in the shop, and found it 1 oz short.
A half-quartern loaf weighed 2lbs (approximately 800g) and it was usual to weigh out dough of 2lbs 2oz to allow for evaporation of moisture while in the oven. However, this was not necessarily an exact science.
Mr Poole said that the offence was purely technical, and he produced, much to the amusement of the court, a piece of bread about the size of a walnut, which he said represented what was missing from the loaf … Dough was always weighed before it was put into the oven, and 2ozs extra per loaf were allowed for evaporation. Mr Woodward had found by experience that this was sufficient. Unfortunately, the loaf was not afterwards weighed, otherwise the mistake would have been at once detected. It was not necessary to say anything about the character of Mr Woodward. He had been a Master Baker in Barnet for seven or eight years, and he would not willingly defraud the public. Having regard to the fact that he had carried on business for so long without any complaint … Mr Poole ventured to suggest that the justice of the case might be met by an order being made for payment of costs only.
But the magistrates took a different view, fining Alfred 5s and ordering him to pay costs of 6s 6d.
The report of the case indicates that one of Emma's sisters was living with the family and working in the bakery. From Harry's 1911 Census return (see below) we know that he too became a baker, in all probability working for and with his father.
Sometime in early April 1910 Harry married Mabel Florence Butterworth. Mabel was one of twelve surviving children of William Butterworth and his wife, Matilda Pluckwell, and like Harry, was born and brought up in Barnet. At the time of the 1891 Census, William Butterworth was recorded as a "Marine Store Dealer" with a store in East Barnet Road; in a newspaper report of 1896, when he stood surety for his eldest son David in a court case, he was described as a furniture dealer and a "respectable man". By 1901, when Mabel was 11, he was a "General Dealer" and shopkeeper, with premises at 1 Devonshire Place, East Barnet; in the Barnet Press of 1907 he advertised himself as a "wholesale rag, metal and bottle merchant [who] buys all kinds of old lumber".
Harry and Mabel's first child, Jack Pullman Woodward, was born on 13th August 1910. By the time of the 1911 Census, they were living at 22 Bruce Road, Barnet, very close to where Harry had lived when he was a small child. Jack was eight months old and the couple had been married for one year. Harry worked as a baker. Another boy, Tom Walter, was born a few months after the Census, on 6th August 1911.
Harry's mother, Emma, and his younger brothers and sisters, were recorded at 43 High Street, Barnet. Harry's sister Chrissie, aged 17, worked as a dressmaker's assistant and his brother Frank, aged 14, as a "milking machinist". Ernest and Lilian were still at school. Also living with the family were Emma's mother, Emma Bancroft Knightly, now 71, and one of her sisters, Fanny Charlotte, who worked as a "shop assistant" - possibly the Miss Knightley referred to in the weights and measures case.
Absent from the census form was Alfred, and the explanation is found in a notice placed in the London Daily News of 3rd March 1911, a month before the Census was taken:
Mr Alfred Woodward, baker, of 43 High Street, High Barnet, left home on February 21st and since then no trace of him has been found. He is 47 years of age, 5ft 6in in height, fair moustache, wearing cap, dark striped overcoat, black leggings and breeches, grey plaid jacket and military belt.
Alfred had not completely disappeared as he was recorded in the Census as a "visitor" in the household of Arthur Capper, a market gardener, and his wife Lucy. They lived in Headon Gardens, Countess Wear, just outside Exeter. Alfred was accurately recorded as a Master Baker, Employer, married 22 years, with five children, born in Islington; perhaps by this time he had declared his whereabouts to his family.
No evidence has come to light to explain the circumstances of his "disappearance". But it seems possible that Alfred never returned to Barnet, because Harry and Mabel also left Barnet for Devon a little while later - their third child, Frank Alfred, was born on 2nd March 1913, in Exeter. When Jack was admitted to his first school, on 28th April 1914, the family lived at 52 Roberts Road, on the eastern side of the city, not far from Countess Wear.
Harry and Mabel's fourth child, Hilda May, was born in Exeter on 20th September 1914, but the following year the family had moved to Torquay. Jack's Exeter school recorded that he left on 21st May 1915. Whether Alfred and Harry, or just Harry on his own, continued to run a bakery business is not known.
At some point before 1918, as will be seen below, Alfred and Emma were reunited, and came to Dartmouth, but we have not so far been able to identify when they first arrived in the town.
Service
Harry's service papers have not survived and much about his period in the Army remains unclear. According to "Soldiers Died in the Great War" he enlisted in Torquay; his physical characteristics, rather than his skills, may have led to his selection for the Royal Garrison Artillery - or perhaps this was his own preference. His RGA service number, when compared with those of other men whose papers have survived, suggests that he was called up on or around 12th December 1917 to No. 3 Depot (Heavy and Siege) at the Citadel, Plymouth. At this time Mabel was pregnant with the couple's fifth child - a daughter, Lorna, was born on 20th February 1918. It seems quite possible that Harry never saw her, unless he was given leave while under training or before leaving for France.
Where he was likely to have been trained is not clear; Gunner 190348 (the number immediately preceding Harry's) was sent to 3rd Siege Artillery Reserve Brigade at Prees Heath, in Whitchuch, Shropshire; but Gunner 190350 (with the number following) was sent to 1st Siege Artillery Reserve Brigade at Shoreham, Sussex. Similarly, the date Harry is likely to have arrived in France is not known, although it seems unlikely that this would have been any earlier than the middle of March. It does seem clear that he was posted from the Base Depot in France as a reinforcement to 122 Siege Battery.
Siege Batteries were equipped with heavy howitzers, which fired large high explosive shells. The RGA expanded massively during the war; 122 Siege Battery was raised in Dover in 1916 and went to France on 18th July 1916. As the numbers expanded, Heavy and Siege Batteries were organised into Heavy Artillery Brigades (called groups in 1916, but by the end of 1917, once again referred to as Brigades).
By March 1918 they were part 66th Brigade RGA, part of III Corps Heavy Artillery. III Corps formed the right wing or southernmost section of the Fifth Army front and had taken over this section of the line in January from the French. On the morning of 21st March 1918, the beginning of the German spring offensive, the CO of 66th Brigade had four batteries of his own (120, 122, 306 and 325) and several others temporarily attached, in 15 positions.
122 Siege Battery, consisting of six 6" howitzers, was commanded by Major W F H Grinsted. The Battery less one section was at Gibercourt; the remaining section was at Ly-Fontaine (due south of St Quentin, west of the Oise river).
There is no War Diary for 122 Siege Battery at this stage of the war so we have to rely on the 66th Brigade War Diary. This provides no information about when Harry may have arrived with 122 Siege Battery. However, it does include a fairly extensive and vivid account written in 1925 by the CO, Lt Col M H C Bird, of the period 21st March-26th March 1918, covering all the batteries for which he was responsible. This is supplemented by material from Major Grinsted, providing more information about how 122 Siege Battery lost four of its six guns on the first day of the German spring offensive:
122 Siege Battery: The section at Ly-Fontaine was put out of action, but see notes by Major Grinsted. The main position at Gibercourt remained in action for a considerable time, until in fact it was almost surrounded. The BSM, A J Grant, with some 20 men and the two AA Lewis Guns, engaged the Germans, but in the fog the tracer bullets of the AA guns gave away their position and drew heavy fire. Eventually the Battery transport came up under the Transport Officer, and two of the guns were got away under rifle and machine gun fire at about 100x-200x range. Lt Davenport and 12 men were shot down in one of the emplacements while trying to pull the gun out. Major Grinsted could no doubt give much fuller details. He managed to burn the Battery HQ and all secret papers. The Battery was almost certainly in action until nearly midday, as about that time Lt Sampson (afterwards killed at Croisilles) reached me about noon with a report from the Battery.
The Battery less 4 guns eventually reached Flavy le Martel where it spent the night, picking up one gun at the Ordnance Workshop. With these 3 guns it continued fighting until the 31st.
Major Grinsted added the following:
The section at Ly-Fontaine was not put out of action by hostile fire, and was in action until the whole of the ammunition, some 800 rounds, had been expended. [It] Was put out of action only when it was found impossible to get away the guns.
The section at Gibercourt also fired the greater part of its ammunition and all its gas shell. This was directed on the bridgehead connecting Moy-Brissy, and must I think have delayed the advance to some extent as the infantry in Ly-Fontaine were able to hold out for some hours after the capture of both Hinacourt and Remigny.
During the early afternoon one gun under Lt Smith from the Gibercourt section engaged the enemy over open sights. Owing to the mist the movement of bodies of men was only faintly visible but an RFA Battery situated near Le Fay Farm was still in action and evidently engaging the enemy at short range, and we ranged by laying on the bursts from the field guns. I think with some effect, for a section of snipers and machine gunners in camouflage clothing was evidently told off to put us out of action. Aided by this, the mist and our own reserve trenches - which were entirely untenanted - the enemy were able to work their way to within a very short distance of the battery positions, before being seen at all, in spite of my sending out scouts. As soon as observed they were engaged by rifles and Lewis guns, but owing to the latter having their spools prepared for AA work with tracer bullets, no sooner did we open fire, the position [was] immediately given away.
The physical difficulties of pulling out, particularly from the Ly-Fontaine section which was in the middle of a wood obstructed by felled trees and the only exit being on unmetalled track leading to the village of Ly-Fontaine ie towards the direction of attack - the lateness of arrival of transport - the total absence of support, combined with an intense hostile fire, resulted in the loss of 4 guns.
The extraordinary folly of divorcing a battery from its transport was I think fully realised, as I have not any doubt in my mind that had the transport been available at least 5 out of the 6 guns could have been retired in good order with sufficient battery stores to have remained an efficient fighting unit.
The most disturbing factor in the situation was the total absence of information. It was not until about 2.30 in the afternoon that I was able to get any real idea of the situation from a report brought back by Lt Bradnack who worked his way forwards through Ly-Fontaine almost into the enemy lines - an action for which he was subsequently decorated - which told me of the desperate plight of the infantry, for only at the village itself did there seem to be any holding out. Shortly after this I received orders to pull out - the transport however had not arrived. I got 2 guns out into the road - the 2 guns which were eventually saved. 2 more were ready to be pulled into the road but were delayed by a heavy battery from Hinacourt passing through. Eventually the transport arriving the personnel was got away with 2 guns under some fire but in good order and withdrew across the Jussy Bridge.
Lt Bradnack also wrote an account of his experiences, which differs slightly as to detail from the above:
There was hardly a thought of moving our guns: instead we waited for the counter-attack, which we had been led to expect would be provided. It was on his own initiative that the Major did eventually give the order to pull out - just twenty minutes too late! Just as we got our first gun near the road, an advanced German machine gun opened at almost point-blank range, knocking out Sergeant Upton in the first burst. The only thing to do, we did rapidly; melt away into the undergrowth and in short rushes running for the rear after we had sunk the breech blocks in a pond nearby.
122 Siege Battery, along with its sister 306, was kept in the line until withdrawn on 31st March 1918. They rejoined 66th Brigade at Quevauvalliers, about 10 miles SW of Amiens, while the Brigade was marching in a wide arc round Amiens towards Abbeville, gradually re-equipping, and eventually joining VI Corps on 18th April. Although the accounts above mention some specific casualties on 21st March, the 66th Brigade War Diary gives no overall figures for casualties occurring during 21-31st March and no information about any reinforcements arriving.
By 19th April 122 Siege Battery were once more "in action" near Wailly, south of Arras. By this time the offensive had moved northward to Flanders and the Lys, but the possibility of renewed attack in the Somme sector, extending as far as Arras, could not be ruled out. What followed in May, according to the Official History, was "A Pause in the Operations", not least because:
The Germans, though perilously near success, had lost heavily in their two great offensives, and had used up a great number of divisions … For the moment, the enemy was on the defensive …"
Resting and reorganisation was required on both sides.
Death
Though there was a comparative lull in the fighting, casualties did not cease. The War Diary shows that 66th Brigade remained in the same sector, south of Arras, but the detailed dispositions of the Batteries do not appear to have been recorded and there is no information about what they were doing, or of any specific action that took place on 16th May. Nonetheless all the available records state that Harry was killed in action on that date. He was buried in Wailly Orchard Cemetery, presumably, near where he was killed.

Wailly Orchard Cemetery
The grave next to him is that of Private James Harold Bacon, of the 2nd Battalion, Canadian Machine Gun Corps, who died of wounds on the same day as Harry. It has been suggested that James Bacon was one of several casualties caused that day when a large working party walking along the railway line north of Wailly came under shell fire. It is not known if there was any connection between the two deaths.
News quickly reached Harry's wife Mabel in Torquay, and his parents in Dartmouth. On 30th May 1918, the following appeared in the Western Times, and the next day, in the Dartmouth Chronicle:
Western Times:
Pte Harry Woodward RGA whose home is at 183 Teignmouth Road, Torquay, is reported killed in action on May 16th. He was 28 years of age and leaves a widow and five children, the eldest eight years old.
Dartmouth Chronicle:
Deaths: Woodward- May 16th 1918 killed in action in France, Gunner H P (Harry) Woodward, beloved husband of Mabel Florence Woodward, of St Mary Church Torquay, and oldest son of Mr and Mrs Woodward of Westbourne Terrace, Dartmouth, age 28 years.
The Western Times also carried news of the Dartmouth connection on 7th June 1918:
Gunner H P (Harry) Woodward, eldest son of Mr Woodward, of Westbourne Terrace, Dartmouth, who was 28 years of age, was killed in action in France on May 16th.
Harry's name appeared in the Weekly Casualty List published on 2nd July 1918.
Commemoration
In Dartmouth Harry is commemorated on the Town War Memorial and the St Saviours Memorial Board.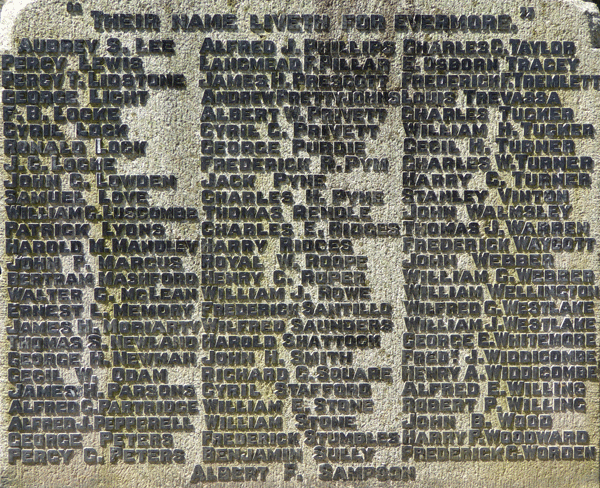 Dartmouth Town Memorial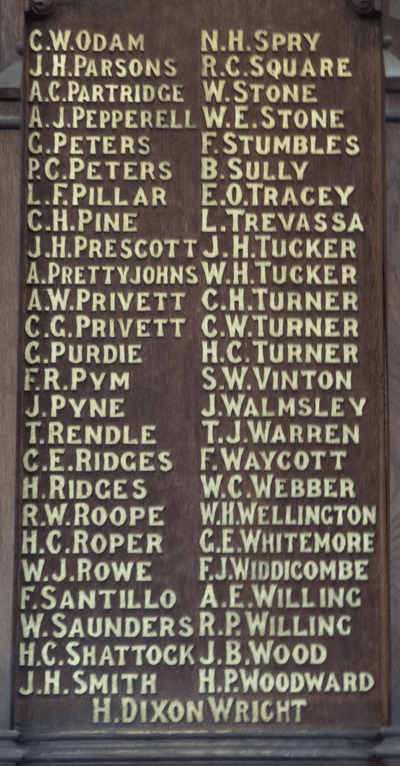 St Saviour's Memorial Board
He is also commemorated on the Torquay War Memorial. Mabel and her children remained Torquay after the war but had returned to Barnet by 1929. Alfred and Emma remained in Dartmouth and were both buried in St Clements churchyard.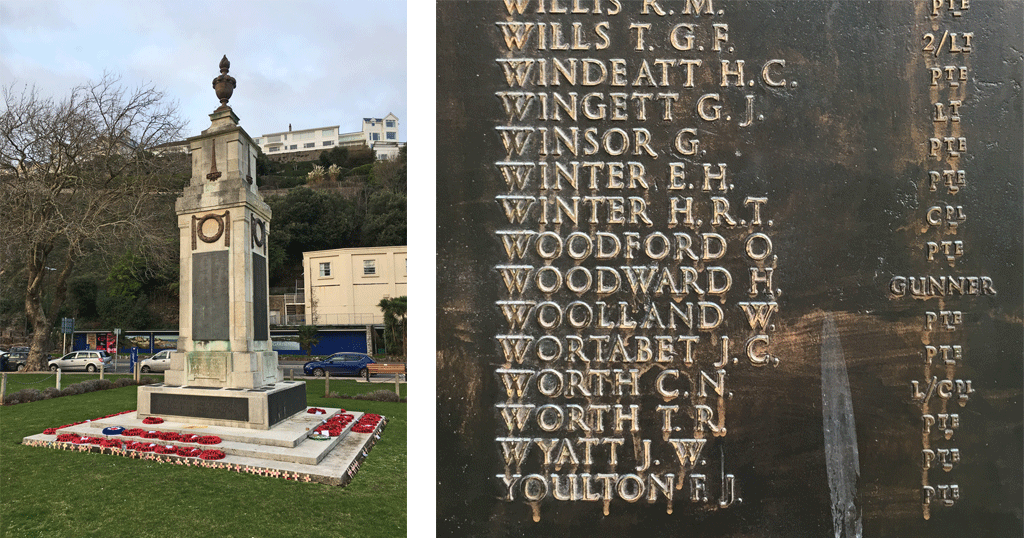 Torquay War Memorial
Sources
The Long Long Trail: The Siege Batteries of the Royal Garrison Artillery
War Diary of the 66th Brigade Royal Garrison Artillery May 1917 - March 1919, available from National Archives, fee payable for download, included within WO 95/395/2
Quotation from Lieutenant Brian Bradnack MC from 1918, A Very British Victory, by Peter Hart, publ. 2009, Weidenfeld & Nicholson
History of the Great War, Military Operations France and Belgium 1918, May to July, compiled by Brigadier General Sir James E Edmonds, publ. 1939, Macmillan
Visiting the Fallen - Arras South, by Peter Hughes, publ. 2015, Pen & Sword Books
Information Held on Database
| | |
| --- | --- |
| Surname: | Woodward |
| Forenames: | Harry Pullman |
| Rank: | Gunner |
| Service Number: | 190349 |
| Military Unit: | 122nd Siege Battery Royal Garrison Artillery |
| Date of Death: | 16 May 1918 |
| Age at Death: | 28 |
| Cause of Death: | Killed in action |
| Action Resulting in Death: | Not known - see story |
| Place of Death: | Wailly, France |
| Place of Burial: | Buried Wailly Orchard Cemetery, France |
| Born or Lived in Dartmouth? | No |
| On Dartmouth War Memorial? | Yes |
| On St Saviour's Memorials? | Yes |
| On St Petrox Memorials? | No |
| On Flavel Church Memorials? | No |
| In Longcross Cemetery? | No |
| In St Clement's Churchyard? | No |
| On a Private Memorial? | No |
| On Another Memorial? | Yes |
| Name of Other Memorial: | Torquay War Memorial |
---
This information was last updated on Tuesday 01 January 2019 at 20:03:51.