George Edward Whitemore
Family
George Edward Whitemore was the eldest son of George Whitemore and his wife Elizabeth Watkins. George Whitemore (senior) came originally from Blackford, Somerset (near Wincanton). He joined the Royal Marines aged only 16, on 16th October 1865, in Sandford Orcas, where the family lived at the time (he overstated his age by two years to get in).
On 1st October 1874 he was appointed to HMS Indus, the Devonport guard ship, and just under two years, later, to the Plymouth Division RMLI. It would appear that, by this time, he had met Elizabeth Watkins, who was from Kington, in Herefordshire. The couple's eldest son George Edward was born in Kington sometime between April-June 1877 (his birth was registered in the name of Watkins).
George Whitemore (senior) was promoted Corporal on 16th June 1877 while serving in Plymouth, and, having obtained the appropriate permissions, married Elizabeth on 10th December 1877, in Kington. It seems that she then moved to live with George's family in Sandford Orcas; the couple's next child, Albert John, was baptised in Sandford on 24th November 1878. At the time of the 1881 Census, Elizabeth, George Edward, and Albert were still living with her parents-in-law, George and Melvina Whitemore, in Sandford.
In the meantime, George had gone to sea in HMS Decoy, an Ariel-class gunboat, returning to Plymouth on 23rd November 1881. He was then based in Plymouth for three years, enabling Elizabeth to join him there. The couple's next child, Elizabeth Melvina, was born in East Stonehouse in 1882.
George's appointment to HMS Britannia on 16th June 1884 brought the family to Kingswear. Prudence Annie was baptised at St Thomas' Kingswear on 22nd February 1885. The baptism register records George's rank as "Sergeant of Marines"; this may have been an acting rank as his service record shows his substantive rank was that of Corporal. Melvina Eliza was born on 6th May 1886 and, though the family still lived in Kingswear, was baptised at St Petrox on 30th October 1886. Although recorded in the baptism register as "Corporal RMLI", George had in fact left the Royal Marines a week earlier, on 22nd October 1886, having completed 21 years service.
By the time of the baptism of his fourth daughter, Frances Beatrice, on 23rd August 1888, also at St Petrox, George had obtained work as a porter, to supplement his Royal Marines pension. There was still a growing family to support - William Henry was born on 18th November 1890. This time the family returned to St Thomas' Kingswear for his baptism, on 4th May 1891. George, Elizabeth and their seven children were recorded living at 2 Woodland Terrace, Kingswear, in the 1891 Census. George worked as a porter in a grocer's shop; George Edward, aged 13, had already begun his working life, as an Errand Boy for the post office.
George and Elizabeth's youngest child, Ethel Maud, was born in 1892; but sadly, their eldest daughter, Elizabeth Melvina, died in 1895, aged only 12. By this time, George Edward had begun his naval career.
Service
George Edward joined the Royal Navy as a Boy 2nd Class I in HMS Impregnable, the boys' training ship at Devonport, on 28th May 1894, giving his age as 15½, though he was in fact 17. His naval record shows that he was at that date 5ft 2½ins tall, with dark hair, blue eyes and fair hair.
Having completed his training (including a short spell in HMS Britannia), he was ranked Ordinary Seaman, and signed on for twelve years service, on 17th December 1896, when the Navy thought he was 18 years of age. At the time he was serving in the cruiser, HMS Spartan.
George's next posting took him to the other side of the world, to HMS Centurion, the flagship on the China Station. He joined the ship on 28th February 1897, and then transferred to HMS Archer, a torpedo cruiser, still on the China Station, until 31st May 1899. Having served two years satisfactorily, he was rated Able Seaman while in China, on 19th December 1898.
George then returned to the UK and was sent to HMS Cambridge, in Devonport, for gunnery training from 30th August - 1st December 1899. However, his next appointment does not appear to have put these skills to the test, as he was appointed to HMS Britannia on10th April 1900. It would appear that, during this appointment, he was the coxswain of the Britannia's steam pinnace - the Britannia was at this time still stationed in the River Dart. George was rated Leading Seaman on 23rd August 1901.
Shortly after his appointment to HMS Britannia, George Edward married Alice Hart, on 11th September 1900, at St George's Dittisham. Both he and Alice gave their residence as Dittisham. Alice was the eldest daughter of William and Eliza Ann Hart and had been born and brought up in Dittisham, where William worked as a farm labourer. George and Alice began their married life with Alice's family - the 1901 Census recorded them living with William and Eliza and four of Alice's younger brothers and sisters. George and Alice's first child, Dorothy Melvina Alice, was born on 11th January 1901, at Lower Street, Dittisham, and baptised at St George's a month later. Their second child, Alice Emma, was born in 1902, baptised at St George's on 25th May.
George Edward was still serving in HMS Britannia when his father died in August 1901, aged only 51, and so perhaps was able to help his mother, now widowed with four children still at home. But he had to leave Dartmouth soon afterwards, when appointed on 7th October 1901 to HMS Collingwood, a battleship built during the early 1880s, though by then serving as a guardship in Ireland. George served in Collingwood until she was paid off in June 1903.
After his service in Collingwood, George's previously steady progression appears to have suffered a setback. He was rated Petty Officer second class while in Collingwood, on 9th August 1902 and transferred to the books at Devonport (HMS Vivid I) on 25th June 1903 at the same rating. But while at Devonport he was re-rated Able Seaman. Why is not known - the only possible clue on his naval service record is a period of fifteen days in which he was "discharged to sick quarters" (and thus not entitled to payment), though the reason is not given and, indeed, the exact date of this period is not clear. During this time he must have had a period of home leave because his third daughter, Violet Amelia, was born the following year. She was baptised at St George's Dittisham on 24th July 1904. Sadly she did not live long; she died early in 1905, before her first birthday.
But her father was once again away at sea - indeed, the dates on his service record suggest that he may never have seen Violet Amelia at all. On 3rd November 1903, George joined HMS Arrogant, moving to the cruiser HMS Diana on 30th September 1904. Arrogant was at the time serving in the Mediterranean Cruiser Division, with (the then) Captain David Beatty in command; when Beatty transferred to Diana on 30th September, it would appear other members of his crew, including George, transferred also. Beatty did not stay long in command of Diana, which he handed over to Robert Hornby on 5th October. Captain Hornby and the rest of the crew, including George, remained with Diana until 5th November 1906; George seems to have put behind him whatever problems he had previously encountered, because he rapidly regained his previous rating, being promoted Leading Seaman on 1st January 1905 and Petty Officer (2nd Class) on 24th October 1906, just before the end of the ship's tour in the Mediterranean.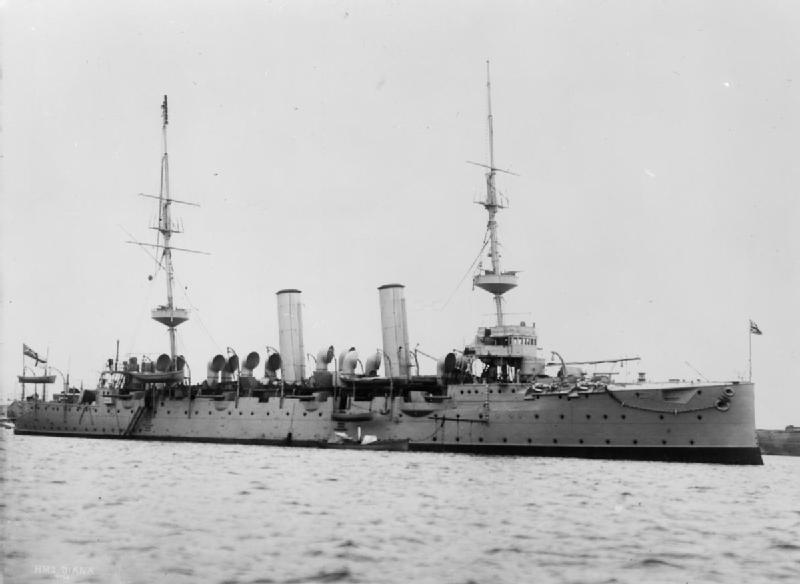 HMS Diana
HMS Diana delivered George (and the rest of the crew) to Devonport, where he seems to have remained for just short of two years. William Richard George was born in 1907 and Cyril John Hart in 1908 - they were baptised at St George's Dittisham on 29th September 1907 and 26th October 1908 respectively.
Yet again it appears he may have missed the birth of one of his children, since on 3rd October 1908 he joined Diana's sister ship, HMS Isis, in the Mediterranean. While serving in Isis, he joined up on 17th December 1908 for a further ten years service, in order to qualify for a naval pension. When Isis returned to the UK, early in 1909, he was taken on the books of HMS Orion, by then a depot ship at Malta and renamed HMS Orontes in December 1909. George came back to the UK in June 1910, having been rated Petty Officer 1st Class on 1st April 1909.
After a substantial period away from home, he was based at Devonport for the next eighteen months, and then, from 30th March 1911, even closer to home, being appointed to HMS Pomone, the name used at the time for the Royal Naval College - now accommodated in the new buildings ashore. It would appear that he served there at the same time as Royal William Roope. This posting appears to have enabled him to spend time with the family - the 1911 Census recorded him at home with Alice and their four children, in Higher Street, Dittisham.
George's next appointment was to one of the most modern ships in the Fleet. He joined HMS Lion as she was commissioned on 4th June 1912, at Devonport. She was the lead ship of her class and became the flagship of the 1st Cruiser Squadron. At the beginning of 1913, this became the 1st Battlecruiser Squadron; and shortly afterward, George was once again under the command of David Beatty, who (now a Rear Admiral) was appointed to the squadron on 1st March 1913. According to Robert Massie, the tempo of naval life altered immediately:
[Beatty's] ships and squadron began exercising at 24 knots rather than the usual 14, and firing at 16,000 yards rather than the customary 9,000.
In May 1914 Beatty took the 1st Battlecruiser Squadron to St Petersburg, where the Tsar, Tsarina and their four daughters were entertained aboard Lion, and a huge party for 2000 Russian guests was held across the decks of HMS Lion and HMS New Zealand, made fast alongside.
While George was enjoying the opportunities and challenges of Admiral Beatty's command, back in Dittisham another child had joined the family. Robert was born on 24th August 1912, after his father had joined Lion. He too was baptised at St George's Dittisham, on 20th September 1912 (his second name is given variously as Aeneas or Enos).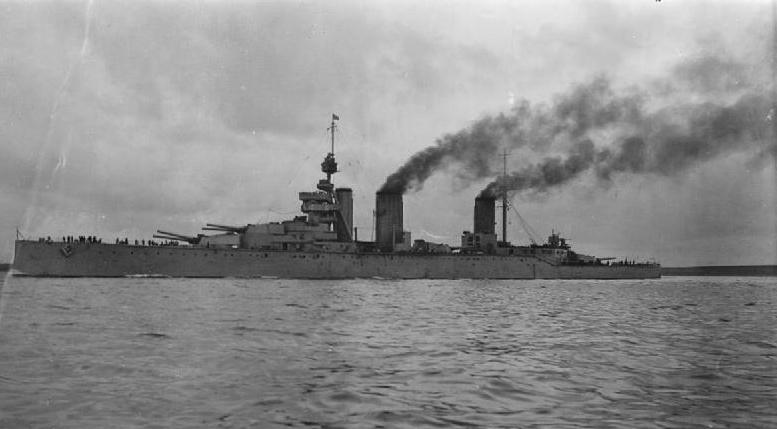 HMS Lion
The Battle of Heligoland Bight
George was still serving in HMS Lion at the outbreak of war, and almost immediately was in action on 28th August 1914, at the Battle of Heligoland Bight, the first naval victory of the war. In this action, German patrols of the Heligoland Bight were attacked by a force of destroyers and submarines based at Harwich. The plan required submarines to lure German destroyer patrols out to sea, to be attacked by the British destroyer force, led by the light cruiser Arethusa. To begin with, only the battlecruisers New Zealand and Invincible were allocated to support the operation, but Admiral Jellicoe ordered Lion, Queen Mary and Princess Mary to join them, accompanied by six modern light cruisers under Admiral Goodenough.
By 11.00am, British light cruisers and destroyers were heavily engaged, and Arethusa was badly damaged. The longer the action continued, the more likely it seemed that they might be overwhelmed. At 11.35am Admiral Beatty took in his battlecruisers, and their arrival an hour later was decisive. At 12.37pm, Lion approached Arethusa and her destroyers, under attack from German light cruisers Strassburg and Koln. Strassburg fled, but Lion sank Koln and another light cruiser, Ariadne. Beatty then withdrew, before the tide enabled the German battleships to exit the Jade River. Besides Koln and Ariadne, another German cruiser, Mainz, had been sunk, and a destroyer also; Frauenlob, a light cruiser, had been severely damaged, and two more, Strassburg and Stettin, had also been damaged. German casualties totalled 1,242. On the British side, Arethusa and three destroyers had been badly damaged, but were able to get home; and British casualties were surprisingly light - 35 men killed and 40 wounded.
A signifcant result of this early action was that the Kaiser ordered that the main body of the German High Seas Fleet must not fight outside the Heligoland Bight (and, if forces against it were superior, not inside it either). So, although George was, in effect, on the naval front line, the action he saw during the first few months of the war was rather less than he might reasonably have expected.
On 16th December 1914, when German battlecruisers under Admiral Hipper bombarded Scarborough, Hartlepool and Whitby, the 1st and 2nd Battlecruiser Squadrons, under Admirals Beatty and Warrender, were ordered to intercept them as they returned. However, owing to bad weather and poor communications on both sides, no major engagement took place.
The Battle of Dogger Bank
On 23rd January 1915, HMS Lion was involved in the Battle of Dogger Bank. For an account of the action, see the story of Charles Gerald Taylor, killed in action on Lion's sister ship, HMS Tiger. Lion was badly damaged during this action, though casualties were very low - only two men killed and eleven wounded. She was able to reach Rosyth for temporary repairs and then went to Newcastle upon Tyne for fuller repairs - the Admiralty wanted the extent of her damage to be kept as little known as possible, so did not send her to Plymouth. The ship rejoined the Battlecruiser Fleet, once again as Beatty's flagship, on 7th April 1915. But George's time on Lion was coming to an end - he left her five weeks later, on 14th May 1915.
The Dardanelles
George's next (and final) appointment, on 30th August 1915, was to "HMS Europa II" for M28; HMS Europa was based in the Dardanelles, the lead ship for HMS M28, an M15-class "monitor".
The British monitor was a new class of ship for the Royal Navy. Their purpose was to enable heavy guns to be brought close to the shore; by 1916, the Royal Navy had 35 of them, sixteen large and nineteen small, mounting guns from 6in to 15in calibre. Their characteristics were:
a heavy gun carried on a good gun platform
a shallow draft, to get close inshore
maximum protection against mines and torpedoes (most notably from underwater bulges)
hull and machinery as simple as possible, to enable rapid construction
modest speed
reasonable seagoing capability
The larger monitors were given names (of British generals); the smaller ones were identified by number.
The ships were ordered as part of the emergency programme of ship construction authorised soon after the start of the war by Winston Churchill, when First Lord of the Admiralty, and Admiral Jacky Fisher, First Sea Lord, who had a number of strategic possibilities in mind requiring a coastal offensive capability of the kind offered by the monitors. At the time they were ordered there were no specific plans for their deployment, but even as the ships began to be constructed, the Dardanelles campaign began on 19th February 1915, with a naval bombardment of the defences at the entry to the Dardanelles [see our Gallipoli timeline]. However, even though construction was carried out as quickly as possible, both Churchill and Fisher had left the Admiralty by the time the first large monitors arrived in the Dardanelles in July 1915 (HMS Abercrombie, HMS Roberts, HMS Havelock and HMS Raglan).
M28 was the last of ten monitors (M19-M28) constructed in Govan by Raylton Dixon & Co. She was launched on 28th June 1915, and completed in August 1915. Her primary armament was a single 9.2-inch Mk VI gun taken from the old protected cruiser HMS Grafton, the other gun going to M23. (HMS Grafton was then re-equipped with two six-inch guns (to add to the ten she already carried)). All the monitors left their builders' yards as soon as they were ready, followed by a short time time at a home dockyard to be fully equipped; M28 left Devonport in August. Because of their low speeds, especially in heavy weather, all were given towing assistance to reach the Dardanelles, usually by colliers also bound there, taking three or four weeks to reach Mudros. George must have reached the Dardanelles by late September/early October 1915.
Bulgaria joined the war on 15th October 1915 and this opened up a further stretch of coastline for bombardment. The railway between Constantinople and Salonika was targeted, near the port of Dedeagatch (now Alexandroupoli). A British squadron including three monitors bombed the port heavily on 21st October and five days later, the operation was repeated, by the cruiser HMS Theseus, together with M15 and M28. George was once more in action.
The small monitors then continued to support the large monitors off the Gallipoli peninsula, either covering them against shore batteries or firing themselves, especially when supply of the larger calibre ammunition was limited. However, unlike most of the small monitors, M28 was not involved in covering the withdrawals from Gallipoli, having been redeployed to Salonika in November, following the landing of Allied forces there. She remained there or at Stavros, acting as a guardship.
From 1916, the roles of the Royal Navy's Aegean Squadron were:
continuing blockade of the Dardanelles, and harassing the Ottoman coastline
supporting the Allied force in Salonika, and blockading the Bulgarian Aegean coastline
protection of the Aegean bases, and retaining Greek support
protection of the Suez Canal
protection of allied shipping - troop transports and merchant shipping
The small monitors were involved in all except the last. M28 was based with the 6th Detached Squadron at Stavros, on Salonika duties off the Bulgarian coast, until September 1917; on 20th May 1917, she was involved with HMS Raglan and several of the other small monitors in bombarding the port of Kavalla, 40 miles east of Stavros. The Custom House, which had been reported as being used to assemble submarines and motorboats, was destroyed, together with barracks and other military buildings.
From October 1917, M28 was part of the 2nd Detached Squadron at Imbros, close to the Dardanelles. The task here was to watch for the battle cruiser Goeben and the light cruiser Breslau. Though officially part of the Ottoman Navy, and renamed the Yawuz Sultan Selim and the Midilli respectively, the ships still retained German crewmembers. Since taking refuge in Constantinople in the early days of the war (see the story of Frederick Santillo) the ships had made several sorties into the Black Sea, and were still a considerable potential threat to the Eastern Mediterranean. To prevent their exit, extensive minefields had been laid off the Dardanelles, from April 1916 onwards.
By late 1917, the situation facing Ottoman forces was extremely difficult. The Allies had entered Jerusalem on 11th December (see the story of Henry Chard Roper) and the situation in Constantinople was desperate. A new German Commander in Chief at Constantinople, Vice Admiral von Rebeur-Paschwitz, arriving in September 1917, had decided that the time was ripe to deploy the two ships in a morale-raising raid on British naval bases in the Mediterranean.
Admiral Freemantle, his British counterpart, had based his plans on the assumption that the ships would not exit without a substantial minesweeping operation beforehand to clear the way. This would provide British naval forces with substantial prior warning and the time to bring together sufficient forces to deal with these two formidable opponents. However, it seems that the German Admiral decided that surprise was more important than full reconnaissance, and decided to take the risk - a rough chart of the minefields had been captured from a British armed trawler which had recently gone aground. Although this showed that there were more minefields than the Germans had realised, it also appears to show that there was a gap between them which the ships could use safely to move out beyond the Straits.
The Battle of Imbros
In January 1918, the Aegean Squadron's 2nd Detached Squadron in Kusu Bay, Imbros, consisted of the cruiser HMS Endymion, four destroyers, the large monitor, HMS Raglan, recently returned from Palestine, and M28. Although signal intelligence had given some indications that some sort of operation was planned by Goeben and Breslau, no extra precautions were taken, rather the reverse. When the two ships sailed at 4.00pm on 19th January 1918, HMS Endymion was refitting in Malta and two of the destroyers were away on escort duties. Only HMS Tigress and HMS Lizard were on patrol off the Dardanelles. Further, the newly appointed British Admiral, Arthur Hayes-Sadler, had taken his flagship, the pre-dreadnought battlehip HMS Lord Nelson, to Salonika for a meeting.
The morning was misty, and Goeben and Breslau were not seen by the lookouts on Mavro island, to the south-west of the entry to Dardanelles, as they passed before sunrise, even when Goeben struck a mine shortly after exiting the Straits. This caused little damage, so the ships turned north up the east coast of Imbros. Goeben attacked the wireless station on the headland at Kephalo, while Breslau was sent ahead, to attack at Kusu Bay.
HMS Lizard, patrolling north-east of Imbros, was the first to see the enemy ships, at 7.20am, but owing to enemy wireless jamming, it was several minutes before she could get in visual contact with HMS Raglan to send a searchlight signal. Almost simultaneously Raglan saw the ships herself, and raised the alarm further. But without sufficient warning enabling superior forces to be brought together, the two monitors were doomed, facing overwhelming odds - Goeben and Breslau together had ten 280mm and eighteen 150mm guns; Raglan and M28 together had two 14in guns, one 9.2in and one 6in. The outcome was pretty much inevitable.
Breslau first engaged Lizard, and successfully drove her off; and at 7.30am, opened fire on Raglan. Her first three shots missed, as did Raglan's in response, but Breslau's fourth shot hit Raglan's spotting top, killing the Gunnery Officer. Now that Breslau had the range, she began firing rapidly, causing considerable damage. Then, as Raglan tried to get her 14in gun to fire under local control, a shell from Goeben ignited the charges, killing several of the turret crew. Raglan received more hits forward, and the resulting fire reached a magazine, which blew up. At 8.15am, she sank, in about 40ft of water; a drifter was able to come alongside to take off the Commanding Officer and other survivors. M28 also sent over her whaler to help pick up survivors.
Meanwhile M28, under orders to wait until Raglan had begun firing, had opened fire, though at long range. She managed to get off two rounds; but then herself came under direct attack from Breslau. Almost immediately, M28 was hit amidships, igniting her cordite and fuel tanks; no further charge could be loaded into the 9.2in gun, owing to the fire. A shell from Breslau then hit the gun, killing most of its crew and the CO, and blowing others into the water. The whaler returned to assist, and as she did so, the fire reached the shell room, and M28 blew up at 8.27am. The encounter had lasted 57 minutes.
As M28 succumbed, Goeben and Breslau left the scene, intending to go south around the island of Imbros to attack the more important base at Mudros Harbour. Lion and Tigress followed, trying to mount a torpedo attack; by this time the alarm had been widely raised and Goeben and Breslau were also under attack from the air. Breslau was ordered on ahead so that Goeben could use her anti-aircraft guns; as she went to pass ahead, she struck a mine. This time the damage was serious. Goeben tried to render assistance and in doing so, herself struck a mine. Breslau, unmanageable, then hit four more, and was lost - she sank at 9.05am.
Goeben abandoned the raid and ordered Ottoman destroyers out of the Straits to pick up survivors. When they emerged, however, Tigress and Lizard immediately turned to attack, and the Ottoman destroyers retreated. Tigress and Lizard were now themselves vulnerable to mines and attack from shore, and so returned to where Breslau had sunk, picking up 14 officers and 148 men.
Goeben meanwhile, despite striking a third mine, was able to reach the safety of the Dardanelles. Here, due to a navigation error, she ran aground off Nagara Point, north of Chanak (modern Canakkale). But she was not yet done for. For the next episode of Goeben's story, see that of Samuel Henry Ball.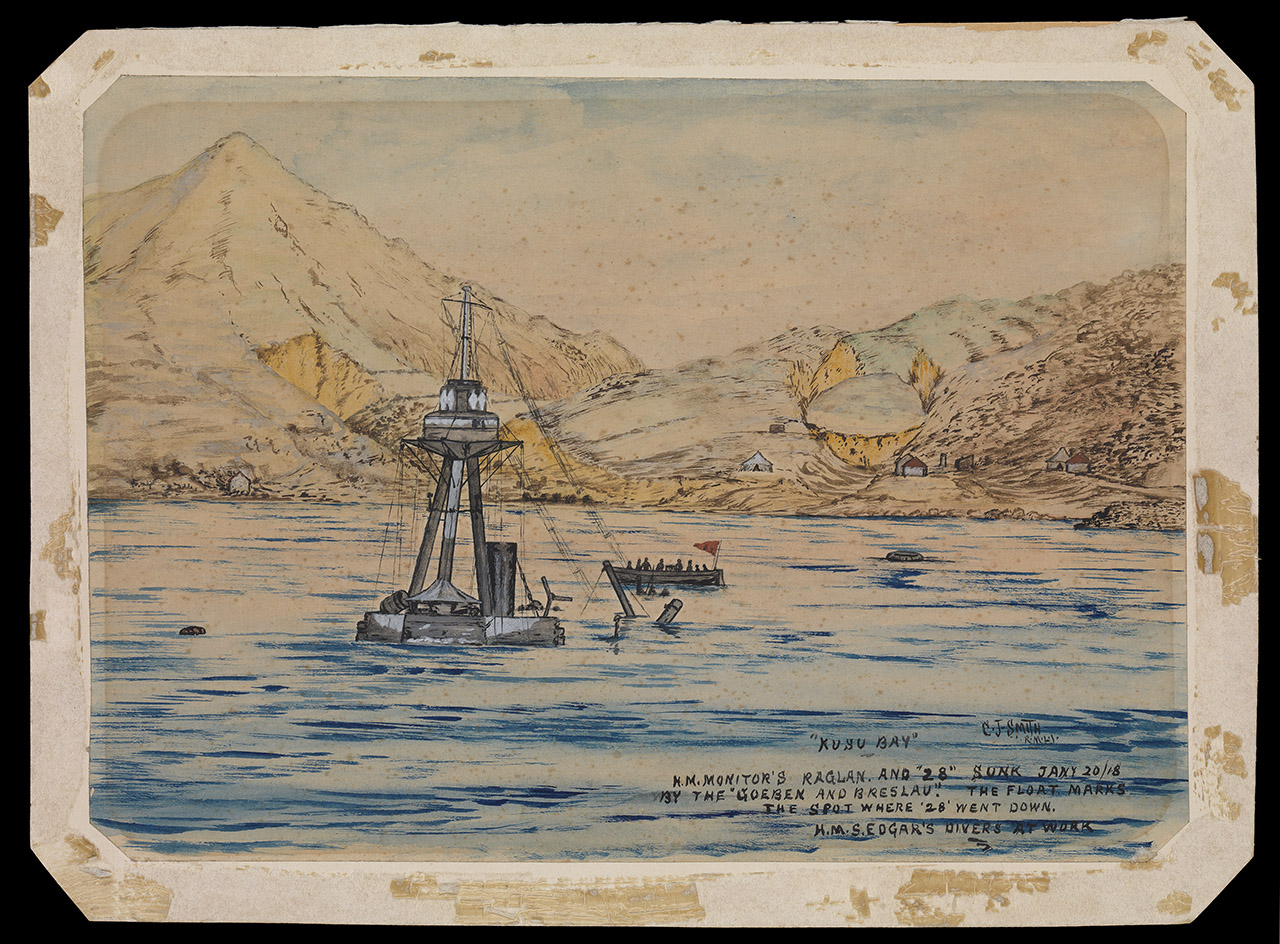 Death
George was one of eleven men on M28 killed or mortally wounded in the attack, of a crew of 66. On HMS Raglan, 127 members of the crew lost their lives, with 93 survivors. George was buried at Kusu Bay Cemetery, on Imbros, on 26th January 1918, one of 45 officers and men (14 of them unidentified) from both ships.
After the Armistice, the graves at Kusu Bay were brought into Lancashire Landing Cemetery, on Gallipoli, where they remain today.
News reached Dartmouth quickly. The Dartmouth Chronicle of 25th January 1918 reported George's death:
The Supreme Sacrifice
We very much regret to hear that CPO Whitemore was killed on the occasion of the engagement with the Breslau and Goeben at the entrance to the Dardanelles on the 20th inst. He was with one of HM Monitors which was lost. He was 42 years of age, and his widow and five orphans reside at Lower Street. He passed unscathed through Heligoland, Jutland and Dogger Bank. He became a pensioner a year ago last November, and used to be with the old "Britannia's" steam pinnace as coxswain. He was a brother of Mr Albert Whitemore, caretaker at the Dartmouth Guildhall.
(In fact, as indicated above, George had indeed been in action at Heligoland Bight and Dogger Bank, but his naval record shows that he had gone to the Dardanelles well before the Battle of Jutland in 1916. His rating at time of death was 1st Class Petty Officer).
Alice placed an announcement in the Chronicle the following week:
Deaths:
Whitemore: In loving memory of George Edward Whitemore, who lost his life in HMS Monitor 28, on January 20th 1918, while in action in the Dardanelles, dearly beloved husband of Alice Whitemore, 17 Lower Street, aged 42 years. Sadly missed by his sorrowing wife and children.
His duty called him from us.
Commemoration
As the above announcements showed, by 1918 Alice and the children had moved from Dittisham to Dartmouth; and also living in Dartmouth were George's younger brother Albert and his wife Minnie.
Probably for these reasons, George is commemorated in Dartmouth (rather than Dittisham), on the Town War Memorial and the St Saviours Memorial Board.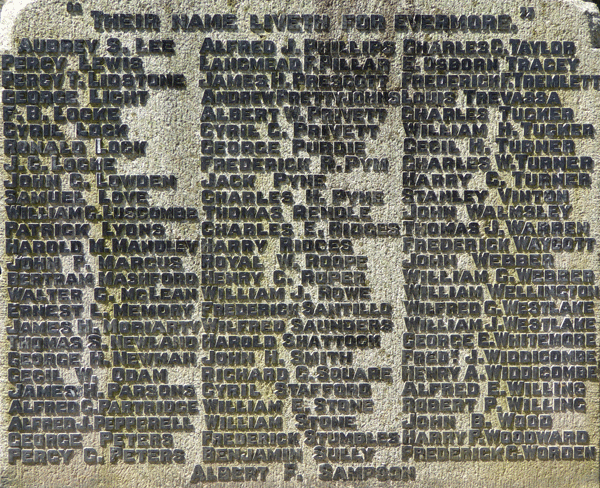 Dartmouth Town Memorial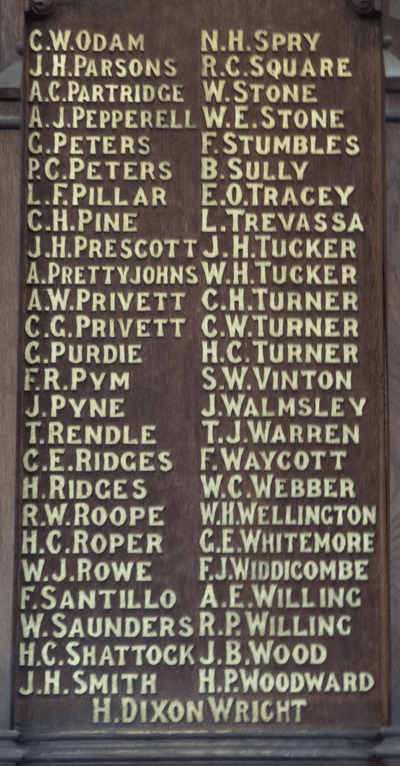 St Saviour's Memorial Board
Sources
Royal Marines and Royal Naval service records are available from the National Archives, fee payable for download, references:
Castles of Steel: Britain, Germany and the Winning of the Great War at Sea, by Robert K Massie, publ 2007 Vintage Books
The account of the development of the British Monitors and of M28 in the Dardanelles, including the Battle of Imbros, is principally taken from Big Gun Monitors, by Ian Baxter, pub 2008, Seaforth Publishing
History of the Great War, Naval Operations, Vol V, Chapter II, The Mediterranean August 1917 to April 1918, accessed online at naval history.net
Naval casualty figures for M28 from naval-history.net
Information Held on Database
| | |
| --- | --- |
| Surname: | Whitemore |
| Forenames: | George Edward |
| Rank: | Petty Officer 1st Class RN |
| Service Number: | 179626 |
| Military Unit: | HMS Monitor 28 |
| Date of Death: | 20 Jan 1918 |
| Age at Death: | 39 |
| Cause of Death: | Killed in action |
| Action Resulting in Death: | Battle of Imbros |
| Place of Death: | Kusu Bay, Imbros |
| Place of Burial: | Buried Lancashire Landing Cemetery, Gallipoli |
| Born or Lived in Dartmouth? | Yes |
| On Dartmouth War Memorial? | Yes |
| On St Saviour's Memorials? | Yes |
| On St Petrox Memorials? | No |
| On Flavel Church Memorials? | No |
| In Longcross Cemetery? | No |
| In St Clement's Churchyard? | No |
| On a Private Memorial? | No |
| On Another Memorial? | No |
---
This information was last updated on Thursday 03 May 2018 at 23:28:03.