Thomas James Warren
Family
Thomas James Warren was not a native of Dartmouth but came to the town from a far more exotic setting, being born in Constantinople, in or around 1891. He was the youngest son of George Warren and his wife, Rosa Matilda Lamb.
George Warren was born in 1831 in Whitton, Suffolk, the son of Robert Warren, successively described as a labourer, mariner, and later in life, a butcher. George began his career at sea in the merchant navy as a Boy, aged only 13 (and, it would seem, overstating his age by a year). But he was evidently bright and hard-working - by the age of 21, when recorded in Ipswich in the 1851 Census, he had become an engineer.
However, he then disappears from the records until his marriage to Rosa Matilda Lamb, at St Martin in the Fields, London, in 1875. According to his marriage certificate, George had been married before, but so far we have not been able to trace the marriage. He was still an engineer - his absence from census or other records suggests that he may have worked abroad.
Rosa was the eldest daughter of Thomas Lamb, a coachman, and his wife, Esther Wells. At the time of her marriage, she was not yet 21, so George obtained a licence enabling the marriage to take place. As her father had died, consent had to be given by her mother, Esther. How Rosa and George met is not known - four years earlier, at the time of the 1871 Census, Rosa was working as a pupil-teacher at a girls school in Mells, near Frome, in Somerset.
George's work as an engineer took him and Rosa to the Middle East. In later life, he described himself as an "engineering surveyor", but it is not known in what sector he was employed. According to a later Census record, George and Rosa had eleven children, six of whom survived. So far, we have identified ten:
Charles George Herbert, baptised in Pera, Constantinople, on 30th June 1878 - died by 1880
George Albert Robert, born 1879 in Zeitoun, Armenia
Alice Ellen, born c 1880, Constantinople
Charles Herbert, born c 1884, Constantinople
Albert Edward, born and died 1886-90, Constantinople
Kate Rosa, born c 1886, Constantinople
Robert William, born 1886-90; died 1891-95, Constantinople
Rosa Ellen, born 1886-90; died 1891-95, Constantinople
Herbert, born c 1890, Constantinople
Thomas James, born c 1891, Constantinople
Census records suggest that George and Rosa sent at least two of their sons back to England for at least some part of their education - George Albert was recorded in Barnet aged 11 in 1891; and Charles was boarding in Hartlepool aged 17 in 1901, while serving his apprenticeship as a marine engineer. Whether Thomas was also sent back to England to school is not known. It seems that George, Rosa, Alice, Kate, Herbert and Thomas came to Dartmouth after George retired - by May 1908, they were living in 2, Valetta Terrace, Victoria Road.
In 1910, Kate married Harry Duder Hawke, the son of William Ash Hawke and his wife Emma Duder. William was a coal and corn merchant in Dartmouth, running the business with his eldest son John. Harry was also a coal merchant. The marriage led to a very close association between the two families - it was the first of three. Thomas married Emma Hawke, Harry's younger sister, in 1914 (see below); and in 1919, Alice married John Hawke.
The 1911 Census recorded George and Rosa living in Valetta Terrace with Alice and Thomas. Thomas was apprenticed to one of the engineering firms in Dartmouth. Kate and Harry also lived in Dartmouth with Harry's family, at "Hillside", and by 1911, they had a little boy. Thomas' two eldest brothers, George and Charles, were both far away - George had gone first to South Africa, and then to Australia; Charles had also gone to Australia and married there, and later became a mining engineer. Herbert took his engineering skills into the merchant navy, and it seems that, when his apprenticeship had finished, Thomas did also.
However, during this period, Thomas also had some experience of the Army, having been a member of the 7th Battalion (Cyclists) in the Devonshire Regiment, for over three years. The Devon Cyclists were part of the Territorial Force, established in 1908. "F" Company was based in Dartmouth, and was very much part of the local scene. Several of the men on our database were members of it - for example, Thomas is likely to have known Harry Mandley, who had been a member since 1910.
On 16th July 1914, Thomas married Emma Hawke. The Dartmouth Chronicle of the following day carried a low-key announcement:
Marriage: Warren-Hawke
At Plymouth, Thomas James, youngest son of Mr and Mrs George Warren, of Valetta Terrace, Dartmouth, to Emma Hawke, second daughter of Mr and Mrs W A Hawke, of "Hillside", Dartmouth
After their marriage, Thomas and Emma moved to London, and made their home at 62, Gladstone Avenue, Manor Park, Essex. 1915 Crew Lists show that during the latter part of 1914, Thomas found work with the P&O, as an engineer on the SS Morca, and then as 6th Engineer on the SS Demosthenes, on the Aberdeen White Star Line. He was away from 23rd October 1914, to 1st March 1915, leaving from, and returning to, London. This must have been quite difficult for Emma, for their first daughter, Ruth McKay Warren, was born on 13th February 1915, two weeks before he came back.
Service
Only two weeks after his return, on 13th March 1915, Thomas volunteered for the Army, and was appointed to the 13th (Service) Battalion, Essex Regiment. From his attestation papers, which have survived, we know he was 5ft 8 ½ins tall, with blue eyes, fair hair and a "fresh" complexion.
His medical examination was not carried out until several weeks later, when he was diagnosed with heart disease (specifically, mitral stenosis) and "general debility". He was discharged on 29th June 1915 "as a recruit with more than three months service considered medically unfit for further military service".
Thomas returned to the merchant navy. Though not in uniform, he was still very much at risk. By 1917, he was serving aboard the SS Umaria, built in 1914 in Glasgow for the British India Steam Navigation Company. On arrival in India, she had been immediately pressed into service to transport Indian Forces to Mesopotamia, but on this particular voyage, she was carrying cargo from Calcutta to Britain. Thomas was serving as 4th Engineer.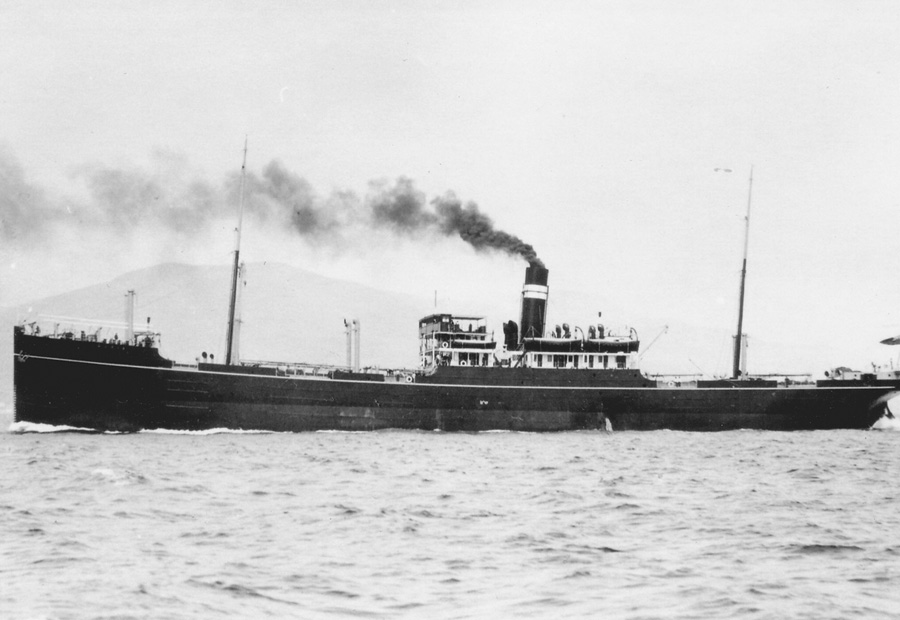 The SS Umaria
Death
On 26th May 1917, when 20 miles SW by S off Policastro, near Salerno, Italy, the SS Umaria was torpedoed and sunk by German submarine U-65.
The attack is described in the official history of the Merchant Navy by Archibald Hurd, and includes a description of what happened to Thomas - the unnamed fourth engineer - as well as the rest of the crew:
At 6am on the 26th a submarine fired on the British India Company's steamship Umaria (5,317 tons) in the Gulf of Policastro, off the coast of Italy. The ship was armed with a 12 pounder, and at once attempted to reply. After five rounds, the gun was rendered useless by the breaking of its striker, and the ship had only its smoke bombs to depend upon. Soon afterwards, the steering gear was disabled by a shell, and the vessel became unmanageable. One of the submarine's first shells had killed a native seaman, and wounded several firemen and a cadet; another destroyed no 3 lifeboat, and killed a native who was hiding in it. The fourth engineer had his thigh broken, and the master (Mr G McT Symmers) was wounded in the left shoulder. Distress wireless signals produced no reply, and about 7pm it was decided that the ship must be abandoned. The three remaining lifeboats were sent away, and the gig was ordered to keep out of the line of fire until the master and those left in the ship were ready to embark. The submarine commander then deliberately fired on the gig, riddling it with holes, and severely wounding all but one of those on board it, including the fourth engineer, already so badly injured. In spite of this, the gig reached the ship's side, and the master and the rest got in. They were then signalled alongside the submarine, and the chief engineer was made prisoner in lieu of the master, on account of the latter's wounds. The boat was half full of water, red with the blood of wounded men, whose injuries there was no means of dressing, and she had to be continually baled, while only three of those on board her were still capable of handling an oar at all. The sufferings of the wounded were terrible; and it was not till 2.15 pm that a small rowing boat of the Italian coast-guard took them in tow, and brought them to a patrol boat, in whose charge the three lifeboats already were. They were landed at Sapri, and there everything possible was done for them; but meanwhile the fourth engineer and one of the firemen had died of their wounds, and all had endured protracted agonies.
The Uboat's commander was Hermann von Fischel, who rose to the rank of Admiral in 1941. He retired from the Navy in 1944 but was captured by the Russians and died five years later as a prisoner.
Five members of the crew died, including Thomas; the chief engineer, second officer and a cadet were taken prisoner.
Only three weeks after Thomas' death, Emma gave birth to their second daughter, at the Hawke family home at Hillside House. She was named Umaria Duder Warren.
Thomas' elder brother George served with the Australian Imperial Force during the war, in the Middle East and in France. He was invalided out of the army in 1917 following severe shell-shock. His brother Herbert also served with the merchant navy during the war, and survived.
Commemoration
It would appear that Thomas must have been buried at sea, for he is commemorated on the Tower Hill Memorial, for those who died in the merchant navy and who have no known grave.
The other four members of the crew who died are all commemorated on the Bombay 1914-1918 Memorial in Mumbai.
In Dartmouth, Thomas is commemorated on the Town War Memorial and the St Saviour's Memorial Board.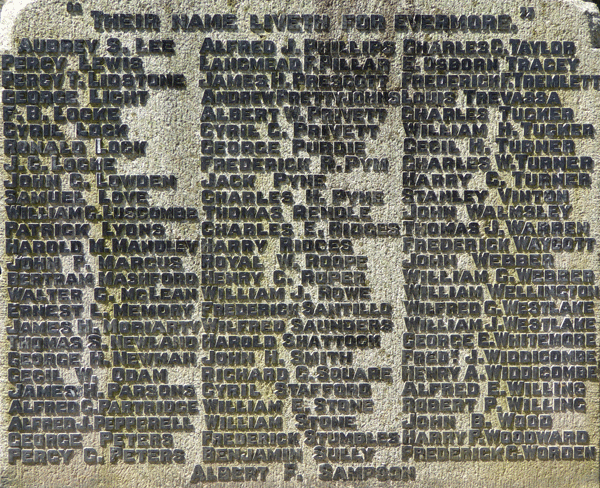 Dartmouth Town Memorial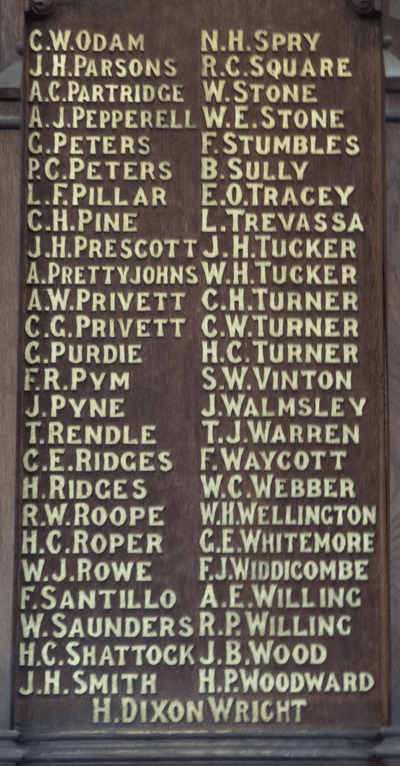 St Saviour's Memorial Board
George and Rosa Warren were both buried in St Clements Townstal - George died in 1918, and Rosa in 1936. Thomas is also remembered on their headstone.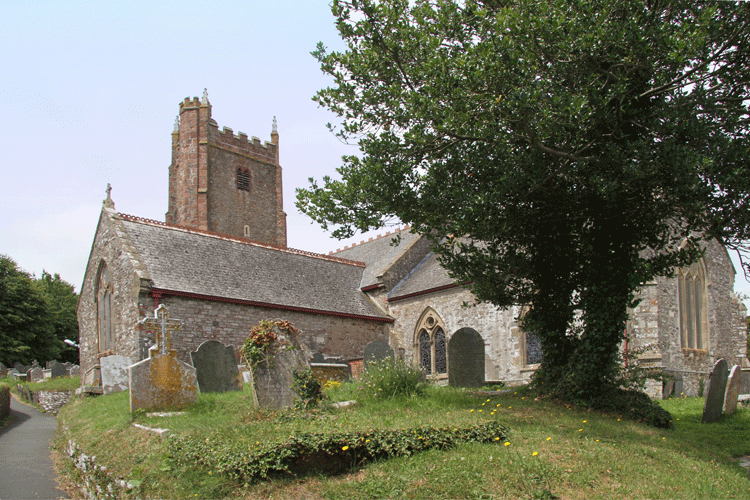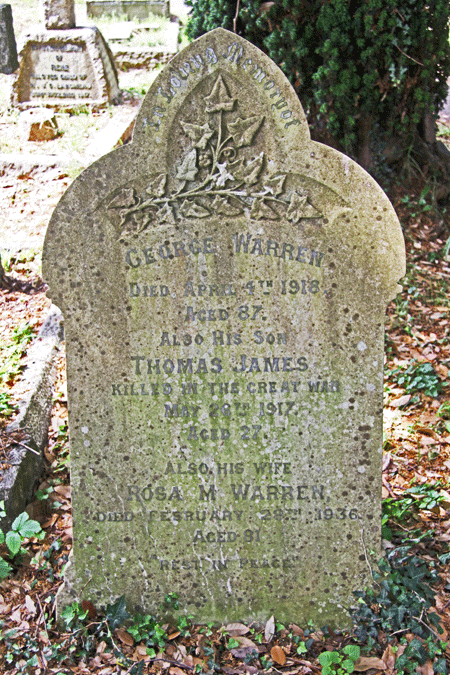 Sources
Crew Lists of the British Merchant Navy - 1915
Attestation and discharge papers for Thomas James Warren available from subscription websites
History of the Great War: The Merchant Navy Vol III, by Sir Archibald Hurd, publ John Murray, 1929, accessed online at naval-history.net
Hermann von Fischell and U65 at uboat.net
Information Held on Database
| | |
| --- | --- |
| Surname: | Warren |
| Forenames: | Thomas James |
| Rank: | 4th Engineering Officer |
| Service Number: | |
| Military Unit: | SS Umaria, Mercantile Marine |
| Date of Death: | 26 May 1917 |
| Age at Death: | 27 |
| Cause of Death: | Gunfire from German submarine |
| Action Resulting in Death: | Attack by German submarine U-65 |
| Place of Death: | Near Salerno, Italy |
| Place of Burial: | Commemorated Tower Hill Memorial |
| Born or Lived in Dartmouth? | Yes |
| On Dartmouth War Memorial? | Yes |
| On St Saviour's Memorials? | Yes |
| On St Petrox Memorials? | No |
| On Flavel Church Memorials? | No |
| In Longcross Cemetery? | No |
| In St Clement's Churchyard? | Yes |
| On a Private Memorial? | No |
| On Another Memorial? | No |
---
This information was last updated on Thursday 25 May 2017 at 18:06:32.