Richard Giles Todd
Family
Richard Charles Giles Todd was born on 7th October 1894 in Exeter and baptised at St Edmunds, Exeter, on 5th December of that year. He was the oldest son of Samuel Todd and his wife Elizabeth Emily Bufton. Samuel came from Exeter, and Elizabeth from Kingswear. At the time of Richard's birth, the family lived in Commercial Road, Exeter, and Samuel was a labourer.
Richard's early years were spent in Exeter, where Samuel obtained labouring work and also worked as a Stoker. His sisters Nellie Louisa Alice and Edith Annie were born in 1896 and 1898. Contact with his mother's family remained close - Nellie was baptised in Kingswear. Some time before the birth of Richard's third sister, Ruby, in 1900, Samuel and Elizabeth moved to Exminster. Perhaps living conditions were crowded, because by the time of the 1901 Census, Richard, now aged 6, was living with his mother's parents, Richard and Sarah Bufton, at 1 Hillside Terrace Kingswear. Samuel and Elizabeth and their three daughters (a baby, Ruby, had been born in 1900) were living at Reeds Cottages, Exminster.
Richard Bufton, Richard Todd's grandfather (after whom he was (presumably) named), had been born in Portsmouth in 1835. He had joined the Navy as a Boy 1st Class in 1854 and signed on for a further ten years, to obtain a pension, in 1864 whilst on the books of no less a ship than HMS Victory (at that time rather ignominiously used as a depot ship in Portsmouth Harbour). On 22nd August 1869, he transferred as a Boatman to the Coastguard Service, having been described as of "Exemplary" character.
Shortly afterwards, the Coastguard Service brought him and his family to Kingswear. In the 1871 Census, Richard, his wife Sarah, and their four children Sarah, age 10, Nellie, age 5, Richard, age 3 and Charles, age 1 were recorded at 6 Church Park Cottages, next door to the Village School and the Wesleyan Chapel. Emily Elizabeth, Richard Todd's mother, was born in Kingswear in 1873, followed by Alice in 1874 and Emma Louise in 1877. Lavinia, born in 1879, did not survive her first year, and Richard and Sarah's last child, Henry James, died aged 4 in 1885.
Richard Bufton left the Coastguard Service in 1876, having completed twenty years service. He and Sarah remained in Kingswear for the rest of their lives.
How long Richard Todd lived with his grandparents is not known. But Samuel and Elizabeth had moved to Kingswear by the time their next daughter, Sarah Ann, was baptised in 1904 at St Thomas of Canterbury Kingswear, when aged two. In the 1911 Census, the family was recorded together at 5 College View, Kingswear. Both Samuel and Richard, now aged 16, were working as "general labourers". No occupation was recorded for Nellie, aged 14, while the younger children, Edith, Sarah and William, born in 1906, were still at school. The youngest of Richard's brothers and sisters, Betty Doreen, had been born in 1909.
Very close by, in Higher St Kingswear, were the children's grandparents, Richard and Sarah Ann Bufton, now 76 and 74. Living with them was another grandchild, this time Ruby Todd, as well as their youngest daughter Emma, now married, and her daughter, Marjory Heal, aged two.
Service
Perhaps Richard was inspired or encouraged by his grandfather to join the Navy. Aged not quite 18 (he apparently overstated his age by about three weeks, according to the date of birth given on his naval service record) he joined the Navy on 17th September 1912 as a Stoker 2nd Class on a twelve year continuous service engagement. His naval record states that he was 5ft 4 ½ins tall with brown hair, hazel eyes and a "fresh" complexion.
After four and a half months initial training at Devonport he was appointed to HMS Indefatigable, his first and only ship, on 1st February 1913. On 11th September 1913, which the Navy thought was his nineteenth birthday, he was rated Stoker 1st Class.
For the rest of his service on HMS Indefatigable, including the ship's fate at the Battle of Jutland, see our separate article here.
Death
On 9th June 1916 the following announcement appeared in the Dartmouth Chronicle:
Todd-May 31st, 1916, killed in action on HMS Indefatigable, Richard Charles, eldest and dearly loved son of Mr and Mrs Todd, of Kingswear, aged 22 years.
He has sailed on his last commission
In that beautiful ship called "Rest"
His head is safely pillowed now
On his Great Commander's breast.
At the time of Richard's death, his father Samuel was serving in France with the 5th Labour Battalion, Royal Engineers, raised for labouring work. He had volunteered aged 42. He survived the war, being demobilised on 19th February 1919.
Commemoration
Richard is on our database because the announcement of his death appeared in the Dartmouth Chronicle. He is commemorated on the Kingswear War Memorial in St Thomas of Canterbury, Kingswear, together with his shipmate, Frederick Charles Brewster.
As one of those who sailed from Plymouth lost at sea and having no known grave, he is also commemorated on the Plymouth Naval Memorial.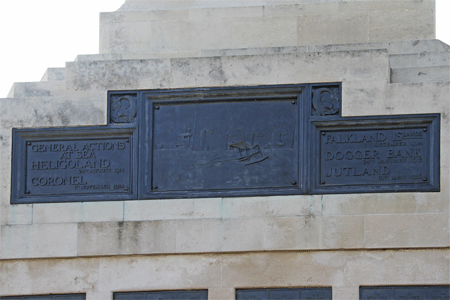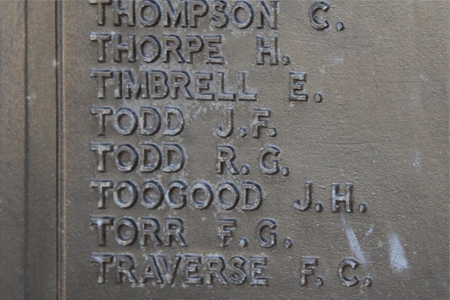 Plymouth Naval Memorial
Sources
Naval service records available for download from The National Archives, fee payable:
Kingswear's Heroes in Peace and War, by Tessa Gibson and Trevor Miles
Information Held on Database
| | |
| --- | --- |
| Surname: | Todd |
| Forenames: | Richard Giles |
| Rank: | Stoker 1st Class RN |
| Service Number: | K/160099 |
| Military Unit: | HMS Indefatigable |
| Date of Death: | 31 May 1916 |
| Age at Death: | 21 |
| Cause of Death: | Killed in action |
| Action Resulting in Death: | Battle of Jutland |
| Place of Death: | North Sea |
| Place of Burial: | Commemorated on Plymouth Naval Memorial |
| Born or Lived in Dartmouth? | No |
| On Dartmouth War Memorial? | No |
| On St Saviour's Memorials? | No |
| On St Petrox Memorials? | No |
| On Flavel Church Memorials? | No |
| In Longcross Cemetery? | No |
| In St Clement's Churchyard? | No |
| On a Private Memorial? | No |
| On Another Memorial? | Yes |
| Name of Other Memorial: | Dartmouth Chronicle Obituary, also Kingswear Memorial, St Thomas of Canterbury |
---
This information was last updated on Tuesday 31 May 2016 at 12:23:53.