Frank Leslie Newland Jones
Family
Frank Leslie Newland Jones was born in Dartmouth on 29th November 1898, and baptised at St Petrox on 22nd January 1899. He was the youngest surviving son of John Jones and his wife Eva Newland. John and Eva were both born and brought up in Dartmouth.
Eva Newland was the daughter of Samuel Newland, a sawyer, who had come to Dartmouth from Cornworthy. Her mother, Emma Brimmacombe, was from Exmouth. Eva's father died when she was only five, and her mother had supported the family by taking in washing. Eva's younger brother Thomas Brimmacombe Newland was born after his father's death - see the story of Thomas Samuel Newland. Eva's mother later remarried, to William Bennett, a labourer.
At the time of the 1891 Census, Eva was working in domestic service, and living as a lodger with Henry Jones, John's widowed father, and Charlotte, John's sister. Henry Jones worked as a mason. John and Eva may already have been "walking out", for they married in St Saviours a few months later, on 30th August 1891. At the time of their marriage, John worked as a mariner.
John Henry, their first child, was born in Lower Street, Dartmouth, and baptised at St Saviours on 22nd September 1892. Three more boys followed: Frederick James Newland, born on 27th October 1894 and baptised at St Saviours on 2nd January 1895, William Thomas, born on 28th August 1896 and baptised at St Saviours on 22nd October 1896, and Frank, in 1898, as above. John continued to work at sea, as a fireman, or stoker. On the night of the 1901 Census, he was recorded twice; as a member of the crew aboard the Rotterdam of London, a steam dredger in Dartmouth Harbour, and at home, with his wife and four sons.
By this time they were living in Coles Court - where amongst their close neighbours were the Prettyjohn family (see the story of Andrew Prettyjohn). John and Eva's fifth son, Henry Samuel Newland, was born at Coles Court on 23rd July 1901 and baptised at St Petrox on 11th September 1901. Records also show that this child was vaccinated the same day, but sadly Henry Samuel (named for both his grandfathers) died before his second birthday, in 1903.
John and Eva's sixth and last child was a girl, named Eva, born on 26th August 1905 and baptised at St Saviours on 21st September 1905. As Coles Court was demolished that year, to make way for new offices on the Embankment, the family had found a new home in Castle Slip, Duke Street, behind the Royal Castle Hotel.
Tragedy struck the family in April 1909. The story was covered in several newspapers but, naturally, the fullest account is found in the Dartmouth Chronicle, of 9th April 1909:
On Sunday last a shocking cliff tragedy occurred at Dartmouth. During the morning, a youth named John Jones, an apprentice with Messrs Philip & Son Ltd, Dartmouth, accompanied by his friend, Frank Warren Sanders, proceeded to the cliffs in the vicinity of Combe Point for the purpose of picking primroses. Suddenly Sanders missed his chum, who had ventured further out, and after a search saw him lying upon the rocky beach below, he having fallen some 150ft. Sanders ... then rushed to the Coastguard Station, which is a considerable distance away, and Chief Officer Pepperell and other coastguards accompanied him back to the scene of the accident ... life was ebbing fast, and although the coastguards had brought with them a life line and had also obtained a hurdle, deceased's condition was too serious for him to be hoisted up the cliffs, and Sanders was sent to the Coastguard Station to telephone for a doctor and a boat. All that was possible was done by Chief Officer Pepperell and the others to relieve the poor fellow, but he was then beyond human aid, and was only able to speak two words, "My God", before he breathed his last.
Frank Sanders had managed to find John (senior) in Bayards Cove; he ran to the scene with several others, but his son had died before he reached the spot. The body was then hoisted up the cliff and taken to John and Eva's home. The doctor (who had been unable to reach the scene in the boat due to the rough sea) saw John Henry's body at home and told the subsequent inquest that death was due to a fractured skull. The jury gave a verdict of accidental death and the Coroner said that "it was a sad end to a young life ... thrown away ... for the sake of a few primroses".
The newspaper further reported the following week that the circumstances "aroused the deepest sympathy of residents of the town and district for the deceased's parents, and an immense concourse of sympathisers assembled at the Cemetery". There was a large attendance amongst the apprentices of Philip & Sons, six of whom acted as bearers: "Many beautiful floral tributes were received, primroses very appropriately predominating".
The 1911 Census recorded John, Eva and their four children living in St Saviours Square. John now no longer went to sea, but worked as a coal lumper. Frederick, now the oldest, had followed his brother into engineering, and was an apprentice; William, aged 14, was already working as a labourer. Frank, age 12, was still at school, as was Eva, aged 5.
Service
It seems that Frank followed his father into the merchant navy, but so far, we have not been able to trace any other ships in which he worked, apart of course from the last, the SS Miguel de Larrinaga. Run by a Basque merchant family of the same name, the Larrinaga Steamship Company was established in Liverpool in 1862 to run sailing ships under the Spanish flag. In 1870 a regular line of cargo and passenger steamers was started between Liverpool and the Phillippines, and in 1896 a regular service was established between Galveston and Manchester. The company began to register its ships in Liverpool after the Spanish American war.
The first of the ships named SS Miguel de Larrinaga was built in 1901 by Russell & Co of Greenock, on the Clyde, and launched on 18th October of that year. She was part of a large fleet of cargo ships between 4000-5000 tons gross, with Larrinaga family names. Crew lists for the ship show that crewmembers were predominantly Spanish, under British officers; crew lists for the ship for 1915 have survived, but do not include Frank's name. At that time the ship was bringing cotton to Manchester from Galveston, Texas.
Death
On 5th February 1918 the SS Miguel de Larrinaga was some 400 miles off Cape Race, Newfoundland, travelling from Newport News, Virginia, to a port in France. She met very bad weather and, according to the official record, "foundered". The following account appeared in the Northern Daily Mail, of Hartlepool, on 21st March 1918. Similar stories were carried by several newspapers internationally:
Tradition of the Sea
Captain who gave his life for his men
British sea traditions were heroically upheld by Captain E Williams and nine members of the crew of the 5,000 ton British Steamship Miguel de Larrinaga who volunteered to perish in order that others might live when the vessel foundered in mid-ocean on February 6th. Survivors, says the New York correspondent of the "Daily Express", state that the captain, rather than overcrowd the lifeboats containing twenty-seven men, announced his decision to stick to his ship, which was fast sinking. He called for nine volunteers to stay with him and make the boats safe for the others.
Two of his officers, a gunner, and six seamen lined up beside him, and declared they were willing to take the chance of being rescued before the ship sank.
A British warship sighted the vessel, and boats were launched, but the fury of a hurricane made it impossible to take off the ten men, who for forty hours had clung to the half-submerged ship, knocked about and pounded by heavy seas.
The gallant ten at intervals during the night sent up rockets to encourage the rescuers, but the signals ceased after 3am. At daybreak only patches of wreckage marked the spot where they had gone down.
The Miguel de Larrinaga, formerly a Spanish steamship, was in the service of the British Government, and left Newport News, Virginia, late in January for a French port.
American newspapers further reported on 15th February 1918 that the ship was carrying a cargo of grain; that the men in the small boats were picked up by the British warship and taken to Newfoundland, and some then went on to New York. As well as the captain, chief officer R S Marn and the second officer remained on board, with the gunner and six of the crew. The ship had foundered because the grain cargo had shifted in the storm.
A survivor, Jesse Gilsomini, was quoted at some length in an Associated Press report carried by The Houston Post of 16th February 1918 (which noted that the ship had been for many years regularly in trade between Galveston and British ports, though she was not out of Galveston on the last voyage). His account explains why there were not enough boats for everyone on board:
We had bad weather right from the Capes and our capsizing was caused by the shifting of the cargo. Sunday February 3 it blew so hard and the sea was so rough that we could hardly keep to the decks. Monday morning the old ship began to keel over and soon it was to be seen she was a "goner". Some of the lifeboats were carried away before she capsized.
Captain Williams ordered us into the boats that were left, but as there was no room for us all to get in them without overloading them in the rough sea he said he would stick to the ship. Mr Marn, the first officer, said he'd stick, too, and then the second mate said he would, and then the others who were last volunteered to stay with them. They said there was a chance they would be able to float long enough to be picked off by some passing ship.
We left them behind with the same hope in our minds and when we sighted the war vessel, a former merchantman coming our way, we felt pretty good about it. As soon as the war ship picked us up she tried to save the others who could be seen perched on the side of the overturned and pitching vessel. It was no use, however, as the seas were too rough to get near them. That night we kept track of them by the rockets they were sending up. It was still blowing a hurricane the next day. The warship launched boats but it was no use. Tuesday night shut in with us still standing by. They shot rockets every now and then and we prayed that by daylight the sea would go down. The last rocket went up at 3 in the morning.
When dawn came there was nothing in sight but the storm blown waves with patches of drifting grain and wreckage.
It seems that Frank was one of the men who volunteered to remain on board - an "In Memoriam" notice placed by the family in 1919 states that he "sacrificed his life for his fellow shipmates". In the provisional roll of honour drawn up by the Dartmouth Chronicle in 1919, he was described as "Leading Able Seaman". His date of death is given in official records as 5th February 1918.
News of Frank's death reached Dartmouth by early March. The Dartmouth Chronicle of 8th March 1918 carried the following family announcements:
In loving memory of Frank, the younger beloved son of John and Eva Jones, who was drowned at sea Feb 5th 1918, aged 19 years.
He has anchored his soul in the haven of rest
He will sail the wide seas no more
The tempest may sweep o'er the wild stormy deep
But in Jesus he's safe ever more.
February 5th, through the foundering of his ship off Cape Race, Newfoundland, Frank, the beloved brother of Fred and Will (HMY Marynthea) and Eva, aged 19 years. Fondly remembered by sister in law Margaret and Gran.
We often think of days gone by
When we were all together
A shadow o'er our lives is cast
For you (the third) are gone forever.
As the above notice indicates, Frank was the third of John and Eva's children to die before the age of 20.
Commemoration
Frank (in the name of Frank L Jones) is commemorated in Dartmouth on the Town War Memorial and the St Saviours Memorial Board.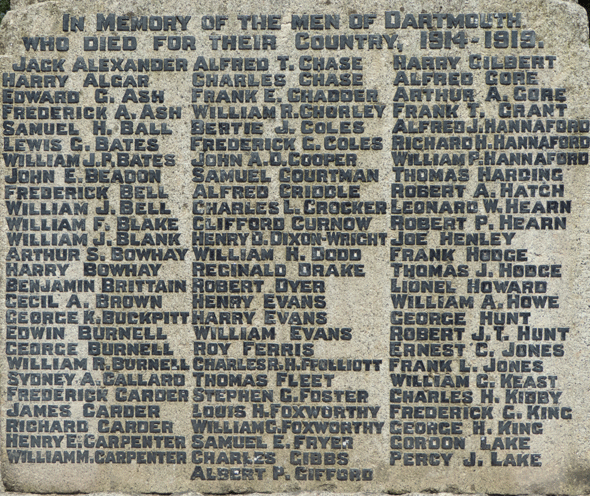 Dartmouth Town Memorial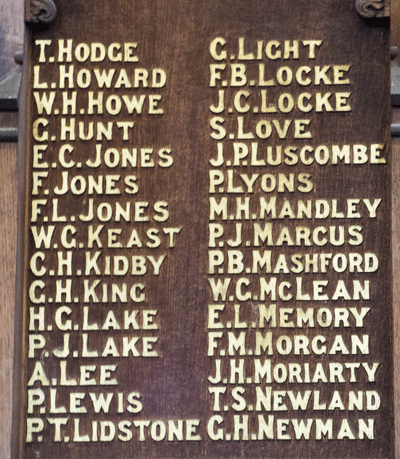 St Saviour's Memorial Board
By an odd coincidence, Frank's death occurred close to that of his close namesake in Dartmouth, Frank Ernest Jones, who appears on the St Saviours Memorial Board as "F Jones". Understandably, these two individuals have sometimes been mistaken for each other.
One of those who remained on the ship was Harold Wadham, RNVR, the gunner referred to in the press reports. He is the only member of the crew to appear on Commonwealth War Graves Commission records, presumably because he died in service. Because the ship was not lost to enemy action, she and her crew do not appear on the Mercantile Marine Memorial at Tower Hill.
However, John Jones applied in 1922 for the Mercantile Marine medal for Frank, and this was awarded to him on 28th June 1923. The medal was given by the Board of Trade to mariners of the Merchant Navy for one or more voyages through a war or danger zone during the course of the First World War.
Frank's brother William Thomas had joined HM Yacht Patrol early in 1915 - his name appears in the Dartmouth Chronicle of 26th March 1915 as a Stoker in HMY Marynthea. He survived the war. For more on HM Yacht Patrol, see the story of William Walter Leach.
Sources
National Museums Liverpool Maritime Archives, Larrinaga Steamship Co Ltd
Information Held on Database
| | |
| --- | --- |
| Surname: | Jones |
| Forenames: | Frank Leslie Newland |
| Rank: | Leading Seaman, Mercantile Marine |
| Service Number: | |
| Military Unit: | SS Miguel de Lorrinaga |
| Date of Death: | 05 Feb 1918 |
| Age at Death: | 19 |
| Cause of Death: | Drowned |
| Action Resulting in Death: | |
| Place of Death: | off Cape Race, Newfoundland |
| Place of Burial: | |
| Born or Lived in Dartmouth? | Yes |
| On Dartmouth War Memorial? | Yes |
| On St Saviour's Memorials? | Yes |
| On St Petrox Memorials? | No |
| On Flavel Church Memorials? | No |
| In Longcross Cemetery? | No |
| In St Clement's Churchyard? | No |
| On a Private Memorial? | No |
| On Another Memorial? | No |
---
This information was last updated on Wednesday 16 May 2018 at 21:09:44.