Wilfred Thomas Harding
Family
Wilfred Thomas Harding was born in Aveton Gifford, Devon, on 17th November 1897. He was the sixth child of John Boyce Harding and his wife, Clara Jane Soper.
John Boyce Harding was the son of George and Maria Harding and was born in Bigbury. By 1871, when John was seven, George was farming at Higher Wizaller Farm in Aveton Gifford, a farm of 97 acres; and the family were still there in 1889, when John married Clara Jane Soper, who was from Diptford. John continued to work with his father at Higher Wizaller, and John and Clara's first four children were born there, and baptised at Aveton Gifford:
Basil John, born on 3rd March 1890, baptised on 25th May 1890
Ruby Blanche, born on 6th April 1891, baptised on 14th June 1891
Kate Cordelia, born 5th February 1893, baptised 26th March 1893
Louis James, born 21st August 1894, baptised 14th October 1894
Some time before 1901, John moved to Heath Farm, not far away, while his father George continued to farm at Higher Wizaller. On 1st August 1902, Wilfred Thomas, who appears to have been known mostly as Thomas, was baptised at St Andrew's, Aveton Gifford, together with his elder sister Eda Ellen, born 13th June 1896; his younger brother, William Harold, born 20th June 1899; and the two latest arrivals, twins Louisa Maria and Albert George, born 8th April 1902. Arthur Henry, the last of John and Clara's children to be baptised at Aveton Gifford, was born on 25th July 1903, and baptised on 23rd March 1906.
By the time of the 1911 Census, John and Clara, together with most of the family, had moved to Chipton Farm, Dittisham, where John was assisted in working the farm by his two eldest sons, Basil and Louis. John and Clara had left their two eldest daughters, Ruby and Kate, in Aveton Gifford, at Idston Farm. Sadly, Ruby died at Idston aged 18, in 1909, and was buried at Aveton Gifford on 15th June of that year. Kate was recorded as a dairy assistant at the farm in the 1911 Census. According to that Census return, John and Clara had another daughter, Winifred Jane Harding, born 17th January 1909 in Halwell.
Service
Unusually, Thomas Harding's service papers have survived, and from them we know that he volunteered to serve in the Army while the 11th Battalion East Surrey Regiment was quartered in Dartmouth. For more on their time in the town, see the story of Joseph Clarke.
Thomas attested on 13th January 1915, giving his age as 18 years and three months - he was in fact 17 years and two months - presumably because he was keen to join. At the outbreak of war, the minimum age for enlistment in the Army was reduced from 19 to 18, and overseas service was not generally permitted - officially - for those below 19. He described himself as a "farmer".
Thomas received his initial training with the 11th Battalion, but on 5th October 1915 was posted to the 9th Battalion, the same date as his entry to France, a few weeks short of his 18th birthday. The 9th East Surreys were already in France, having arrived there on 1st September. As part of the 24th Division, they had been brought into the Battle of Loos as reserves on 26th September, and, exhausted from a long march overnight, and with no previous fighting experience, they had suffered heavy losses (for an overview of the battle, see our general article here).
The War Diary of the 9th Battalion refers to three drafts of reinforcements arriving on 30th September (30 men), 7th October (230 men) and 16th October (50 men). Thomas therefore presumably arrived on 7th October or, perhaps more likely, 16th October. At this time the Battalion was at Reningelst, south of Poperinge, near Ypres, training and refitting.
Thomas' introduction to soldiering was, compared to those of his Battalion who had survived Loos, fairly gentle. Over the next few months, the principal aim was to rebuild and retrain the Battalion, though there were of course short stints in the front line. On 19th October the Battalion went into the trenches near Ypres (the War Diary gives only a map reference, H31d48) where the situation was fairly quiet. They were there for only a few days before returning to Reningelst, where they received a visit from the King and enjoyed "Battalion Bath Day" on 28th October.
On returning to the trenches, the principal problems encountered were not enemy fire but heavy rain and mud. After a further relief at Reningelst the Battalion went into the front line near Dickebusch. Once again this was a quiet period, followed by a return to Reningelst, after which they moved to Tournehem, not far from Calais, for an extended period of training and no doubt much needed recreation. A football competition was arranged, and the Battalion was treated to a lecture "on the causes of the War and the Spirit we should adopt against the Hun". The War Diary records that Christmas Day involved "football in the morning, church at noon, a colossal feed at 1pm, concert in the afternoon, officers mess together in the evening - Great Day!" On New Years Day plum puddings were still being eaten and the Battalion won a sniping competition.
On 8th January 1916 the amusements came to an end with a return to the front line, this time at the Hooge crater on the Ypres-Menin road. On 11th January, "the shelling was quite bad", with two killed and three wounded. By 16th January they were in camp outside Poperinge (Camp A) where they remained for ten days. From 27th -30th January they were back at Hooge where casualties were 4 killed and 4 wounded; and again (after two days in Poperinge) for five days, during which casualties were two killed and seven wounded.
On 8th February they returned to Poperinge, this time to Camp B, for a week, and then moved to Zillebeke, a little further south from Hooge, where they spent a couple of days "improving communications and dugouts". They then returned to the trenches at Hooge. On 21st February, the Diary reported that "our snipers killed a german who was waving his hat" and "Enemy shouted several times from his trenches "Tommy" and "Friend"". Evidently this was assumed to be a ruse rather than an attempt at a local truce. The following day was quiet, but on 23rd February they were shelled with whizzbangs and shrapnel, though with no casualties. On 24th February they went back to Zillebeke, providing more working parties to improve dugouts and communications, and on 27th February, returned to the trenches at Hooge. The enemy was also improving their trenches; working parties were seen and the new work was clearly distinguishable because of new timber and "blue soil".
On 1st March, at 12.30am, there was an exchange of bombs (grenades) and "at daybreak it was seen that our bombs had done considerable damage". The following day there was a more substantial engagement; British artillery shelled the German line, and "the enemy retaliated vigorously on our front line trenches with trench mortars, whizzbangs, and shrapnel", causing 17 casualties (7 OR killed and 10 OR wounded) and much damage, though this was quickly repaired - "the work was done in most cases by private soldiers acting on their own initiative". They returned to Camp B at Poperinge by way of Zillebeke on 3rd March for ten days rest, plus the usual "training, drill and erecting obstacles etc"; they then had four days at Zillebeke providing yet more working parties in trenches. This kind of activity was far from risk-free; on 18th March one man was killed and two were wounded. They also buried a "Canadian officer" killed by a sniper during a visit to the trenches, and the following day were relieved at Zillebeke by a Canadian battalion, the 4th Canadian Mounted Rifles. The Battalion then returned to Camp B for two days.
On 21st March 1916, they moved to the "vicinity of Fletre", south west of Poperinge, and on 26th March, eastwards to the "vicinity of Wulverghem", slightly south west of Ypres, where they relieved the 3rd Battalion Canadian Infantry in the front line. The next few days were quite active with exchanges of machine gun fire, grenades and artillery. On 1st April, four men were killed, and five were wounded; the following day, they moved into Divisional Reserve, at Dranouter, further south west of Ypres, where they remained for four days.
On the night of 8th April, they relieved the 1st Bn North Staffords in the front line. The War Diary records that three people were wounded on 9th April after sniper fire and grenade fire (which was returned), one of whom was 8622 Pte T Harding.
However, according to Thomas' own service papers, the report of him being wounded in action in the field on 9th April was incorrect. The gun shot wound he had received, causing him to be admitted to 73 Field Ambulance, had not occurred during the action on 8th/9th April but on the following day, apparently accidentally. Included in the file is the following statement from Thomas, followed by a further statement from an Army doctor:
Sir
On Monday April the tenth, when on sentry in the trenches I was accidentally shot in the thigh by one of my comrades, he was cleaning his rifle and having finished and reloaded it, he without thinking pulled the trigger and discharged the shot.
The above statement was taken down and signed by No 8422 Pte Harding T 9th E Surreys. He is suffering from a slight gunshot wound of the right thigh and in my opinion will be fit to resume duty within two weeks.
signed G D P Gibbon, Capt RAMC, 11.4.16
Thomas was sent by the Field Ambulance to the hospital at Boeschepe, nearby, where - most probably because of the nature of the wound - he was suspected by the Medical Officer in Charge of having inflicted it himself. Doctors were instructed to be vigilant for cases where this might have occurred, and any possible case was required to be reported. On 13th April, the 24th Division (and presumably the Battalion) was requested to provide statements "of any witnesses who can give evidence as to the circumstances under which this wound was incurred". The above statement was attached to the request.
Had the statements indicated that the wound was self-inflicted, Thomas would have been tried by court-martial and (if found guilty) would have suffered a long term of imprisonment. But evidently he was exonerated by whatever was collected, because his service record includes a memorandum dated 20th April which says: "It is not proposed to bring this man to trial because his wound was not self-inflicted". There was no court-martial and the wound was officially determined to be accidental. (Unfortunately, the statements are not included in the surviving service papers). On 23rd April 1916, he was admitted to No 15 Casualty Clearing Station at Bailleul, and remained out of the line for two months, rather longer than Captain Gibbon had predicted.
Death
Thomas' papers record that he returned to duty on 27th June 1916. The 9th East Surreys were still in the "vicinity of Wulverghem", near Ypres, where things had hotted up. That day, the Battalion War Diary reported:
During the earlier part of the morning our artillery bombarded the enemy trenches; 4 minutes after the commencement of our bombardment the enemy started retaliating. This retaliation took the form of: heavy shrapnel, HE, whizzbangs, minnies and lighter trench mortars on our front line and support trenches. Between 30 and 40 minnies fell on Stretcher Lane (Wytschaete Road) and blocked it with earth etc from one end to the other. During the afternoon the enemy sent over several rifle grenades, three fell in our D4 trench and caused three casualties. We retaliated with four times as many rifle grenades.
In total that day, five OR were wounded.
The next day, the Diary recorded that:
During the afternoon the enemy shelled our right trench D3 and our support Coy at R E Farm with 4.2 and H.E. Shrapnel. Our artillery retaliated vigorously. About 11pm our artillery opened heavy bombardment on enemy trenches. 5 minutes after the time the bombardement started the enemy commenced his retaliation, putting 4.2 Minnies and trench mortar bombs over our front line & support trenches. A considerable amount of damage was done to our parapet and dugouts. The lewis gun in the centre of our left trench (D6) was discovered 75 yards away from its emplacement having been lifted there by a Minnie. The enemy's shelling ceased immediately after ours did.
During the night the enemy threw bombs into their own wire opposite our left Coy.
1 OR was killed and 16 OR wounded.
On 29th June there was:
Between 9 & 10pm, violent bombardment of our front and support line with 4.2, HE Shrapnel, and whizzbangs. It is also believed that 5.9 were used. Heavy barrage of yellow shrapnel was laid between our front line trenches and Battalion Headquarters, a second barrage of ordinary shrapnel ran parallel to the first on the northern bank of the Stuiverbeek. A Lewis gun in our D3 trench was buried but recovered later. At 11.40pm and again at 1.40am further bombardments of about 20 minutes duration whilst gas was being discharged by the Brigade on our right. Relieved in the left trenches by the 1st N Stafford Regt and moved into Brigade reserve at Aircraft Farm.
The casualties recorded in the Battaion War Diary were 1 officer and 21 OR wounded, including "8422 Pte T Harding". Thomas had been back in the front line for two days.
His papers record that on 30th June he was admitted once again to 73 Field Ambulance, with "shoulder wound, right arm and head", and on the same day at 10.20am he was admitted to 2 Casualty Clearing Station at Bailleul with "Gunshot wound head and right arm". He died of his wounds that day and was buried in Bailleul Cemetery.
Commemoration
Thomas' grave is one of 4,403 Commonwealth burials of the First World War in the Bailleul Communal Cemetery Extension.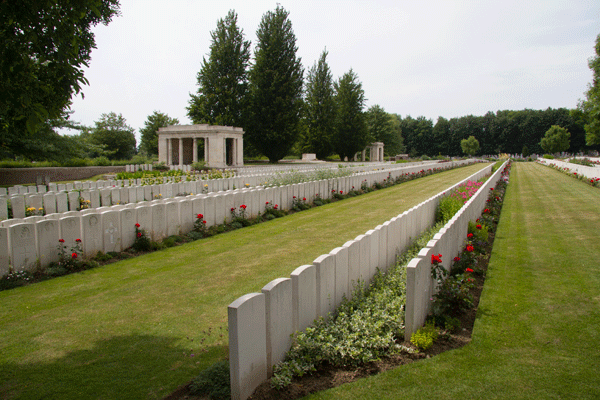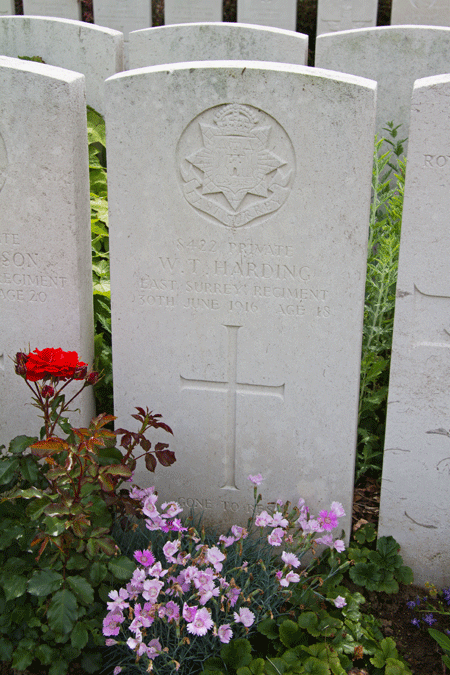 As one of the 579,206 casualties in the region of Nord-Pas-de-Calais, Thomas is also commemorated on the new memorial at Notre Dame de Lorette, "The Ring of Memory".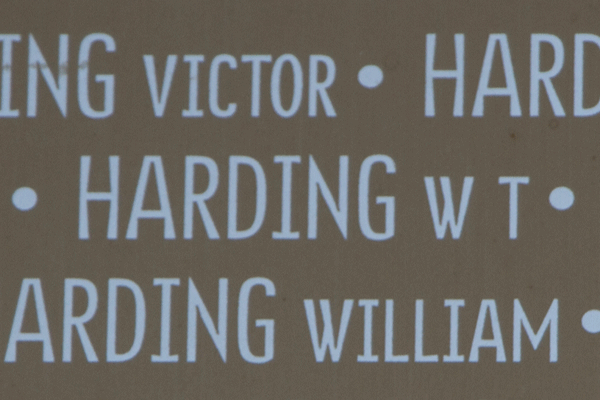 Ring of Memory memorial at Notre Dame de Lorette
In England, he is commemorated both in Dartmouth, on the Town War Memorial and on the St Saviour's Memorial Board, and in Dittisham, where his parents lived, on the Memorial inside St George's Church.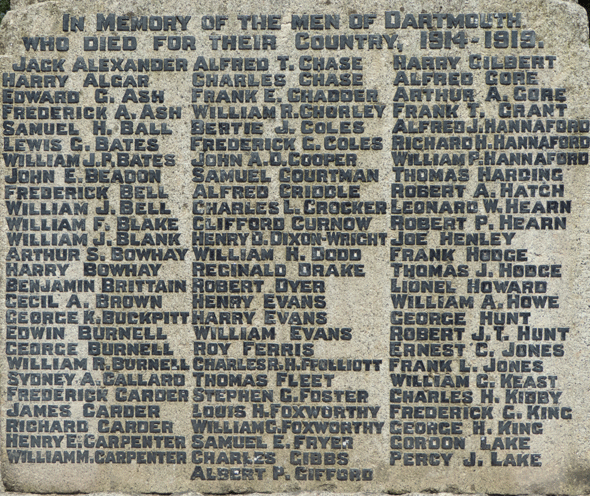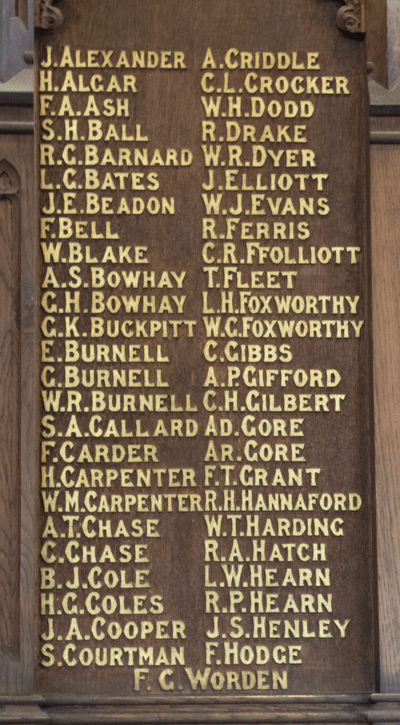 The statue of St George in the porch of St George's Church also stands as a memorial to all those from the village who lost their lives during the Great War.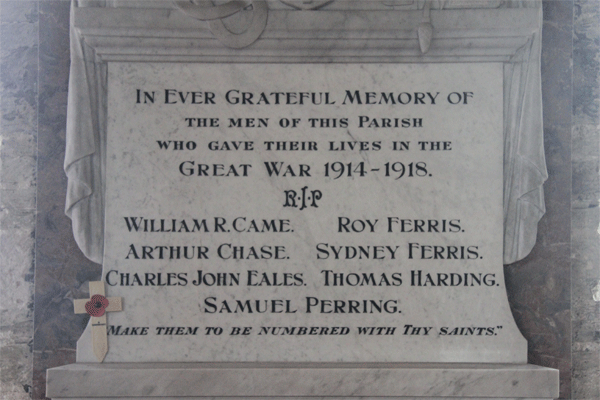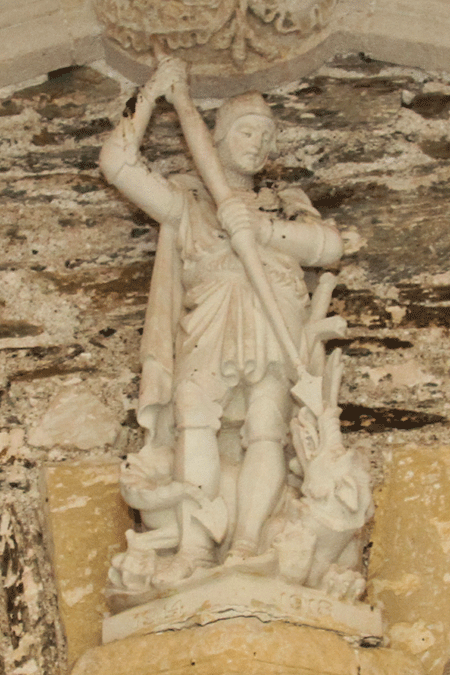 Sources
Soldier's Documents WO 363 Wilfred Thomas Harding accessed on subscription website
War Diary of 9th Battalion East Surrey Regiment 1915 August to 1919 March available for download at the National Archives, fee payable, reference WO95/2215/1
Wounding in World War One, by Julie Anderson, British Library
An analysis of 1000 wounds and injuries received in action, with special reference to the theory of self-infliction, by Col Sir Bruce Seton
Information Held on Database
| | |
| --- | --- |
| Surname: | Harding |
| Forenames: | Wilfred Thomas |
| Alternative Forenames: | Thomas |
| Rank: | Private |
| Service Number: | 8422 |
| Military Unit: | 9th Bn East Surrey Regiment |
| Date of Death: | 30 Jun 1916 |
| Age at Death: | 18 |
| Cause of Death: | Died of wounds |
| Action Resulting in Death: | |
| Place of Death: | Wulverghem near Ypres, Belgium |
| Place of Burial: | Buried Bailleul, France |
| Born or Lived in Dartmouth? | No |
| On Dartmouth War Memorial? | Yes |
| On St Saviour's Memorials? | Yes |
| On St Petrox Memorials? | No |
| On Flavel Church Memorials? | No |
| In Longcross Cemetery? | No |
| In St Clement's Churchyard? | No |
| On a Private Memorial? | No |
| On Another Memorial? | Yes |
| Name of Other Memorial: | St George's Dittisham |
---
This information was last updated on Sunday 09 July 2017 at 18:45:53.