Philip Pickering Gregory
Philip Pickering Gregory is included in our database because his name appears on the War Memorial in St Petrox Church. However, he was neither born in Dartmouth nor (so far as can be established) did he ever live in the town. He had an unusual family background, being part-Greek.
Family
Philip Pickering Gregory was born on 1st May 1896 in Streatham, London. He was the third child and youngest son of John Pickering Gregory and his wife, Ianthe Carajanaki (sometimes also spelt Caraiganaki).
John had married in 1891, at the age of 43. He was born in Oxton, in the Wirral, now a suburb of Birkenhead, and in the nineteenth century, an area where wealthy merchants and tradesmen from Liverpool chose to settle. His father was an office clerk, but evidently John felt the lure of the sea. Liverpool was a world mercantile centre for cargo and a centre for mass emigration, one of the principal ports of the British Empire. At eighteen (though reportedly two years younger) John was apprenticed to the Master of the Baroda, on her way from Liverpool to Calcutta, and (in the terms of his contract) "any ports and places in the Indian, Pacific and Atlantic Oceans, China and Eastern Seas, and back ... term not to exceed three years". John clearly liked the life - three years later he obtained his certificate as 2nd Mate, by 1874 he had passed the examination for 1st Mate, and in December 1877 he achieved his Master's certificate.
By 1891 he was working for the Liverpool shipping company Lamport & Holt, which had pioneered trade between Britain and Argentina. On 28th January 1891, as the Master, he signed the passenger list for the SS Maskelyne, a steamship travelling from Southampton to Buenos Aires. Sometimes the Maskelyne carried cargo, sometimes, as on this occasion, people from Europe looking for new opportunities in South America. On board were 25 steerage passengers: the Murphys, with nine children, from Ireland; the Munros, with three children, from Scotland; a married couple, the Daws, from England; three Welsh miners; and three men and one woman, a French governess, each travelling alone. In Cabin class were ten passengers, including Miss Ianthe Carajanaki.
On the passenger list Ianthe is listed as "Foreigner". But she had been born and brought up in London. She was the youngest daughter of Demetrius Georges Carajanaki and his English wife Mary Rogers. Demetrius had come to London from Smyrna (modern Izmir), in the Ottoman Empire. In 1851 he was shown as a "visitor" and "foreign merchant" in the home of George Peter Lascaridi, a member of the substantial Greek merchant community in London, which handled trade to English ports from the eastern Mediterranean and the Black Sea. Demetrius, a widower with a young daughter, had married Mary in 1855 - they may have met through business connections as Mary's father, Richard Rogers, was a London printer and stationer in the City.
Demetrius and Mary had eight children who survived infancy: one boy, George Demetrius; and seven girls: Theodora, Zoe, Euphrosyne, Iphigenia, Polyhymnia, Calliope and Ianthe. But Demetrius died while in Gibraltar in 1869, when Ianthe was only two, leaving his wife to look after their large family. Mary's elder sister, Sarah Rogers, who was not married, had already joined the household, presumably to help with the children; and it seems that she continued to play an important role as the children grew up, subsequently helping Ianthe in the same way.
Ianthe and John were married late in 1891 and the couple settled in south London. Philip had two older brothers: John Roger, born in 1893, and Eric Demetrius, born in 1895; and a younger sister, Winifred Ianthe, born in 1897. But too soon, Ianthe found herself in a similar position to her mother; John died aged 51 on 9th July 1901, and was buried in Norwood Cemetery the following day. Only a couple of months earlier, at the time the 1901 Census was taken, Ianthe and John were staying at the Bournemouth Hydro, while Aunt Sarah looked after the children. Perhaps they went there for his health.
Ianthe was left with four young children to look after. The 1911 census records hint that this may have been difficult. The members of the family were recorded in four different places: Ianthe was living in Twyford, Berkshire, with the eldest son, John, apparently to enable him to attend Reading School; Eric was boarding at Christs Hospital, Horsham; Philip was boarding at St Anne's Redhill (see below); and Winifred was living with her great aunt Sarah, and her aunt Calliope, Ianthe's sister, in West Norwood.
The schools attended by her children suggest that Ianthe may have faced some difficulty in funding a satisfactory education for them. Christ's Hospital was founded by King Edward VI for the orphan children of poor Londoners. In 1682 it expanded to a site in Hertford, and in 1902 all the boys from both the original London school and the Hertford school transferred to Horsham, Sussex (they were joined there by the girls in 1985). Even now, the extent of the school's endowment enables the fees of the majority of children to be met in whole or in part. Ianthe may have been successful in obtaining support for her son Eric, perhaps through a friend or business connection of her family, or through the Master Mariners' Company (as her husband was a Master Mariner) which is one of the city livery companies with the right to present children as candidates for admission.
St Anne's Redhill was established by another charity, the Royal Asylum of St Ann's Society, founded in the early 18th century to clothe and educate twelve boys from the parish of St Ann and St Agnes, Aldersgate, in a rented schoolhouse. The objective of the Society was to provide an education, maintenance and a home for children of parents "who have seen better days and moved in a superior station in life" and it was funded by donations and subscriptions. Like Christ's, it was linked to various City livery companies, and, depending upon the level of support, benefactors had rights to present children as candidates for admission.
By the late 18th century there was a country school in Lavenham as well as the original town school in the City. This transferred to Peckham in 1794, Streatham in 1829, and Redhill in 1884. (The City school was closed in 1887 when the lease of the Aldersgate property expired). There was apparently a family connection already with the St Ann's Society, as one of Ianthe's older sisters, Iphigenia, is recorded in the Streatham School in the 1871 Census.
In Redhill the school was accommodated in a substantial building on a 20-acre site, with extensive facilities, including a reading room, library, museum, gymnasium, swimming pool and cricket pitch. After the First World War, however, the Society was unable to raise the necessary funds to continue running the school, so it was closed and the site (eventually) sold. Today, the Society no longer runs its own schools, but provides grants to children "of parents who have seen better days" to finance their education at schools of their choice.
After Redhill, Philip followed his eldest brother, John, to Reading School. Reading had originally been founded as a Grammar School in 1486, but had virtually ceased to operate when it was revived in 1867, in new buildings and grounds. By the time John and Philip attended it, Reading School was providing an education along the same lines as a classical public school, but operating principally as a day school, financed partly through fees and donations, and partly by a loan agreement with Reading Corporation. As such, it may have provided Ianthe with a cost-effective alternative to the traditional public schools. In addition, Reading ran an army sixth form with the sole purpose of preparing pupils for Sandhurst and Woolwich.
Service
In the early months of the war, a young man wishing to join the army to fight for his country as an officer had a choice of three routes. He could become a regular on pre-war terms of service - the Royal Military Academy Woolwich and the Royal Military College Sandhurst continued to train regular officers throughout the war. He could join the Territorial Force and either accept or decline foreign service, as territorials had no liability for service overseas unless they volunteered for it. Lastly, he could join Lord Kitchener's Armies on a temporary commission until the war was concluded.
The main source of supply of junior officers in Lord Kitchener's Armies was the Officers Training Corps. There were twenty-four OTC units at the universities and Inns of Court, and 166 units of the Junior Division at public schools and grammar schools, including both Reading School and Christs Hospital. Indeed in the early months of the war it was difficult for a man without OTC training or a public school education to become an officer.
Philip decided to become a regular officer after leaving school, while his elder brother Eric applied for a temporary commission. Philip joined Sandhurst as a Gentleman Cadet on 14th May 1915, two weeks past his nineteenth birthday. A few weeks later, on 22nd June 1915, Eric was commissioned from the Officers Training Corps as a temporary 2nd Lieutenant in the Devonshire Regiment.
For the duration of the war the entry age for admission to Sandhurst was changed from between 16 and 19 to between 16 ½ and 25, and fees were abolished. Changes had also been made to the length of training since the start of the war. The previous eighteen-month officer training course, which included modern language instruction and other aspects of general education such as English Composition, had been replaced by a newly-established emergency short course of three months purely military training. The purpose was to commission as many officers as possible in the shortest possible time, whilst the number of cadets being trained at any one time was also increased, from 700 to 960 in November 1914.
The emergency short course was intense, with the cadets' working day starting at 6am and finishing at 11pm. The syllabus concentrated on only the most important requirements: infantry tactics; German army and allied army tactics; field engineering; map reading; musketry; sanitation; drill and physical training; riding and horse management. Also included was greatly shortened instruction on military administration, military law, and military history. Before the war this had covered Wellington's campaigns in the Peninsula and his victory at Waterloo, but now the subject was limited solely to the causes of the current conflict and its progress.
Subsequently it became obvious that three months was too short for young men without any previous military experience (other perhaps than their membership of a junior division of the OTC) and by the end of 1915 the College had extended the course of instruction, where possible, to six months (and longer as the war progressed).
Death
Philip must nearly have completed his training by the time he died. The Cadet Register records against Philip's name "died at RMC Hospital 26th September 1915". Other RMC records state that he died of "Bright's Disease" - a now archaic term, used at the time to describe a broad range of kidney disorders (named for Richard Bright, an English doctor who published a description of the disease in 1827).
A brief announcement of his death appeared in the London Evening Standardand on Speech Day at Reading School the following November Philip's name was read out as one of fifteen from the school who had "forfeited their lives for their country" (Reading Mercury, Saturday 6th November 1915).
Philip was buried in the cemetery at Sandhurst, where his grave is now marked by a Commonwealth War Graves Commission headstone.
Commemoration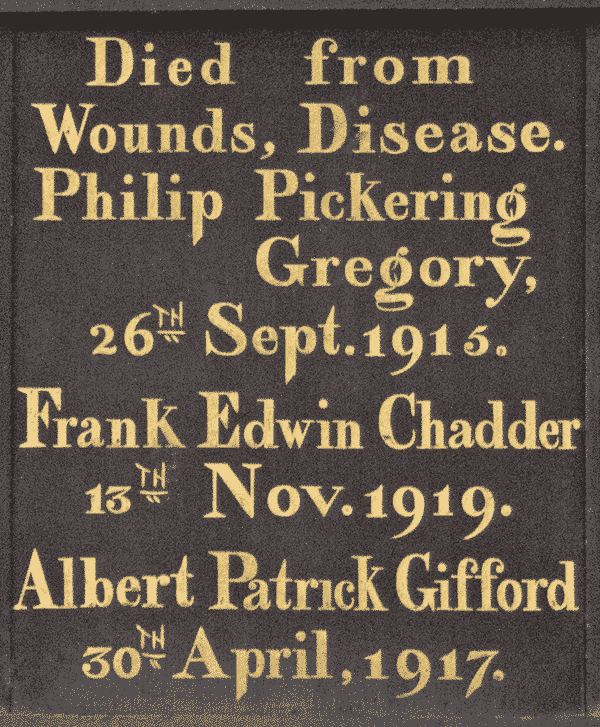 St Petrox Memorial Board
Philip is commemorated in Dartmouth on the St Petrox War Memorial.
At the time of Philip's admission to Sandhurst, Ianthe was living at Church House, Flushing, Cornwall. Some time after 1915, she moved to Kingswear, where she lived for many years at Little Ravenswell, Beacon Road - she was recorded there in the 1923 Kelly's Directory and she died there in 1960.
Eric, Philip's brother, survived the war, though he was wounded in May 1917. He was promoted to Lieutenant in July of that year and Captain in February 1918, finally relinquishing his commission on completion of his service on 9th March 1921. In later life he was ordained in the Church of England.
In 1920 he was living at Wilderness Cottage, Dartmouth. This may account for Philip's name appearing on the St Petrox War Memorial, which was completed in June 1920. Philip's name does not appear on the Town War Memorial or the St Saviour's Memorial Board.
Philip is also commemorated on the First World War Memorial in the Chapel at Reading School.
Sources
A History of Greek-Owned Shipping, by Gina Harlaftis, Routledge, 2005.
The Royal Asylum of St Ann's Society Redhill, administrative history, Surrey History Centre, Woking.
Studies in Secondary Education Ed Arthur Acland MP and H Llewellyn Smith: Part III, Chapter V, Secondary Schools of Reading, by G R Benson, published London, Percival & Co, 1892.
Sandhurst records accessed at The Sandhurst Collection Archive. Free to seach, fee payable to download.
Sandhurst Occasional Papers No 17: Sandhurst and the First World War: The Royal Military College 1902-1918, by Dr Anthony Morton, Curator of the Sandhurst Collection. We are grateful to Dr Morton for his advice on the cause of Philip's death.
Reading School, First World War Memorial.
Kitchener's Lost Boys: From the Playing Fields to the Killing Fields, by John Oakes, publ. The History Press, 2009.
Kitchener's Army - The Raising of the New Armies 1914-1916, Peter Simkins, Manchester University Press 1988, reprinted Pen & Sword Military 2014.
Information Held on Database
| | |
| --- | --- |
| Surname: | Gregory |
| Forenames: | Philip Pickering |
| Rank: | Gentleman Cadet |
| Service Number: | |
| Military Unit: | Royal Military College Sandhurst |
| Date of Death: | 26 Sep 1915 |
| Age at Death: | 19 |
| Cause of Death: | Disease: Nephritis |
| Action Resulting in Death: | |
| Place of Death: | Royal Military College Sandhurst |
| Place of Burial: | Royal Military College Sandhurst |
| Born or Lived in Dartmouth? | No |
| On Dartmouth War Memorial? | No |
| On St Saviour's Memorials? | No |
| On St Petrox Memorials? | Yes |
| On Flavel Church Memorials? | No |
| In Longcross Cemetery? | No |
| In St Clement's Churchyard? | No |
| On a Private Memorial? | No |
| On Another Memorial? | Yes |
| Name of Other Memorial: | Reading School |
---
This information was last updated on Friday 25 September 2015 at 23:12:28.