Charles Lewis Crocker
Family
Charles Lewis Crocker was born on 16th February 1883 in Torquay. He was the second son, and sixth child, of Samuel John Crocker and his wife, Edith Barnett. Although Edith was from Dartmouth, and Samuel, a plumber, was from Totnes, they had married in London, in 1869; but had soon returned to the south-west. In the 1871 Census, Samuel was recorded both in the household of his parents, John and Mary Crocker, in Totnes; and in his own home, in Dawlish, with Edith and their first child, Ida Maud. Ida and her younger sister, Louisa Kate, were both born in Dartmouth, but given the census record it is not clear if the family lived in Dartmouth at that time.
By around 1874, Samuel had taken his family back to London, presumably to obtain work. The next two children, William John and Edith Beatrice, were both born in Hammersmith, after which Samuel and Edith once again returned to the south-west. This time they settled in Torquay, where their fifth child, Fred Harry, was born in 1880. By early in 1881, they were living at 4 Braddon Street, Torquay, in the centre of the town. School records show that Ida, Louisa, and Edith attended St John's Mixed School nearby - it is not known what arrangements were made for William. The 1881 Census duly recorded Samuel, Edith, and their five children in Braddon Street, one of three households at the same address. (Several years later, John A D Cooper lived in the same street, at number 5, and attended the same school).
Charles Lewis was baptised at St Michael's Church, Torquay, on 17th March 1883. By this time the family had moved down the hill to a house in Pimlico (Torquay), but fairly soon they moved again, this time to 5 Madrepore Road, nearby. Charles' younger sister Mary Annie was born on 23rd April 1886 and baptised at St John's, Torquay, on 30th September that year. The family were still living in Madrepore Road, and Edith was pregnant with her eighth child, when sadly Samuel died, on 28th February 1888, aged only 41. He was buried not in Torquay but close to his parents, in Bridgetown, Totnes.
Charles' youngest brother, Joseph Samuel, named in part for his father, was born on 7th June 1888, and baptised at St John's Torquay on 26th July. By this time Edith and her children had moved away from the centre of Torquay to George Street, in Babbacombe. But fairly soon Edith decided to take her family back to her own home town of Dartmouth. The 1891 Census recorded Edith and six of her children living in Above Town, together with her brother George Barnett, a painter. Also living in Dartmouth was Ida and her husband Job Spiller, who had married the previous year. Louisa lived with her grandparents, John and Mary Ann Crocker, in Totnes, where she worked as a dressmaker.
It may have been with the help of his uncle, George Barnett, that Charles became a painter and decorator. In 1901 he lived with his mother, uncle, and four of his brothers and sisters in Mariner's Place. Aged 18, he worked as a painter, perhaps with his uncle, though sadly George died in May of that year, soon after the census. His elder sister Edith worked as a telephone clerk; his brother Fred as a labourer, and his younger sister Annie, though only 14, as a "domestic nurse", presumably looking after young children. The youngest, Joseph, was still at school. Living with the family as a "boarder" was Ernest James Carder, who worked as a bricklayer. He was a similar age to Charles. The Crockers lived next door to James and Mary Jane Gore and their family, including their son Alfred Gore, five years younger. From notices placed in the Dartmouth Chronicle at the time of Charles' death, it appears that a particularly close friend was Alfred George Moses, in 1901 a boilermaker's apprentice in Dartmouth, living in Newcomen Road, who later moved to Devonport.
By the time of the 1911 Census, Edith had moved to Roseville Street, where she lived with her daughter Edith and her son Joseph. Joseph ran a greengrocery and Edith (junior) "assisted with the business". Fred also ran a greengrocery business - perhaps the same one. Fred had married in 1909 and in 1911, lived in Broadstone with his wife Elsie May and their two children. Charles' sister Annie was not involved in the greengrocery, as she worked as a dressmaker. It appears that Charles lived with the rest of his family in Roseville Street, until his own marriage in 1910.
On 24th June 1910, at St Clements, Townstal, Charles married Ada Violet Southgate. Ada was the daughter of George Atkinson Southgate and his wife Maria Thomas, one of thirteen children. George was born in Cardiff but came to Dartmouth when appointed as bandsman in HMS Britannia, on 1st November 1878. He married Maria two years later and remained in Britannia, being promoted Musician in 1885 and Band Corporal in 1889, in which role he was still serving at the time of Charles and Ada's marriage. Ada's mother, Maria, died in 1908.
Charles may have met Ada through joining the Works Department at the Royal Naval College. The marriage register describes him as "Decorator" without any indication as to his employer, but the 1911 Census records that he worked as a "House Painter" at the "Works Department Naval Yard". Charles and Ada lived in Clarence Hill, with Ada's father and the rest of her family. At the time of the census, Ada was pregnant with their first child, George Lewis, born on 12th August 1911. Sadly the baby failed to thrive - he was baptised privately on 6th September 1911 but died very shortly afterwards and was buried at St Clements Townstal on 9th September, only 26 days old.
By 1913, Charles and Ada had moved to Broadstone. Their daughter Nancy Evelyn was born on 27th February 1913 and baptised at St Saviours on 24th April of that year. Charles continued to work in the Royal Naval College Works Department as a Decorator.
Service
Charles' service papers have not survived so his service has to be pieced together from a range of sources. The Royal Engineers Medal Roll shows that he first served with the 7th Battalion Devonshire Regiment, with the number 1811, before transferring to the Royal Engineers as a Sapper with the number 164794. At the time of his death he was serving in 59th Field Company.
Several men on our website joined the 7th Battalion of the Devonshire Regiment both before and after the outbreak of war. The 7th Battalion was part of the Territorial Force and was a Cyclist Battalion; "F" Company was based at Dartmouth and was very much part of the local scene. Frederick Coles, whose service papers have survived, rejoined the unit on 7th August 1914 and was allocated the regimental number 1076; Frederick Bell had joined the unit by October 1914 and he was allocated the number 1171. Another man (not from Dartmouth) who joined the 7th Battalion and whose service papers have survived, attested on 5th March 1915 and was allocated the number 1824. This suggests that Charles enlisted in the 7th Devons early in 1915.
At this period in the war, recognising that the purpose of the Territorial Force was home defence, there was no obligation to sign up for overseas service. Nonetheless, many members voluntarily undertook to serve abroad, and after the introduction of conscription early in 1916, this limitation in any case no longer applied. A large contingent of Devon Cyclists transferred in May 1916 to the Worcestershire Regiment, including several from Dartmouth, one of whom was Frederick Coles, already mentioned. When Charles transferred to the Royal Engineers is not known, but his service number suggests that this may have been around the beginning of December 1915.
By this time the 7th Devons, who had spent much of the first few months of the war in the north-east (see the story of Frederick Bell already referred to) were based in the south of England. In December 1915, they moved to Kent to continue in the role of home and coastal defence, providing assistance to the civil powers as necessary. The Shepton Mallet Journal of 3rd December 1915 reported the move, which was by bicycle:
Two Battalions of cyclists of the 7th Devon Regiment passed through the city on Saturday and Tuesday last respectively, on their way to Frome and London. The novel spectacle soon attracted a crowd of sightseers, who cheered the men on their journey.
The Royal Engineers Medal Roll shows that Charles served throughout his time in the Corps in 59th Field Company. The Field Company's job was not fighting (though sometimes men found themselves doing that) but construction - building the infrastructure essential to sustain and support every aspect of the fighting effort, and also building front-line fortifications - defensive works and "strong points" in the field. At the time Charles (most likely) joined, recruit training lasted three months, including fortifications and demolition work, progressing to bridge building and combined operations with infantry and artillery. Field Companies frequently worked with infantry and pioneer battalions providing an extended labour force. According to the Long, Long Trail:
The men were organised into two areas: Mounted (which included the Company QuarterMaster Sergeant, the Farrier, the Shoeing Smith, Trumpeter, 3 NCOs, and the drivers and batmen) and Dismounted. The latter represented many kinds of trades required by the army in the field, including … 15 blacksmiths, 20 bricklayers, 40 carpenters, 5 clerks, 12 masons, 6 painters, 8 plumbers, plus surveyors, draughtsmen, wheelwrights, engine drivers and others.
Presumably, Charles was one of the painters in the Company.
59th Field Company was part of the original British Expeditionary Force, part of 5th Division. They went overseas soon after the outbreak of war and remained with this Division throughout the war. During 1916, when Charles most probably joined them, 5th Division fought on the Somme; in 1917, they were at Arras and at the Third Battle of Ypres.
Towards the end of 1917, 5th Division was one of five formations sent to Italy to strengthen the front after the Italian defeat at the Battle of Caporetto. They were recalled suddenly to France in 1918 after the start of the German spring offensive.
When Charles joined the Field Company in France is not known and the Field Company War Diary, which appears to contain very little information about the arrival of reinforcements or drafts, provides no clue. There appears to be no account of the Company's time in Italy - the Diary begins again on 1st April 1918 with their preparations to move.
On 3rd April 1918 they caught the train at Vicenza for the four-day journey back to France. They had been sent originally to the Third Army, in the Arras sector, but no sooner had they arrived south of Arras than they were sent further north to provide reserves to the First Army. The train was delayed by damage done to the railway near Amiens by German long-range guns so they did not arrive at Thienne until the night of 11th/ 12th April. From there they marched to billets in Steenbecque. The 5th Division had been brought into the Battle of the Lys, the second phase of the German spring offensive, to relieve the 50th Division (see the story of William Percival Hannaford, in 1/8th Durham Light Infantry, part of 50th Division). 5th Division was ordered to make a counter-attack to recover Merville, advancing north and south of Nieppe Forest. 95th Brigade, with 59th Field Company, was sent through the middle of the wood. Later on 12th April the counter-attack was called off and the forward line established east of the Forest; defences were successfully established blocking the direct road to Hazebrouck through Nieppe Forest.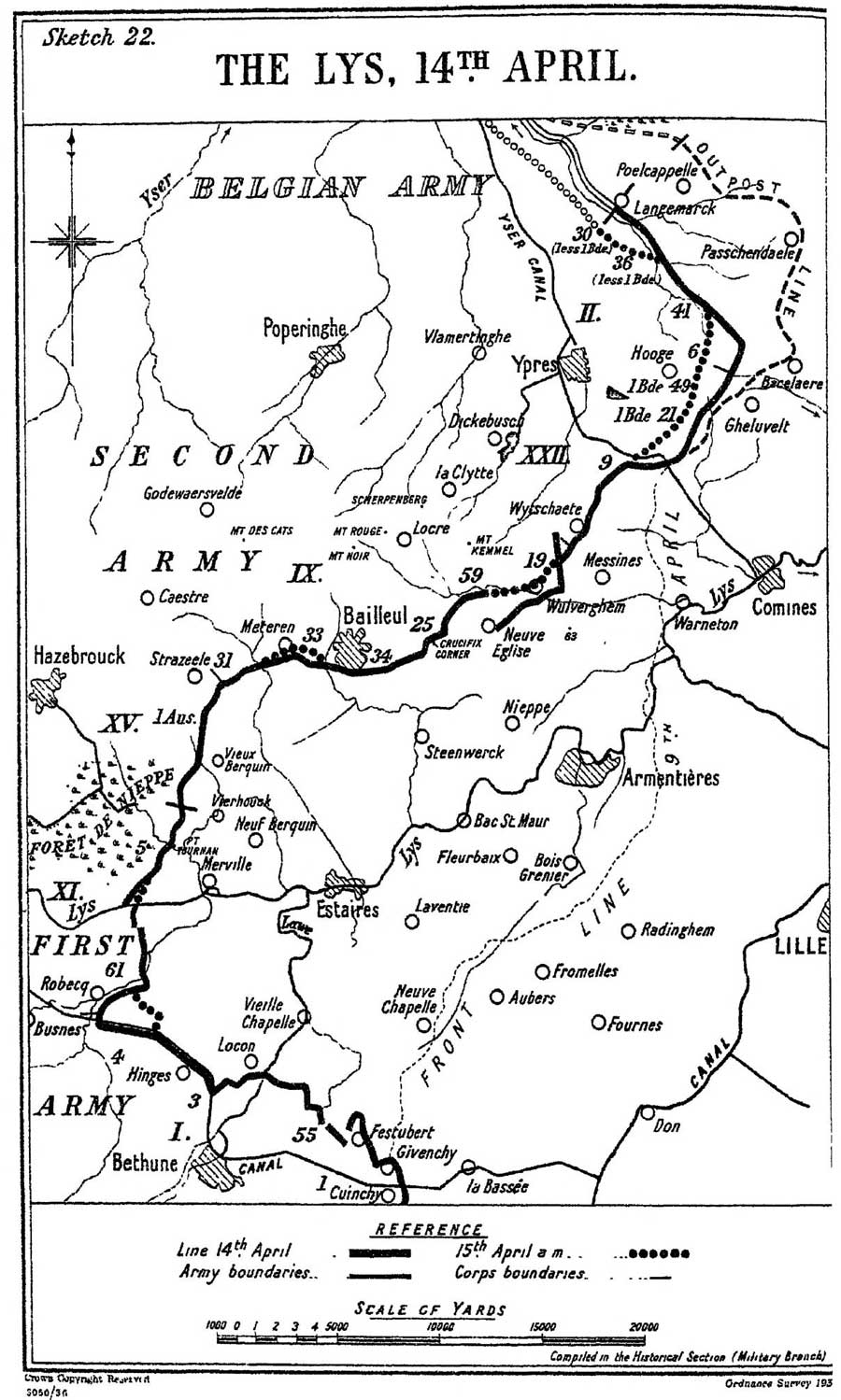 On 13th April, 5th Division was able to hold off the continuing German advance on Hazebrouck and the attack was repulsed. The 59th Field Company was working on the new Reserve line in the Forest, though hampered by the lack of their tools, which did not turn up until 10am as transport was unable to find the sections. On 14th April, although there was, as the Official History describes it "strenuous fighting all day", the front line was held intact on 5th Division's front. The Field Company War Diary reports only that they moved to the east side of Morbecque and that Lt Atkinson with 10 OR demolished a swing bridge.
It appears, from the correspondence quoted in the Dartmouth Chronicle at the time of his death (see below) that Charles was probably in No. 3 section, as this was commanded by Lt C Howard, who wrote to Ada with the news of Charles' death. The work of each section as such is not always identified in the War Diary but on 15th April 1918, no 3 Section, working with no 4, constructed a footbridge over the Bourre river, near Morbecque. The following day, bridges over the Canal de Nieppe were also prepared for demolition; this work continued for the rest of the month. On 20th April, when the Field Company moved their camp from Morbeque to the Bois Clerbert, the War Diary notes that No 1 section had four men wounded; and the following day, in No 4 section, one sergeant was killed and four men wounded.
On 1st May 1918, they were still based at Bois Clebert, and continuing to strengthen defences and carry out other essential work to provide accommodation for command headquarters and other requirements. The War Diary provides a brief outline of their daily activities. Assuming the sections were listed in numerical order, the work of No. 3 section is highlighted below, up to the date of Charles' death:
1st-3rd May:
1 section erecting footbridges over River Bourre
1 section erecting English shelters in Houses for Bn HQrs
1 section salving Nissen huts etc from forward area
1 section constructing Divisional Line through Forest
4th-7th May:
2 sections erecting English shelters for HQ accommodation
1 section salving Nissen huts
1 section constructing Divisional Line
8th May: Commenced work with Pioneers on Support Line in addition to above
9th- 11th May: 1 section ceased work on Divisional Line and starting Hutting for Reserve Infantry Brigade; remainder as above
12th May: 1 section ceased salving Nissen huts and worked in camp making up trench shelter frames in camp
13th May: Infantry Party started work on Support Line
14th - 18th May: [all sections?] Commenced concreting shelter in Estaminet for Bn HQ
19th May:
Constructed footbridge in front line
1 section strutting cellars
1 section erecting Trench shelters and supervising Infantry Parties on Support lines
1 section hutting for Reserve Brigade
20th May: no day work
21st May: as for 19th May
22nd May:
1 section concreting shelter in Estaminet
1 section erecting footbridge over debris of Pont Tournant
1 section making up footbridges in camp
1 section hutting for Reserve Brigade
23rd - 24th May:
1 section revetting Divisional Line and supervising work by Cyclists on Corps Line
1 section making up frames for trench shelters
1 section concreting shelter in Estaminet for Bn HQ & strutting shelves
1 section moving barricades forward after local advance and reconnoitring River Bourre for new Bridges and constructing same
25th- 26th May: Erecting trench shelters and work as above
27th May: Erected new footbridge - prepared two more
28th May:
Constructed two new footbridges near La Motte.
Putting up splinter-proof shelters at Bde HQ
29th May:
1 section accommodation at Brigade HQ
1 section revetting Divisional Line and forming dumps
2 sections resting - inter Battalion relief. No night work.
The period overall is termed in the Official History "The Pause in May", during which the German attack was discontinued for a short while. Nonetheless 59th Field Company suffered a number of casualties whilst working to improve defences in the Nieppe Forest. On 9th May, the War Diary noted:
Gas Barrage on Company's Camp in the wood. Several casualties from splinters. Very few gas cases. Company moved clear of wood.
It is recorded that Acting Company Sergeant Major W Guinan was one of the wounded, but no other names or any numbers are given.
At the end of May is a further note: "Casualties during the month were unusually heavy - amounting to nearly 50% of working strength." No more precise figure is given and again there are no names listed, nor any analysis by section.
Death
It would appear, however, that Charles was one of the casualties of May, whether in the shelling of the camp or elsewhere. All records confirm that Charles died of his wounds on 29th May.
News reached Dartmouth quickly. The Western Times of 8th June 1918 (and also subsequent dates) included the following two reports:
Mrs Ada Crocker, of North View, Victoria Road, Dartmouth, has received information that her husband, Sapper C L Crocker, died on May 29th from wounds received in action in France. Lieut C Howard, RE, his Company officer, wrote "Sapper Crocker was very popular, and his loss will be greatly felt".
Sapper C L Crocker RE who died on May 29th from wounds received in action in France, was formerly engaged at the RN Yard, Dartmouth, and leaves a widow and little daughter …
The Dartmouth Chronicle of 7th June 1918 included three announcements, from Ada, Charles' mother and family, and his friend Alf Moses:
Deaths
Crocker: May 29th , died of wounds received in France, Sapper C L Crocker, Charles, beloved husband of Ada Crocker and dearest Daddy of Nancy, Northview, Victoria Road, Dartmouth, aged 31 years
Crocker: May 29th, in loving memory of Sapper C L Crocker RE, who died of wounds in France. Sadly mourned by his sorrowing mother, sisters and brothers.
"Thy will be done".
Crocker: May 29th, died of wounds received in action, Charles Lewis, the affectionate chum of Alf and sincere friend of Mrs A G Moses, 28 Lime Tree Road, Peverell, Plymouth.
"One of the best".
Charles was buried in Aire Communal Cemetery, near where 59th Field Company was working. His grave is in a part of the cemetery developed when 54th Casualty Clearing Station came to Aire-sur-la-Lys in 1918, as a result of the move of the front line following the German spring offensive. It is therefore assumed that this CCS is where Charles died.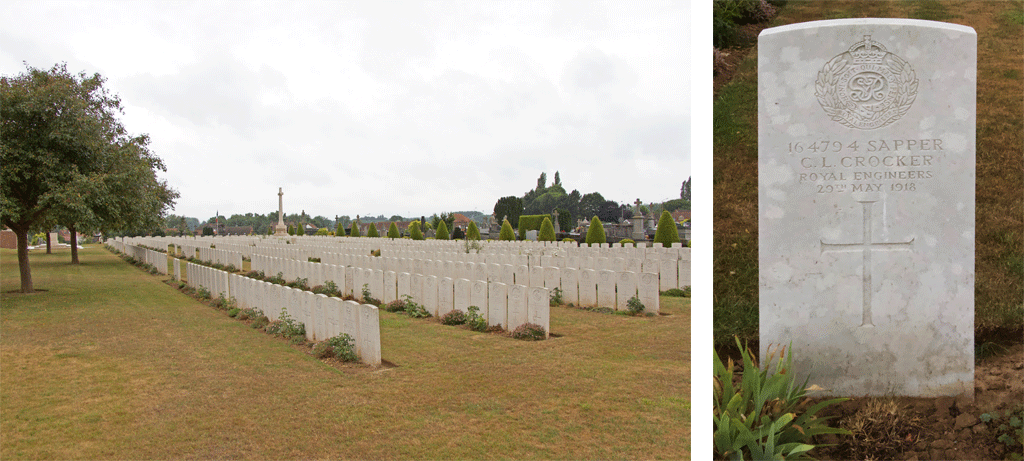 Aire Cemetery
Commemoration
Charles is commemorated in Dartmouth on the Town War Memorial and the St Saviours Memorial Board.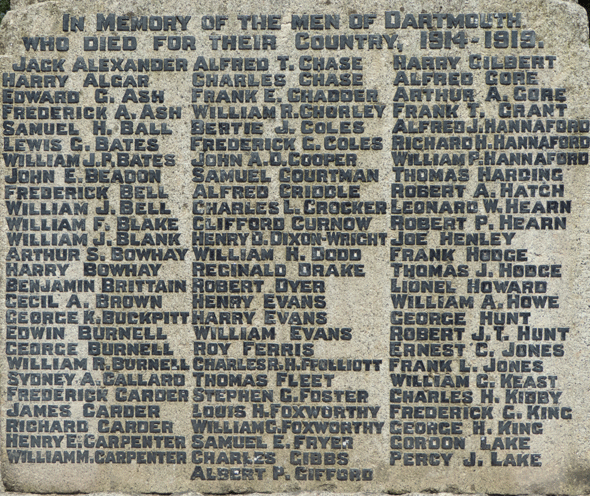 Dartmouth Town Memorial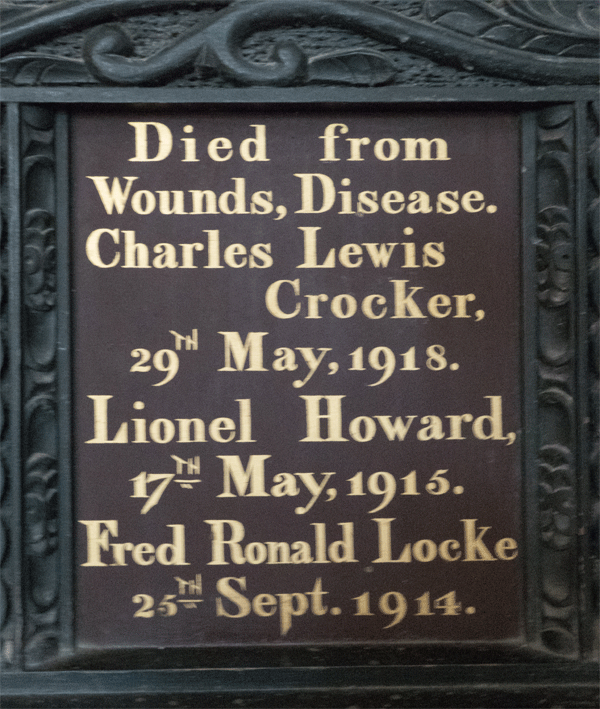 St Petrox Memorial Board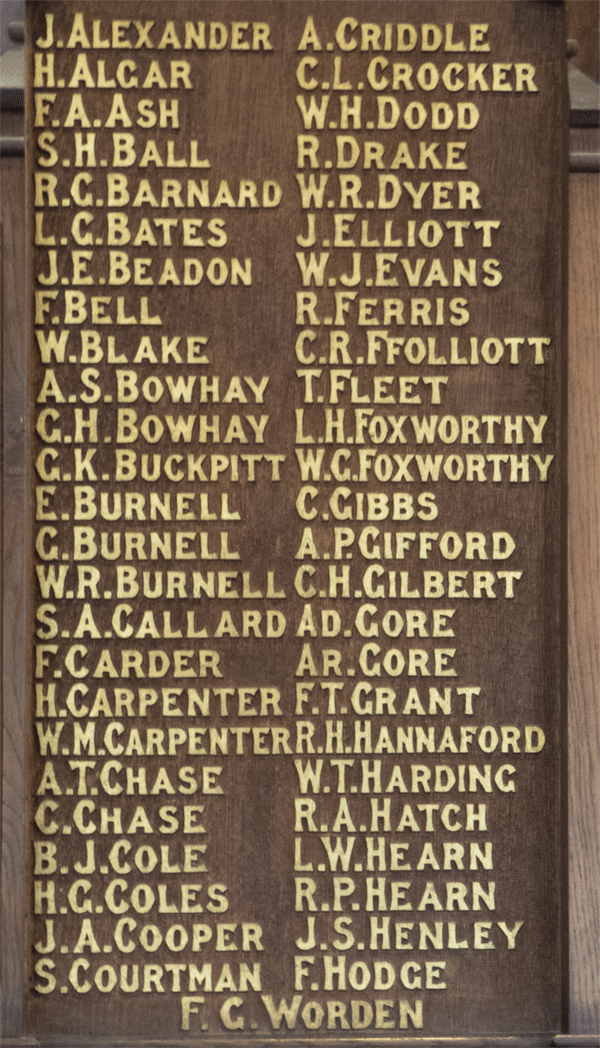 St Saviour's Memorial Board
Charles is also commemorated in a Roll of Honour of the members of the Works Department of the Royal Naval College, held in Dartmouth Museum. See also the story of his colleague, Harold Shattock.
Sources
War Diary of 59 Field Company Royal Engineers August 1914 - March 1919, available from National Archives, fee payable for download, reference WO 95/1535/2 and WO 95/1535/3
The Long, Long Trail: Composition of a Royal Engineers' Field Company
Military Operations, France and Belgium 1918, volume ii, complied by Brigadier General Sir James E Edmonds, publ. 1937, Macmillan
Information Held on Database
| | |
| --- | --- |
| Surname: | Crocker |
| Forenames: | Charles Lewis |
| Rank: | Sapper |
| Service Number: | 164794 |
| Military Unit: | 59th Field Company Royal Engineers |
| Date of Death: | 29 May 1918 |
| Age at Death: | 35 |
| Cause of Death: | Died of Wounds |
| Action Resulting in Death: | See story |
| Place of Death: | Aire-sur-la-Lys, France |
| Place of Burial: | Buried Aire-sur-la-Lys, France |
| Born or Lived in Dartmouth? | Yes |
| On Dartmouth War Memorial? | Yes |
| On St Saviour's Memorials? | Yes |
| On St Petrox Memorials? | Yes |
| On Flavel Church Memorials? | No |
| In Longcross Cemetery? | No |
| In St Clement's Churchyard? | No |
| On a Private Memorial? | No |
| On Another Memorial? | No |
---
This information was last updated on Monday 10 December 2018 at 21:57:26.